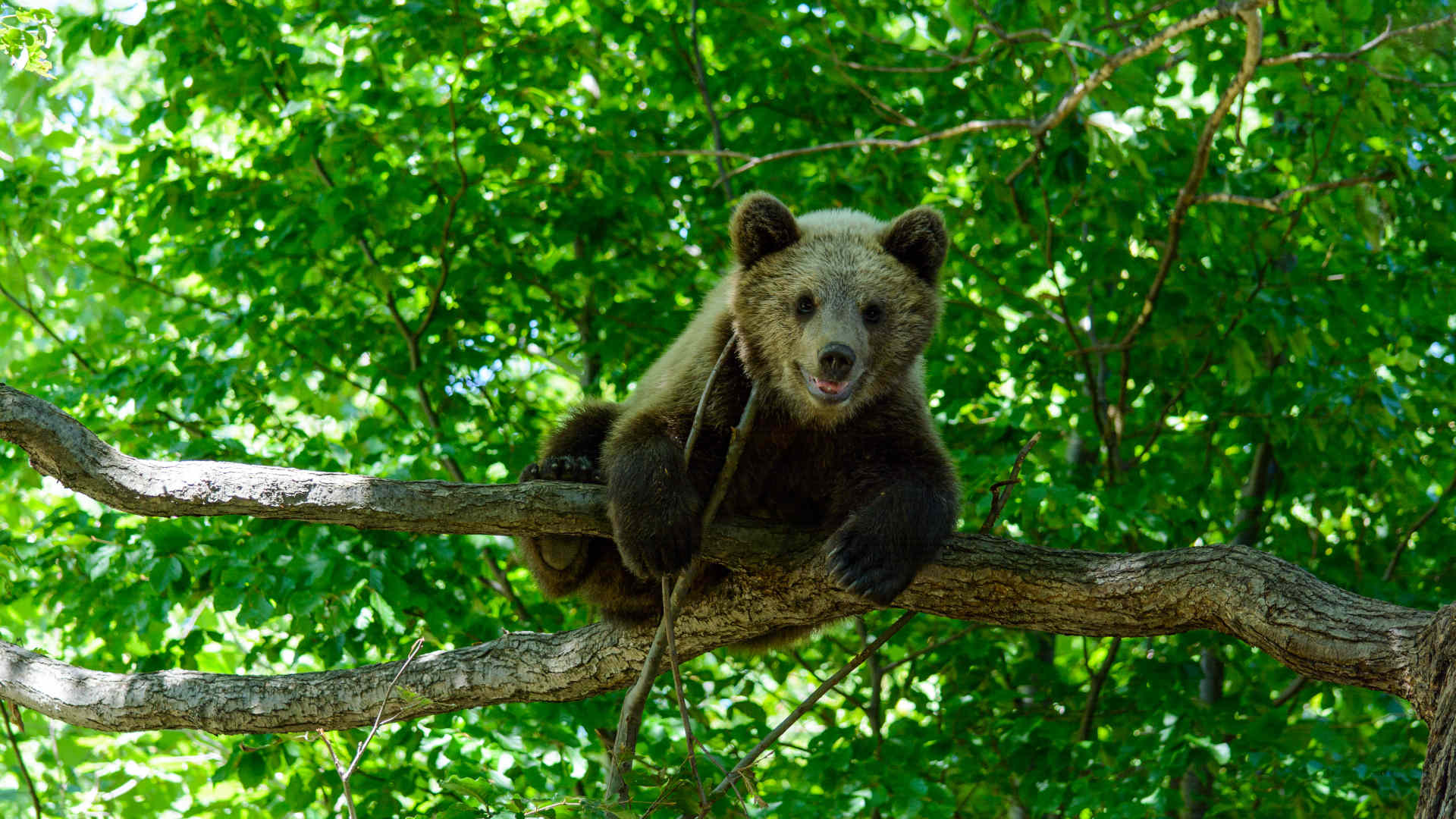 Prepare to get stuck in and mucky volunteering at Eastern Europe's largest bear sanctuary in Romania. You and your family can help with the care and rehabilitation of over 100 bears in this stunning wooded haven. The combination of life at the bear sanctuary, beautiful mountainous countryside and cultural cities makes this family holiday one you will never forget.
Duration: 1 week between June and August inclusive.  2 weeks possible at other times by arrangement.
Dates: Throughout the year except over Christmas and New Year
Arrival day: Friday
Return day: Friday
Eligibility: General level of fitness required. The sanctuary is hilly
Age: Children must be aged 10+
Taking in Transylvania's highlights – prepare for Dracula!
Creating unforgettable memories with your family
Exploring the winding alleys, cobbled streets, towering churches and medieval walls of Brasov's old centre
The first time you see a bear at the sanctuary – and then another, and another…. and another!
Unnamed Road, 505800, Romania
Head into the depths of Transylvania, living in the beautiful city of Brasov and volunteering in an inspirational bear sanctuary in the foothills of the Carpathian Mountains. Offering the perfect combination of genuine conservation work and great free time activities, a volunteer holiday in Romania is a fantastic choice for all the family.
This is a Transylvania family holiday with a difference. You and your family can join the team at the bear sanctuary working to protect and care for rescued bears. These bears have been freed from tragedies such as dancing for tourists, circus performing and street begging. Kept in cramped conditions and regularly abused by their former owners, the bear sanctuary offers them a whole new chance at life.
Your working day starts with a wander through the sanctuary. This is the perfect opportunity to see the bears playing, climbing trees, swimming and even having a good back scratch against the trees. Arriving at the main sanctuary building you are given your tasks, which vary depending on the bears and their needs when you are there.
Typically the volunteer work with bears includes at least some of the following tasks:
Food preparation: this will be your main task as bears need to eat up to 10kg per day to stay healthy – that's a lot of food! Prepare to get mucky!
Watching the bear feeding process: a real highlight is to see the bears coming out of the undergrowth to get the best bits.
Bear watching: it is important to keep an eye on how the newest bears are coping, and how quickly they are adapting to their new surroundings. You also have the time to simply enjoy seeing the bears in their natural habitat from a treetop viewing platform and underground bunker – this is amazing, especially at feeding time!
Sanctuary conservation work: sometimes there can be some basic maintenance work required, such as raking leaves, gathering hay for quarantine, clearing undergrowth etc
Looking after the other sanctuary animals: the sanctuary staff can't say no to animals in need – there are often rescued dogs, horses, donkeys and other animals living at the sanctuary that also need your attention.
One of the greatest highlights of this trip is being with the bears. The sanctuary staff are fully aware that you are there to contribute, but also to enjoy your experience with the bears. You will have ample time to wander around The sanctuary, simply watching the bears and building some memories for life.
The bear sanctuary is located just 45 minutes' drive from the medieval city of Brasov. You will be driven to the sanctuary and back each day. The journey is wonderful, travelling through traditional Romanian villages and countryside.
The city of Brasov is lovely, surrounded by mountains and an old medieval fortress wall. It has enormous churches, giant squares and brightly coloured buildings. The old city centre, where you will be living, hosts a plethora of lovely cafes, restaurants, museums, galleries and sights of interest. It is a wonderful place to be based for your bear volunteering adventure.
Live in the medieval city of Brasov, just minutes walk away from the beautiful city centre
You will either be living in Oyster's rented flat or in a local hotel
Whether you are in the flat or a hotel, you will have access to Oyster's main apartment with wifi, kitchen and washing machine
The volunteer flat has a well-equipped kitchen, two bedrooms, two toilets and a shower
Food is not included – volunteers either cook in the flat or enjoy some of the many amazing restaurants located on your doorstep
Airport: Brasov airport (GHV) or Bucharest airport (OTP) – see transfer package options
Arrival day: Friday. Most volunteers choose to be collected from either airport.
Departure day: Friday. You can opt to be dropped off to the airport in time for your flight.

A perfect English speaker and probably the most dynamic person you will ever meet, Razvan has run our Romania programmes since the very beginning in 2006. A veteran rep – he has dealt with over 1000 volunteers so far – he always goes way beyond his Oyster job description. He is personally involved in the fundraising and awareness building of the bear sanctuary, even getting dressed up as a bear on one occasion!
Access to your own personal 'My Oyster' account – our online portal where you can find out much more about the program and manage your booking
Dedicated contact time with an experienced destination manager to discuss the project, answer any of your questions and for us to find out more about you
Help and advice from our UK office before arrival and whilst you are away
In-country support
Pre-departure information covering medical, safety and project advice
Gold level, 24/7 Pharos crisis management and incident support cover
Financial protection: ATOL (if we book your flights); IPP (if we don't book your flights)
Thorough orientation on arrival
Accommodation (see the 'accommodation' section above for details)
Advice on visa requirements
Oyster plants a tree in Africa with TreeAid to help reduce the impact of global carbon emissions
Airport transfers are arranged for those paying for the transfer package on arrival and departure day from Bucharest, 95 miles each way (Friday). Brasov airport pick up included.
Daily, private project transfers (45 minutes each way)
A book about the sanctuary per family
24hour representative from Oyster with perfect English and knowledge – there isn't a problem Razvan cannot fix!
Transport for two half-day trips: 1) Dracula's Castle 2) Peles Castle. People staying 1 week will go on 1 trip only (to be decided upon arrival).
Donation to project and contribution to Oyster's adopted bear, Betsy
On your return:
Welcome home pack
Certificate of Recognition (on request)
References (on request)
Flights – as an ATOL bonded company, Oyster can book flights for you
You need a valid passport that meets the requirements of the country you will be travelling to
Insurance (covering your time with Oyster and any planned independent travel)
Any costs associated with changing your return flight date if you need to
Independent travel costs
Home country travel costs
Spending money for additional trips, food and entertainment
Food (£30+ per person per week)
Entry fees on the organised trip(s)
Transfers on alternative days can be arranged for an additional fee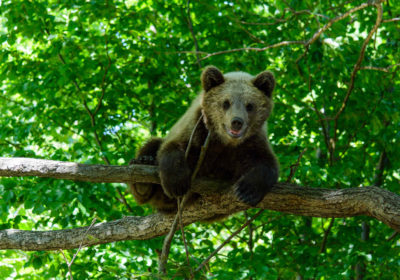 "This bear volunteer holiday is a fantastic way to contribute, learn and see over 100 bears! I visited Romania in summer and what a treat it was to see the bears cooling off in the water and lazing around in the heat. It was breath taking to hike up into the Carpathian mountains, and Bran Castle is a must-see magical experience!  "

Says Destination Manager Georgie
Whilst late-availability is possible, we would advise booking as soon as you can to guarantee your ideal dates. Our projects are very popular and spaces can fill up several months in advance, especially for the months of June to September.
Volunteers generally work at the bear sanctuary from Monday to Friday
You should expect to be at the bear sanctuary for 6–8 hours per day, plus transfer times of about 40 minutes each way
The day starts at about 8 or 9am, depending on the time of year
Lunchtime is flexible depending on when you have completed your morning tasks. You need to take your lunch with you
You will be taken back to Brasov for about 4pm or 5pm (sometimes later in summer months)
Bears have long been used as forms of entertainment and to attract tourists in Romania. This meant that many bears were being forced to live in cramped conditions outside hotels and restaurants, perform in circuses or live in dreadful circumstances in tiny enclosures in poorly constructed zoos. For years many charities, including WAP, have campaigned against this treatment, and finally in 2007 things had to change when Romania became the 27th country to join the EU.
Upon joining the EU, Romania had to introduce a new law on conditions in zoos with stricter regulations. Suddenly many zoos faced closure, leaving more than thirty bears needing a new home.
WAP, along with many local charities, raised significant funds in order to purchase a 30 hectare site outside of Brasov.  Here they built what is now Eastern Europe's largest bear sanctuary.
The bears were rescued quickly, and the sanctuary has grown over the years. It is now home to over 100 bears, both young and old, rescued from all over Romania, and sometimes even further afield.
These bears all have moving histories, which are all the more poignant when you see the beautiful haven that they are living in today, living in relative freedom and far from the cages and prying eyes of keen tourists.
The bears have come from all types of backgrounds, many of them tragic, so don't be surprised to find this quite an emotional experience. You will pick up lots more information at the sanctuary, and also from the book that you receive on arrival in Romania.
You can follow the link to find out more about brown bears in general.
The great thing about being a bear sanctuary volunteer is that it really gets you close to the bears in a natural environment, in a way that is positive for the bears.
Volunteers are not allowed to touch the bears at the sanctuary. As the bears are recovering from previous ordeals at the hands of humans, they need time to fully rehabilitate. Physical interaction with the bears is counter-productive to the aims of the sanctuary.
All volunteers have plenty of time to watch the bears, get to know them and perceive their different personalities. Without exception, volunteers return home with a favourite bear that they have taken to their hearts while working at the sanctuary.
Oyster assesses projects carefully to ensure that they offer high standards of animal welfare and environmental practice. We also check that volunteers understand key points of good practice before working with animals. To find out more, see our animal welfare policy.
This project is open to people from all walks of life, and as such you should expect to be with volunteers of all ages
There is a maximum capacity of 5 volunteers at the bear sanctuary at any one time, so the number of other volunteers that you will be with depends on the size of your family
All tasks will be pitched towards the ages of you and your children
There are four distinct seasons in Romania:
Spring: March – May. Temperatures range from 10 – 20 degrees celsius during the day time, but can get quite cold at night time. Average 30 – 80mm of precipitation each month.
Summer: June – September. Temperatures range from 20 – 30 degrees celsius. Average 80 – 100mm of rain each month.
Autumn: September – November. Temperatures range from 10 – 20 degrees celsius during the day time, but can get quite cold at night time. Average 30 – 50mm of precipitation each month.
Winter: November – March. Temperatures range from 10 – 20 degrees celsius during the day time, but can get quite cold at night time. Average 30mm of precipitation each month.
We would recommend taking £30 – £60 per person per week for food, drinks and treats. You should budget separately for any outings or meals out that you might like to have.
There is easy access to cash machines in Brasov so you don't need to take all of your cash with you.
Typically you won't need a visa for stays up to 3 months. You should make sure your passport is valid for the duration of your stay.
You should visit your doctor or travel nurse to find out what vaccinations you will need. Your routine vaccinations will need to be up to date, it is likely that you will need Hepatitis A and Hepatitis B. Rabies is a possibility. You should follow your doctors advice.
See below for where the closest hospital to the project is – your doctor may ask to know this so that they can provide information on rabies.
For any information related to Covid-19, please see the Fit for Travel website or the UK government's travel advice page for Romania.
Brasov has many excellent medical facilities, varying from pharmacies to local doctors to hospitals. These can all be accessed within 20 minutes and are of good quality.
Brasov is a beautiful and small medieval city, located at the foot of the Carpathian Mountains. It is a very warm and welcoming place, and has become very used to tourists. This makes it a very safe destination however it is important to always be sensible and responsible.
Brasov is a relatively safe place with very little crime, although pickpockets target tourists so take care of your belongings. If you want to walk or trek ask for information on the wild Romania bears!
Going more off the beaten track you will receive a few more stares as these areas may not be quite so used to tourists. You will be given information on buses and the local area however so you will be well prepared for this. We give you full health and safety information before departure, as well as upon arrival.
The apartment is located in the centre of town, 2 minutes walk from the main street and 4 minutes away from the beautiful town square, where there is live music in summer and skating in winter.  You'll also find a 24hr supermarket and a vegetable market only 5 minutes away.  The bear sanctuary is located about 30 minutes from the city centre and you will be transferred up there each day.
No you do not need to learn to speak Romanian fluently!
As part of this project you will be working closely with Romanians on a daily basis. To be able to make the most of this opportunity it is highly recommended that you learn some Romanian before departure. A little will go a long way- and a good amount, will go even further! Some of the local staff will have limited English and really appreciate you trying. There are many good resources online as well as books and CDs to help you learn. Noroc!
Wifi is available for free in the flat, however you will need a device to connect to it.  There are also plenty of WiFi hotspots in town. Some of these are free, while others charge about £1 per hour.
Very good reception in Brasov and at the bear sanctuary.
Romania is 2 hours ahead of GMT (GMT +2)
Romania has European two-pin plugs.
We arrange two half day trips, covering the cost of transportation, if you stay for 2 weeks or more. If you are staying for one week, you will only be able to do one half day trip.
Which trip you do will be decided when you are in Romania. The two options are:
A trip to Bran castle (Dracula's castle). Entrance fee: approx £5
Trip to Sinaia, a nearby town with the beautiful Peles castle. Entrance fee: approx £5
There are plenty of places to visit in Brasov and the surrounding area. Situated in the heart of Romania, Brasov is a charming medieval town with an ancient history and plenty of interesting monuments. It has great transport links to other wonderful cities in Romania, and even further afield.
You will have evenings and weekends free.
You are very much encouraged to photograph the bears and the sanctuary – indeed, this is one of the great highlights of the project. Please be aware however that you will be asked to pay a fee of 35 euros if you have a camera with a telephoto lens.
Supervision will be fairly intensive during the first few days, when you will receive a thorough induction and work-related training. Once you are comfortable with things, you might not always have a supervisor working alongside you, but there will always be staff and other volunteers around to help, and you will always be accompanied for any high risk activities.
Staff at Oyster's head office and in-country will be responsible for your safety and welfare while you are at the project. This will start from the moment you are picked up from the airport until the time you are dropped back there. Before and after these times, you will be outside Oyster's responsibility and should make sure that you act safely and avoid risk. This is also true if you choose to leave the project during your time off. We will give you plenty of guidance and advice about this.
Other adventures like this