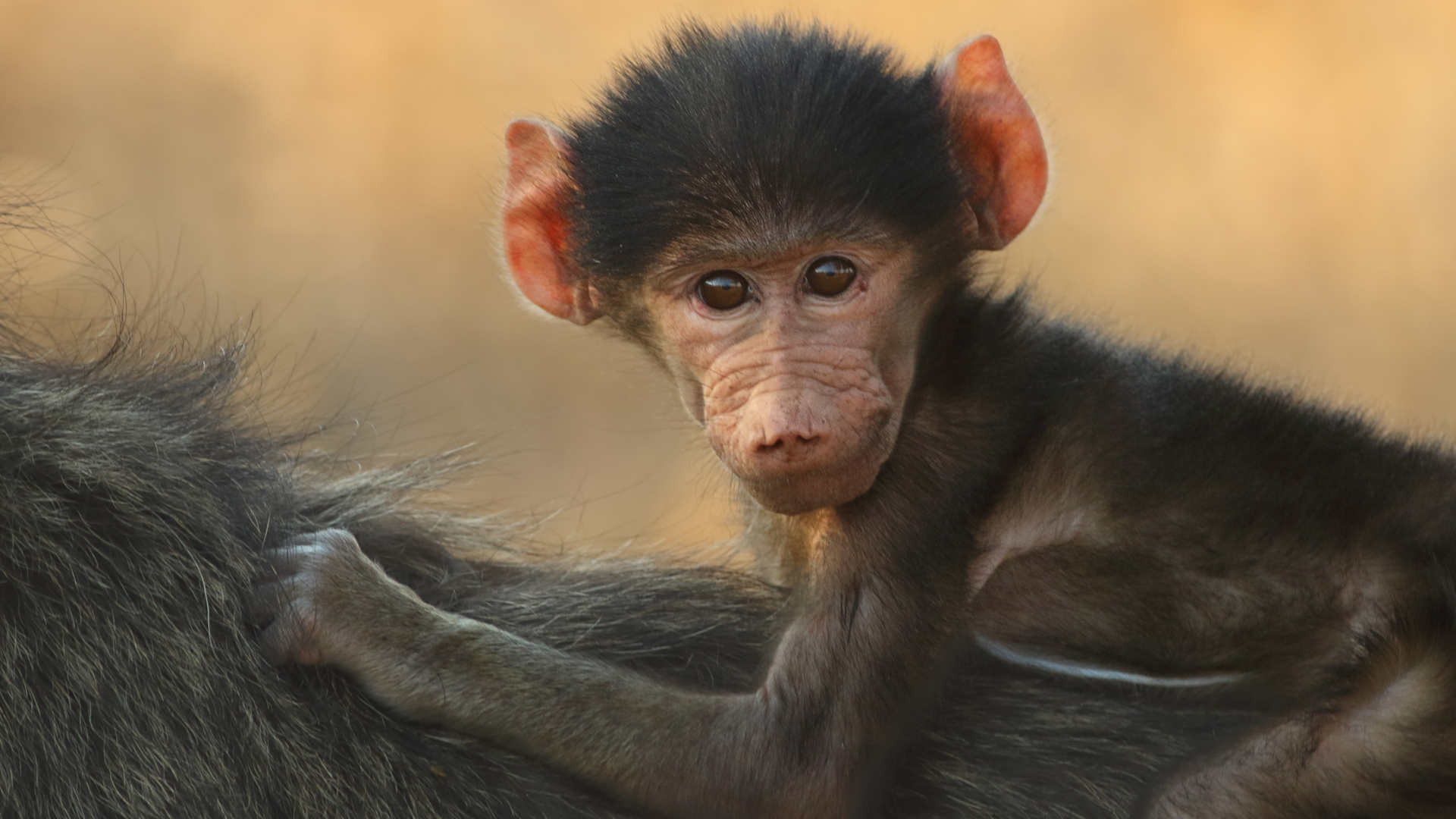 Travel to the South African bush with your family to work with orphaned and mistreated baboons. Get stuck in with the day to day at this prestigious rehabilitation centre, helping these primates on a journey back to life in the wild.
Duration: 2 weeks – 4 weeks
Dates: Throughout the year
Arrival day: Monday
Eligibility: You need to be happy with basic conditions, getting mucky and working hard
Age: 8+ (participants under 17 years must be accompanied by an adult)
Watching your children become pioneering conservationists
Chatting with other volunteers around the braai, with the Milky Way sparkling above
Nurturing young infants before they start life under the umbrella of a troop surrogate
One of the only projects of it's kind suitable for children as young as 8!
Working with other people from around the world to give animals freedom – the greatest of gifts
This could be the best family adventure that you are likely to take. Not only will you learn where the phrase "cheeky monkey" comes from but you will receive endless rewards at this exceptionally friendly and life-changing rehabilitation centre in the African bush.
Your family will easily become integrated in this volunteer community, this is a family run business who are passionate about the survival of baboons and the natural African bushland.
Well regarded in the conservation community, the centre have undertaken many successful releases into the wild.
What will we be doing each day?
All tasks undertaken here are demand-driven, and these can vary throughout the year and depending on whether a release is imminent.  Actual tasks that you might help in are as follows:
Daily food prepping shifts in the milk Kitchen
'Troop cleans' involve maintaining enclosures through adding new enrichments, hay and and mucking out
Feeding of other animals at the centre including rabbits, guinea pigs, chickens, snakes and lizards
Making enrichments and watching the baboons receive enrichments
Enjoy spending time grooming older baboons who cannot be released
 Taking care of any nursery orphans in the nursery quarantine
If any infants are in the process of being bonded to an adult baboon surrogate, the volunteers will help facilitate their relationship building in purpose built bonding enclosures
Monitoring – join staff to observe and learn more about baboon behaviour / social structures / troop dynamics
The Big 5 reserve offers game drives, sundowners at the Picnic Spot, river trips for wildlife spotting and sometimes taking the babies to the river
Helping to prepare for current and future releases
Helping and observing in the veterinary clinic
This work is crucial, as it allows for the smooth running of the centre and means that more baboons in distress can be cared for. Whilst baboon volunteering involves interaction with the primates, it is important to remember that you will not always be handling baboons.
Expect to share one of 6 bedrooms, each with 3 beds in the volunteer village – families will be privately housed
The volunteer village was built in 2014. It is basic but very comfortable and welcoming
In the volunteer village there is hot running water and 2 showers (these are open top and most volunteers love showering under the sky, and has been noted as a highlight!). Basin areas, 2 flushing toilets and a small personal kitchen for in between meal times and personal use / personal food storage. Here you will find a microwave, kettle, toaster, fridge, freezer and safe drinking water
The volunteer village and 'Phase 1' facilities (clinic, nursery, education centre, milk kitchen and bonding enclosures) are all within an electric fenced area in a Big 5 Nature Reserve. It keeps the lions / leopards / elephants and wild baboons out (nothing can keep the vervets out however!)
The 'Phase 2 Rehab Area' is outside of this. This is safe to work in during the day as it is very busy with lots of people and enclosures. Occasionally elephants walk through which is a massive highlight. Volunteers are always accompanied by a long-term volunteer or staff members in the Phase 2 areas for safety reasons.  In the Phase 2 areas are baboons which are no longer in the hands-on contact phase. Volunteers will help enrich their enclosures with branches and new swings etc. and also clean the enclosures out (hose / water / scrub brushes) and replace with fresh hay
Laundry; there is a communal washing machine (including detergent), somebody can do the washing or you can do it yourself
Breakfast, lunch and dinner at the "Education Centre"
Breakfast is cereal / toast / butter / jam / peanut butter (soya and dairy milk) for volunteers to do DIY (tea / coffee / sugar station)
Lunch and dinner; menu / ingredients prepared by long term volunteers and they take turns to cook the communally
Food is vegetarian, mainly vegan, but cater for gluten free / allergies within reason
Meat products are allowed onsite, they are just not provided and the team ask that they are kept in the personal kitchen in the volunteer village
Airport: Fly to Hoedspruit (HDS) for direct airport collection and drop off
Arrival day: Monday – lunchtime flights preferable
Departure day: Monday — lunchtime flights preferable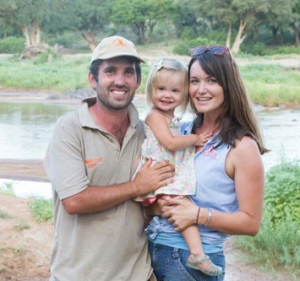 Stephen has a Batchelor of Science in Animal Care from the University of Aberdeen and he has been in working with the baboons since 2003. Stephen now runs the centre with his partner Samantha, they live onsite with their daughter Sophia. Samantha has a Master of Science in Primate Conservation from Oxford Brookes University and fell in love with the baboons when volunteering in 2006 as part of her BA studies. Both are dedicated and passionate about the welfare of the baboons in their care. They are committed to the development and expansion of the centre, and the opportunity to give each baboon a chance of rehabilitation and safe freedom.
Access to your own personal 'My Oyster' account – our online portal where you can find out much more about the program and manage your booking
Dedicated contact time with an experienced destination manager to discuss the project, answer any of your questions and for us to find out more about you
Help and advice from our UK office before arrival and whilst you are away
In-country support
Pre-departure information covering medical, safety and project advice
Gold level, 24/7 Pharos crisis management and incident support cover
Financial protection: ATOL (if we book your flights); IPP (if we don't book your flights)
Thorough orientation on arrival
Accommodation (see the 'accommodation' section above for details)
Advice on visa requirements
Oyster plants a tree in Africa with TreeAid to help reduce the impact of global carbon emissions
Airport transfers
WiFi
Breakfast, lunch and dinner
Bed linen
Transport to town on frequent trips
Your fee to Grietjie Nature Reserve
On your return:
Welcome home pack
Certificate of Recognition (on request)
References (on request)
Flights – as an ATOL bonded company, Oyster can book flights for you
You need a valid passport that meets the requirements of the country you will be travelling to
Insurance (covering your time with Oyster and any planned independent travel)
Any costs associated with changing your return flight date if you need to
Independent travel costs
Home country travel costs
Spending money for additional trips, food and entertainment
Money to buy meat if you would like to purchase this separately
Your family do not need to be a lifelong monkey lovers.  However, you will all soon be quickly be converted. It only takes a few minutes to be fascinated and amused by the baboons and a few hours to be totally hooked. After a little wariness, the baboons will get to know you.
Families have really enjoyed contributing to something which ultimately allows baboons to be released back to the wild. It is a great opportunity to learn more about animal welfare, conservation and rehabilitation, and to become an important part of the rehabilitation process.
Day to day tasks will be based on the strict schedules of care. You will need to be flexible and willing to get stuck in and expect one day off per week. There are of course opportunities for children to rest and ample trips to get involved in if there long enough. Don't forget about our fantastic Safari bolt on too.
You need to be prepared to get very mucky (yep, poo and wee !), live in basic African accommodation and be happy to be part of a wider team.
The work is crucial, as it allows for the smooth running of the centre and means that more baboons in distress can be cared for. The centre is run by the volunteers and there are lots of tasks which are not monkey-orientated, such as sorting food, tending to other types of animals,  and helping to maintain the centre.
You will be given an in depth volunteer guide and training sheet.
There will be presentations and tours on arrival, separate uniform is required for cleaning shifts and nursery shifts.
Day 1 afternoon arrival consists of a general tour
Day 2: Welcome presentation, Phase 1 tour
Day 2: Baboon behaviour presentation, Phase 2 tour
Day 2: Baboon film
Day 2: Introduction to general shifts; Milk and Food Prep and Phase 1 animals (non-primate). These are rabbits, guinea pigs, chickens, lizards and snakes (optional)
From there on other films are shown. Phase 1 presentation, river safety tour, tracks and signs at the river – often there are various wild animal tracks / signs which makes this a fun activity!
General shift work everyday as below
SHIFTS
TROOP CLEAN; Enclosure cleaning
FEED SACKS / FOOD PREP; Daily food prepping shifts in the Milk Kitchen
Milk Bottles; Making milk formula for the infants
ENRICHMENT; Making and watching the baboons receive enrichments
NURSERY; Taking care of any nursery orphans in the nursery quarantine
RABBITS / GUINEA PIGS; which have been companion animals in the past for porcupine babies and wart hog babies, but also so that any incoming groups of school children can be taught "Animal Kindness" and have hands-on contact
SNAKES / LIZARDS; If the volunteer isn't afraid they can help take care of the snakes (rescued exotics) which also aid to teach children and adults to respect and value their ecological role
CHICKENS; they keep the bugs in balance. They need caring for; letting out in the morning and putting them to bed at night. Night beds need cleaning out and animals fed
BONDING; If any infants are in the process of being bonded to an adult baboon surrogate, the volunteers will help facilitate their relationship building in purpose built bonding enclosures.
MONITORING; Volunteers can join experienced staff to observe and learn more about baboon behaviour, social structures and troop dynamics
Normally young babies come into the centre having lost their family. The team nurture the baby back to health with the support of volunteers and a surrogate human 'mum'. From around 12 weeks old start, the team start to bond the baby to a new baboon mother (again supported by volunteers).
Once bonded (this takes about 1 month), they return baby and surrogate to the female's troop and integrate them. It's an emotional but very rewarding process. Troops are fully formed through bonding orphaned baboons with troops ranging from 15-30 primates.
When ready, the team release the troops nearby with much monitoring and observation. They are often visited to see how they are getting on throughout the coming years.
Baboons are born throughout the year and so there can be baby baboons at all times. The team nurture whatever primate needs it, they rescue young infants based on this rather than for volunteer 'experience'.
Hopefully you will be able to help feed and bond with very young baboons at the centre, however this is not guaranteed. Babies are moved to surrogates following this process in order to help them gain as much nature skill and knowledge as possible for rehabilitation into the wild.
Oyster assesses projects carefully to ensure that they offer high standards of animal welfare and environmental practice. We also check that volunteers understand key points of good practice before working with animals. To find out more, see our animal welfare policy.
Whilst late-availability is possible, we would advise booking as soon as you can to guarantee your ideal dates. Our projects are very popular and spaces can fill up several months in advance, especially for the months of July to September.
This project is open to people from all walks of life, and as such you should expect to be with a group of volunteers of all ages. We cannot guarantee that there will be other families there at the same time as you. Your project work will be pitched towards the ages of you and your children.
November – March: Summer. Temperatures reach into the 30s (celsius) during the day, and don't fall much below 20 degrees at night time. There is the highest annual rainfall at this time of year, averaging between 5 and 7cm per month.
April – May: Autumn. Temperatures reach into the late 20s (celsius) during the day, but can fall as low as 10 degrees at night time. The average rainfall is about 2cm per month.
June – August: Winter. Temperatures reach up to the early 20s (celsius) during the day, but can fall as low as 5 degrees at night time. There is almost no rainfall at this time of year.
September – October: Spring. Temperatures range from mid to late 20s (celsius) during the day, and fall between 10 – 15 degrees at night time. There is nominal rainfall at this time of year, between 1 and 4cm of rain per month on average.
We would recommend budgeting up to £50 per week for a small family to include snacks and souvenirs. Larger trips should be budgeted separately.
There is really easy access to cash machines in the local town so you do not need to take all your cash with you.
If you are going for over 4 weeks, you might like to consider getting a cash card. Cash cards are a safe and convenient way to take your money travelling with you – they act just like debit cards but do not have the same fees as you might have to pay on your bank cards from home. Check out our blog for details on how the card works here.
No visa is necessary for under 90 days from UK and most western European countries. You will receive a tourist stamp upon arrival allowing you stay in the country for free for up to 90 days.
You need to make sure your passport is valid for a minimum of 30 days after you leave South Africa.
South African immigration requires that minors travelling with just one parent have an unabridged copy of their birth certificate with them, plus a parental consent letter from the absent parent. Where both parents are travelling, an unabridged copy of the minor's birth certificate is required. For more information, please refer to the South African High Commision.
You will need to have a TB vaccine (BCG), OR a negative TB test (as children we had them in the UK, so it should be easy for UK volunteers; in Europe though they have stopped giving them so we ask them to get a negative test). A BCG scar is fine as proof.
You should visit your doctor or travel nurse to find out what vaccinations you will need. Your routine vaccinations will need to be up to date; hepatitis A and Typhoid are likely. You should follow your doctor's advice.
Please check below for where the closest hospital to the project is – your doctor may ask to know this so that they can provide information on rabies.
For any more information, including entry requirements, please see the Fit for Travel website or the UK government's travel advice page for South Africa.
Marula Med in Phalaborwa (emergency centre) – 45-60 minutes. Closest large hospital is the medi clinic in Tzaneen – 1.5 hours
Safety is of paramount importance to us. Before your departure you will be given a full briefing and will be given information on how to stay safe. We have chosen programmes in areas which do not have safety concerns, but we do monitor the situation and follow advice from the UK government. There are excellent staff members on the ground who ensure that our volunteers stay safe. Having said all this it is of course your responsibility to make sure that you are careful and follow guidance on safety. Due to the rural location of this programme you live on site with other volunteers and staff and when you leave the centre you travel with a member of staff.
The centre is in a very secure and safe area.  The project is located in rural South Africa, approximately 7 hours north of Johannesburg. It is a beautiful and unspoilt area.
The town is 1 hour away on a good road. It has all you need – shopping malls, banks, lively places to eat and drink and good medical facilities. There is a weekly trip.
Hoedspruit is about 1.5 hours away. As there are regular pick ups in Hoedspruit, there is often a town trip to Hoedspruit as well.
The project is 'in the bush' so it's patchy and they can experience load shedding (no power). But generally it's good enough for volunteers to message.
The project is 'in the bush' so it's patchy and they can experience load shedding (no power). But generally it's good enough for volunteers to message.
South Africa is 2 hours ahead of GMT (GMT +2)
A special South African three pin plug can be purchased at most airports and travel stores. European sockets are also prevalent.
There are no set days off at the centre but you should expect to have one day off per week.
Volunteers get meal breaks during the day, and are free in the evenings. They get one day off a week to rest, plus can do trips and join us on outreach activities.
DAYS OFF / EXCURSIONS; all charged separately and to be paid in cash
The Kruger tour arranged by Oyster
Panorama Tour; a tour of the panorama route
Nourish Eco-Village Visit; to visit a community project / childrens creche
HALO Outreach; you can join every other Saturday to do dog health clinics (health checks, dipping for ticks / fleas / vaccinations)
Days off can be taken at the lodge next door (pay for use of the pool for the day but take your own food / drinks) or you can be dropped off at a Bar / Pool just outside of the reserve where you can use the pool for free as long as youbuy food / drinks from the menu)
Olifants Riverboat Safari and dinner; every other Wednesday
Reptile Park visit
Moholoholo tour
Vervet Monkey Foundation
Jane Goodall Chimp Eden
Supervision will be fairly intensive during the first few days, when you will receive a thorough induction and work-related training.  Once you are comfortable with things, you might not always have a supervisor working alongside you, but there will always be staff and other volunteers around to help, and you will always be accompanied for any high risk activities.
Staff at Oyster's head office and in-country will be responsible for your safety and welfare while you are at the project.  This will start from the moment you are picked up from the airport until the time you are dropped back there.  Before and after these times, you will be outside Oyster's responsibility and should make sure that you act safely and avoid risk.  This is also true if you choose to leave the project during your time off. We will give you plenty of guidance and advice about this. 
Other adventures like this