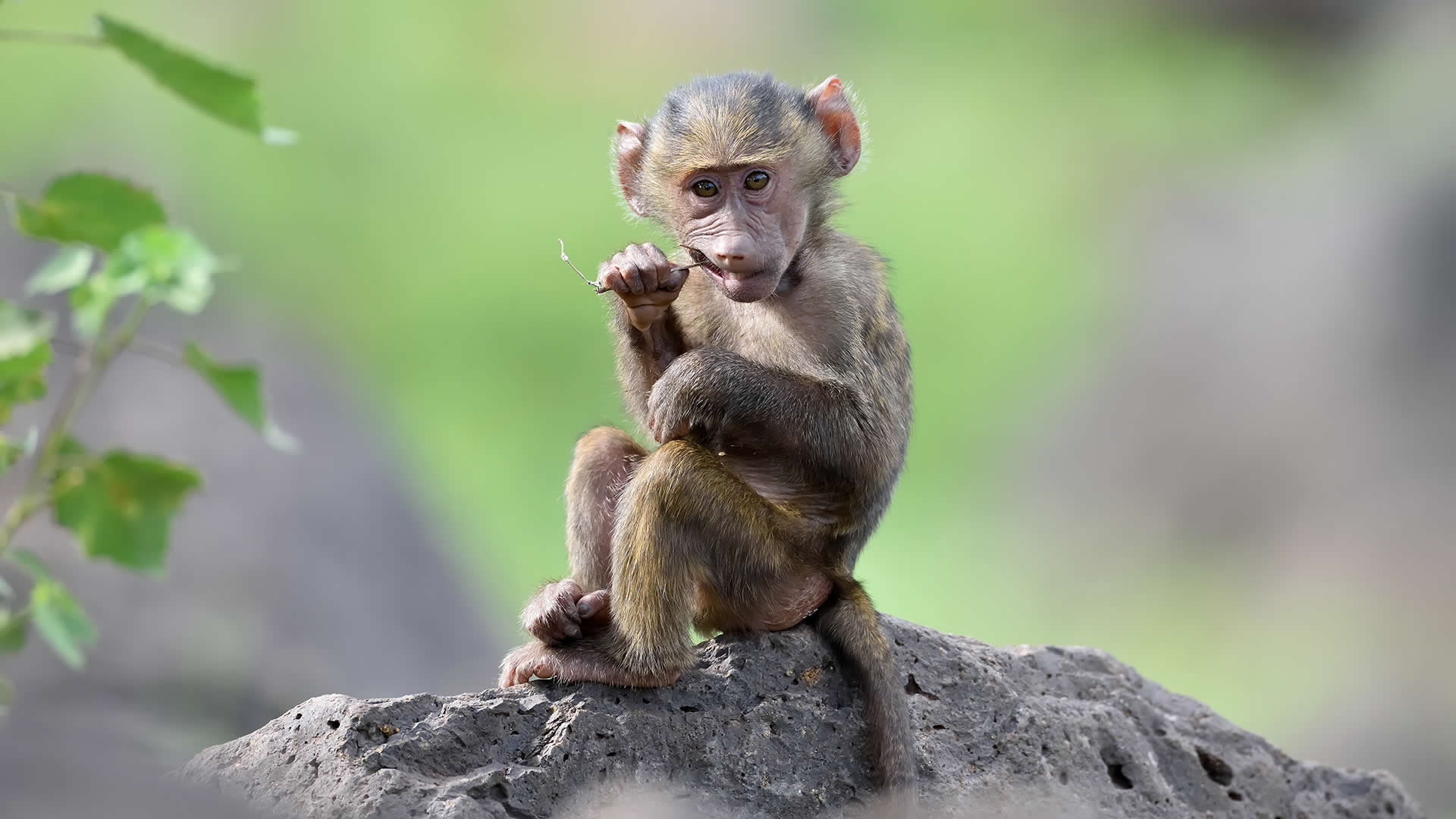 Prepare for lots of monkey hugs as a volunteer at this primate rehabilitation centre in rural Africa. Become a surrogate parent to orphaned and mistreated monkeys and baboons, helping them on a journey back to life in the wild.
Duration: 10 days – 12 weeks
Dates: Throughout the year
Arrival day: Monday
Return day: Monday (unless staying 10 days)
Eligibility: General level of fitness required
Age: 17+
Please note that this project is temporarily unavailable. Get in touch with us directly for alternative travel ideas.
The moment when a baby monkey or baboon chooses you for its comforting cuddle
Chatting with other volunteers around the braai, with the Milky Way sparkling above
Taking the babies to bathe – with one on your head, three in your arms and two on your legs
Showering outdoors with nothing above you but the leaves and the trees
Working with other people from around the world to give animals freedom – the greatest of gifts
Tzaneen, Limpopo, South Africa
Find out where the saying "cheeky monkey" originates from in this life-changing monkey rehabilitation centre in South Africa's bush. Become an instant member of this close community of volunteers in this family run business.
The centre is very well regarded in the conservation community and has received special accreditation from the government. The centre is known for the exceptional standard of care given to the monkeys (as well as to the volunteers!) and for having undertaken many successful releases into the wild.
As a volunteer with monkeys, you are expected to work hard and you need to enter fully into the spirit of the centre to get the most out of your time there. Expect to get very mucky and finish each day exhausted, happy in the knowledge that you have really helped to make a difference – and will have had lots of monkey hugs to thank you for it.
Add a well deserved one day/ two night Kruger Safari to your experience!
All tasks undertaken here are demand-driven, and these can vary throughout the year and depending on whether a release is imminent. One day you may be caring for orphaned babies, the next you may be transporting seven or eight monkeys and baboons around the centre on your head, in your arms or clutching your feet. Actual tasks that you might help in, though, are as follows:
Feeding baby monkeys and baboons
Cleaning enclosures
Preparing food for the adult monkeys and baboons
Helping to prepare for current and future releases
Planting and picking fruit and vegetables for the monkeys from the centre's own garden
Chopping down grasses for the monkeys
Helping with the food collection forays at local farms- a fantastic way to see the surrounding area
Caring for the various quarantined adult monkeys
Helping with veterinary procedures when necessary
Feeding and caring for the other animals at the centre
Monitoring the progress of the 400 monkeys and baboons as they gain strength, adapt to family life and get released into the wild in their new family
This work is crucial, as it allows for the smooth running of the centre and means that more monkeys in distress can be cared for. Whilst monkey volunteering involves a lot of interaction with the primates, it is important to remember that you will not always be with the monkeys. The centre is run by the volunteers and there are lots of tasks which are not monkey-orientated, such as harvesting food, sorting food and helping to maintain the centre.
Shared cabin-style accommodation in the heart of the centre, with the monkeys and baboons never far away
Outdoor heated showers
Communal braai area and common room where volunteers can socialise and relax
WiFi available for several hours each day
Breakfast and dinner are included
Food is mainly South African, which consists of lots of meat, carbs and vegetables
There is access to bread and spreads for a quick lunch, although most people prefer to buy their own ingredients and make their own more hearty and healthy lunches
 Most dietary requirements can be catered for, including vegetarian, vegan, gluten free and dairy free
What do I need to know regarding Covid-19?
We have been working closely with our partner organisations to ensure that you travel with the utmost confidence and peace of mind. Follow the links below to learn more about how to do this:
Airport: Fly to Hoedspruit (HDS) for direct airport collection or fly to Johannesburg (JNB) and take a shuttle bus leaving the airport at 11:30am (approximately 6 hours travel time)
Arrival day: Monday. You will be collected from HDS airport or Three Bridges shuttle bus station.
Departure day: Monday. You will be dropped off to the airport / bus station in time for your onward travel.

Paul , Lynnette and their son Mias have been involved in work with monkeys and primate rehabilitation since 1994 and set up the centre to help get monkeys back to the wild. They have welcomed over 1000 volunteers over the years, and many keep coming back for more!
Access to your own personal 'My Oyster' account – our online portal where you can find out much more about the program and manage your booking
Dedicated contact time with an experienced destination manager to discuss the project, answer any of your questions and for us to find out more about you
Help and advice from our UK office before arrival and whilst you are away
In-country support
Pre-departure information covering medical, safety and project advice
Gold level, 24/7 Pharos crisis management and incident support cover
Financial protection: ATOL (if we book your flights); IPP (if we don't book your flights)
Thorough orientation on arrival
Accommodation (see the 'accommodation' section above for details)
Advice on visa requirements
Oyster plants a tree in Africa with TreeAid to help reduce the impact of global carbon emissions
Airport transfers
WiFi
Breakfast and dinner
Bed linen
Transport to town on a weekly basis
On your return:
Welcome home pack
Certificate of Recognition (on request)
References (on request)
Flights – as an ATOL bonded company, Oyster can book flights for you
You need a valid passport that meets the requirements of the country you will be travelling to
Insurance (covering your time with Oyster and any planned independent travel)
Any costs associated with changing your return flight date if you need to
Independent travel costs
Home country travel costs
Spending money for additional trips, food and entertainment
There is no set typical day here, as all tasks are demand-driven and the tasks can vary between different seasons and depending on whether a release is imminent. It may feel a bit chaotic at times, as there is so much going on and so many primates to care for.
A general idea of a typical timetable can be seen below:
6:30am – 9am Morning tasks
9am – 10am Breakfast break
10am – 1pm Morning tasks
1pm – 2pm Lunch break
2pm – 6pm Afternoon activities
Upon arrival at the centre you will receive an induction so that you learn how to work with monkeys, but you will also find that you learn more as you go.
The tasks that you may be asked to complete during your morning and afternoon sessions will vary depending on season and demand. Typical jobs that you may encounter may be:
Cleaning enclosures – this involves lots of hugs from baby baboons and baby monkeys! Beware, you will get mucky!
Feeding the animals – this means either bottle feeding babies, giving food to the animals in quarantine or providing food to the primates in rehabilitation
Bathing the babies – this can be in the river or in small baby baths, depending on the age
Cutting food – chopping grasses, cutting up fruit and vegetables – there is a lot of food preparation to do for the hundreds of animals living here. They tend to eat lots of vegetables and bread, but it does depend on where the food delivery comes from
Checking for any injuries or discomfort amongst the primates
Working on specific rehabilitation projects
Building new enclosures
Planting vegetables
Collecting food and helping unload the food trucks
Feeding of nocturnal animals at night time
At quiet times, you may have the opportunity to go on excursions.
Please note that during the baby monkey season, November – February, the centre is extremely busy and you will be worked very hard. There will most likely not be great scope for excursions, and you may be asked to look after a baby over a 24-hour period, which involves carrying the baby around with you, bathing with it, waking in the night to do bottle feeding and much more.
Returned volunteer Rebecca gives a great insight into her daily experiences.
Monkeys and baboons are a common sight in South Africa, and as such can be regarded as vermin. Each year many baby monkeys and baboons are brought to the centre where they thrive under the careful love and attention of the volunteers.
Coming in as babies means that these primates need feeding, round the clock care and plenty of attention. Volunteers need to fill the role that the parents would have had with these sociable creatures.
It is important that the young monkeys and baboons have close contact with humans as they mature. They are sociable animals and there is an amazing amount that they can learn from us. With young babies, a volunteer will care for just one primate for a 24 hour period. This would involve preparing their bottles, feeding them, bathing them and letting them sleep on them. It is tiring, but rewarding. After the 24 hour period, the baby primates are rotated to another volunteer so that the monkey does not become dependent on just one person. In this way, the babies are prepared for life in the wild from a very young age.
As the babies grow, they are fully integrated with the other juvenile primates and spend less time around volunteers. This means that they are learning life as a group, and gradually hierarchies will emerge.
When the juveniles are ready to be released to the larger enclosure to integrate with older monkeys and baboons, they will start to form a troop. Initially the troop will live in an enclosure with food provided, before being transferred to a larger enclosure with very little food provided.  Here they have to learn to sort themselves out fully.
After what is often a 3 or 4 year process, the troops will be fully released back to the wild. This happens a long way from the centre so that there is no temptation to return.
With the older monkeys and baboons at the centre, there is a 'no touching' policy. This is to help the rehabilitation process, as well as the safety of the volunteers.
Monkeys are usually born between November and February. Of course, they are very young and needing close care until they are at least 6 – 9 months old, so there will always be hands on work to be done with the babies.
Baboons are born throughout the year, and so there can be baby baboons at all times.
Please note that during the baby monkey season, November – February, the centre is extremely busy and you will be worked very hard. There will most likely not be great scope for excursions, and you may be asked to look after a baby over a 24-hour period, which involves carrying the baby around with you, bathing with it, waking in the night to do bottle feeding and much more. This will not feel like a relaxing holiday!
Oyster assesses projects carefully to ensure that they offer high standards of animal welfare and environmental practice. We also check that volunteers understand key points of good practice before working with animals. To find out more, see our animal welfare policy.
Whilst late-availability is possible, we would advise booking as soon as you can to guarantee your ideal dates. Our projects are very popular and spaces can fill up several months in advance, especially for the months of July to September.
Working with the young monkeys and baboons is very hands-on. Being so young, they need constant care and attention – and this means plenty of hugs! The very young ones need 24 hour care, which means that they will be even sleeping on you. Please be aware that monkeys are mucky little things, and you will get dirty!
We are an approved activity provider for the Duke of Edinburgh's Award. You are able to put the time that you spend volunteering abroad on this project towards achieving your Gold Duke of Edinburgh's Award. We are happy to sign off your completion of this programme to show that you have achieved the Residential section of the Gold Award.
November – March: Summer. Temperatures reach into the 30s (celsius) during the day, and don't fall much below 20 degrees at night time. There is the highest annual rainfall at this time of year, averaging between 5 and 7cm per month.
April – May: Autumn. Temperatures reach into the late 20s (celsius) during the day, but can fall as low as 10 degrees at night time. The average rainfall is about 2cm per month.
June – August: Winter. Temperatures reach up to the early 20s (celsius) during the day, but can fall as low as 5 degrees at night time. There is almost no rainfall at this time of year.
September – October: Spring. Temperatures range from mid to late 20s (celsius) during the day, and fall between 10 – 15 degrees at night time. There is nominal rainfall at this time of year, between 1 and 4cm of rain per month on average.
We would recommend budgeting up to £40 per week to include snacks and souvenirs. Larger trips should be budgeted separately, such as a trip to Kruger National Park.
There is really easy access to cash machines in the local town so you do not need to take all your cash with you.
If you are going for over 4 weeks, you might like to consider getting a cash card. Cash cards are a safe and convenient way to take your money travelling with you – they act just like debit cards but do not have the same fees as you might have to pay on your bank cards from home. Check out our blog for details on how the card works here.
No visa is necessary for under 90 days from UK and most western European countries. You will receive a tourist stamp upon arrival allowing you stay in the country for free for up to 90 days.
You need to make sure your passport is valid for a minimum of 30 days after you leave South Africa.
Most of our volunteers are independent travellers and you will become part of a group of people from around the world here. It is fine to travel with friends or as part of a small group too however- more the merrier!
The simple answer to this question is, yes absolutely!
It is important to bear in mind however that this may not be like other holidays that you have taken. Remember that you are volunteering, and this means that you will be put to work! This sort of holiday is a world away from sun loungers and cocktails, with our volunteers often heading home tired but immensely satisfied. If you think that you will need a bit of relaxing time on your trip too, do make sure to factor this in when your time on the project is complete.
You should visit your doctor or travel nurse to find out what vaccinations you will need. Your routine vaccinations will need to be up to date; hepatitis A and Typhoid are likely. You should follow your doctor's advice.
Please check below for where the closest hospital to the project is- your doctor may ask to know this so that they can provide information on rabies.
There are hospital facilities just 20 minutes from the centre.
Safety is of paramount importance to us. Before your departure you will be given a full briefing and will be given information on how to stay safe. We have chosen programmes in areas which do not have safety concerns, but we do monitor the situation and follow advice from the UK government. There are excellent staff members on the ground who ensure that our volunteers stay safe. Having said all this it is of course your responsibility to make sure that you are careful and follow guidance on safety. Due to the rural location of this programme you live on site with other volunteers and staff and when you leave the centre you travel with a member of staff.
The centre is in a very secure and safe area. A safe is provided in the main office for valuables. The project is located in rural South Africa, approximately 7 hours north of Johannesburg. It is a beautiful and unspoilt area.
The town is 30 minutes' drive away on a good road. It has all you need – shopping malls, banks, lively places to eat and drink and good medical facilities. There are regular trips there. However, it is a testament to life at the centre that once volunteers settle in, most prefer to stay there rather than take the opportunity to go to town.
Wifi connection is available at the centre, during certain hours of the day.
Please bear in mind that you are in Africa, and signal and speed are unlikely to be as reliable as you might be used to back at home.
There is good phone reception here.
South Africa is 2 hours ahead of GMT (GMT +2)
A special South African three pin plug can be purchased at most airports and travel stores. European sockets are also prevalent.
There are no set days off at the centre and you should expect to be working every day.
A few examples of things that you might be able to get involved in are below. Please note, you should not expect to do any trips if you are staying for 3 weeks or less:
Panorama Scenic Route – a day-long excursion into neighbouring Mpumalanga Province, some of the most incredible views to be seen in South Africa
Test your courage by doing a 68mt swing in a gorge
Kruger Game Park – experience wildlife up close, learning more about nature and animals from a qualified field guide. You might be fortunate enough to see the Big 5.
Horse riding excursions
Trips into town are organised twice a week.
Mostly you will find that your mornings are busy and then the pace will slow down in the afternoon- this can depend on the season and how many monkeys are being cared for at any one time however. Baby monkey season from November – February sees the busiest days with the least time off.
Monkeys and baboons need care around the clock seven days per week, so you don't get any specific days off. However, when the jobs are done and there is some free time you will often find that a trip will be spontaneously arranged.
This should never feel like a constant work project. However, you do need to have a positive and hard working manner, as monkey volunteering abroad can be challenging at the same time as rewarding.
Supervision will be fairly intensive during the first few days, when you will receive a thorough induction and work-related training.  Once you are comfortable with things, you might not always have a supervisor working alongside you, but there will always be staff and other volunteers around to help, and you will always be accompanied for any high risk activities.
Staff at Oyster's head office and in-country will be responsible for your safety and welfare while you are at the project.  This will start from the moment you are picked up from the airport until the time you are dropped back there.  Before and after these times, you will be outside Oyster's responsibility and should make sure that you act safely and avoid risk.  This is also true if you choose to leave the project during your time off. We will give you plenty of guidance and advice about this. 
Oyster has personally hand-picked some of the best volunteering projects out there. With so much amazing choice, it can be hard to make a decision. Our Animal Welfare Destination Manager, Anne, has written a guide to help you to choose the best animal volunteering project for you.
Other adventures like this