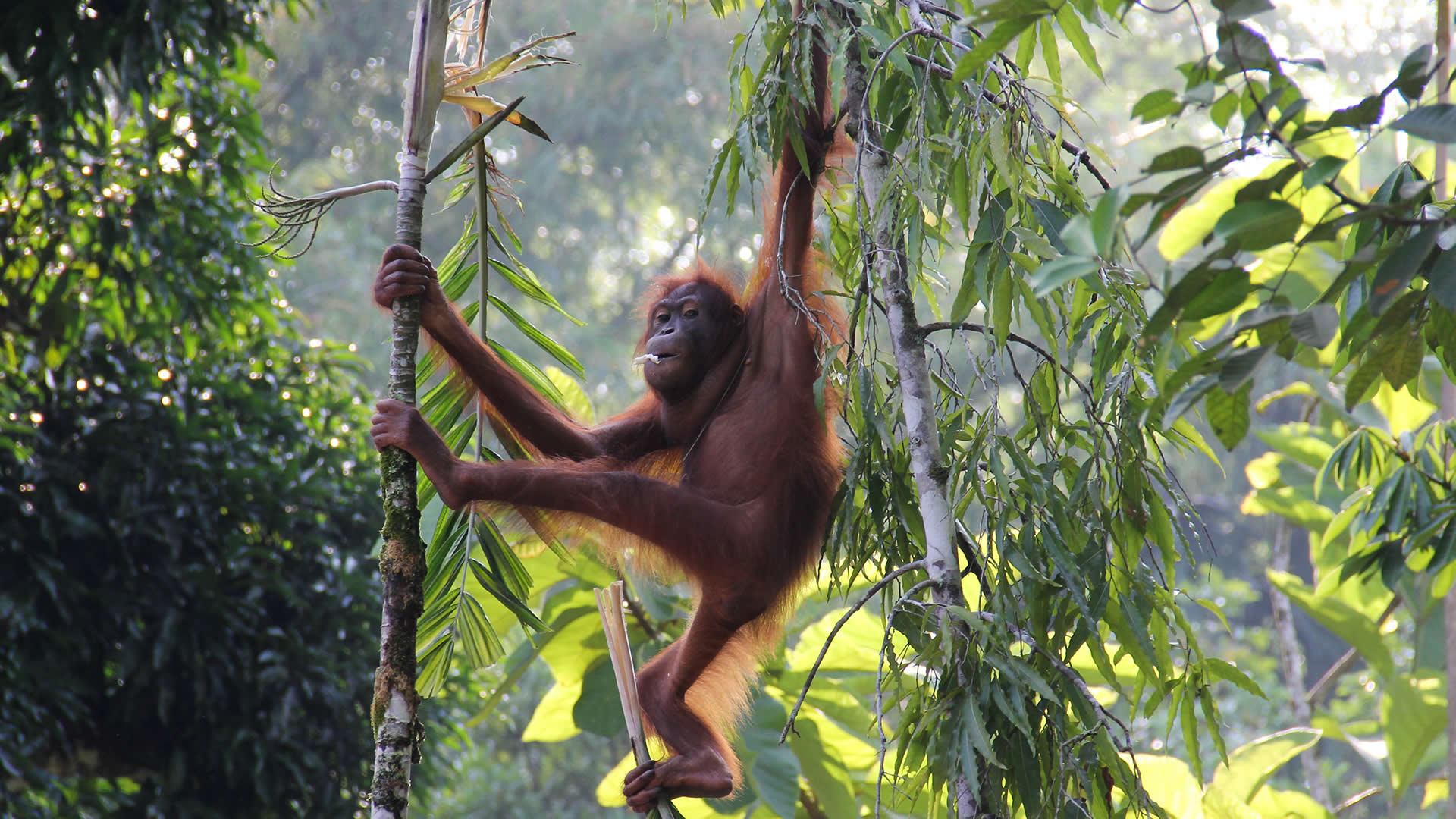 Orangutan populations in Borneo are plummeting due to the illegal pet trade and deforestation – and this tragic trend is also extending to many other animals found on this tropical island. Each year, more and more animals are rescued and brought to this wildlife centre to recover and live a life as close to the wild as possible with the help of volunteers.
Duration: 2 or 4 weeks
Dates: See project dates
Eligibility: General level of fitness required
Age: 18+
Being surrounded by and helping orangutans, sun bears, crocodiles, gibbons, macaques, turtles and more
Living deep in the rainforest – a once in a lifetime experience!
Hearing the happy chattering of the primates and the calling of the birds all around you
Exploring stunning parts of Borneo in your free time, from glorious beaches to remote National Parks
The future of the cherished orangutan is very much under threat. Its habitat is being destroyed to the point where, by 2030, there are anticipated to just be small pockets of wilderness remaining. Coupled with that, orangutans are being taken from the wild at a young age and kept in cruel captivity as pets. In 1997, this orangutan rescue centre was founded to care for these displaced and abused orangutans – and since then it has grown to care for other animals including sun bears, leopards, gibbons, macaques, turtles and more.
Volunteers help with a variety of orangutan volunteer tasks at the project site in Borneo. Examples can include, but are not limited to:
Animal husbandry: The all important animal care! This task is essential and is done each day. Volunteers help with cleaning enclosures, preparing food for the animals and hiding that food around their enclosures. The rewards are amazing – watching the animals foraging for the food and behaving as they would do in the wild.
Enrichments: Animals that live outside of their natural habitat often need extra care to ensure that they remain stimulated, healthy and happy. Enrichments are essential in this process. Volunteers help to create food and games that encourage wild behaviour – your imagination is key! This is one of the most important jobs that you will do at the sanctuary.
Construction: The centre is constantly striving to improve living conditions for the animals in its care. This involves building new climbing structures, ponds, boardwalks, feeding platforms, bridges and more – all essential for the running of the centre and the dedicated care of the animals.
Maintenance: Due to the harsh rainforest conditions, structures often need high levels of maintenance – they can rust, rot or get eaten by termites in quite a short amount of time! Maintenance tasks can include cleaning, painting and repairing.
Conservation and sustainability: At times, volunteers will be asked to help with planting native species for food sources or general reforestation purposes. In addition to this, you will take a day trip to a nearby beach to help with removing plastic waste from the beach.
Whilst tasks are geared up for people of all abilities and no prior experience is required, it is important to have a good level of fitness for orangutan volunteer work. The tasks are quite manual and the humidity can be quite intense, so come prepared!
Live on-site at the sanctuary in a shared volunteer house
There are several volunteer houses with 2 or 3 bedrooms in each
Each volunteer house has a communal living space, kitchen, toilet, shower and veranda
You should expect to share a room with at least one other person
If you are travelling as a couple, with family members or with friends, you will be housed together
There is mains electricity in the houses and a fan in each room
There is no hot water, so water is warmed by the sun
There is no WiFi, however most volunteers get their phone unlocked and buy a local SIM card with data package
Accommodation is basic in comparison to Western standards
You will be given a weekly food budget and will be living on a self-catering basis.
The kitchen has a hob, fridge/ freezer, kettle and toaster
Weekly transport to the local town for grocery shopping
What do I need to know regarding Covid-19?
We have been working closely with our partner organisations to ensure that you travel with the utmost confidence and peace of mind. Follow the links below to learn more about how to do this:
Access to your own personal 'My Oyster' account – our online portal where you can find out much more about the program and manage your booking
Dedicated contact time with an experienced destination manager to discuss the project, answer any of your questions and for us to find out more about you
Help and advice from our UK office before arrival and whilst you are away
In-country support
Pre-departure information covering medical, safety and project advice
Financial protection: ATOL (if we book your flights); IPP (if we don't book your flights)
Thorough orientation on arrival
Accommodation (see the 'accommodation' section above for details)
Advice on visa requirements
Oyster plants a tree in Africa with TreeAid to help reduce the impact of global carbon emissions
Airport and project transfers
First and last night accommodation in a guest house in Kuching
Welcome dinner on your first night and last night meal in Kuching
Oyster Worldwide volunteer t-shirt
Oyster luggage tag
On your return:
Welcome home pack
Certificate of Recognition (on request)
References (on request)
Flights – as an ATOL bonded company, Oyster can book flights for you
You need a valid passport that meets the requirements of the country you will be travelling to
Insurance (covering your time with Oyster and any planned independent travel)
Any costs associated with changing your return flight date if you need to
Independent travel costs
Home country travel costs
Spending money for additional trips, food and entertainment
Oyster is working hard to reopen this project. This will involve some changes to the running of the project including:
All volunteers must bring masks, gloves and hand sanitiser
All volunteers must be able to provide proof of a negative Covid-19 test (taken within 72 hours before departure)
Prepare for a thorough orientation on arrival regarding health and safety measures at your project and in your country destination
Social distancing of 1.5m must be observed during project work
Volunteers must wear masks during the airport transfers
There will be a daily check for temperature and symptoms
Protocol is, and will continue to be, followed with the aim to minimise risk to staff and volunteers
Strictest hygiene controls are in place for equipment and all public areas.
For people who care about animals and nature, this project is perfect.  Although the focus of this project is on the care and protection of orangutans, volunteers will get to live alongside and work with other animals, such as singing gibbons, proboscis monkeys, sun bears and hornbills. After the project, you will have a good understanding of the threats that face many captive animals and will know that your contribution has benefitted the animals and created awareness in the local area.
This is a guide only – the typical day can change based on the weather, the time of year and the animals' needs:
08.15 – 12.00 Morning shifts. This is generally the husbandry work
12.00 – 14.00  Lunch break
14.00 – 17.00 Afternoon shifts. Either enrichment, construction, maintenance or conservation work
You can stay for 2 or 4 weeks. The arrival dates are 5th of each month or 19th of each month.
START DATE
END DATE (14 days/ 28 days)

5 January
19 January
19 January / 2 February
2 February / 19 February
5 February
19 February
19 February / 5 March
5 March / 19 March
5 March
19 March
19 March / 2 April
2 April / 19 April
5 April
19 April
19 April / 3 May
3 May / 19 May
5 May
19 May
19 May / 2 June
2 June / 19 June
5 June
19 June
19 June / 3 July
3 July / 19 July
5 July
19 July
19 July / 2 August
2 August / 19 August
5 August
19 August
19 August / 2 September
2 September / 19 September
5 September
19 September
19 September / 3 October
3 October / 19 October
5 October
19 October
19 October / 2 November
2 November / 19 November
5 November
19 November
19 November / 3 December
3 December / 19 December
5 December
19 December
19 December / 2 January
2 January / 19 January
Whilst late-availability is possible, we would advise booking as soon as you can to guarantee your ideal dates. Our projects are very popular and spaces can fill up several months in advance, especially for the months of June to September.
Volunteers love to explore Kuching, the local National Parks (Bako, Gunung Gading, Kubah),
The local beaches
A cultural village
You can also do activities such as kayaking
You can chill out in beautiful locations in lovely hotels
In the evenings, you will find that you socialise, play cards, cook, read and watch films
You will be free in the evenings and will have 2 consecutive days off each week
Yes, and we really encourage this. This project can be combined with:
If you choose to combine projects in Borneo and Malaysia, we offer you a discount of £50.
If you love animals then the answer is probably yes, but there are some things that are worth considering before you book.
Culture: Malaysian culture is very different from the lifestyle that you may be used to at home. To make the most of your time away, researching the culture in advance will help you to adjust quickly to the local customs.
Animal welfare: The conditions of the sanctuary may be different to what you expect at home and local keepers may treat animals in a way that you may not understand. A suitable volunteer will be mindful of these differences.
Flexibility: While travelling, things do not always go to plan so keep an open-mind and be prepared to adapt at short notice.
Hard work: This project is hands on and may result in you getting mucky. It is hard work, but it is ultimately rewarding. The animals that you will be working with are wild and therefore, they must be treated with respect. This project will allow you to work alongside trained professionals and learn how animals are affected by conservation issues. If you are passionate about animals and want to make a real difference then this project is definitely you.
Humidity: It can be very humid, and the work can be quite physical. You will find that you will adapt the most quickly if you have relatively good physical fitness.
Each year, many orangutans and other animals are rescued and brought to the centre to be cared for for the rest of their lives. The lucky few might have the chance to be rehabilitated, but most animals are looked after in an environment as close to the wild as possible. Not only will you be making a genuine contribution to improving animal welfare, but you will be helping to care for orangutans and many other exotic species.
This orangutan volunteering project is an ideal project for those searching for an amazing gap year experience, looking for jobs in animal conservation or simply looking to make a genuine contribution to conservation work abroad.
Volunteers are not allowed to have direct contact with the animals due to the animals' unpredictable behaviour. Physical interaction with the orangutans does not benefit the animals and can often be counter-productive to the aims of the rehabilitation project.
As an orangutan sanctuary volunteer, you will have plenty of time to watch the orangutans and get to know them. The highlight for many volunteers is understanding each animal's personality and learning how they communicate with each other.
Oyster assesses projects carefully to ensure that they offer high standards of animal welfare and environmental practice. We also check that volunteers understand key points of good practice before working with animals. To find out more, see our animal welfare policy.
Prepare for rain in Borneo. With an annual rainfall in excess of 2500mm in many areas, getting wet is inevitable. The humidity levels are 90%.
Malaysia has a wet and a dry season however, rain can occur at anytime. The seasons are:
Wet season: October – March
Drier season: April – September
We would recommend budgeting up to £50 per week for drinks, treats and trips, but you should not expect to spend that much money!
There is an ATM in the nearby town just 30 minutes from the project site.
No visa is necessary for under 90 days from UK and most western European and western countries.
You will need to make sure your passport is valid for a minimum of 6 months from your date of entry in Malaysia.
Most of our volunteers are independent travellers and you will become part of a group of people from around the world here. It is fine to travel with friends or as part of a small group too however- more the merrier!
The simple answer to this question is, yes absolutely!
This is different to other Borneo orangutan holidays in the sense that you volunteering, and this means that you will be put to work! This sort of holiday is a world away from, site-seeing, sun loungers and cocktails, with our volunteers often heading home tired but immensely satisfied. If you think that you will need a bit of relaxing time following your orangutan volunteer experience, do make sure to factor this in when your time on the project is complete.
To volunteer with orangutans, you should visit your doctor or travel nurse to find out what vaccinations you will need. Your routine vaccinations will need to be up to date, it is likely you will need Hepatitis A and Typhoid, and possibly Hepatitis B, Malaria and Rabies. You should follow your doctor's advice.
There is a doctor's surgery and hospital in the town located about 30 minutes drive away.
You will be travelling to Malaysian Borneo. Malaysia is a very forward-thinking country and has become very popular with travellers from around the world. The centre is in a very secure and safe area.
A safe is provided in the main office for valuables. Your accommodation is located on the premises. Whilst working here you will be under the guidance of the volunteer coordinator and full time members of staff, and you will receive full health and safety briefings on all that you do.
You will be based 30 minutes from the closest town.
There is no wifi available at the centre, however there are internet cafes that you can visit on your weekly food shop. Most volunteers take an unlocked phone and buy a local SIM card.
There is full reception at the primate centre and on site in Borneo.
Malaysia is 8 hours ahead of GMT (GMT +8)
In Malaysia, the British 3 pin plug is used.
Supervision will be fairly intensive during the first few days, when you will receive a thorough induction and work-related training.  Once you are comfortable with things, you might not always have a supervisor working alongside you, but there will always be staff and other volunteers around to help, and you will always be accompanied for any high risk activities.
Staff at Oyster's head office and in-country will be responsible for your safety and welfare while you are at the project.  This will start from the moment you are picked up from the airport until the time you are dropped back there.  Before and after these times, you will be outside Oyster's responsibility and should make sure that you act safely and avoid risk.  This is also true if you choose to leave the project during your time off. We will give you plenty of guidance and advice about this. 
Oyster has personally hand-picked some of the best volunteering projects out there. With so much amazing choice, it can be hard to make a decision. Our Animal Welfare Destination Manager, Anne, has written a guide to help you to choose the best animal volunteering project for you.
Other adventures like this