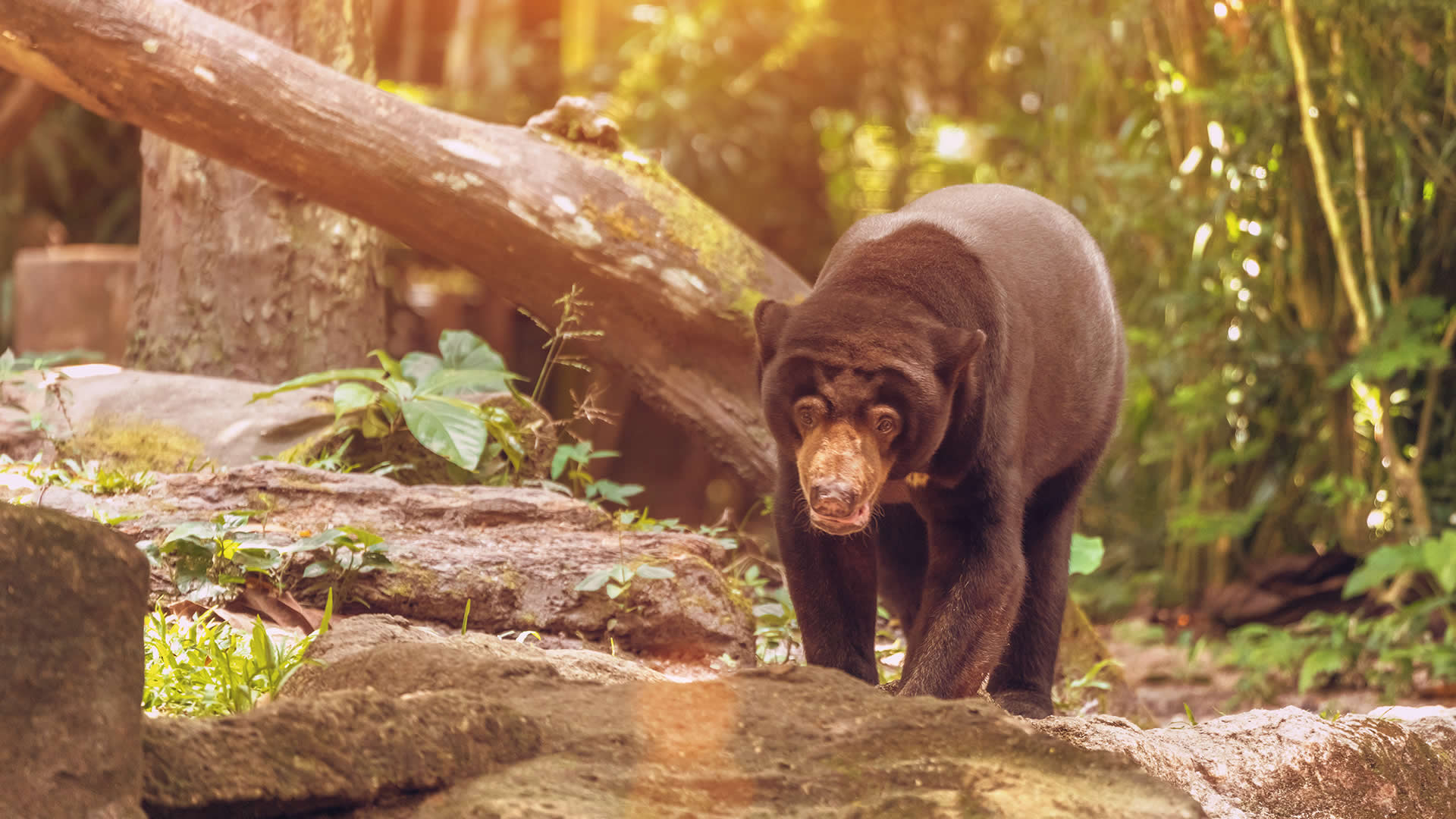 Sun bears are the world's smallest species of bear, and their cuteness is putting them under threat. As babies they are illegally taken from the wild to be sold as pets, forced to live in tiny unnatural enclosures. Rescued from this cruel captivity, they now have the opportunity to enjoy living in freedom. You can help to give these bears a life they deserve in the stunning Bornean jungle.
Duration: 2 or 4 weeks
Dates: See project dates
Eligibility: General level of fitness required. The work can be physical and the humidity is high
Age: 18+
The moment when you see your first sun bear – and then another, and another!
Helping the smallest bear species in the world to experience freedom – the greatest of gifts
Chilling out in a hammock watching and listening to jungle life unfold around you
Venturing into Sepilok Orangutan Rehabilitation Centre to get your first sighting of orangutans
Going to the local food market – an overwhelming burst of colour and smells, with delicious dishes at every turn
Sandakan, Sabah, Malaysia
Often considered to be the "cutest" bear in the world due to its size, the tiny sun bear is sadly under threat thanks to habitat loss, illegal hunting and the pet trade. Native only to Borneo, Bornean sun bears are now faced with extinction. The sun bear rehabilitation centre was established in 2008 to help rescue these bears from cruel captivity and give them the life they deserve. Currently providing a home to more than 40 sun bears, this is an inspiring haven for these mistreated bears.
The role as a volunteer with bears is varied, but common activities include:
Enrichment: The sun bears have spent their lives in captivity, and so it is important to help to stimulate their wild instincts. This helps them to rehabilitate fully, and ultimately prepares them for life in the wild. Enrichment tasks include hiding food to encourage foraging behaviour, hunting out termite nests in the jungle, layering leaves for bedding and nesting purposes and creating extra climbing areas to stimulate their muscles.
Monitoring and observation: These bears have never had to fend for themselves before, so settling into a new life in the semi-wild can be a difficult transition. Volunteers help to keep an eye on the sun bears, monitoring how they are adapting and how their health is.
Construction: Basic construction work to help maintain the bears' dens or enclosures can sometimes be needed. Volunteers have also helped out with painting work to improve the facilities and basic board walk construction.
Husbandry: The least glamorous but the most important role when volunteering in Borneo! Help to clean the enclosures and prepare their food. A real highlight involves helping to feed the sun bears!
Education: Help to prepare displays for visitors to the centre and even chat to school groups about the importance of conservation. A weekly blog is written by volunteers, and you will help to contribute to this too.
Accommodation on the edge of the jungle just 15 minutes by car from the centre
Self catering accommodation with a kitchen and dining area overlooking the jungle
Volunteers share a room between two with a safe, clothing storage and mosquito net provided
Western toilets and refreshingly cool showers
A food budget is provided on your working days to help you to save money
There is a restaurant at the accommodation if you don't feel like cooking
Access to your own personal 'My Oyster' account – our online portal where you can find out much more about the program and manage your booking
Dedicated contact time with an experienced destination manager to discuss the project, answer any of your questions and for us to find out more about you
Help and advice from our UK office before arrival and whilst you are away
In-country support
Pre-departure information covering medical, safety and project advice
Gold level, 24/7 Pharos crisis management and incident support cover
Financial protection: ATOL (if we book your flights); IPP (if we don't book your flights)
Thorough orientation on arrival
Accommodation (see the 'accommodation' section above for details)
Advice on visa requirements
Oyster plants a tree in Africa with TreeAid to help reduce the impact of global carbon emissions
Airport and project transfers
Welcome meal on your first night
Food budget to cover your food on project days
On your return:
Welcome home pack
Certificate of Recognition (on request)
References (on request)
Flights – as an ATOL bonded company, Oyster can book flights for you
You need a valid passport that meets the requirements of the country you will be travelling to
Insurance (covering your time with Oyster and any planned independent travel)
Any costs associated with changing your return flight date if you need to
Independent travel costs
Home country travel costs
Spending money for additional trips, food and entertainment
Meal budget is not provided on days off
You should expect to work between 8.00 and 17.00 on this project. You will be collected from your accommodation in the morning and returned after your day's work.
Whilst late-availability is possible, we would advise booking as soon as you can to guarantee your ideal dates. Our projects are very popular and spaces can fill up several months in advance, especially for the months of June to September.
Volunteers are not allowed to have direct contact with the animals due to the animals' unpredictable behaviour. Physical interaction with the sun bears does not benefit the animals and can often be counter-productive to the aims of the rehabilitation project.
Every volunteer will have plenty of time to watch the sun bears and get to know them. The highlight for many volunteers is understanding each animal's personality and learning how they communicate with each other.
Oyster assesses projects carefully to ensure that they offer high standards of animal welfare and environmental practice. We also check that volunteers understand key points of good practice before working with animals. To find out more, see our animal welfare policy.
Prepare for rain in Borneo. With an annual rainfall in excess of 2500mm in many areas, getting wet is inevitable. The humidity levels are 90%.
Malaysia has a wet and a dry season however, rain can occur at anytime. The seasons are:
Wet season: November – March
Drier season: April – September / October
We would recommend up to £20 per week for drinks, snacks and meals on your days off.
The closest ATMs are in Sandakan Town. You will be based on the outskirts of the town with easy access every weekend. We recommend you withdraw any cash you need at the airport for convenience and time saving on trips to town.
No visa is necessary for trips under 90 days from UK and most western European and western countries.
You need to make sure your passport is valid for a minimum of 6 months from your date of entry into Borneo / Malaysia.
Most of our volunteers are independent travellers and you will become part of a group of people from around the world here. It is fine to travel with friends or as part of a small group too however – more the merrier!
The simple answer to this question is, yes absolutely!
It is important to bear in mind however that this may not be like other holidays that you have taken. Remember that you are volunteering, and this means that you will be put to work! This sort of holiday is a world away from sun loungers and cocktails, with our volunteers often heading home tired but immensely satisfied. If you think that you will need a bit of relaxing time on your trip too, do make sure to factor this in when your time on the project is complete.
You should visit your doctor or travel nurse to find out what vaccinations you will need. Your routine vaccinations will need to be up to date, it is likely you will need Hepatitis A and Typhoid, and possibly Hepatitis B, Malaria and Rabies. Please follow your doctor's advice.
Please check below for where the closest hospital to the project is – your doctor may ask to know this so that they can provide information on rabies.
Every volunteer is required to show:
1. Doctor's letter stating that the volunteer is free from Tuberculosis, Hepatitis A, Hepatitis B & Tetanus. The letter/ results of tests need to be dated less than 6 months from the project start date 
2. Proof of vaccination  + booster against Covid-19
For any more information, including entry requirements related to Covid-19, please see the Fit for Travel website or the UK government's travel advice page for Malaysia.
Medical facilties are closeby in Sandakan, just 20 minutes from the project and accommodation.
Malaysia is a very forward-thinking country and has become very popular with travellers from around the world. Malaysian Borneo is a very accessible part of the island too and welcomes many visitors each year. You will be collected from the airport and dropped off back again at the end of your stay. All transport to the project is included.
Your accommodation is located on the site of a leafy guest house on the outskirts of town and is very safe and very beautiful.  Whilst working with the bears you will be under the guidance of the volunteer coordinator and full time members of staff, and you will receive full health and safety briefings on all that you do. Sandakan Town is a beautiful tourist town however you should keep an eye on your possessions when out and about.
Wifi is generally accessible at the main guest house for a nominal fee.
Please bear in mind that you are in Asia, and signal and speed are unlikely to be as reliable as you might be used to back at home.
There is good phone reception on the project site and at your accommodation.
Malaysia Standard Time is 8 hours ahead of Greenwich Mean Time (GMT+8).
In Malaysia, the British 3 pin plug is used.
You will have one day off per week to relax and enjoy the area.
Sepilok Orangutan Rehabilitation Centre and the Rainforest Discovery Centre are right on the sun bear centre's doorstep
A country park with walks and boating is just next to your accommodation
You are also close to the lovely seaside town of Sandakan within 15 minutes drive. This is a very popular spot to visit and enjoy a pizza.
Evenings are generally spent relaxing at the volunteer accommodation, cooking together and playing cards.
We have participants from all nationalities, ages and walks of life. Whilst this is a very popular gap year Borneo project, we do also have participants doing career breaks, on their annual leave or in retirement. You will find that all gap year programs Borneo are mixed in ages, and this only improves the project diversity and experience.
Supervision will be fairly intensive during the first few days, when you will receive a thorough induction and work-related training.  Once you are comfortable with things, you might not always have a supervisor working alongside you, but there will always be staff and other volunteers around to help, and you will always be accompanied for any high risk activities.
Staff at Oyster's head office and in-country will be responsible for your safety and welfare while you are at the project.  This will start from the moment you are picked up from the airport until the time you are dropped back there.  Before and after these times, you will be outside Oyster's responsibility and should make sure that you act safely and avoid risk.  This is also true if you choose to leave the project during your time off. We will give you plenty of guidance and advice about this. 
Oyster has personally hand-picked some of the best volunteering projects out there. With so much amazing choice, it can be hard to make a decision. Our Animal Welfare Destination Manager, Anne, has written a guide to help you to choose the best animal volunteering project for you.
Other adventures like this