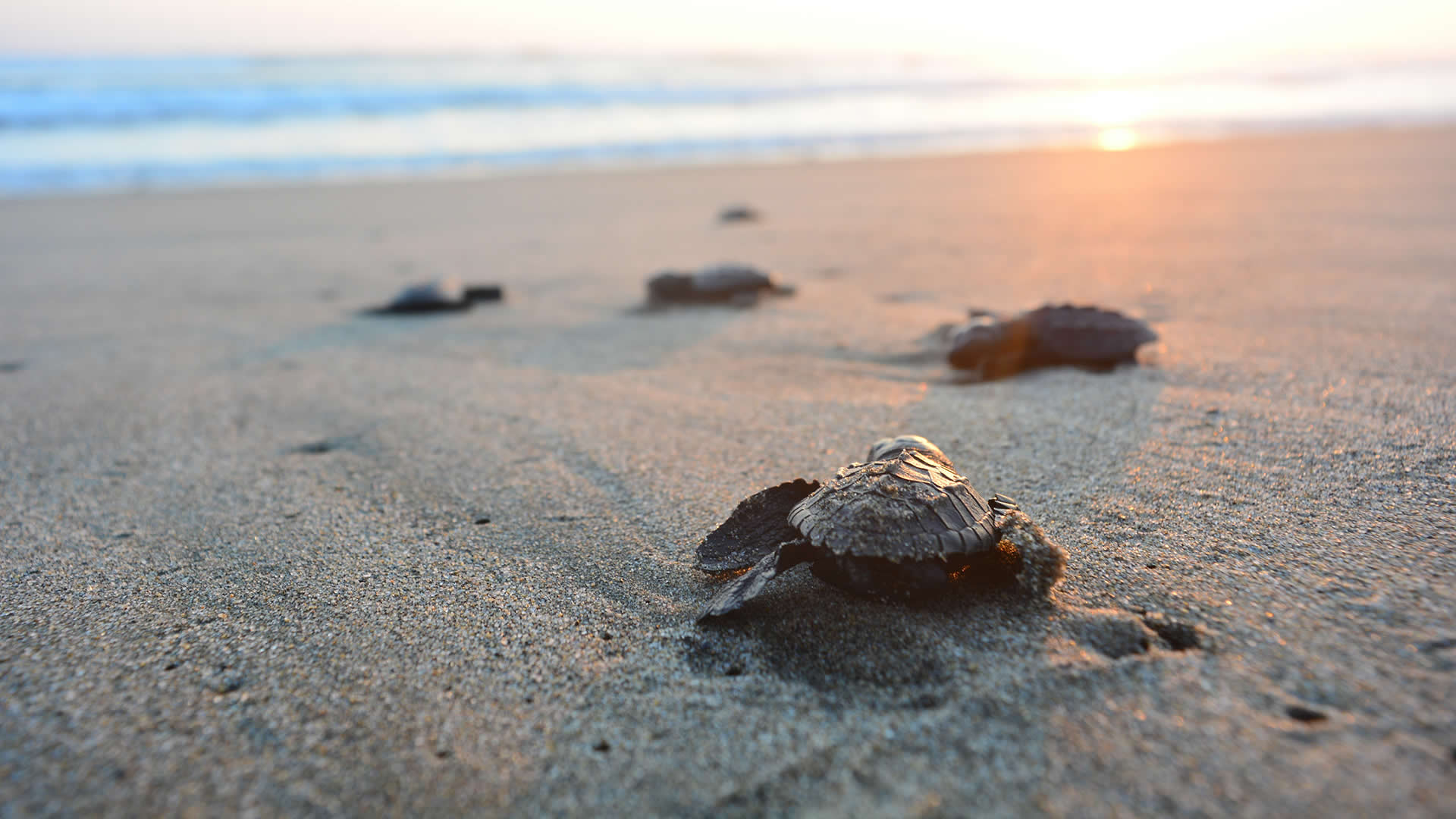 Take the ultimate family beach holiday, combining the golden sands of  the Costa Rican coast with a turtle conservation trip you'll never forget. Step off the beaten track and into a remote paradise, living on an unspoiled beach alongside friendly locals, helping to protect both baby and adult turtles from extinction.
Duration: 1 – 2 weeks
Dates: Early July – early December
Arrival day: Tuesday
Return day: Tuesday
Suitability: Recommended for ages 5+
Seeing nesting turtles emerging from the sea under a glittering Milky Way
Creating wonderful and lasting memories together as a family
Swinging in a hammock on a golden sand beach looking over the rolling waves
Meeting local families and being welcomed into the friendly community
Immersing your children in a life so far away from their own
Immerse yourself and your family in traditional Costa Rica, living in a remote village community alongside one of the most stunning stretches of beach that the country has to offer.
Costa Rica, the meaning of which in English is "Rich Coast", is home to stretches of lush turtle nesting beaches. Despite these safe havens, the turtle population here is in rapid decline thanks to natural predation from animals, industrial fishing and the selling of turtle shell products. Because of this, all turtle species from the Pacific Coast are, to some degree, in danger of becoming extinct.
Working alongside a growing NGO, the local community and other volunteers, you will be protecting nesting turtles and their eggs, and ensuring that more adult and baby turtles can make it safely to the sea. The hard work of volunteers over the past few years has resulted in thousands more turtles making their way out to sea- with more of them surviving to promote future development. This is a vital project, set in one of our most stunning backdrops on the Pacific Ocean.
Night time beach patrols
Most of the volunteering happens at night, when the mother turtles are nesting. You will be walking the beach watching for nesting turtles to come out of the sea – an unforgettable sight and one that you and your family will cherish for years to come. If you're worried about the slightly different sleeping patterns, the kids are often the ones begging their parents to let them patrol! There is plenty of time in the day for taking a nap and getting in some rest. Your children can also take breaks and head back to the cabin if they need to.
Night time data collection
This happens at the same time as the beach patrols. Once the mother turtle is safely on land, you will help to take measurements of the turtle, collect the eggs from the nest and take them to a protected hatchery, where they can hatch in safety. The night time activities are a real highlight for adults and children alike – kids love the hands-on nature of the work, and it is simply glorious to be walking the beach beneath the Milky Way, watching the sea lap on the shore and seeing these beautiful creatures coming up out of the waves.


Helping in the hatchery
As the turtles hatch, data is collected on the incubation period and hatching success rate. The research is linked to a worldwide study, and helps with global campaigns to end industrial fishing close to land. As the baby turtles hatch, families help to release the hundreds of baby turtles to the sea. Last year 15,000 turtles were released back to the sea. Please note hatching occurs from late August at the earliest.


Becoming immersed in local life
Local children often pop by to practice their English and coax you into some of their games – you are encouraged to join them! Additionally, you may become involved in land and beach clean ups, ad hoc research and data collection tasks, visiting the local school and teaching local children about conservation. You can also join a wonderful reforestation programme, helping to grow and plant saplings in the local area to encourage biodiversity. Talks are arranged so that you can learn about the environmental challenges facing the local community, and how you can help to resolve these issues.


Enjoying your beautiful surroundings
It's not all work, with plenty of time to enjoy the beautiful beaches, taste the delicious Costa Rican cuisine and relax in the hammocks between the palm trees. You will have the opportunity to visit a local fishing village where you will learn about sustainable fishing, have lunch with the locals and enjoy a trip into the mangroves. You will find that most afternoons are free to enjoy the location and grab a quick nap.
The project is open from July – December, the turtle nesting season
Mother turtles can be seen throughout this period – nature permitting of course!
Baby turtles start hatching from mid-August onwards. September onwards offers a higher chance that babies have started to hatch!
Simple beach-side accommodation in a Costa Rican house or cabin with your family
Bathrooms are en-suite with refreshingly cool showers
By rural Costa Rican standards, the accommodation is very good – but it may feel rustic to you!
WiFi available in your family accommodation
Possibility to upgrade to superior accommodation with a swimming pool for £140 extra per person per week
3 meals per day provided at the project site
Breakfast is a DIY affair – cereals, fruits, toast, spreads etc
Lunch and dinner are prepared by the local community- a mixture of traditional Costa Rican foods as well as more western influenced foods
The staple diet is rice and beans, although you will also find a lot of meat, especially beef and chicken, salad, tortillas and soup
The project caters for all dietary requirements, however please remember that you are in a very rural area and the same products that you are used to back at home won't be available here
Dietary requirements can be catered for
Airport: San José (SJO) or Liberia (LIR)
Project location: Nicoya Peninsula, 5 hours from San Jose and 3 hours from Liberia. See project location.
Arrival day to project site: Tuesday (recommend arrival around 12:00 midday)
Departure day from project: Tuesday (recommend depart around 8:00 – 10:00am)
Getting to and from the project site: Transfers to the project site are not included in the price, as we find that many families choose to do some independent travel before or after their volunteering. We can however arrange private and public transport transfer options from San Jose (airport and city), Liberia (airport and city) and most major tourist destinations in Costa Rica. See here for our price list.

You will be well looked after by our team on the ground in Costa Rica. Working with both expats and locals means that you will be well supported both culturally and linguistically! The coordinators are passionate, friendly and enthusiastic, and are ready to help you to settle in to your new way of life.
Access to your own personal 'My Oyster' account – our online portal where you can find out much more about the program and manage your booking
Dedicated contact time with an experienced destination manager to discuss the project, answer any of your questions and for us to find out more about you
Help and advice from our UK office before arrival and whilst you are away
In-country support
Pre-departure information covering medical, safety and project advice
Gold level, 24/7 Pharos crisis management and incident support cover
Financial protection: ATOL (if we book your flights); IPP (if we don't book your flights)
Thorough orientation on arrival
Accommodation (see the 'accommodation' section above for details)
Advice on visa requirements
Oyster plants a tree in Africa with TreeAid to help reduce the impact of global carbon emissions
On your return:
Welcome home pack
Certificate of Recognition (on request)
References (on request)
Flights – as an ATOL bonded company, Oyster can book flights for you
You need a valid passport that meets the requirements of the country you will be travelling to
Insurance (covering your time with Oyster and any planned independent travel)
Any costs associated with changing your return flight date if you need to
Independent travel costs
Home country travel costs
Spending money for additional trips, food and entertainment
Arrival and departure transfers to the project site – we can arrange these for an extra expense
If you will be flying through the USA you need to comply with US regulations- make sure you have an ESTA (Electronic System for Travel Authorization) at least 72 hours before you leave
Departure tax from Costa Rica is $28. This is not included in your flight.
You and your family will be living in a community of about 200 people on the Nicoya Peninsula in Guanacaste. The town is sleepy and relaxing.
The location is remote, about 5 hours from San Jose, and this is part of the huge appeal of this project. See the map of the project location here.
The white sand beach spreads over 3.2km, offering opportunities for horse riding, swimming, surf lessons, rock pools and waterfalls
A real highlight for families has been complete immersion in the local community. At the right times of year, you can visit the local school to help out with English lessons, play football and volleyball on the beach with the locals, build sand turtles with the village children and even welcome the local kids to the project house for games.
This is a fantastic way to understand different ways of life, practice a bit of Spanish and really integrate with the local community.
Oyster does not include the cost of transfers to the project in our price, as we have found that many families have chosen to hire a car or travel under their own steam before or after their time on the project.
We can however book you a private transfer package from airport to project. For the transfer package, you must fly into San Jose on a Monday, and fly out of San Jose on a Wednesday:
Full arrival OR departure package to / from San Jose airport including airport collection / drop off, overnight accommodation in a hotel in San Jose, public transport transfer to the project site
– £150 per adult one way
– £75 per child one way
We are also very happy to arrange private transfers from major tourist destinations in Costa Rica. Please refer to our price list below. These prices are based on the total cost of the transfer (ie not priced per person unless specified otherwise):
| | |
| --- | --- |
| DESTINATION / LOCATION  | TOTAL PRICE OF TRANSFER (GBP) |
| San Jose airport (SJO) | £320 one way |
| San Jose city | £560 one way |
| Liberia airport (LIR) and Liberia city | £200 one way |
| Tamarindo | £200 one way |
| Manuel Antonio National Park | £400 one way |
| Jaco | £400 one way |
| Nicaragua border | £320 one way |
| Monteverde | £250 one way |
| Arenal | £300 one way |
| Santa Teresa | £200 one way |
| | |
Many people are now looking into family volunteering holidays and those who have taken part in the past have been incredibly passionate about getting their children to experience making a genuine contribution to conservation.
Family holidays abroad have changed in recent years with climate change becoming such an important factor in our modern lives. The sad fact is that the turtle populations around the world are plummeting and your turtle conservation work really makes a difference.
The location of this project is so beautiful and safe that families have loved exploring the local area, getting to know the locals and enjoying a wholly different way of life.
Beach patrols: Beach patrols take place at night time, as this is when the turtles come out to nest. Patrols usually last up to 4 hours- they include walking up and down the beach looking for turtles and nests, recording data, taking the eggs to the hatchery and releasing baby turtles into the sea.
Hatchery monitoring: You will spend about 2 hours per day monitoring the hatchery when eggs have been deposited, and this can be in the daytime or the night time.
Writing up data / cleaning equipment: You will spend some time each day writing up the data collected on the previous night's beach patrol, and cleaning down the buckets, gloves and other items used on the patrols.
Nap time: Most people find that they like to take a nap at some point during the day. As your night's will be slightly disrupted with the beach patrols, it is good to get in some extra sleep during the day.
Free time: Meals are served three times a day, and in between these you can explore the coastline, the rainforest, chill out in a hammock with a book and drink fresh coconut juice straight from the coconut. Village communities are centred round the football pitch, so there is plenty of opportunity to get involved with local games. You will find that you live a very laid back Tico lifestyle.
Whilst late-availability is possible, we would advise booking as soon as you can to guarantee your ideal dates. Our projects are very popular and spaces can fill up several months in advance.
We have always found that kids make the best volunteers – full of enthusiasm and curiosity!
If you and your family are keen to learn more, throw yourselves into things and make the most of this experience then it is definitely for you.
Flexibility, a positive attitude and initiative go a long way to making this an unforgettable family volunteer holiday.
Kids that enjoy using up access energy on long and adventurous beach patrols
You will find that you are roughing it a bit more than you would at home – there isn't air conditioning, the accommodation is basic but comfortable – and you shouldn't be expecting a kids menu.
This all contributes to the absolute charm of the location, meaning that you are really living like a local.
The number of turtles that are born and that survive is on the decline. At the beach sites where turtle eggs are protected in hatcheries, approximately 80% of the eggs hatch and make it to the sea. In sites where there is no hatchery, maybe 15% of the eggs will hatch and make it to the sea. In beach sites with no protection whatsoever, the survival rate is even less. The difference here is quite staggering.
Turtle eggs, once laid, are at risk from all sorts of factors. Nests are endangered by racoons, coati, termites and skunks, and if it manages to make it to fruition, the baby turtle's effort to reach the sea is often scuppered by vultures and crabs! Volunteering on the beaches in Costa Rica means that you can help increase the number of turtles hatching and hence prevent a beautiful species from becoming extinct.
This project is open to people from all walks of life, and as such you should expect to be with a group of volunteers of all ages. We cannot guarantee that there will be other families there at the same time as you. If you are the only family the project will still run with the fantastic research team – this private one on one experience can be very special and bespoke!
Turtles are greatly endangered around the world, and as such this project is created with their conservation and preservation in mind. There are several regulations in place to ensure that the preservation of the turtles is at the forefront:
When patrolling the beaches at night and a nesting turtle is seen, volunteers must remain quiet and only use the red lamp on their head torches.
When working around the nesting turtles, volunteers should remain quiet and conduct the research quickly and efficiently without disrupting the nesting turtle
Eggs are transported from the site where they were laid to a protected hatchery to ensure greater hatching success rates
On hatching, baby turtles are kept together in one space until they are all hatched to preserve their energy.
Baby turtles are taken close to the edge of the sea for release. They must walk at least the final 20 metres to sea independently of volunteers so that their muscles strengthen and their navigation is improved
Volunteers will not interfere with the baby turtles' progress towards the sea.
Oyster assesses projects carefully to ensure that they offer high standards of animal welfare and environmental practice. We also check that volunteers understand key points of good practice before working with animals. To find out more, see our animal welfare policy.
August – October:  Green season. Generally high temperatures (20 – 30 degrees celsuius) with sunny mornings and wet afternoons. This is the peak time for nesting turtles, and baby turtles start to hatch from August onwards at absolute earliest. Nature however decides this each year so to have a greater chance of seeing hatchlings, we recommend September onwards.
November – December: End of the green season / beginning of the high season. Generally high temperatures (20 – 30 degrees celsius). It can always rain in Costa Rica, but there is generally a bit less of it in November and December.  You can generally see nesting turtles into December, although the majority of sightings will be the babies that you are releasing in this final month.
There will always be a mixture of sunshine and rain. Nature cannot be guaranteed, so we would suggest booking the dates that work best for you and enjoying whatever happens!
There is turtle activity throughout July – December, whether it be with adults or babies (or both!).
The turtle nesting season is July – December, and mother turtles come to lay their eggs on the beach throughout this season. Sadly there are no guarantees that they come up every day however!
Baby turtles start hatching from early August onwards, depending when mother turtles lay their eggs
We would recommend budgeting up to £50 per person per week for drinks, treats and trips.
There are no cash machines at the project sites so you will need to have all your money with you for your stay. The closest access to an ATM is an hour away. Costa Rican Colon is not available outside the country so it is best to change some as soon as you arrive. You can also take US Dollars to spend on larger purchases.
Typically you can stay as a visitor in Costa Rica for up to 3 months, although the exact period is at the discretion of the immigration officer on arrival. If you will be flying through the USA you will need to apply for an online ESTA visa before you leave.
You should make sure your passport is valid for the duration of your stay plus 1 day.
You should visit your doctor or travel nurse to find out what vaccinations you will need. There are no compulsory inoculations necessary for Costa Rica but check with your doctor to make sure that your Polio, Typhoid, Hepatitis A and B vaccinations are all up to date. None of the project sites are in malaria risk areas, but getting anti-malarials is up to you, as there are areas in Costa Rica where malaria is found. You should follow your doctor's advice.
For any information related to Covid-19, please see the Fit for Travel website or the UK government's travel advice page for Costa Rica.
There is a mobile medical unit that comes through the villages, as well as a hospital within an hour of the project.
Costa Rica is considered to be one of the safest countries in Latin America. It is one of the few countries in the world not to have an army! All transfers are included in this project including to and from the airport so this avoids having to negotiate San Jose. If you do have time in San Jose you will find a lively and buzzing city. You will be based close to the city centre in the pre-arranged guest house in a very safe area. We recommend that you return to the hotel before it gets dark as street lighting is a lot more limited than you might be used to.
At your project site you will be living in a small community which is very friendly and has known and supported this project for many years. The accommodation is lovely and right next to the beach with locks on the doors. The area is beautiful and locals love to show you the area.
The small communities where you will be living have around 200 people. They are approximately 5 hours from the city of San Jose.
 Many volunteers simply enjoy chilling out in hammocks, walking the beach, swimming, surfing, helping in the local community, getting involved at the local school and playing games at the beach with the local children.
For those who wish to explore further however, there may be the opportunity to go surfing or horse riding, as well as enjoying walks around the locality.
The beaches are unspoilt, making the perfect place for relaxation and exploration as well as protecting the turtles.
Please note the currents can be strong so children must be supervised at all times
With the amazing wildlife on your doorstep, this project feels a long way from the hustle and bustle of life in busy San Jose.
Take plenty of books, cards and a board game, writing materials, beach games, bat and ball etc as there is a good amount of free time in between project duties.
Most of the turtle activities take place at night time and in the mornings, so you will find that your days are mostly free for you to explore, relax and get involved with community projects. Top tips: take things with you that you enjoy doing in your free time and be proactive!
There is WiFi provided in your private family accommodation, however please be aware that this will not be as fast or as reliable as you may be used to.
There is wifi at the station house, although this can be limited, especially in rainy season!
Signal can be erratic on mobile phones but Wi-Fi is ok!
Costa Rica is 6 hours behind GMT (GMT -6).
In Costa Rica, American 2 pin plug sockets are used.
Supervision will be fairly intensive during the first few days, when you will receive a thorough induction and work-related training. Once you are comfortable with things, you might not always have a supervisor working alongside you, but there will always be staff and other volunteers around to help, and you will always be accompanied for any high risk activities.
Staff at Oyster's head office and in-country will be responsible for your safety and welfare while you are at the project. This will start from the moment you are picked up from the airport until the time you are dropped back there. Before and after these times, you will be outside Oyster's responsibility and should make sure that you act safely and avoid risk. This is also true if you choose to leave the project during your time off. We will give you plenty of guidance and advice about this.
Other adventures like this