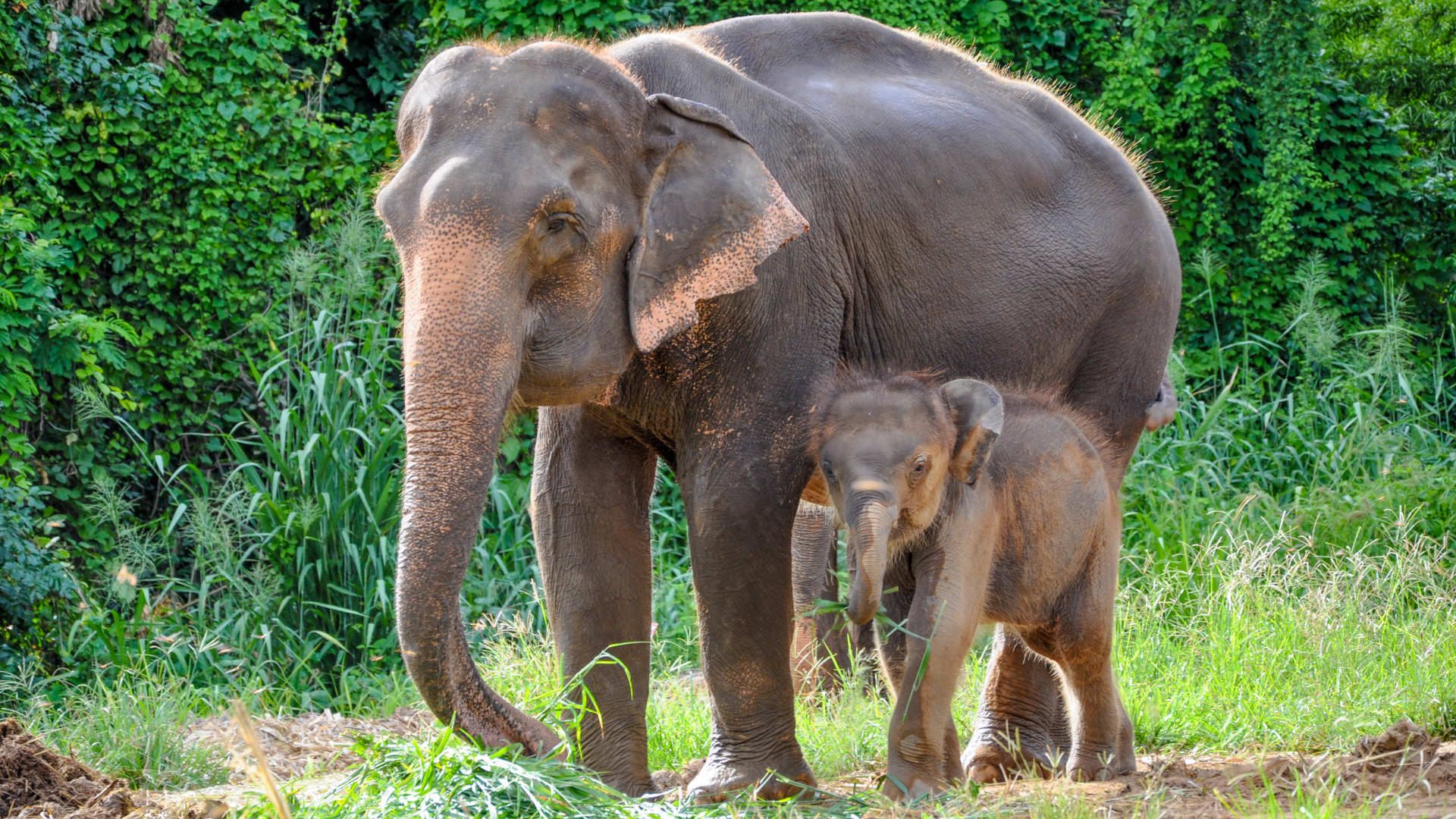 Laos, once known as the "Land of a Million Elephants", is now home to just several hundred elephants living in the wild. You and your family will come together with other animal lovers to help bring more elephants out of captivity to live in this wonderful haven. Witness the babies at the nursery, laugh as the adults splash in the lake, and marvel as they roam in their newfound freedom.
Duration: 1 week
Dates: Arrivals throughout the year
Arrival day: Sunday
Return day: Sunday
Eligibility: General level of fitness required. Some steep inclines at the project.
Age: Suggested minimum age of 5
Start your trip in one of the prettiest cities in Asia, the UNESCO world heritage city of Luang Prabang
See baby elephants play in the elephant nursery
Try fantastic home cooked food – a delicious fusion of French and Asian cuisines
Watch the sun rise and set over verdant jungle, cloud-clad mountains and the glittering lake
Take a kayak out to explore the lake or simply relax with a book and a pack of cards overlooking the water
Immerse your children in a positive experience, working hard together each day to save the elephants
Sainyabuli Province, Laos
If you are looking for a Laos family holiday with a difference, this haven for rescued elephants is a great place to start. Whilst most holidays to Laos involve visiting an elephant sanctuary, on this trip you can personally get involved in helping over 30 rescued elephants.  The elephants have been saved from the cruel logging trade, and have been brought here to live a life as close to the wild as possible.
For many years, elephants in Laos have been working in the logging industry. This gruelling work, which involves dragging several tons of timber for up to 10 hours each day, leaves the elephants weak, exhausted and often injured. The intensity of this work has meant that the elephant birth rate in Laos has plummeted, and within generations the population could die out entirely unless something is done. You can be part of the solution at one of Laos' leading animal welfare and conservation centres.
What will we be doing each day?
The first three days of your family holiday in Laos will be spent getting to fully understand the workings of the centre, and the background of the elephants – and most importantly, getting to know the elephants! The induction covers, amongst other things:
learning the background of the elephants at the centre, and in Laos as a whole
visiting the veterinary clinic, and learning about the work that goes on there
learning about caring for rescued elephants
witnessing the elephants bathing and roaming in the wild
seeing the baby elephants at the elephant nursery
basic interaction with the elephants
Once your induction has come to an end, your tasks may include, but are not limited to:
assisting with the biologists and other members of the elephant care team
creating enrichments for the elephants, creating mental stimulation and wild behaviour
monitoring the elephants as they roam freely, or whilst they tackle their enrichments
basic maintenance around the centre such as clearing leaves, painting, checking fences, painting, cutting grasses or the elephants etc
reforestation work such as removing vegetation, growing saplings and planting trees
making poo paper (dry season only, generally March – May)
This project is based only 2 – 3 hours drive from the vibrant UNESCO city of Luang Prabang, and many families choose to spend a few days here before or after the project. The centre itself is in rural Laos, located on the edge of a lake overlooking rugged mountains and sprawling rain forest. Its rural nature allows for kayaking on the lake in the evening, chilling out in a hammock, taking walks around the area, or simply enjoying a board game or two in the communal areas.
Private family cabin
Communal shower and toilet block nextdoor to the volunteer house
Showers with hot and cold water
Western toilets
Balcony overlooking the mountains and lake
On-site restaurant where you will enjoy 3 delicious meals per day
Breakfast usually consists of fresh bread, eggs, noodle soup and fruit
Lunch and dinner are delicious Lao-style dishes with lots of soup, rice, noodles, seasonable vegetables and meats
All dietary requirements can be catered for, however vegans should expect a much more limited diet
Safe drinking water provided
Tea and coffee station provided
There is a small bar overlooking the lake selling soft drinks, alcoholic drinks and snacks
What do I need to know regarding Covid-19?
We have been working closely with our partner organisations to ensure that you travel with the utmost confidence and peace of mind. Follow the links below to learn more about how to do this:
Airport: Luang Prabang (LPQ)
Arrival day: Sunday. Overnight in Luang Prabang with transfer to the project on Monday.
Departure day: Sunday
Access to your own personal 'My Oyster' account – our online portal where you can find out much more about the program and manage your booking
Dedicated contact time with an experienced destination manager to discuss the project, answer any of your questions and for us to find out more about you
Help and advice from our UK office before arrival and whilst you are away
In-country support
Pre-departure information covering medical, safety and project advice
Gold level, 24/7 Pharos crisis management and incident support cover
Financial protection: ATOL (if we book your flights); IPP (if we don't book your flights)
Thorough orientation on arrival
Accommodation (see the 'accommodation' section above for details)
Advice on visa requirements
Oyster plants a tree in Africa with TreeAid to help reduce the impact of global carbon emissions
Airport collection and transfer to your first night accommodation in Luang Prabang
First night accommodation in Luang Prabang (breakfast included)
Transfer from first night acommodation to meeting point for project transfer
Transfer from Luang Prabang to the project site
Return to Luang Prabang after your project
Three meals per day at the project site
Linen and towels
Mosquito net in your accommodation
Oyster will prepare you thoroughly before you leave and support you while you are out there
ATOL financial protection (if Oyster books your flight)
On your return:
Welcome home pack
Certificate of Recognition (on request)
References (on request)
Flights – as an ATOL bonded company, Oyster can book flights for you
You need a valid passport that meets the requirements of the country you will be travelling to
Insurance (covering your time with Oyster and any planned independent travel)
Any costs associated with changing your return flight date if you need to
Independent travel costs
Home country travel costs
Spending money for additional trips, food and entertainment
Any further travel costs once you are returned to Luang Prabang at the end of your trip
Visa costs – you should not need to apply for a visa in advance if you are from the UK and most western European countries. You will receive a visa on arrival for about £30. Advice given on longer stays – there will be costs associated.
Oyster is working hard to reopen this project. This will involve some changes to the running of the project including:
Transfer amendments – to be confirmed
Accommodation amendments – to be confirmed
All volunteers must bring masks, gloves and hand sanitiser
All volunteers must be able to provide proof of a negative Covid-19 test (taken within 72 hours before departure)
Prepare for a thorough orientation on arrival regarding health and safety measures at your project and in your country destination
Social distancing of 1.5m must be observed during project work
Volunteers must wear masks during the airport transfers
There will be a daily check for temperature and symptoms
Protocol is, and will continue to be, followed with the aim to minimise risk to staff and volunteers
Strictest hygiene controls are in place for equipment and all public areas.
Probably the hugest draw to this project is knowing that you and your family could help to create the future of elephant conservation in Laos. This project is rescuing elephants from logging and tourism, and providing mahouts with a sustainable alternative.
Families who have taken part in this project before have really enjoyed working together to contribute to a valuable cause. The contact with the elephants is of course a highlight, but the real beauty of this project is to be able to understand the plight of elephants, how the centre is helping, and how you have played a part in their conservation. It is inspiring for all of the family, and particularly allows children to feel part of something important.
Elephant numbers in Asia are declining with shocking rapidity, and it is estimated that Laos' elephant population will disappear in several generations unless something is done. This project is leading the way in finding a solution, rescuing elephants from the tourism and logging industries, and providing them with a sanctuary in which to live in freedom.
Typically, your day will look like the below itinerary, however you should be prepared for things to change at the last minute as you are working in a dynamic environment.
7.30 – 8.30 Breakfast
9.00 – 12.00 Morning projects
12.00 – 13.00 Lunch
13.00 – 15.00 Volunteer projects / break (depending on the day)
15.00 – 17.00 Afternoon projects
19.00 Dinner
During your initial 3 day induction, you will be spending your time experiencing various parts of the centre. This will involve learning more about the elephant hospital, positive reinforcement, socialisation, enrichment, behaviour, the nursery and more. Once the induction is complete, you will be spending your mornings and afternoons on the volunteer project.
Volunteers need to be generally fit to do this project.
It can get extremely hot during the day and so you need to be able to cope with the temperatures and undulating terrain.
We have found that this project has been suitable for relatively hardy 5 year olds before, although older children may come away with more of an appreciation.
The elephants that you will be working with have been rescued from the logging industry. Day in, day out for most of their lives they have had to be dragging tons of timber around the mountainous regions of Laos, often living a solitary lifestyle. This project is all about giving them back the life that they have never had. You will have the opportunity, during your induction period, to interact with the elephants and really get a feel for these impressive animals. Following on from this period, each day you will be able to enjoy the elephants from a close distance, watching them bathe in the lake, roam in the wild and enjoy their enrichments. At times, hands-on work and interaction may be required, but this is not to be expected all the time.
There is no elephant riding, elephant feeding or elephant bathing on this project. All holidays with elephants and family holidays to Laos should avoid elephant back riding.
Oyster assesses projects carefully to ensure that they offer high standards of animal welfare and environmental practice. We also check that volunteers understand key points of good practice before working with animals. To find out more, see our animal welfare policy.
These elephants were all humanised and trained at a young age by their mahouts. The calling of a mahout is an admired and respected one, and knowledge is passed down from generation to generation. This area of Laos has a long history with elephants, and mahouts from this area are particularly respected. The mahouts are gentle and loving with their elephants, and it is amazing to see the bonds that exist between elephant and mahout.
The elephants on this project are encouraged to live a life as close to the wild as possible. Each day they will have limited interaction with humans, usually once in the morning and once in the afternoon, so that people can learn about these gentle giants and get a good appreciation of their size and intelligence. At other times of the day they will roam freely in the jungle or within the enrichment area, under the careful eye of the mahouts and the volunteers.
At night time, the elephants will be alone in the jungle, without the volunteers and the mahouts with them. In order to protect both the elephants and the crops that they might raid, the elephants are chained overnight. Their chain, which is loosely around one leg only, stretches to over 45m, allowing the elephants to fully graze and interact as normal, just over a shorter distance.
The elephants are allowed to graze where they please – something which is a luxury to them after many years of working. Elephants in the wild eat for about 16 hours each day, and this lush jungle environment is perfect to allow them to return to their natural habits.
Each mahout has a small hook which they use to guide the elephants, where necessary. As is traditional with mahouts, they may sometimes ride their elephants to guide them into the forest to sleep at night time. They ride on their elephants' neck, the strongest part of the elephant. The elephant's head weighs about 150kg alone, with the trunk weighing a further 150kg, so it's neck muscles are incredibly strong.
This project was founded in 2011 to offer an alternative for working elephants. Their mission is to start a new era for conservation of the Asian elephant within Laos. They are very keen on education, wanting both locals and foreigners to understand the threats facing elephants, and what can be done to save them, With only two elephants born for every ten that die, the sacred national emblem of Laos is under serious threat of extinction.
The centre provides a home to elephants, both on a longterm and a short term basis. They have an elephant hospital on site, where they will treat injured elephants who will stay here to convalesce before going back to their owners. They also have a small nursery, where pregnant mothers can come here to have their baby safely, ensuring that mother and baby stay together for several years so that the baby is strong enough to survive. 90% of babies that are taken from their mothers too early will die, and so it is essential to keep mother and baby together for as long as possible. This helps to ensure that the survival of elephants continues.
This project is leading the way in researching elephants that have been captive, and that are now semi-wild. Their research is helping other owners of elephants to help their elephants to lead a better and more fulfilling life. As this project grows, more elephants can be rescued and cared for here.
Whilst late-availability is possible, we would advise booking as soon as you can to guarantee your ideal dates. Our projects are very popular and spaces can fill up several months in advance, especially for the months of June to September.
This area has four quite distinct seasons. Generally these are:
Cold season – December to February. The weather is generally dry at this time of year, with the weather nice and warm during the daytime. In the evenings however it can get quite cold, so you will need some warmer layers.
Dry season –  March to May. The jungle looks very dry at this time of year, and it can get very hot during the day time.
Rainy season – from May to July there is usually just short bursts of rain in the morning. This is a beautiful time of year to come, as the jungle is very green and the temperatures comfortable.
Wet season – from August to October the weather can be very wet. The elephants love the rain however, and the jungle is stunning at this time of year.
This being said, it can be rainy or sunny at any time of the year, so you should always have your sun block and raincoat to the ready!
We would recommend budgeting approximately £100 a week for food and free time activities.
Your closest cash machine is located about 30 minutes drive from the project. You should make sure to have cash for at least the duration of your stay here.
If you are from the UK and most western European countries you should not need to get a visa before arrival. Most nationalities will be able to get a visa on arrival allowing you to stay for up to 30 days and costing about 35 USD. You will need to bring a passport photo with you for the visa. You will need to make sure your passport is valid for a minimum of 6 months after you arrive in Laos.
It is easiest to stay in Laos for a maximum of 4 weeks. If however you would like to stay for longer, you will need to do a visa run.
This project is open to people from all walks of life, and as such you should expect to be with a group of volunteers of all ages. We cannot guarantee that there will be other families there at the same time as you. All project tasks will be pitched towards the ages of you and your children.
You should visit your doctor or travel nurse to find out what vaccinations you will need.
It is strongly recommended that you are vaccinated against Hepatitis, rabies and tuberculosis. These are entirely optional (at your own risk) as these diseases do occur in Thailand but have not occurred at the centre. Please follow your doctor's advice.
You may be asked about malaria in the area – whilst this is not present in Luang Prabang or in the area where the sanctuary is located, it may be in other areas that you travel to independently.
There are medical facilities in the local town, approximately 20 minutes from the project site. Larger hospitals can be found within 2 hours drive in Luang Prabang.
The centre is in a very secure and safe area and a full safety briefing will be given upon arrival. There is a safe on site for storing valuables. You will be fully trained for all aspects of the role, with particular guidance for your children.
The sanctuary is about 2 hours from Luang Prabang, which is a bustling tourist city – you should follow the same precautions as you would in any city, and keep an eye on your belongings. The local town is small and friendly, and having foreigners living there brings you many smiles and waves. Please be aware that this is a Buddhist country, and you should not have too much flesh on show.
You are located about 20 minutes from the town of Sayaboury.
There is no wifi at the centre. If you need to be getting online, you could consider unlocking your phone at home and buying a local SIM card to access data. This is often faster connection than wifi!
There is mobile phone signal at the centre and you can receive incoming emergency calls at the centre too.
Laos is 7 hours ahead of GMT (GMT+7).
A 2 pinned American style plug, which can be picked up at most airports and travel stores.
You will have your evenings free and you can take one day off each week.
There are kayaks available at the centre that you can use to explore the lake.
There is a fascinating museum on site where you can learn all about the history of elephants in Laos and in Asia in general.
There are lovely balconies, a bar and a restaurant where you can relax with a book or with other volunteers.
The beautiful UNESCO city of Luang Prabang is two hours away
Supervision will be fairly intensive during the first few days, when you will receive a thorough induction and work-related training. Once you are comfortable with things, you might not always have a supervisor working alongside you, but there will always be staff and other volunteers around to help, and you will always be accompanied for any high risk activities.
Staff at Oyster's head office and in-country will be responsible for your safety and welfare while you are at the project. This will start from the moment you are picked up from the airport until the day that you are dropped off in Luang Prabang at the end of your project. Before and after these times, you will be outside Oyster's responsibility and should make sure that you act safely and avoid risk. This is also true if you choose to leave the project during your time off. We will give you plenty of guidance and advice about this.
Please note, in contrast to your time on the project, whilst you are in Luang Prabang you will not be under direct supervision. We expect you to make sensible choices and follow our advice on staying safe.
Oyster has personally hand-picked some of the best volunteering projects out there. With so much amazing choice, it can be hard to make a decision. Our Animal Welfare Destination Manager, Anne, has written a guide to help you to choose the best animal volunteering project for you.
Other adventures like this