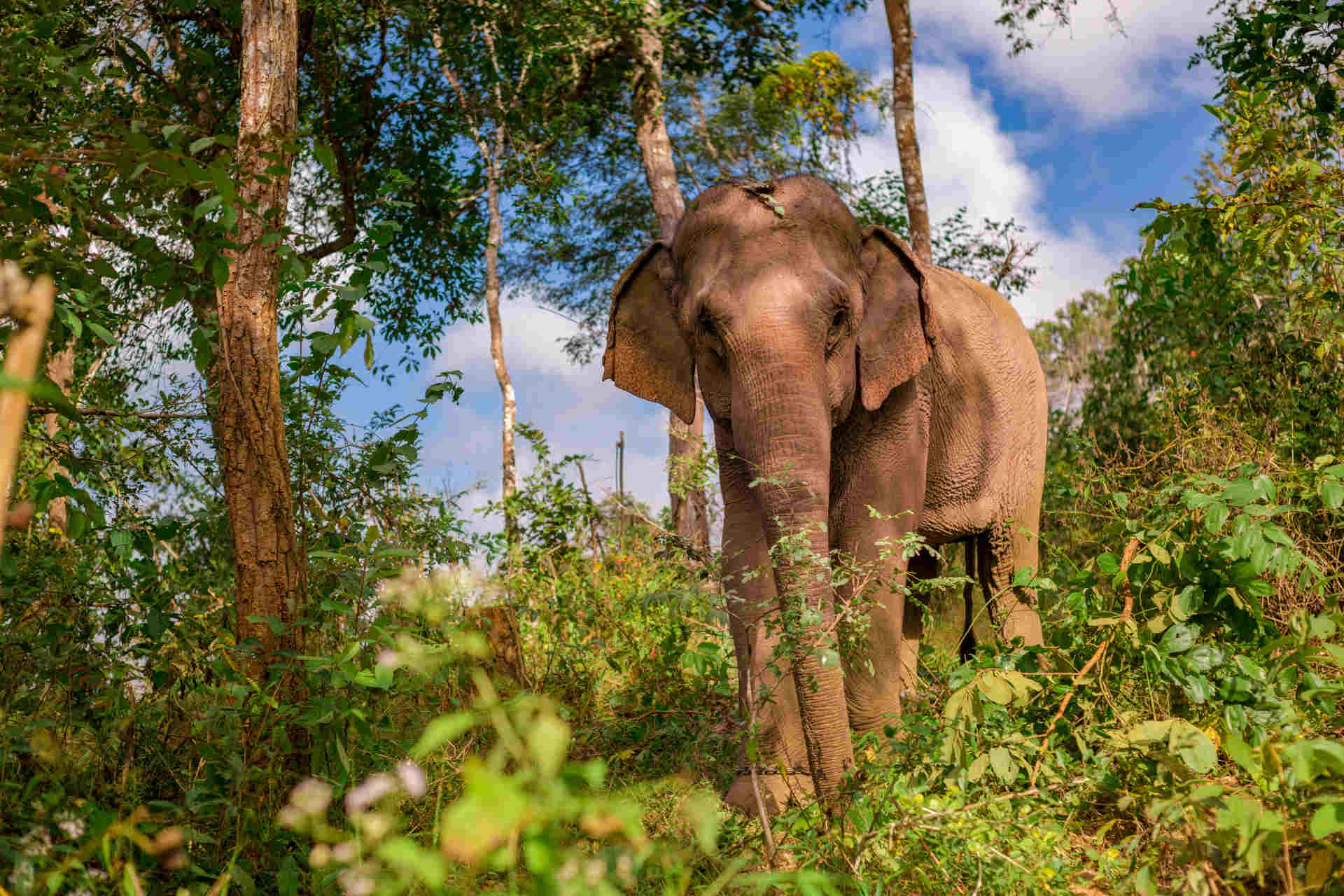 Elephants are a must-see for many people when they go travelling. Their size, their grace and their beauty have intrigued humans over many generations, but their ivory has made them prime targets for hunting and the increase in human populations has meant that their natural habitats are diminishing. Coupled with the fact that many elephants are taken from the wild to be forced into the tourism and entertainment industry, they are facing serious extinction issues across Asia and Africa.
There are many ways in which to see elephants when you are travelling, but their precarious status and decline in populations means that you should only see them in an ethical and responsible way. In Oyster's opinion, the best way to see elephants abroad is to invest time and money in their care and research, and do some elephant volunteering abroad. Not only do you get to get up close to these beautiful animals, you also get to help their survival for generations to come.
I know I want to do volunteering with elephants, but how do I decide what to do?
There are many projects located around the world specialising in caring for elephants. There are important factors to consider whilst you are researching. The most important ones are:
Would you like to be working hands-on with rescued elephants in a sanctuary?
Would you like to be helping to keep elephants in the wild on a hands-off conservation project?
Does the project focus on the well-being of the elephants over and above anything else?
How much time do you have available?
Where in the world would you like to go?
What is the difference between hands-on elephant volunteering and hands-off elephant conservation?
There are two main types of elephant volunteering projects:
Volunteering with rescued elephants – this often involves working with elephants that have previously worked in the logging or tourist industry. They will have either been bred in captivity or taken from the wild at a very young age. They will have been forced into submission, often using torturous practices. They will have worked long days for their owners, either carrying tourists on elephant treks, performing in circuses or shows, or carrying logs up and down mountains. Whatever the work, it would have been back breaking and the living conditions will have been difficult. These elephants have now been rescued and live in sanctuaries or rehabilitation centres. As they have never lived in the wild before, they will not be able to fully do so ever again. These projects mainly involve caring for the elephants needs, such as providing food, water, shade, enrichments and other essentials.
Volunteering with elephants in the wild – this will involve helping elephants to stay in the wild. The number of places that elephants live in the wild is in sharp decline, mainly due to the increase in the human population and competition for resources. This competition gives rise to human-elephant conflict, which often means that humans will kill the elephants to promote their own survival. Working with elephants in the wild often involves programmes to help humans and elephants to live alongside each other, and of course means that you will have no physical contact with these mighty creatures.
How do I know that an elephant volunteer project is ethical?
There are several ways in which to identify an ethical elephant volunteer project:
 Is the elephant volunteer project working to promote elephant survival in the wild?
If the elephant volunteer project aims to promote the survival of elephants in the wild, it is working towards the elephants' welfare.
Does the elephant volunteer project involve riding elephants?
Riding elephants is a demeaning practice, and harks back to the captive elephants' former lives. If the elephants can be ridden, they are still being used in the tourism industry, rather than being cared for carefully and allowed to be as wild as possible.
Do the elephants have access to nutritious food, shade, water, exercise and veterinary care?
It is essential that elephants are provided with the absolute basics for comfortable survival. This can be hard to ascertain from a website, however you should ask your volunteer organisation if you are unsure.
Has the project been assessed by the volunteer organisation in person?
There are many sanctuaries and elephant care projects around the world which claim to be good for the elephants, but which are not. The only way to know for sure is to trust someone who has personal experience of it and checked it out thoroughly in terms of ethics. Ask your volunteer organisation if they have personal experience of the project and whether it has been vetted.
Where can I volunteer with elephants?
Elephants can be found in Africa and Asia. Oyster Worldwide's elephant volunteering projects are located in:
Can I volunteer with elephants and other animals?
There are projects which combine working with a variety of animals, including elephants. The two most popular Oyster options are:
What tasks do you do as an elephant sanctuary volunteer?
Elephant orphanage volunteering is high on many to do lists, often even without knowing what you might be doing whilst working. Examples of tasks that you might do as an elephant sanctuary volunteer are:
Preparing food for the elephants. Elephants eat about 5% of their body weight each day, so that is a lot of fruit, vegetables, trees, branches and crops that need to be prepared for them!
Harvesting food for the elephants. This work can be hot and sweaty, and involves chopping branches and crops that will eventually be elephant feed.
Monitoring the elephants. Rescued elephants often need to be monitored for mental health issues, signs of illness, signs of pain or signs of trauma. Because they come from such awful backgrounds, it is important that the sanctuary staff can understand their needs and provide for them accordingly.
Creating elephant enrichments. Elephants are incredibly intelligent creatures. They, like humans, need mental and physical stimulation to keep them healthy in both body and mind. Volunteers may be asked to help create such stimulations, such as hiding food or creating mental challenges.
Cleaning out enclosures. What goes in must come out, and in an enclosed environment the elephant poo can build up! Volunteers help to keep enclosures clean and hygienic – and in some places elephant poo is used to make paper, which is a great process to learn more about.
Bathing the elephants. Some elephants may be too old or unwell to venture into their pools to swim, cool down and clean off. In these situations, volunteers may be asked to help bathe the elephants with a hose and a scrubbing brush. This helps to minimise disease and to keep the elephants healthy.
Taking an elephant walk. In the wild, elephants will often be moving for about 16 – 18 hours per day on the hunt for food. This means that they are exercising well, choosing whatever foods they fancy and deciding where they wish to go next. In some locations, where space is limited, elephant volunteers might be asked to go on elephant walks to ensure that the elephants can enjoy this freedom too.
If I do elephant volunteer work abroad, will it help me to work with elephants in the future?
There are no guarantees, however we have found that volunteering with elephants abroad is a great way to gain work experience and make contacts. If you are looking to work with elephants or other animals in the future, volunteering with animals abroad will only help you to do just this.
What are the best elephant volunteer projects?
Oyster has travelled the world hand-picking the best elephant volunteer projects out there. Here is our selection of the best that you can do:
If you have any questions about becoming an elephant volunteer, call Oyster Worldwide on +44 (0) 1892 770 771 or email Anne on [email protected]