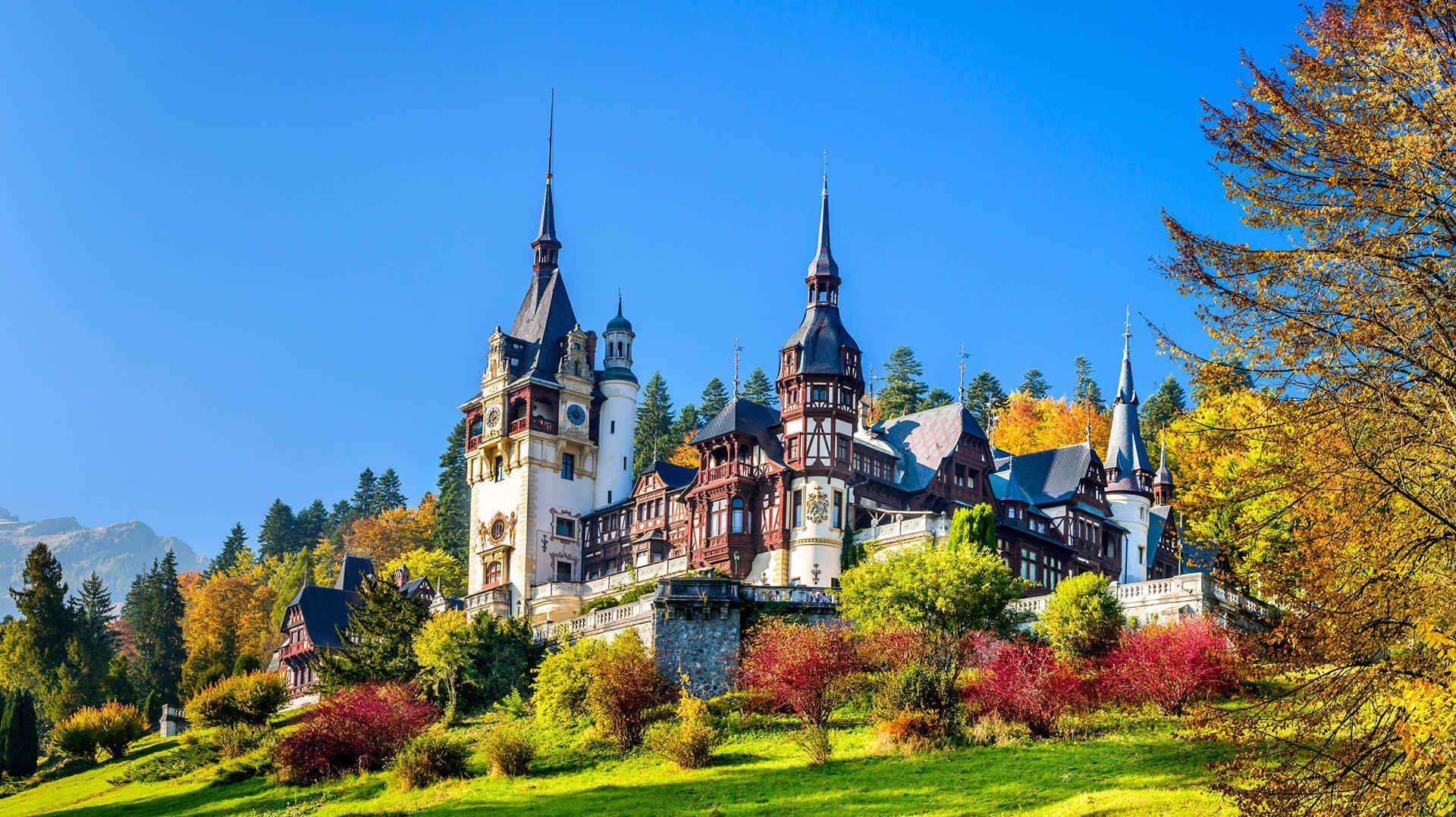 Join an intensive week-long art course in the stunning medieval city of Brasov, working with an international artist to stretch your talents and improve your technique. Enjoy creating new pieces of work in a bright and airy studio, or out in the beautiful Transylvanian surroundings.
Duration: 1 week – minimum group size is 2.
Dates: Friday 14 July 2023 for one week and Friday 11 August 2023 for one week
Arrival day: Friday
A discount of £100 each applies if booking and travelling with friend or partner.  Transfer package £190 each supplement (recommended) private taxi pick up and return to Bucharest airport (OTP) 3 hours each way and a return taxi to Peles castle popular with artists – 70 mins each way.
Improving your painting and art skills in one of Eastern Europe's most beautiful undiscovered cities
Working closely with an expert artist, who will guide you through the different aspects of the course
Working in a real artist's studio, with all of the art supplies that you could need at your finger tips
Exploring this glorious area of the world in your free time, with a half-day trip included
Travel to the beautiful medieval city of Brasov, in central Transylvania, to take part in an intensive introduction course into drawing and painting. This course is aimed at beginners and intermediates, and offers the opportunity to experience Transylvania in a creative way. The course will take place in a bright and spacious artist studio in the old centre of Brasov, surrounded by the sloping foothills of the Carpathian Mountains.
The course last for one week, with intensive work activity of 6 hours per day for 4 days. It could be taken as part of an art gap year, holiday with a difference, career break or study break. The main programme is meant for indoor work, but weather permitting, outdoor painting can be part of the exercises. All materials are included on the course.
On this gap year art course, you will be covering the following:
Drawing techniques – how to reproduce reality in drawing
Learning about how to take the piece of artwork from a sketch to a final painting
Introduction to the conceptual approach of painting in and from nature
Introduction to the theory of composition and colors, learning about various tools and techniques in order to choose the most suitable one, such as charcoal, pencils, watercolour, oil and collage
Different types of painting, from naturalistic to abstract
24 hours of training over one week
In your free time, enjoy a half day trip to the legendary Dracula's Castle
Taught by a passionate international artist who has over 10 years experience of teaching art and design to all ages and abilities.
Irina is a multi-disciplinary architect and botanical artist of the American Society of Botanical Artists.
Her main interest revolves around botanical science and art, and includes illustration, painting, textile design, interior design and more.
Irina graduated from architectural studies in Bucharest and then studied at the art school in Rome.
Her work has been published worldwide and exhibited in prestigious international events.
Irina places lots of emphasis on encouraging students to find and develop their own style.
Stay in a centrally located hotel on a B&B basis, not far from the art studio or from the buzz of Brasov's medieval centre
Free wifi at the accommodation and art studio
Tea and coffee provided during the course
The art studio has a small kitchen where you can prepare a sandwich or salad, or heat up some food in the microwave
In the evenings, you can either eat out in one of the many tasty and good value restaurants in town, or head to the Oyster volunteer flat to make dinner in the kitchen facilities there
Airport: Brasov airport (GHV) or Bucharest airport (OTP) – see transfer package options
Arrival day: Friday. Most volunteers choose to be collected from either airport.
Departure day: Friday. You can opt to be dropped off to the airport in time for your flight.

A perfect English speaker and probably the most dynamic person you will ever meet, Razvan has run our Romania programmes since the very beginning in 2006. A veteran rep – he has dealt with over 1000 overseas participants so far – he always goes way beyond his Oyster job description. He is personally involved in the fundraising and awareness building of the bear sanctuary, even getting dressed up as a bear on one occasion!
Access to your own personal 'My Oyster' account – our online portal where you can find out much more about the program and manage your booking
Dedicated contact time with an experienced destination manager to discuss the project, answer any of your questions and for us to find out more about you
Help and advice from our UK office before arrival and whilst you are away
In-country support
Pre-departure information covering medical, safety and project advice
Gold level, 24/7 Pharos crisis management and incident support cover
Financial protection: ATOL (if we book your flights); IPP (if we don't book your flights)
Thorough orientation on arrival
Accommodation (see the 'accommodation' section above for details)
Advice on visa requirements
Oyster plants a tree in Africa with TreeAid to help reduce the impact of global carbon emissions
Airport transfers are arranged for those paying for the transfer package on arrival and departure day from Bucharest, 95 miles each way (Friday). Brasov airport pick up included.
A welcome meal on your arrival
Tour of Brasov
24hour representative from Oyster with perfect English and knowledge – there isn't a problem Razvan cannot fix!
24 hours of intensive training course with a professional lecturer
Painting and drawing materials – sketchbooks, paper, canvas, brushes, pencils, paint, accessories, mediums, varnishes, solvents
One weekend half-day trip to Dracula's Castle
EU VAT at 17.5% on UK cost elements
On your return:
Welcome home pack
Certificate of Recognition (on request)
References (on request)
Flights – as an ATOL bonded company, Oyster can book flights for you
You need a valid passport that meets the requirements of the country you will be travelling to
Insurance (covering your time with Oyster and any planned independent travel)
Any costs associated with changing your return flight date if you need to
Independent travel costs
Home country travel costs
Spending money for additional trips, food and entertainment
09.30- 10.00 Arrive at class and prepare for the day
13.00 – 15.00 Lunch
15.00 – 18.00 More art work
The course will last for 4 days intensively.
Whilst late-availability is possible, we would advise booking as soon as you can to guarantee your ideal dates. Our projects are very popular and spaces can fill up several months in advance, especially for the months of June to September.
Please email anne@oysterworldwide.com with your availability and preferred dates.
There are four distinct seasons in Romania.
Spring: March – May. Temperatures range from 10 – 20 degrees celsius during the day time, but can get quite cold at night time. Average 30 – 80mm of precipitation each month.
Summer: June – September. Temperatures range from 20 – 30 degrees celsius. Average 80 – 100mm of rain each month.
Autumn: September – November. Temperatures range from 10 – 20 degrees celsius during the day time, but can get quite cold at night time. Average 30 – 50mm of precipitation each month.
Winter: November – March. Temperatures range from 10 – 20 degrees celsius during the day time, but can get quite cold at night time. Average 30mm of precipitation each month.
We would recommend taking £150 – £200 per week for food, drinks, outings, souvenirs and treats.
As art courses for beginners go, this is an excellent place to start. The course is perfect for anybody wishing to learn painting in one week of intensive training. Participants can be complete beginners, or moving to intermediates, or people who would like to start again after a break in painting.
Whether you are looking to do an art gap year or an art holiday, this Romania art course is a brilliant option.
There is easy access to cash machines in Brasov so you don't need to take all of your cash with you.
Typically, you won't need a visa for stays up to 3 months. You should make sure your passport is valid for the duration of your stay.
It is fine to travel with friends or as part of a small group- more the merrier!
The simple answer to this question is, yes absolutely!
It is important to bear in mind, however that this may not be like other holidays that you have taken. Remember that you are doing a constructive course, and this means that you will be put to work! This sort of holiday is a world away from sun loungers and cocktails, with our participants often heading home tired but immensely satisfied. If you think that you will need a bit of relaxing time on your trip too, do make sure to factor this in when your time on the project is complete.
You should visit your doctor or travel nurse to find out what vaccinations you will need. Your routine vaccinations will need to be up to date. You should follow your doctor's advice.
For any information related to Covid-19, please see the Fit for Travel website or the UK government's travel advice page for Romania.
Brasov has many excellent medical facilities, varying from pharmacies to local doctors to hospitals. These can all be accessed within 20 minutes and are of good quality.
Brasov is a beautiful and small medieval city, located at the foot of the Carpathian Mountains. It is a very warm and welcoming place, and has become very used to tourists. This makes it a very safe destination however it is important to always be sensible and responsible. Pickpockets have been known to target tourists so take care of your belongings. If you want to walk or trek ask for information on the wild bears! Going more off the beaten track, you will receive a few more stares as these areas may not be quite so used to tourists.You will be given information on buses and the local area however so you will be well prepared for this. We give you full health and safety information before departure, as well as upon arrival.
The hotel will offer WiFi access, and there is WiFi access at the art studio too.
Very good reception in Brasov.
No you do not need to learn to speak Romanian fluently!
As part of this project, you will be working closely with Romanians on a daily basis, however both Irina and Razvan are fluent English speakers. A little will go a long way when you are out and about, however so do make sure to learn the basics.
Romania is 2 hours ahead of GMT (GMT +2).
Romania has European two-pin plugs.
We arrange two half day trips, covering the cost of transportation, if you stay for 2 weeks or more. If you are staying for one week, you will only be able to do one half day trip.
Which trip you do will be decided when you are in Romania. The two options are:
A trip to Bran castle (Dracula's castle). Entrance fee: approx £5
Trip to Sinaia, a nearby town with the beautiful Peles castle. Entrance fee: approx £5
There are plenty of places to visit in Brasov and the surrounding area. Situated in the heart of Romania, Brasov is a charming medieval town with an ancient history and plenty of interesting monuments. It has great transport links to other wonderful cities in Romania, and even further afield.
It is very popular to do a gap year in Romania as exploring Transylvania is a real highlight.
Supervision will be fairly intensive during the first few days, when you will receive a thorough induction and work-related training. Once you are comfortable with things, you might not always have a supervisor working alongside you, but there will always be staff and other volunteers around to help, and you will always be accompanied for any high risk activities.
Staff at Oyster's head office and in-country will be responsible for your safety and welfare while you are at the project. This will start from the moment you are picked up from the airport until the time you are dropped back there. Before and after these times, you will be outside Oyster's responsibility and should make sure that you act safely and avoid risk. This is also true if you choose to leave the project during your time off. We will give you plenty of guidance and advice about this.
Other adventures like this