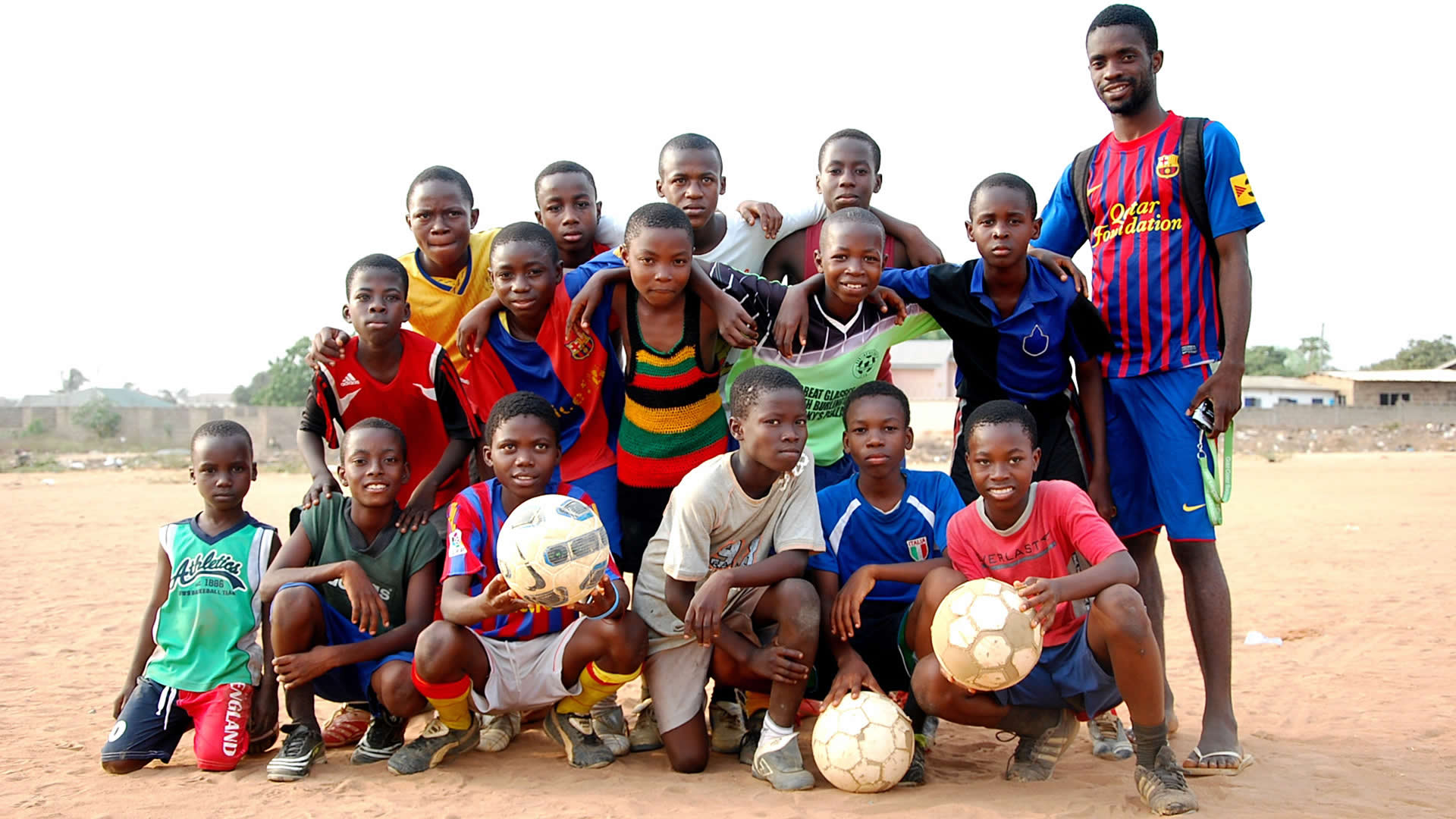 With Ghana, you can always expect the unexpected and this is just as true for the Ghana sports. Football is the most loved sport, with many supporting their national team – the Black Stars. However, there are plenty of other sports that you could coach, from boxing to golf. Get involved with amazing local clubs and pass on your passion for sport.
Duration: Minimum 2 weeks
Dates: Throughout the year
Arrival day: Saturday or Sunday
Return day: Saturday
Eligibility: Good English speakers and general level of fitness required
Age: 18+
Dedicating your time abroad to practicing and sharing your favourite sport
Meeting like-minded volunteers and incredible young people
Living in sociable volunteer accommodation
Living in Ghana – a truly unique opportunity
Working with a team of dedicated people, committed to improving the lives of young people in Accra
Teshie Road, Accra, Ghana
*Due to Covid-19 and travel restrictions currently in place, please get in touch before applying so we can give you the most up to date information*
Share your passion for sport with young people in Ghana, where sport is a real source of pride. Kids in Accra, the capital, are always excited to learn a new skill and love when volunteers dedicate time to helping them improve. This project is based at an incredible football academy, set up to spot young talent and to provide them with food, education and a chance to dedicate quality time to the sport they love.
All sports coaching volunteers will get a chance to spend some time at the academy, but they can also specialize in different sports across Accra. Volunteering as a sports coach can make a real difference to children in the area. Whatever the sport, the project aims to get as many children participating in physical activity across the city, giving them opportunities not available to them at school.
The sports you can coach include:
Football
Rugby
Cricket
Basketball
Netball
Hockey
Tennis
Martial arts
Swimming
Boxing
Golf
Athletics
Football coaching internships are available to those with experience.
You will be coaching Monday to Friday, for a minimum of 3 hours a day. As it can be hot in Ghana, sessions often take place in the morning or afternoon, avoiding the midday sun.
You will be living in shared accommodation with other volunteers, making this an incredibly sociable experience.
The accommodation has single sex rooms and western bathrooms.
There are plenty of communal areas – great for relaxing in after a day of volunteering.
There is a wall around the accommodation and there is a guard at the gate at all times.
The accommodation is located in Teshi Nungua, about 20 minutes drive from the centre of Accra and 10 minutes from the sea front. It is close to local amenities.
Breakfast, lunch and dinner are provided for you, seven days a week.
You will be provided with a packed lunch to take with you each day.
Breakfast and dinner is home-cooked and served at a large dining table in the accommodation.
The food is varied but you will have plenty of opportunities to try out Ghanaian food.
Clean drinking water is provided for you at the accommodation.
What do I need to know regarding Covid-19?
We have been working closely with our partners in Ghana and keeping an eye on the current travel restrictions to ensure we have the most up to date information and give you peace of mind. Please see the links below for more information.
Program updates:
We expect there to be small changes to the program in order to accommodate restrictions in place at the time of travel. These may include:
social distancing
accommodation amendments
private transfers instead of groups
proof of a negative Covid-19 test upon arrival (taken within 72 hours before travel)
wearing masks and other protective clothing
extra health and safety measures
Depending on when you are due to travel, some of these may become obsolete. We advise to be prepared for a quick turnaround of travel arrangements and having back up options should changes need to be made.
Airport: Kotoka International Airport (ACC)
Arrival day: Saturday or Sunday. You will be collected from the airport and driven to the accommodation
Departure day: Saturday
Access to your own personal 'My Oyster' account – our online portal where you can find out much more about the program and manage your booking
Dedicated contact time with an experienced destination manager to discuss the project, answer any of your questions and for us to find out more about you
Help and advice from our UK office before arrival and whilst you are away
In-country support
Pre-departure information covering medical, safety and project advice
Gold level, 24/7 Pharos crisis management and incident support cover
Financial protection: ATOL (if we book your flights); IPP (if we don't book your flights)
Thorough orientation on arrival
Accommodation (see the 'accommodation' section above for details)
Advice on visa requirements
Oyster plants a tree in Africa with TreeAid to help reduce the impact of global carbon emissions
Airport pick-up
3 meals a day, seven days a week
Oyster Worldwide volunteer t-shirt
Oyster luggage tag
Welcome home pack
Certificate of Recognition (on request)
References (on request)
Flights – as an ATOL bonded company, Oyster can book flights for you
You need a valid passport that meets the requirements of the country you will be travelling to
Insurance (covering your time with Oyster and any planned independent travel)
Any costs associated with changing your return flight date if you need to
Independent travel costs
Home country travel costs
Spending money for additional trips, food and entertainment
Tourist visa
A passport valid a minimum for 6 months after your return date
Provide a recent police certificate/DBS check
Cost of transport to the sports placement each day (£1-£2 per day)
Coaching sport is one of the most rewarding ways to spend your time abroad. Kids in Ghana are enthusiastic about meeting volunteers and about learning new sports. In Ghana, sport is often not embedded into the school curriculum and sports clubs struggle with funding. This means that many children, who have talent or interest, struggle to find suitable coaching and this is where you come in! Sport helps young people in the local community to develop new skills and to make new friends.
Ghana is a fantastic country to live in and sports coaching allows you to get to know the local community and culture first hand. The people are incredibly friendly and welcoming. If you are looking for a country with real heart and soul, Ghana is the perfect choice.
As long as you are enthusiastic about your sport and over 18, you can head out to Ghana to coach sports. Volunteers will need to be confident working with large groups of children. If you have coaching qualifications, let us know and we can organise for you to work with children with more advanced skill or you can take part in our football internship – fantastic for people with qualifications, looking to gain experience.
Whilst late-availability is possible, we would advise booking as soon as you can to guarantee your ideal dates. Our projects are very popular and spaces can fill up several months in advance, especially between June to September.
Regardless of what sport you choose to coach, you will be coaching for at least 3 hours a day, Monday to Friday. These sessions tend to take place in the morning and the afternoon to avoid the hot midday sun. The sports you can coach are:
Football – at local schools near the accommodation. There is also the opportunity to coach in after school programmes. Higher level football coaches will have the opportunity to work with our elite football academy.
Rugby – at the rugby academy near the accommodation or with the national team in Accra
Cricket – working with the local near the accommodation
Basketball –  at local schools near the accommodation and after school programmes, as well as playing yourself with local teams.
Netball – at local schools near the accommodation, or locally organising volunteer v kids netball matches
Hockey- at the national stadium in Accra
Tennis – at the national stadium in Accra
Martial Arts – required a level of experience and takes place in Accra
Swimming – coaching the football academy students at a local pool, encouraging them to learn to swim
Boxing – at a boxing gym in the hub for boxing in all of West Africa. You will split your time between coaching young children in the morning and training sessions in the afternoon
Golf – at an academy for young children. You will split your time between coaching and training.
Athletics – at local schools near the accommodation and at the stadium working with the national team and individuals to assist coaches.
Initially, you will be supporting other local teachers and coaches. If you feel confident or have previous coaching experience, you can take on your own sessions.
You can volunteer all year round for a minimum of 2 weeks, although we recommend longer for a more worthwhile experience. You can arrive on either Saturday or Sunday.
There are two main seasons in Ghana – wet and dry.
The rainy season is between March and November
From December to March, the harmattan, a dry desert wind, blows through Ghana, meaning this is the hottest time to visit.
All food and accommodation is provided on this project. You will need to budget for snacks, souvenirs and travel. We recommend bringing at least £30/$45 a week.
ATMs can be found all over Ghana. You can also find exchange bureaus.
Cash cards are a safe and convenient way to take your money travelling with you – they act just like debit cards, but do not have the same fees as you might have to pay on your bank cards from home. We recommend the Caxton card. Check out our blog for details on how the card works here.
You will need a visa to travel to Ghana. You need to apply for it at least 15 working days before travel.
We will provide you with the necessary documents and advise on how to apply.
Most of our volunteers are independent travellers. When you arrive in Ghana, you will meet plenty of other volunteers.
If you want to travel with a friend or group, let us know – the more the merrier.
You will need a yellow fever certificate on arrival in Ghana.
You should visit your doctor or travel nurse to find out what vaccinations you will need. Your routine vaccinations will need to be up to date; hepatitis A and typhoid are likely. You should follow your doctor's advice.
Please check below for where the closest hospital to the project is- your doctor may ask to know this so that they can provide information on rabies.
There are medical facilities in Accra. Medical facilities are good and there are a variety of medical clinics, surgeries and hospitals.
Ghana is a safe country to travel to. A full briefing is provided at the start of the projects, covering health, safety and cultural expectations. Common sense rules apply and volunteers are advised not to walk alone at night and  to look after their valuables.
You will be living in shared, dormitory-style accommodation with other volunteers. The house is surrounded by a wall and the gate is guarded constantly. There is a swimming pool and plenty of communal space to relax in. The bathrooms have western toilets and showering facilities. Food and water will be supplied at the accommodation.
Food in Ghana is amazing and very different. You will be given breakfast, lunch and dinner, 7 days a week (while you are at the accommodation).
Typical breakfasts include Milo, tea or coffee with toast and spreads, and fruit. Lunch will be a packed lunch that you can take to the project. For dinner, you will typically have rice dishes, meat, beans, chicken, beef, fish and plantain.
When out, you can try banku or fufu stew, red red stew and jollof rice.
Supervision will be fairly intensive during the first few days, when you will receive a thorough induction and work-related training. Once you are comfortable with things, you might not always have a supervisor working alongside you, but there will always be staff and other volunteers around to help, and you will always be accompanied for any high risk activities.
Staff at Oyster's head office and in-country will be responsible for your safety and welfare while you are at the project. This will start from the moment you are picked up from the airport until the time you are dropped back there. Before and after these times, you will be outside Oyster's responsibility and should make sure that you act safely and avoid risk. This is also true if you choose to leave the project during your time off. We will give you plenty of guidance and advice about this.
Typically, during your time on the project, you will be working Monday to Friday. However, there may be times when you will have some evening and weekend activities, depending on your chosen sport. You will have most evenings and weekend free, giving you plenty of time to explore Ghana. The team can be flexible if you have any travel plans.
There is plenty to do and see in Ghana.
Key highlights include:
Kakum canopy walk
Cape Coast
Mole National Park
Wli Waterfalls
Kumasi market
The team can help you organise excursions and they can book bus drivers for your trip.
You will have access to WiFi at the accommodation.
There is plenty of phone reception in Accra and you can buy a local SIM card easily.
Ghanaian plugs are either type D or G. The standard voltage is 230V.
Other adventures like this