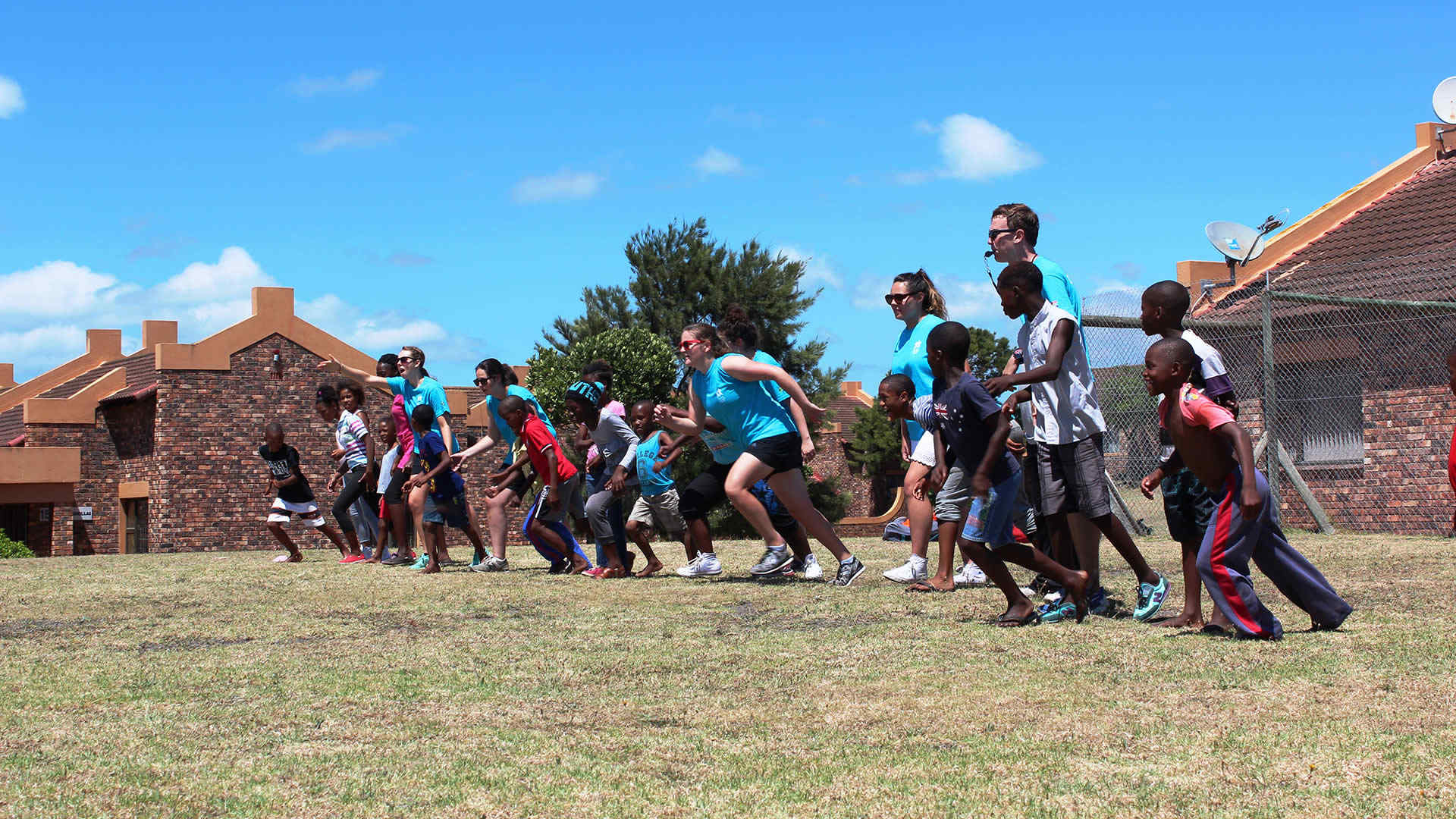 Coach your favourite sports to underprivileged children in schools around Port Elizabeth. Help these children to get a structured sporting education and see their joy as they pick up new skills. If that's not enough sport for you, you can even get involved in playing with local teams in your evenings and weekends.
Duration: 4 – 12 weeks
Dates: See arrival dates and availability here
Arrival day: Saturday
Return day: Saturday
Eligibility: Some experience of having played sports
Age: 17+
Helping to change the future for some of the poorest children in Port Elizabeth
Seeing the enjoyment and happiness on the kids' faces as they learn
Meeting volunteers from around the world
Exploring the best of South Africa in your time off
Playing your favourite sports day in and day out
Port Elizabeth, Eastern Cape, South Africa
South Africa is renowned in the sporting world for its strength in competitions and producing sporting heroes. Sadly, however, not all children in South Africa have access to sports education, and this project helps to bring sports to poorer areas of the country. Without physical education as part of a wider curriculum, the township kids have very little opportunity to learn to play sports in an organised environment. Your passion for sport will get an enthusiastic response, and you will have a lot of fun coaching the kids and seeing how much it all means to them.
As a volunteer sports coach, you and your group will head to 3 schools each day to coach your chosen sport- or a variety of them. Sports coaching volunteering involves not just teaching the kids, but also acting as a good role model. Children are aged about 10 – 13 and are often new to playing sport in a structured environment. You don't need to be a top player to take part (though any champions are welcome!) – it's your personality and drive that will make the biggest impact.
Which sports can I coach?
Sports coaching volunteers can choose to specialise in coaching just one sport, but often we find that it is best to combine several sports for more variety. The freedom to choose between different sports makes the weeks even more diverse. Follow the links to find out about each sport:
If you would like to work with kids in the capacity of teaching and childcare, in combination with the sports coaching, this is also a great option. See our teaching and childcare volunteering page for more information.
The accommodation is located in a leafy suburb 10 minutes' drive from the city centre and sea front
On site are the charity offices, staff accommodation, volunteer dormitories, kitchen facilities and living areas
Sports volunteers share accommodation with childcare and teaching volunteers
Single sex dormitory rooms with shared toilets and showers
On site is an outdoor swimming pool, miniature gym, TV lounge and games room
WiFi provided
All Food is included.
Breakfast consists of cereals, toast, spreads, tea, coffee and fruit
Packed lunch usually consists of sandwiches (tuna, chicken, cold meats, cheese, salad), crisps and fruit
Dinner, prepared by a local cook, can include lasagne, cottage pie, roast chicken, sausage and mash, chicken stir-fry, chilli con carne, macaroni, BBQs and potije
All dietary requirements can be catered for, as long as we know about them in advance
Coaching children in sport will make you hungry – many volunteers choose to supplement their meals with snacks bought in the local shops, just 10 minutes' walk away
There is a volunteer kitchen where participants can do any cooking they wish outside of mealtimes
Want to go travelling afterwards?
We can arrange a week-long Garden Route tour after your time on the project.
Follow the link to find out more about the Garden Route Tour.
Airport: Port Elizabeth (PLZ)
Arrival day: Saturday. You will be collected from the airport and transferred to the project
Departure day: Saturday. You will be dropped off at the airport.

Nick and his team of 23 members of staff will be overseeing the sports, teaching and childcare projects in Port Elizabeth. They are on hand to support you throughout your time away, and are dedicated to the volunteers and to their projects.
Access to your own personal 'My Oyster' account – our online portal where you can find out much more about the program and manage your booking
Dedicated contact time with an experienced destination manager to discuss the project, answer any of your questions and for us to find out more about you
Help and advice from our UK office before arrival and whilst you are away
In-country support
Pre-departure information covering medical, safety and project advice
Gold level, 24/7 Pharos crisis management and incident support cover
Financial protection: ATOL (if we book your flights); IPP (if we don't book your flights)
Thorough orientation on arrival
Accommodation (see the 'accommodation' section above for details)
Advice on visa requirements
Oyster plants a tree in Africa with TreeAid to help reduce the impact of global carbon emissions
Three meals per day
Airport and project transfers
Several weekend, evening, adventure and social activities/trips. Find out more.
Monthly donation to provide 2 children with one meal a day for a year
Oyster Worldwide volunteer t-shirt
Oyster luggage tag
On your return:
Help and advice following on from your programme
Certificate of recognition (on request)
References (on request)
Flights – as an ATOL bonded company, Oyster can book flights for you
You need a valid passport that meets the requirements of the country you will be travelling to
Insurance (covering your time with Oyster and any planned independent travel)
Any costs associated with changing your return flight date if you need to
Independent travel costs
Home country travel costs
Spending money for additional trips, food and entertainment
Criminal Records Bureau check/ police check
A reference from a recent employer/ teacher or otherwise
If your passion is to teach sport abroad, you will be welcomed into the project and community with open arms. It's very rewarding to give the kids this opportunity when so much is stacked against them. You will meet some fantastic children, teachers and volunteers alike, on a volunteer project that will really open your eyes to life in this stunning country.
Sports aside, this is a fantastic place to do volunteer work abroad – Port Elizabeth is vibrant and fun, the beautiful Garden Route is on your doorstep, and you can take part in safaris, surfing and bungee jumps to your hearts content.
Read here for the top 5 reasons to coach sports on your travels.
Whilst late-availability is possible, we would advise booking as soon as you can to guarantee your ideal dates. Our projects are very popular and spaces can fill up several months in advance, especially for the months of June to September.
Between Monday and Friday you will coach in 3 schools per day, spending 90 minutes at each school
You can either team up with another volunteer or take a group on your own.
You'll be well-supported by the full-time staff who will accompany the group to each session and provide guidance if you want it.
You can see an example sports coaching day by following the link.
In 2010 South Africa became the first African nation to host the football World Cup. The country went mad for the game, and fans and supporters from all over the world flocked to the Rainbow Nation to take part in this exciting, and historical, event. Ever since, the sport has grown from strength to strength, with many budding South African footballers making it onto the world stage.
As a volunteer football coach, you travel around several township schools with other volunteers, bringing your favourite sports to these townships. You'll be helping organise football matches and coaching sessions for keen football players from less advantaged backgrounds, giving them the chance to play and enjoy the sport they love so much. There is ample opportunity for you to play too –  the kids love for you to get involved – and there are also have great links with local football teams should you wish to play competitively in your free time too.
Oyster welcomes volunteers of all backgrounds with a love for playing or coaching football. You can be of any level, as long as you are enthusiastic- from social footballers, those representing their school, club or university, and even those who have experience of coaching football- you will each bring something to this project.
Rugby fans all over the world recognise the South African rugby team as a force to be reckoned with. The passion for this sport in South Africa is shared across the country as a whole, although not all children have the chance to formally learn how to play. Unfortunately this is a reality for many kids in the townships, and a trend that our gap year rugby coaching programme aims to reverse.
Much of the raw talent for South African rugby comes from the townships, although few players ever get the opportunity to make it onto the international stage. As rugby is not usually taught formally in township schools, many children never have the chance to fully develop their talents. This is where you, as a rugby coaching volunteer, step in.
Volunteers travel around several of Port Elizabeth's township schools each day, getting the kids out of the classrooms and onto the field. Here you will be coaching them their favourite sport: rugby. From fitness drills to passing techniques to games, you will take the lead in giving these kids a formal environment in which to learn this beloved game. There is ample opportunity for you to play too – the kids love for you to get involved – and we also have great links with local rugby clubs if you would like to play socially in your free time too.
Oyster welcomes volunteers of all backgrounds with a love for playing or coaching rugby. You can be of any level, as long as you are enthusiastic- from social rugby players, those representing their school, club or university, and even those who have experience of coaching rugby- you will each bring something to this project. The kids that you are working with may develop to go on to some of the schools of excellency that the project works with, so this programme can give them such a boost.
Cricket could easily be described as the national sport in South Africa. Thousands of people play it around the country, from the top at national and international cricket level, right down to kids in the townships. This is certainly a sport which crosses all boundaries.
Passing through townships in South Africa, it is not rare to see kids playing an improvised version of cricket in the streets outside their houses. Very few of these kids get the opportunity to play cricket in a structured and competitive environment, and even fewer will get the chance to really improve their game. This is where you, as a volunteer cricket coach, will come into your element and help the kids to progress.
As a volunteer cricket coach, you travel around several township schools each day with other volunteers, bringing your favourite sports to these townships. Along with the other cricket coaches, you will be working with township kids to help them to improve their game- helping with catching, drills, how to place the ball, bowling and batting. There is ample opportunity for you to play too – the kids love for you to get involved and there is even the opportunity to play in your free time too should you wish.
Oyster welcome coaches of all abilities- whether you play for a club or school, or just enjoy having a game with your friends in the park or at the beach, all levels of volunteers are needed to bring the sport and enthusiasm to the townships.
Netball is a fast growing sport in South Africa, with many girls taking to the court to learn and develop their ball skills. However, whilst it is becoming more popular on the whole, in some of the township areas access to courts and coaches can be hard to come by. Whilst our volunteers cannot improve the quality of the courts available, they can bring a passion for the game and experience to the young girls who are keen to learn.
As a netball coach in South Africa, you will be out and about in the schools each day, getting the girls enthusiastic about the game and teaching them some great skills. From ball skills to drills, from passing to shooting, and finally on to the games, it is amazing what progress the girls can make over the course of the programme under your tuition. The girls love it- they are very keen to learn, and this is often the only opportunity for them to play the game with guidance. Netball coaching not only opens the girls up to this great game, it also teaches them vital life skills such as team work, co-operation, motivation and fitness. And one of the best bits: the smiles at the end of a session.
Life in the townships in South Africa can be hard. Many of the kids' parents are unable to feed their families daily, and so part of the programme helps to feed some of the kids in the schools. The opportunities that the netball coaching programme offers to help some kids in need are amazing.
We are looking for passionate sports players- from school or university team players, to those who play weekly with a team, or just enjoy the odd game with friends. Whether you are doing this as part of your gap year, career break or some time out, passion is a must, and a love for children! You will enthusiasm and a love for the game to inspire and teach girls how to get all that they can from this sport.
Hockey is a fast growing sport in South Africa, and you could spend your gap year, career break or holiday time coaching hockey in some of the country's poorest townships. The kids in these townships do not have the same resources and access to sports as many other children. Taking your passion and skills of the game to them brings them life lessons, and lots of fun.
You don't have to be a hockey expert to get involved; we welcome volunteers from all backgrounds- playing socially with friends, at school, for college or university teams… all abilities are assets to the kids here. They will love to learn, and will greet you very enthusiastically each time you arrive to coach hockey to them.
Your role will be to arrange coaching sessions, games and exercise sessions with the kids. From drills to skills, from passing to intercepting and all the way up to a game, the kids will be keen all the way. For many this is the one opportunity of the week to learn hockey in a formal environment, and they intend to make the most of that! You get full training and support whilst you are coaching, and so this will soon seem like second nature to you.
For many years in South Africa, tennis was just an affluent white man's sport. Over the past years the game has become increasingly widely spread, with acclaimed tennis players coming from all walks of life across the country. Despite this shift in the game, kids living in the poorest of townships in the country have very little access to the chance to learn tennis. Your role, as a volunteer tennis coach, is to get these disadvantaged kids involved in the game- and give them the chance to excel at it.
Working alongside other volunteers, you will take the kids into small groups to teach them various bits about the game. Starting with simple ball to racket exercises, you will soon be able to progress to short court games, serving and going over the rules. You will get full support and teaching on how to coach the sport, so even if you haven't done this before, it is certainly something that you will grow into.
You don't need to be a tennis pro to take part in this programme- just have a passion for the game and a will to teach. Whether you are on your gap year, career break or simply taking some time out, the kids will love you for it, and you will become a role model for many of them. Having access to international coaching is something that they will never forget.
If you are passionate swimmer or swim coach and want to encourage kids to learn to swim, this swimming programme is a great way to make a real difference. Whether you are on a gap year, career break or just taking some time out, teaching some township children how to swim could be one of the most important things that you ever do.
Whilst South Africa boasts medal winning Olympic swimmers, over 70% of the population has little or no swimming ability. Each year over 1000 people drown because they cannot swim. Tragically, it is mainly the people from poorer backgrounds who never have the chance to learn – 95% of people who drown each year are from less privileged upbringings.
In 1999 the government started to heavily subsidise swimming, and the SSA (Swimming South Africa) set up a national Learn to Swim Campaign. This involved the creation of subsidised swimming pools and increased lessons to schools in townships. Working alongside trained coaches, you will help out in some of these swimming pools in South Africa, and teaching the next generation of kids to learn to swim.
Not only do the kids love it, it also saves lives.
You do not have to be trained swimming coach to make a difference on these projects. You just need to be able to swim well, and have a passion and enthusiasm for passing this on. You will receive full guidance and training from the team on the ground. A love for kids and fun is a must, as many of these children will initially be afraid of the water. It is your job to get them in there and learning the basic strokes.
Basketball is a growing sport in South Africa, yet one that is yet to hit the big time outside of the major cities. Funding has to date been low, but positive steps are being made by Basketball South Africa (BSA) to bridge this gap. The result is a wider audience and greater awareness.
You should be prepared for a basic coaching environment. All of the schools are based in the townships and as such, their facilities are limited and you should not expect a court with painted lines on it! Your coaching will probably share a court with netball players and sometimes even the net will be shared. This is part of the fun and the challenge, and the kids love it. Most of them are aged between 8 and 16 and are excited to learn more about the game. As a volunteer basketball coach you will be able not only to train the kids, but help them to learn more about team work, cooperation and motivation.
We are an approved activity provider for the Duke of Edinburgh's Award. You are able to put the time that you spend volunteering abroad on this project towards achieving your Gold Duke of Edinburgh's Award. We are happy to sign off your completion of this programme to show that you have achieved the Residential section of the Gold Award.
Port Elizabeth gets moderately hot summers, and mild winters. It is one of the richest rainfall areas in South Africa. Most of the rains occur in the winter months, brought on by the humid sea winds from the Indian ocean. The area is perennially green, making it a beautiful region to visit.
Spring: late August to October.
Summer: November to March, with December to February seeing mid-summer daily temperatures of about 24-30ºC.
Autumn: April and May, with average daytime temperatures in the low 20s.
Winter: June – August, where the days can still be warm (up to 20ºC), but expect chilly nights.
Please note that the weather may dictate what you do on the project. For example, if it is raining heavily the lessons may get cancelled, as the children do not have separate sports kit from their school uniform. The swimming lessons may not run in autumn, winter or spring due to the cooler weather making the outdoor pools too cold to spend much time in.
We would recommend budgeting £60-£100 per week.
There is really easy access to cash machines in Port Elizabeth so you do not need to take all your cash with you.
No visa is necessary for under 90 days from UK and most western European countries. You will receive a tourist stamp upon arrival allowing you stay in the country for free for up to 90 days.
You need to make sure your passport is valid for a minimum of 30 days after you leave South Africa.
Most of our volunteers are independent travellers and you will become part of a group of people from around the world here. It is fine to travel with friends or as part of a small group too however- more the merrier!
Our average group size of volunteers is between 15 and 30 people at one time. The more coaches that we have, the more kids this outreach programme will be able to influence.
Yes, you can take part in the June, July or August projects as part of your break from school, college or university. This is a very popular project however, so you should book sooner rather than later.
You should visit your doctor or travel nurse to find out what vaccinations you will need. Your routine vaccinations will need to be up to date; hepatitis A and Typhoid are likely. You should follow your doctor's advice.
Please check below for where the closest hospital to the project is – your doctor may ask to know this so that they can provide information on rabies.
For any more information, including entry requirements related to Covid-19, please see the Fit for Travel website or the UK government's travel advice page for South Africa.
There are medical facilities very locally in Port Elizabeth. Medical facilities are very good and there is a variety of medical clinics, surgeries and hospitals.
Port Elizabeth is very modern with large shopping malls, a beautiful promenade and great free time activities. The accommodation is in the leafy suburbs of the city.
Crime in South Africa is mainly concentrated in the larger townships of the country. Whenever you go into the townships this will be as part of the project with full time staff who will be with you. The team is very well known in the areas and everyone knows the amazing work that our volunteers do so you are very welcome indeed.
You are advised not to walk alone at night time and to take a taxi back to the accommodation if you have been out and about at night time. The streets are less well lit in South Africa than you might be used to at home.
The town centre is about 10 minutes' drive away
There is a mini supermarket within easy walking distance and restaurants and shops about 5- 10 minutes walk away
Transport in Port Elizabeth is very good, with excellent links throughout the city
South Africa is 2 hours ahead of GMT (GMT +2).
In South Africa, a mixture of European plugs and South African plugs are used.
Port Elizabeth is a hot-spot for travellers worldwide and with its abundance and variety of exciting activities there is no wonder why. You will be able to experience all the delights of the local area, including the game reserves, its renowned scuba schools and friendly nightlife, as well as its 40 km of the golden beaches.
Included in the project price is a whole assortment of sports and adventurous activities for you to try out – if you can muster up the courage! Fully inclusive free activities and outings in a 12 week stay can be seen below. Several of these will be available in the 5 week stay or shorter durations:
Visit to Kragga Kama Game reserve – Port Elizabeth
Authentic evening meal under the stars at the Bushcamp Boma – Port Elizabeth
Traditional dances and drumming performance and workshop
Traditional play performed by local artists
Visit of the Red Location Museum in the historical New Brighton township
Braais, games, storytelling at the accommodation.
Many volunteers also choose to get involved in the local sports teams, playing football, cricket and rugby in their spare time. Volunteers often enjoy eating out or going for a few drinks at the weekend too.
In addition to the extra activities included, there are plenty of other things that can be arranged in your free time such as mountain biking, camping, shark cage diving, bungee jumping, 4×4 safaris, golf, fishing, scuba diving, parachuting, horse riding, dune boarding, microlight and helicopter flights, tennis, kayaking, badminton, waterskiing, coastal hiking and more!
You will generally work on the project from 9am-4pm in line with the school day so you will have evenings and weekends free. There are often socials laid on so there is lots to do in your down time.
You can read more from returned volunteer Saskia about her first weekend on the project.
Supervision will be fairly intensive during the first few days, when you will receive a thorough induction and work-related training.  Once you are comfortable with things, you might not always have a supervisor working alongside you, but there will always be staff and other volunteers around to help, and you will always be accompanied for any high risk activities.
Staff at Oyster's head office and in-country will be responsible for your safety and welfare while you are at the project.  This will start from the moment you are picked up from the airport until the time you are dropped back there.  Before and after these times, you will be outside Oyster's responsibility and should make sure that you act safely and avoid risk.  This is also true if you choose to leave the project during your time off. We will give you plenty of guidance and advice about this. 
Other adventures like this