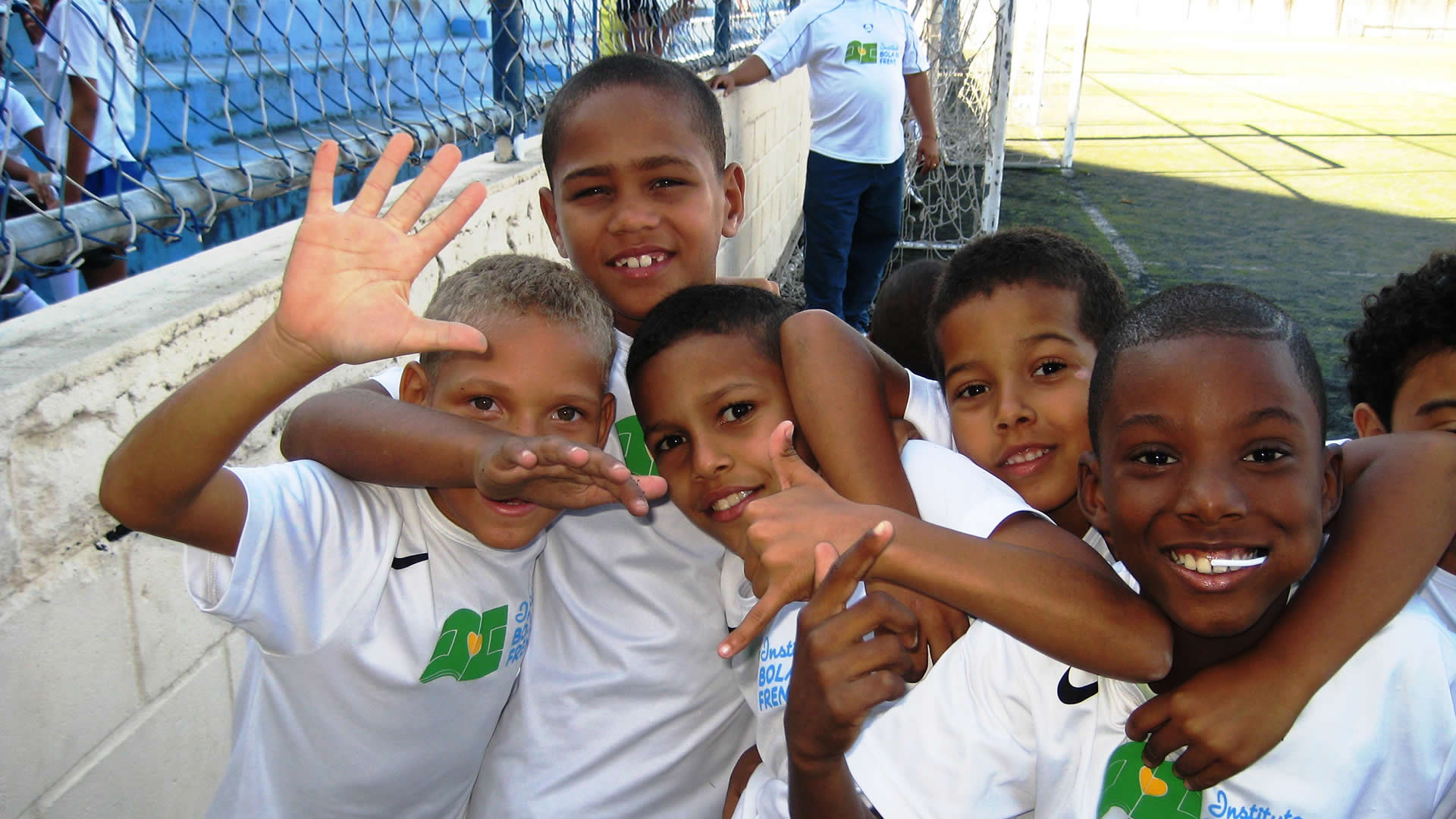 Brazil is a fantastic place to volunteer as a sports coach. Home to one of the world's greatest football teams, there is a lot of enthusiasm among young people to learn and practice sports. Teach football, rugby or athletics at a youth centre in São Paulo.
Duration: 3 weeks minimum
Dates: All year round, except December
Arrival day: Thursday
Return day: Thursday
Eligibility: Good English speakers
Age: 18+
Becoming an inspirational role model as you pass on your passion for sport
Helping disadvantaged children learn new skills and make new friends
Making great friendships with other volunteers, staff and the kids that you work with
Immersing yourself in vibrant Brazilian life
Learning a new language
Diadema - State of São Paulo, Brazil
Passion for sports is integral to culture in Brazil, making it an exciting and engaging community where you can share your love for a sport. There are opportunities to participate in Portuguese lessons and practice your skills in the local area. With so many sporting legends from Brazil, it's not hard to see why the children are so keen to learn.
Sports coaching in Brazil
Passion for sports is integral to culture in Brazil, making it an exciting and engaging community where you can share your love for a sport. There are opportunities to participate in Portuguese lessons and practise your skills in the local area. With so many sporting legends from Brazil, it's not hard to see why the children are so keen to learn.
School hours in Brazil are very short, so many children miss out on the chance to exercise. Sports coaching volunteer programmes make a difference by building skills and confidence, which boost their self-esteem and offer them the chance to be part of a team.
We have been sending volunteers to the youth centre in São Paulo since 2006. The centre provides a safe hub for many children and young adults in the area, developing skills, making friends and becoming part of a fantastic community.
As a sports coaching volunteer, you can choose to coach football, rugby or athletics. You will be living at the youth centre and traveling to different sites to teach (only a 10-minute walk from the centre).
Learning Portuguese will help you to interact with the children that you teach, and to converse with the locals in the area. There is an option to add one to one Portuguese lessons at the centre for an additional £200.
There are plenty of like-minded volunteers at the center so you will have plenty of people to meet. You can also use your new language skills when exploring Brazil – there are lots of great restaurants, bars, museums and parks to explore at the weekend. Rio de Janiero is just a 50 minute flight away.
Volunteers stay at the shared volunteer accommodation on site
There are 4 rooms and 1 dormitory. You may have to share a room with another volunteer
The accommodation has 2 bathrooms, kitchen and living area
You will receive a freshly cooked lunch at the centre while volunteering. For breakfast and dinner, you will be given an allowance to buy local food to cook in the volunteer kitchen.
What do I need to know regarding Covid-19?
We have been working closely with our partners in Brazil and keeping an eye on the current travel restrictions to ensure we have the most up to date information and give you peace of mind. Please see the links below for more information.
Program updates:
We expect there to be small changes to the program in order to accommodate restrictions in place at the time of travel. These may include:
social distancing
accommodation amendments
private transfers instead of groups
proof of a negative Covid-19 test upon arrival (taken within 72 hours before travel)
wearing masks and other protective clothing
extra health and safety measures
Depending on when you are due to travel, some of these may become obsolete. We advise to be prepared for a quick turnaround of travel arrangements and having back up options should changes need to be made.
Airport: São Paulo – Guarulhos International Airport (GRU)
Arrival day: Thursday
Departure day: Thursday

Jonathan, Oyster's representative, will be able to give you advice on all aspects of living and traveling in Brazil.  As the Founder of the center, he is actively involved in all that happens and contactable. When in Brazil, you will be supported by staff on the ground. Before you depart, Jonathan will provide a 1-1 briefing on Zoom.
Access to your own personal 'My Oyster' account – our online portal where you can find out much more about the program and manage your booking
Dedicated contact time with an experienced destination manager to discuss the project, answer any of your questions and for us to find out more about you
Help and advice from our UK office before arrival and whilst you are away
In-country support
Pre-departure information covering medical, safety and project advice
Gold level, 24/7 Pharos crisis management and incident support cover
Financial protection: ATOL (if we book your flights); IPP (if we don't book your flights)
Thorough orientation on arrival
Accommodation (see the 'accommodation' section above for details)
Advice on visa requirements
Oyster plants a tree in Africa with TreeAid to help reduce the impact of global carbon emissions
Airport pickup
Lunch and a food allowance for breakfast and dinner
Optional Portuguese lessons, normally one to one or with others arriving at the same time (costing £200 for your entire trip)
Oyster volunteer T-shirt
Oyster luggage tag
Welcome home pack
Certificate of Recognition (on request)
References (on request)
Flights – as an ATOL bonded company, Oyster can book flights for you
You need a valid passport that meets the requirements of the country you will be travelling to
Insurance (covering your time with Oyster and any planned independent travel)
Any costs associated with changing your return flight date if you need to
Independent travel costs
Home country travel costs
Spending money for additional trips, food and entertainment
Living and working in Brazil is challenging, but immensely rewarding too. Being able to make a difference to the lives of children and young people in a place like Sao Paulo is a very important and enjoyable experience, getting in touch with different cultures and people who have lives so far from our own that we learn so much about them and ourselves. You will meet some friends for life and keep the memories of your trip for ever.
For a sports-lover, Brazil is paradise! Not only will you get to live in a country that is home to one of the best football teams in the world – you will also be surrounded by passionate sports fans and children longing for the opportunity to learn.
The center wants volunteers who use their initiative and who are willing to work well within a dedicated team. Experience of being a sports coach. or working with children is preferable, but no qualifications are required. Volunteers should be knowledgeable in the sport that they intend to teach.
Volunteers work 8 hours a day, 5 days a week on shifts that either run 9am to 6pm or 1pm to 9pm.
Every Monday is dedicated to training and planning each week's activities. On the other days, volunteers work in shifts.
Those working in the morning will have breakfast In the volunteers house before meeting up with the other members of their team (all sporting activities are run at least two people). The group then heads to the football court or pitch where the activities are to be held. In the mornings, they will hold two sessions and come back for lunch between 12:30 and 13:30 and then they will run two further afternoon sessions.
Those working the later shift will have lunch and then head off to offer two sessions in the afternoon; they will come back to the center at the end of the afternoon and then at 18:00 will head out again to offer two sessions In the evening.
Those coaching athletics will work only during the day.
Sao Paulo enjoys mild weather with average temperatures of 19°C, although temperatures can reach 26°C in February and March. The lowest average temperature is about 11°C in July. The driest weather is in August, and the wettest in February.
The coastal cities and areas like Rio de Janeiro have warmer climates, although tempered by trade winds. Rio's average temperature is around 26°C, but it can swelter at over 38°C in the height of summer. Summers, between November and March, are very hot and humid. Winters are cool and dry, never cold, with some precipitation, lasting only from June to September.
You will need enough money to cover spending on drinks and activities. The exchange rate is currently very good meaning prices are slightly cheaper than normal! As your food and accommodation are provided, we recommend taking £20-30/ $30-45
There are lots of ATM's in the town where you'll be living and working so you won't need to take all your money in cash.
European and US passport holders do not need a visa and are granted a 90 day stay on arrival. This is extendable at the discretion of the Federal Police for a further 90 days for approximately £20, we will advise you on how to do this. You will require a passport valid 6 months from your date of entry into Brazil.
Most of our volunteers are independent travellers and you will become part of a group of people from around the world here. It is fine to travel with friends or as part of a small group too however- more the merrier!
You should visit your doctor or travel nurse to find out what vaccinations you will need. Your routine vaccinations will need to be up to date, it is likely you will need Hepatitis A and Typhoid, and possibly Hepatitis B, Malaria, Rabies and Yellow Fever. Please follow your doctors advice.
There is a hospital located within the district you'll be living.
You will be living in a safe neighborhood. You will receive a full safety briefing on arrival  but generally it's best to not draw attention to yourself by flashing your money around. We would also advise buying a cheap watch and phone instead of using your nice ones.
You will be within easy walking distance of all amenities. There are direct buses to the main Sao Paulo bus station that connects you to all parts of South America. The Centre is also located within easy reach of the coast with sandy palmed beaches about an hour away by bus.
The Centre now has purpose built accommodation for volunteers on site. It allows volunteers to have their own room (normally).  It is also ideally located for getting to work – 30 seconds away and puts you in the middle of town.  You receive an excellent cooked lunch at work and need to make your own breakfast and supper.  You receive a living allowance that more than covers the cost of this.
Brazil is very similar to its latin neighbours in that the staple diet revolves around arroz, which is white rice, feijao, which are black beans, and farinha, which is like flour. They are served often, although usually in different forms with a wide variety of side dishes. They are usually eaten with red meat, chicken or fish, although vegetarians are accommodated easily in Brazil. Expect to eat a lot of (tasty) rice and beans.
Supervision will be fairly intensive during the first few days, when you will receive a thorough induction and work-related training. Once you are comfortable with things, you might not always have a supervisor working alongside you, but there will always be staff and other volunteers around to help, and you will always be accompanied for any high risk activities.
Staff at Oyster's head office and in-country will be responsible for your safety and welfare while you are at the project. This will start from the moment you are picked up from the airport until the time you leave the center. Before and after these times, you will be outside Oyster's responsibility and should make sure that you act safely and avoid risk. This is also true if you choose to leave the project during your time off. We will give you plenty of guidance and advice about this.
There is a wireless connection at the Center and in your accommodation.
Phone cards are available from most local shops, pharmacies and kiosks, and can be used in the public phone boxes, which are widely available. There is good mobile/ cell phone coverage. We advise taking a laptop or tablet. Mobile phones can be quite expensive in Brazil.
The standard time zones of both Sao Paulo and Rio are GMT -3 hours.
Electricity in Brazil is 110 Volts, alternating at 60 cycles per second. If you travel to Brazil with a device that does not accept 110 Volts at 60 Hertz, you will need a voltage converter.
You will need a two pronged plug adapter.
Sao Paulo
In addition to the wealth of exploring opportunities available in Sao Paulo, there is plenty to see and do further afield during the course of your stay. The city of São Paulo is only one hour driving from the Paulista Coast, which is a typical Brazilian region full of splendid beaches and great seafood. The young and the old of São Paulo alike head there on the weekends to enjoy the sand, sun and fun. Here is a small selection of what is available in the area:
– Ilhabela -A beautiful island with lavish vegetation.
– Santos – This is an estuary city near São Paulo, home to Pelé's famous football team Santos F.C. and Brazil's most important seaport.
– Ubatuba – Boasts beautiful beaches with great leisure activities such ass scuba diving, mountain biking and trekking. The city is known for providing a good surfing environment.
– Embu das Artes – Town just Southwest of Sao Paulo, known for its talented local artists. If you are looking for authentic Brazilian art, handicrafts, furniture, or just want to browse around some really cool shops, this is the place to go.
– Louveira This city is famous for its viniculture. Every year the Festa da Uva (The Grape Party) takes place.
– Brotas is a city famous for its adventure leisure activities, rafting being the most famous one.
– Barretos – Up at the northeast tip of the state is where Brazil's largest rodeo party takes place, bringing together the best in Brazilian and world country music to a week festival.
Rio de Janeiro
Rio offers a plethera of things to do inside the city, from museums to parks, to fiestas to bars. You will spend a lot of time exploring this exciting city.
If you are looking further afield, there is much to see and do. You can take a cable car to the Sugarloaf moutain to watch the sun set over Copacabana Beach or go to see the Christ the Redeemer Statue, the second largest art deco structure in the world. Tackle the Corcovado moutain and take in the breathtaking view of Rio's sprawling beaches, board the cog train through lush Tijuca Rain Forest, take a boat tour around the islands looking out for turtles dolphins and sting rays, take in a samba show or head to a football match. Rio de Janeiro really is a buzzing place, and you should never be at a loss for things to do.
You will get a schedule so you know exactly when you're working. You may work early mornings and evenings too but you will have two days off per week. You can take some time off with advance notice, most volunteers like to take a week off for independent travel.
Other adventures like this