Spending your holiday exploring a new country on horseback might seem like an unusual way to travel, but horseback riding holidays are growing in popularity as a unique and alternative way to see the countryside or coastline of an area, or as a way to learn something new on your trip. From ranch holidays that offer a slice of the cowboy lifestyle to African horseback safaris and cross-country riding expeditions, horse riding holidays bring you closer to nature and offer an exciting combination of developing new skills, sightseeing and adventure. What's not to like?
Although some horse riding holidays are more enjoyable if you have had equestrian experience, there are many options now that are ideal for beginners, offering a combination of indoor lessons and guided treks. European countries tend to have terrain that is more suitable for beginners to traverse on horseback, along with more relaxed horse riding holiday itineraries that are ideal for families or those who are just starting out. If you are more confident in the saddle however, countries in Asia or Africa provide more challenging and independent experiences to explore the landscape, riding for longer and facing different conditions.
There really is something out there for everyone when it comes to horse riding holidays, whether you want a chance to live and work on a cattle ranch, fancy learning the art of dressage, or are looking for a more environmentally friendly way to travel between rural towns and villages. Several programs also exist which allow you to train on a farm and learn elements of equine care and horsemanship, for those who have an interest in every element of horse riding and also want to travel somewhere new.
Your skill level will be the biggest factor when choosing where to go for a horse riding holiday, along with what kind of experience you are looking for and where in the world you want to travel. From rustic vineyard tours to playing polo with gauchos, here are 11 of the best places for horse riding holidays.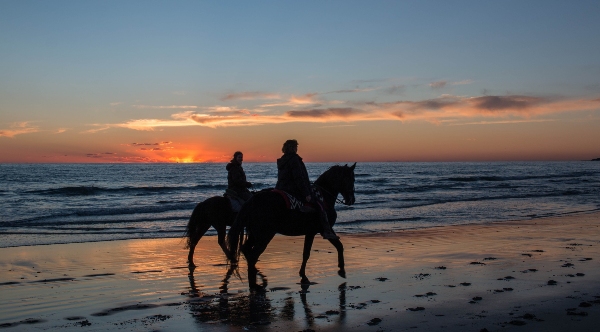 1. Italy
There are numerous locations in Italy to be explored on horseback, but the central region of Tuscany stands out as the best place for a horse riding holiday. The Tuscan countryside has inspired countless artists with its romantic charm and sweeping hillsides, fields and vineyards, and there is no better way to fully appreciate some of the most beautiful scenery in Italy than riding through it.
Many Tuscan horse riding holidays take place on farms, which allows you to properly immerse yourself in rural Italian life as you spend your days ambling through classic Renaissance landscapes and visiting small hilltop villages. Riding holidays in Tuscany tend to be suited for families and riders of all abilities, as the exploration on horseback is relatively gentle and you spend most of your time on quiet paths and roads.
2. Botswana 
Tracking wildlife through the African desert is a classic holiday activity for those who are visiting the country, but an increasingly popular alternative for those who have some experience with horse riding is a safari on horseback. With a plethora of national parks across the country, a horse riding holiday in Africa is a thrilling way to see the landscape and try and spot some of the continent's most famous native animals.
Botswana's Okavango Delta is a brilliant location for exploration on horseback, with huge plains of grass, a wide river and a game reserve. But the entire country is a haven for wildlife, and there are many different horse riding tours that you can join with expert guides to lead you across the terrain and teach you more about the area.
3. France
Southern France is a fantastic place to both learn to ride and to travel the country on horseback, with many rural farms offering holidays that involve lessons and excursions into the surrounding landscape. The Camargue is a particularly popular region for riding that is famous for its breed of white horses and the traditional cowboys who farm on horseback, with farms offering everything from afternoon riding trips to full fortnight stays.
Countryside horse riding holidays in places like the Loire Valley are also excellent in France, with regions famous for their food and vineyards providing a unique mix of gastronomy and leisurely riding around the local area. France is another great place for horse riding holidays for all abilities, as many places offer lessons that will teach you how to ride whilst surrounded by beautiful countryside.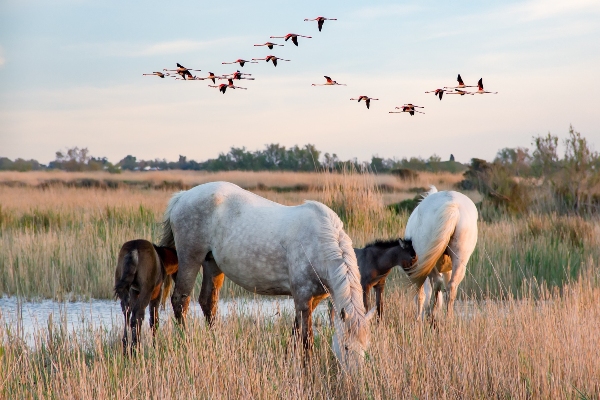 4. Argentina
An unmissable horseback holiday experience is on an Argentine estancia; a traditional ranch that will see you trekking and herding by day and sitting around a fire at night beneath the stars. Argentinian gauchos (cowboys) can guide you through the country's valleys, instruct you how to round up and brand the cattle that live on the farms, and teach you more about the history of ranches and farming in Argentina. 
Horse riding holidays in Argentina are more active than the experiences you will have in some other countries but are still suitable for a wide range of ages and abilities. They're a great way to see more of the rural fields and mountains of Argentina than you would on foot, and also experience a very interesting part of the country's culture by working with those who have been riding horses all their lives.
5. USA
If what you're really after is a chance to live out your childhood dreams of becoming a cowboy, then America offers the best horse riding holiday experiences out in its farming country. States such as Nevada and Oregon are full of working cattle ranches that also give travellers the chance to live on the farm and take part in daily activities such as herding cattle on horseback.
Whilst most ranches include an element of farm work in their daily activities, a horse riding holiday in the USA will also give you the chance to explore surrounding desert trails and canter across the acres of land that surround the ranch. These kinds of holidays cater to a range of different abilities, but those who are more comfortable in the saddle will be able to get more involved in traditional cowboy tasks.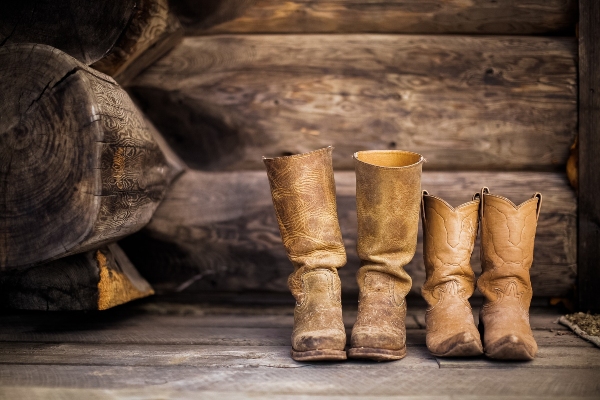 6. Spain
Spain offers a whole range of different horse riding experiences depending on which area of the county you visit, and is one of the most popular places for travellers who want to explore on horseback. From trekking through the mountains of Sierra de Gredos to galloping through the waves on the Andalucían coast, or even learning dressage on a farm in Seville, there is truly something for everyone.
Horse trekking holidays in Spain are an ideal choice for those who might not be that experienced with horse riding, as routes tend to be gentle and rest stops are incorporated into each day's itinerary. It's a brilliant way to explore the countryside and coastline of Spain, learning to ride confidently as you travel through the landscape.
7. Portugal
Portugal is known for being the home of the famous Lusitano horse breed, whose gentle temper and graceful movements make them perfect for dressage. Consequently, Portugal is a brilliant place for a horse riding holiday that involves both treks on horseback and formal lessons in dressage, learning to ride on incredibly high-quality horses.
The mountains and forests of Portugal's landscape are also ideal for exploring on horseback, particularly in the spring and autumn when the weather is dry and sunny but mild enough to enjoy being outside all day. Less confident riders will benefit from the high standard of teaching across the country, whereas those who are more experienced will love the variety of trails and routes that they can explore on horseback.
People who are keen to volunteer with horses will find an excellent opportunity caring for horses and helping people near to Porto.
8. Wales
A brilliant place to learn to horse ride is the Welsh countryside, where many specialist farms have holiday programs perfectly designed for riding beginners. Wales is a beautiful part of the UK that is known for its dramatic hills, valleys, and mountains, and once you have been shown the basics of horse riding you will be able to set out into the landscape and explore.
A horse riding holiday in Wales is likely to consist of introductory lessons followed by guided treks of the countryside, including visits to rural villages and stops at local pubs and restaurants. Horse riding allows you to traverse further and higher than you would have been able to on foot, opening up exciting new routes and offering incredible panoramic views of your surroundings.
9. Ireland 
Ireland offers exceptional rural horseback riding experiences, with a lush and beautiful landscape that has earned it the nickname 'the Emerald Isle'. Perfect for beginners who want to explore with a guide or seasoned riders who want to travel independently between towns, Ireland offers a range of different scenery and dramatic weather that will leave you exhilarated. 
The landscape in Ireland features a lot of coastal mountain ranges, which brings together chances to trek through the hills and amble along the beach. The island's mountains aren't very steep or treacherous, making them a perfect riding location for every ability, and horses will be well acquainted with the conditions and very happy to explore wherever you want to go.
10. Mongolia
Exploring Mongolia on horseback will delight both history lovers and fans of the great outdoors, with unspoiled wilderness everywhere you journey and the equine legend of Genghis Khan conquering an empire on horseback through the country's mountains. If you really want to lose yourself in nature then a horse riding holiday in Mongolia is ideal, as you trek beneath open skies and across seemingly endless plains.
The landscape of Mongolia is made up of rocky mountains and sandy deserts, and offers a range of different terrain that is perfect for exploring on horseback. Guides will often be locals who have been working with horses their entire lives, and tours of the country on horseback often give you the chance to learn more about nomadic culture and engage with the communities you meet as you travel.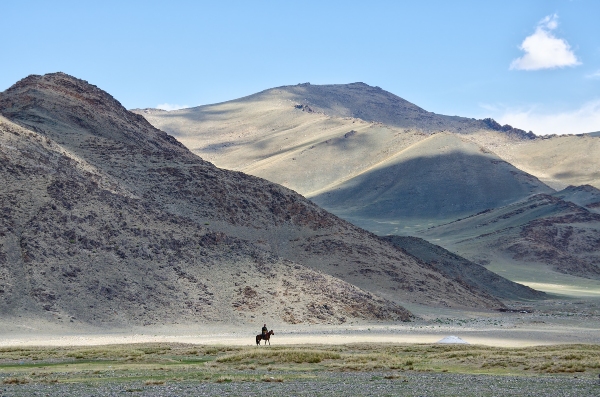 12. Australia
Australia is a popular place for travellers to take part in working holidays on farms with horses, but there are also a number of excellent horse riding experiences that allow you to explore the country's diverse landscape on horseback. Some of the finest breeds of horses come from Australia, and both beginners and experts will love taking part in guided treks across the outback or along the coast.
Oyster Worldwide also offers a Paid Equine & Horse Care Training Course in Queensland that is ideal for those who want a longer holiday with more in-depth learning about horse care and riding, along with the opportunity to work in the Australian equine industry. Australia is a fantastic place to visit and explore, and engaging with its history of horse riding gives a real insight into some of the country's culture, and allows you to better engage with its wildlife and countryside.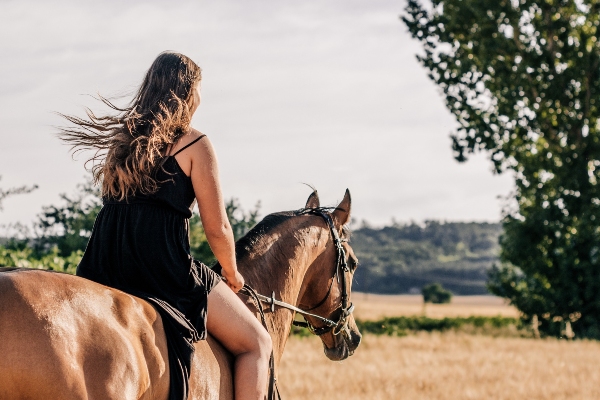 Whether you're looking for a chance to find your inner cowboy or want a unique experience of exploring Europe's rural countryside, a horse riding holiday is a brilliant way of combining sightseeing with learning a new skill. Wherever you want to travel, holidays on horseback are becoming more popular across the world, and with many also offering the chance to engage with farming, herding, and rural culture, it's a great travelling alternative that means you will leave with riding expertise and knowledge as well as happy memories of your time away.