We have received so much support from previous and future volunteers – thank you to you all, it is wonderful to see how many of you are keen to support our charity partners across the world. Due to the travel restrictions still in place worldwide, we have been hard at work with our partners and are now able to offer a range of online volunteering opportunities! These include elephant conservation, marine conservation, community support, an online course in volunteering overseas and charity support in both skilled and unskilled fields. Check out more information on the programs here, or for more information on the community volunteer course, keep reading!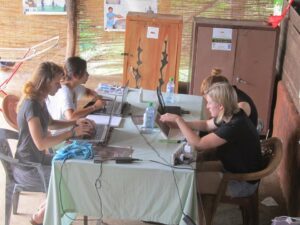 The online course allows you to learn about teaching programs and working in communities overseas. If
you're interested in volunteering overseas, this course is a brilliant starting point! It's a great chance to learn about how to volunteer ethically, the best ways to get involved with volunteering programs and preparation for a volunteering trip in the future.
The course includes the following modules (but with options for more!):
Leading Teams for Emerging Leaders – an introduction to team leading. This module covers planning and setting goals, how to create a safe, supportive working environment and allows you to develop your unique leadership style.
Careers in Sustainable Development – covering key principles of best practice in sustainable development and linking this to a local context, this module summarises how to monitor projects, report on progress and evaluate the success of the project.
Making an Impact Ethically – this useful module offers an opportunity to stop and think about the actions we take when trying to help others. Using case studies and different approaches, you will be able to explore the different ways of getting involved with volunteering.
Each module requires 15 hours of work, the majority of which is completed during group sessions via video call. For this reason, you will need access to a computer and good internet connection. As the majority of the learning is completed during group sessions, you will need to have flexible availability for the two weeks of your course so that you can attend each call. There are also resources available to look at in your own time, group discussions, quizzes, live lectures and an assignment to reflect on what you have learnt for each section. The course aims to help participants to gain relevant skills for any future volunteering, along with this fantastic experience to add to your CV, increased confidence working in teams and becoming part of a community which is working to help those in need of support.
Full support is provided by the team on the ground – there are Lead Instructors and Student Success Managers present to help with any queries and issues during the sessions. Not only will you be able to meet the other volunteers from across the world, but you will also be able to chat with the staff in-country, who have plenty of experience in volunteering overseas.
The course costs £645, but if you are booking this course in preparation for a later volunteering trip to Laos or Nepal then the course is only £395. The courses start on Mondays every fortnight, and last for two weeks.
If you have any questions or are interested in signing up for the course, email Jess at [email protected].