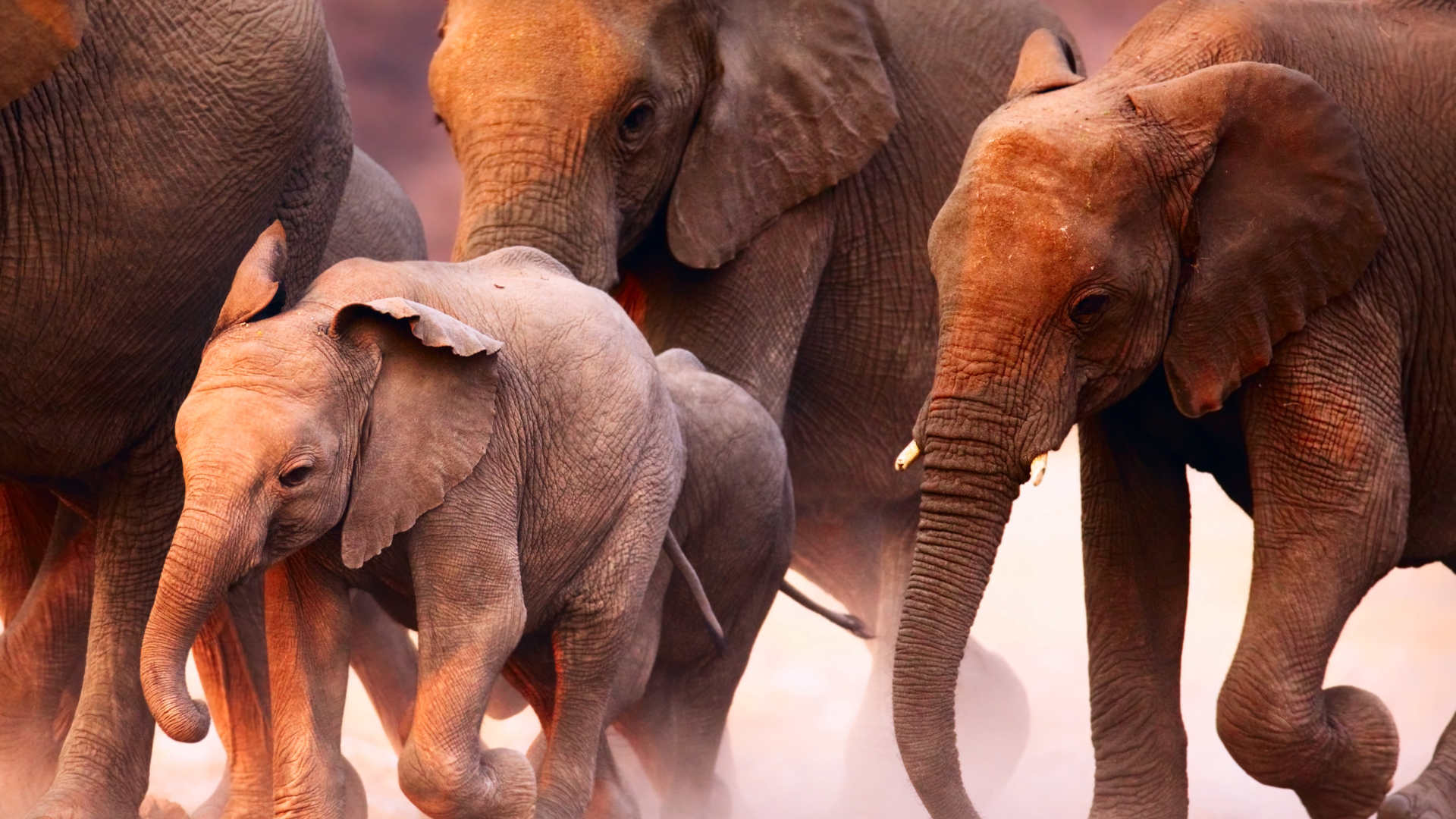 Not for the faint-hearted, this unique family volunteering adventure combines both elephant conservation and community work. Give your children a snapshot of a life that is now all but forgotten – camping under the stars, cooking over campfires and existing without the internet. Interact with local adults and children, and help the local community.
Duration: 11 days
Dates: See here for dates and availability
Eligibility: Relative level of fitness required
Age: Children must be 8+
Meet local families and discover how they live
Get away from the traps of modern life – your phone won't work out here!
Live the simple life – sleep under the stars, cook over a camp fire and wake with the sun
Achieve something wonderful and unique together as a family
Share this adventure with other likeminded families
Head deep in to the Namibian desert, where elephants and humans have forged a life for themselves living alongside each other. Life can be tough for both humans and elephants in this orange wilderness, as both compete for water, the key to survival. This family volunteer project is designed to immerse you in a desert community, getting to know the locals and helping to improve the facilities in their local school.
The first part of your project will be spent as part of the local school, helping to paint the classrooms and the children's dormitories. Sadly the school doesn't have the facilities to be able to do this otherwise, and it is a great way to become part of this small community. You will join the assembly in the morning, get involved with some of the lessons and interact with the pupils in their sports and crafts clubs after school. Conservation education is essential, as these children will go on to be guardians of the elephants and so understanding their environment is the key to the survival of these gentle giants.
The second component of this volunteer project is to track and monitor elephants in the wild, enabling the authorities to better understand and protect them. Seeing elephants living in the wild is certainly an incredible privilege and one of the many great highlights of this project. Children love learning to spot and track the elephants – not always an easy task with their camouflage!
Follow the link to see the full family volunteering itinerary.
This trip starts and ends in the seaside town of Swakopmund. Sandwiched between towering sand dunes and the crashing Atlantic Ocean, its location is second to none. We would recommend staying on in the area after your desert elephant conservation to enjoy sandboarding, quad biking, desert tours and dolphin cruises- to name but a few activities!
The actual project is located 5 hours into the Namib desert. Its location is rural, and you should expect to be away from phone signal and wifi for the duration of the time that you are away. Perfect for those escaping from office life!
Family accommodation will be arranged for you in the guest house. This costs about £35 per person for the night to include breakfast.
You will be camping in the desert whilst being an elephant conservation volunteer in Namibia. Campsites have kitchen areas, camp fires, seating and sleeping areas.
Whilst at the school, you sleep in a Base Camp with electricity, outdoor western style composting toilet, and hot and cold showers.
Whilst elephant tracking, you sleep in temporary camps which move each night. The toilet facilities are limited to a shovel, a bush and a lighter to dispose of toilet roll. There are no showers whilst tracking – volunteers wash with soap and water or wet wipes.
You should bring a mosquito net, sleeping bag and pillow for all family members (sleeping bags can rented on request).
Three meals per day are provided in the desert
Breakfast is typically porridge or cereal
Mid-morning snack usually consists of some fruit
Lunch is usually DIY sandwiches
Dinners typical include pasta, meat, potatoes, veg, curry – all cooked over the fire
Vegetarians are catered for, however please expect the diet to be less varied than the meat eaters!
Each day a different family will be in charge of food preparation and cooking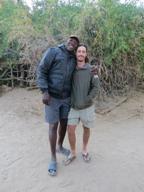 You will be in the capable hands of the volunteer coordinators whilst you are volunteering in Namibia. All staff have plenty of experience of wildlife tracking, charity work, community engagement and volunteer management. They are a fantastic and fun-loving team, who can't wait to get you involved.
Access to your own personal 'My Oyster' account – our online portal where you can find out much more about the program and manage your booking
Dedicated contact time with an experienced destination manager to discuss the project, answer any of your questions and for us to find out more about you
Help and advice from our UK office before arrival and whilst you are away
In-country support
Pre-departure information covering medical, safety and project advice
Gold level, 24/7 Pharos crisis management and incident support cover
Financial protection: ATOL (if we book your flights); IPP (if we don't book your flights)
Thorough orientation on arrival
Accommodation (see the 'accommodation' section above for details)
Advice on visa requirements
Oyster plants a tree in Africa with TreeAid to help reduce the impact of global carbon emissions
Pre-arranged airport collection and transfer – arrival and return- this must be paid in cash on arrival – see 'not included'
Transfers to the desert and back
Weekly shopping trips to top up on supplies
All camp provisions including a roll mat, canvas, toilet, cutlery, camp fire, chairs etc
Three delicious meals per day prepared by the volunteers, a mid-morning snack, tea, coffee and drinking water
Training in making camp fires and cooking over fire
Training on how to build a wall
Training in elephant tracking and monitoring
On your return:
Welcome home pack
Certificate of Recognition (on request)
References (on request)
Flights – as an ATOL bonded company, Oyster can book flights for you
You need a valid passport that meets the requirements of the country you will be travelling to
Insurance (covering your time with Oyster and any planned independent travel)
Any costs associated with changing your return flight date if you need to
Independent travel costs
Home country travel costs
Spending money for additional trips, food and entertainment
Money for your airport transfers (approx £20pp in each direction for Walvis Bay, £30pp in each direction for Windhoek)
Family accommodation will be arranged for you in the guest house. This costs about £35 per person for the night to include breakfast.
Money for dinner in Swakopmund on your first night (approx £10 – £15pp)
Money for accommodation in Swakopmund on your last night (approx £35pp including breakfast)
Money for dinner in Swakopmund on your last night (approx £10 – £20pp)
If you are staying for longer than 2 weeks (highly recommended!) you might like to return back to Swakopmund on your second weekend at the project. If this is the case you would need to budget for 3 nights accommodation and food until you return to the project on the Monday morning.
A sleeping bag, sleeping bag liner and mosquito net
This is a fantastic opportunity to do something really different on your holiday. Kids and teenagers alike love the simplicity of life in the desert and getting to meet children and teenagers of their own age. This is great for parents too who are looking to "get away from it all"- with no wifi or phone signal, there is no better way to achieve this!
The project allows children, teenagers and adults to make a genuine contribution to an engaging community and conservation project. You get hands-on, stuck in and mucky. You can enjoy camping in the desert, learning how to make camp fires and cook on them and sleeping underneath the Milky Way.
We have had a think about the benefits of volunteering in Namibia for both adults and children, which you can read about on our blog.
Your time spent on the project will be two-fold. The first element is within the local community, and the second element is deep in the desert wilds. The whole project has been designed to accommodate children, and so there is plenty of interaction and games throughout.
You will arrive to Swakopmund on your start date where you will meet the other families and the team that you will be sharing your adventure with. The next day, the adventure starts for real, with the 4 hour drive up into the desert that you will be calling home over the coming days. You will settle in to your desert camp complete with treehouse sleeping, campfire cooking and outdoor showers – the perfect retreat.
For the next three days you will be getting stuck into life in the local school. This includes attending assemblies, lessons and clubs so that you really get to know the pupils and teachers. It also includes helping with painting classrooms and dormitories, playing games with the children and getting involved in elephant education.
After this, you will enjoy a day off, relaxing in your rural home and enjoying your stunning surrounds. If you would like, you can join a nature walk.
In the next three days, your focus shifts to the elephants in the area. Travelling by car, you will be tracking the elephants through the desert, monitoring them and identifying them. This is an extremely exciting part of the project, as you will be seeing elephants living in the wild. There are only two places in the whole world where elephants live in the desert in this way, so this is a rare opportunity to both see and to conserve this species, which is severely at risk. Learning to track the elephants is a real joy, and you will have plenty of time to stretch your legs- and even do some fishing!
On your last day you head back to Swakopmund where your time on the project ends.
Whilst late availability is possible, we would advise booking as soon as you can to guarantee your ideal dates. Our projects are very popular and spaces can fill up several months in advance, especially for the months of June to September.
It is encouraged that you fly in to Walvis Bay (WVB), where you will be collected by a pre-arranged transfer service. The service costs about £20 per person to take you in to the guest house where you will be staying on your first night.
Family accommodation will be arranged for you in the guest house. This costs about £35 per person for the night to include breakfast.
Alternatively, you can fly in to Windhoek and a transfer can be arranged from here. Your flight must arrive before midday on the arrival day to make the transfer. The transfer would cost approximately £35 per person and takes about 4 hours.
Base Camp is a comfortable purpose-built camp about an hour from the nearest town. It is nestled amongst towering rocks next to the river bed. It is a permanent camp with composting toilets, showers, lighting, kitchens and other such amenities. It is very comfortable and volunteers love staying here. You will stay here throughout your stay, with the exception of during the tracking period.
The Base Camp is stunningly beautiful, with very clear stars and great sunrises and sunsets. Often volunteers head up the hill next to camp to watch the sun go down with a cold beer. There are walks in and around the area, but generally the volunteers just enjoy chilling out, exploring, reading and relaxing.
This is extremely exciting as it could be your first sighting of the wild elephants! Your group will follow the tracks of the elephants and you will learn how to do this yourselves. Once you find the elephants data and research is collected, which contributes to their overall conservation effort in the country.
The tracking is so important as it means that more can be understood about the elephants. Each time they sight the elephants they note down which one(s), where and at what time. This data is recorded so that they can understand the movements of the elephants and identify the areas where the farmers might be most at risk.
Each volunteer does only what he or she is capable of doing however and you work as a team to complete the project. It is important that you are happy to be doing basic lifting and carrying and are comfortable in the heat. If you have any concerns, feel free to ask. We love to have people of all backgrounds, shapes and sizes on the project!
On this project you will be working close to wild elephants. As such you must not interact with the animals.
Oyster assesses projects carefully to ensure that they offer high standards of animal welfare and environmental practice. We also check that volunteers understand key points of good practice before working with animals. To find out more, see our animal welfare policy.
This project is specifically designed for families with children aged 8 and over. Our spaces on this project usually fill up, so you may be with at least 2 other families of similar ages.
Namibia is mostly dry, warm and pleasant throughout the year. The temperature usually reaches about 25 degrees celsius during the day time, however the night can get very cold. Most volunteers like having a sleeping bag with sleeping bag liner, and even thermals.
The following is on a per person basis:
£20 – £35 transfer from the airport (depending on which airport you use)
£35 for accommodation and breakfast for the first night pp
£50 general spending money (for eating out on your middle weekend, last night meal and accommodation at the end of your trip, souvenirs)
£20– £35 return transfer to the airport
There are ATMs in the town of Swakopmund so you should take enough money to last you for the duration of your trip.
No visa is necessary for under 90 days from UK and most western European countries. You will receive a tourist stamp upon arrival allowing you stay in the country for free for up to 90 days.
You need to make sure your passport is valid for a minimum of 6 months from when you arrive in Namibia.
You should visit your doctor or travel nurse to find out what vaccinations you will need. Your routine vaccinations will need to be up to date. The project is not located in a malarial area, however some parts of the country are. If you are travelling either before or after the project, you may require anti- malarial protection. You should follow your doctor's advice.
For any more information, including entry requirements related to Covid-19, please see the Fit for Travel website or the UK government's travel advice page for Namibia.
There are medical facilities one hour from the project site.
Namibia is a very friendly country and one which is very open to tourists, as they rely quite significantly on tourism in their economy. The town of Swakopmund – where your journey begins – feels like Bavaria on Sea, as it was formerly a German colonised area. The streets are wide and well lit and there is a lively restaurant scene here. If you are going out after dark, do make sure to take a taxi home.
Your main project will be based out in the desert. You will receive full health and safety briefings to cover all that you do, especially where elephants are concerned. Follow guidelines carefully as you may encounter these gentle giants out and about. You will always be with a member of staff on this project and will be staying either in a treehouse or a protected area, so an elephant can't come wandering through!
The main base camp for the project is located about 5 hours from Swakopmund, and an hour from the town of Uis.
There are internet cafes in Swakopmund, so you should expect to be able to get online only at the beginning and end of your trip.
You should not expect to have any signal in the desert. Please make sure to inform loved ones/ concerned friends of this before departure.
Namibia is one hour ahead of GMT (GMT +1)
In Namibia, a mixture of European plugs and South African plugs are used
Whilst you are on the project, most people enjoy going to a hotel in Uis on their free day to swim in the pool, eat a burger and access the WiFi
Swakopmund, where you start your trip, is the capital of adventure sports in Namibia
Options include skydiving, kayaking, dolphin watching, sand boarding and much more
If adrenaline isn't quite your cup of tea, there are lots of cafes, shops, restaurants, and even a cinema!
Generally you will have your evenings free at camp.
Supervision will be fairly intensive during the first few days, when you will receive a thorough induction and work-related training. Once you are comfortable with things, you might not always have a supervisor working alongside you, but there will always be staff and other volunteers around to help, and you will always be accompanied for any high risk activities.
Staff at Oyster's head office and in-country will be responsible for your safety and welfare while you are at the project. This will start from the moment you are picked up from the airport until the time you are dropped back into Swakopmund at the end of the project. Before and after these times, you will be outside Oyster's responsibility and should make sure that you act safely and avoid risk. This is also true if you choose to leave the project during your time off. We will give you plenty of guidance and advice about this.
Other adventures like this