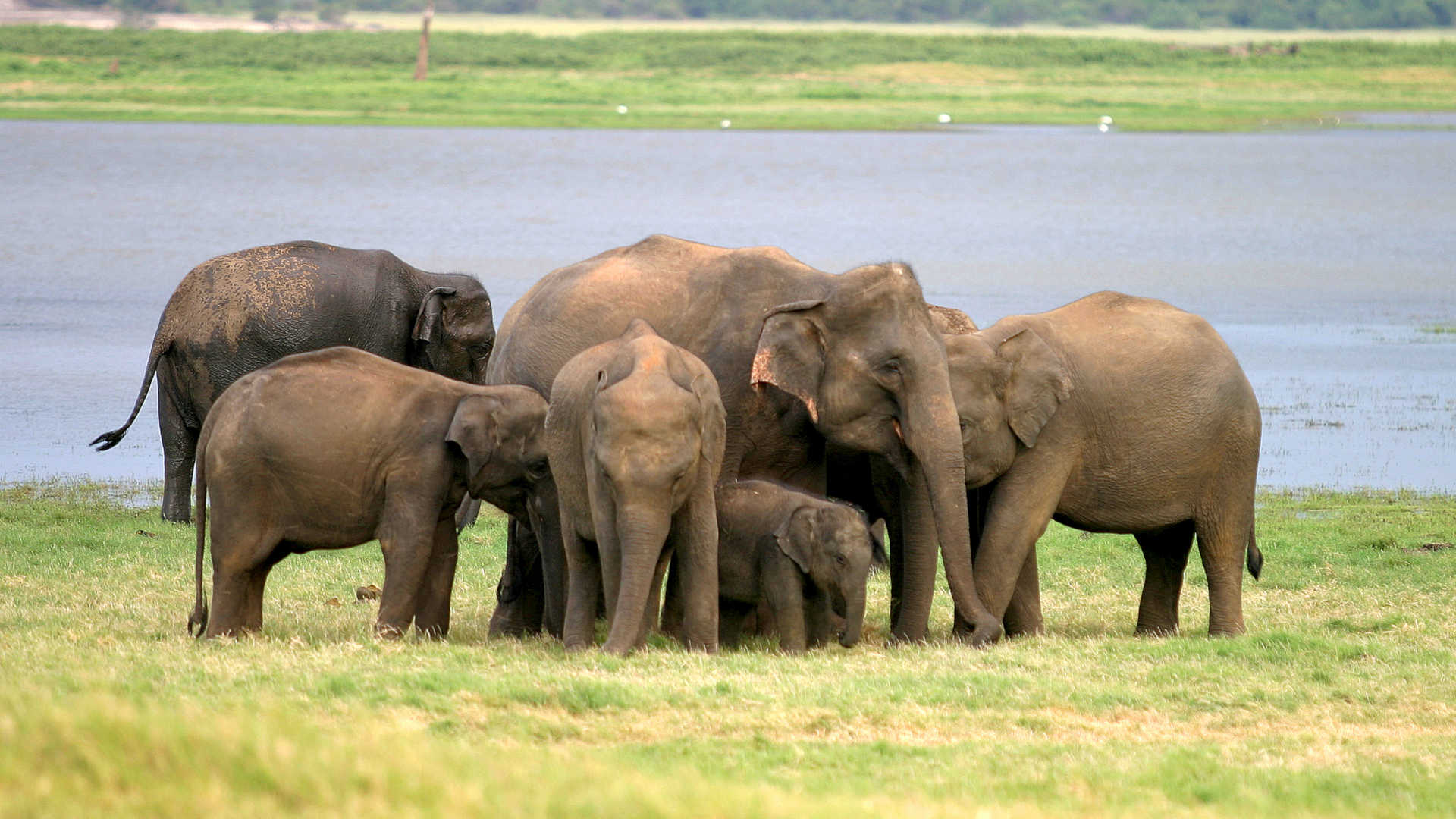 Make your family's dream of working with elephants a reality in one of the most beautiful countries in the world. Not only will you and your family be living far off the beaten track in a place resembling paradise, but you will be making a genuine contribution to protecting elephants and helping communities.
Duration: 1 – 2 weeks
Dates: Arrivals throughout the year
Arrival day: Sunday
Return day: Sunday
Eligibility: General level of fitness required. You will walk some steep inclines
Age: Suggested minimum age of 10
The dramatic colours as the sun rises and sets over the surrounding mountains and reservoir
Travelling by train and bus to the project site, passing through some of Sri Lanka's most stunning scenery
Riding the elephant-friendly school bus, safely transporting kids through the elephant grazing areas
Climbing up to the tree house viewing station to watch the elephants grazing in their natural habitat
Introducing your children to local children, allowing for cross-cultural interactions and understanding
On your family holiday to Sri Lanka, you'll be joining a multiple award-winning charity in their quest to encourage the survival of elephants living in the wild. In the last century alone, wild elephant populations in Sri Lanka have plummeted from 20,000 to just 5,000. Volunteering in Sri Lanka with your family involves helping the charity to halt, and hopefully reverse, this tragic decline.
Children and adults alike can get fully involved and make a full contribution to the research, observation and preservation of these remarkable creatures. Much of the research involves walking through the jungle and grasslands, meeting local people and monitoring elephant activity.
Each day will be varied and exciting, touching upon a variety of tasks:
Monitoring the elephants and other wildlife in the area (keep an eye out for the elusive leopard!)
Following the elephants' grazing trail on foot through the hills and jungles
Identifying the elephants in the area and photographing them
Monitoring elephant activity from a tree house
Becoming involved in the local community with environmental education and games
Conducting mammal and bird surveys
Meeting local residents and learning more about their way of life
The location of your Sri Lanka family holiday is absolutely stunning. The project site is located about 2 – 3 hours northwest of the cultural capital, Kandy. It is on the outskirts of the Wasgamuwa National Park, home to almost 200 elephants alone.
As part of the project you will be trekking through jungles, valleys and wetlands to get to know intimately the lives of the elephants. You will come into contact with the friendly locals, swim in beautiful lakes and encounter some lush scenery.
Shared volunteer house with stunning views over Sri Lanka's central forests and mountains
Located just outside a small village and within close proximity of the beautiful Wasgamuwa National Park
The house is has basic yet comfortable facilities
Where possible, we shall try to accommodate you and your family in a private room together
Shared bathrooms with western toilets
Shower water is heated by the sun, so is refreshingly cool after a hot day of elephant conservation projects
No Wi-Fi at the volunteer house – we suggest taking an unlocked phone and buying a local SIM
Fans, mosquito nets and bed linen provided
Meals are provided and are an excellent introduction to Sri Lankan food
Breakfast can generally include toast, fresh fruits and the local staples of dhal, rice and curry
Lunch and dinner include rice, dhal, curry and vegetables
Most meals will be vegetarian with egg, fish and soy for protein
Vegetarians and vegans can be catered for
Safe drinking water provided
Airport: Colombo (CMB)
Arrival day: Sunday
Departure day: Sunday
Access to your own personal 'My Oyster' account – our online portal where you can find out much more about the program and manage your booking
Dedicated contact time with an experienced destination manager to discuss the project, answer any of your questions and for us to find out more about you
Help and advice from our UK office before arrival and whilst you are away
In-country support
Pre-departure information covering medical, safety and project advice
Gold level, 24/7 Pharos crisis management and incident support cover
Financial protection: ATOL (if we book your flights); IPP (if we don't book your flights)
Thorough orientation on arrival
Accommodation (see the 'accommodation' section above for details)
Advice on visa requirements
Oyster plants a tree in Africa with TreeAid to help reduce the impact of global carbon emissions
Airport transfers to the project (6 hours)
First night in a hotel (meals not included)
Airport transfer from project on return (6 hours)
Meals and soft drinks at the project site
On your return:
Welcome home pack
Certificate of Recognition (on request)
References (on request)
Flights – as an ATOL bonded company, Oyster can book flights for you
You need a valid passport that meets the requirements of the country you will be travelling to
Insurance (covering your time with Oyster and any planned independent travel)
Any costs associated with changing your return flight date if you need to
Independent travel costs
Home country travel costs
Spending money for additional trips, food and entertainment
Food costs when not at the project site – e.g at Hotel
With the rise of agriculture to support a growing population in this part of the world, the land in which the elephants can live freely has been dramatically reduced. Increasingly these elephants will venture into farmer's land where they will wreak devastation by feeding on the crops. The work of 3 months can be undone by just one elephant in one night.
This project works hard to protect boundaries between humans and elephants to create a sustainable future for both species. In addition to this, huge importance is placed upon integrating humans and elephants, so that local communities will feel empowered and able to embrace their country's icon once more. Without this volunteer project, the future of wild Asian elephants in Sri Lanka is not encouraging.
Whilst late-availability is possible, we would advise booking as soon as you can to guarantee your ideal dates. Our projects are very popular and spaces can fill up several months in advance, especially for the months of June to September.
This project is open to people from all walks of life, and as such you should expect to be with a group of volunteers of all ages. We cannot guarantee that there will be other families there at the same time as you.
Your days tend to start early to "cheat the heat". You will then get involved in a project for a few hours in the morning, before a good lunch and siesta in the early afternoon. The afternoon shift then starts again until the early evening- although to be prepared to be flexible!
You will be based in the central forests of Sri Lanka, where temperatures can range from a low of 14 degrees in the wet season to highs of 34 degrees in the dry season. On average, you should expect it to be about 25 – 32 degrees with unexpected rain showers throughout the year.
As a general rule, you can expect the following:
Rainy season: generally from October to January.
Summer season: generally from February to May.
Dry season: generally from June to September.
No specific skills or experience are required to volunteer in Sri Lanka
You do need to be prepared for the heat and high humidity of tropical jungles and be willing and able to walk up to 7km per day
All of these tasks are completed in the backdrop of forests, wetlands, woodlands, jungles and grasslands. Terrain will be varied and sometimes the days can be challenging physically
We simply ask that you are motivated, enthusiastic and adaptable
Suitable for children aged 10+
Please be aware that whilst Sri Lanka is one of the most westernised countries in South Asia, there are many cultural etiquettes that you need to adhere to.
MALE: Knee-length shorts and trousers requested. T-shirts with high necks and short sleeves acceptable (no vests).
FEMALE: knee-length shorts, skirts and trousers requested. T-shirts must have high necks and short sleeves (no vests or spaghetti strap tops).
Please do not pack any clothes which do not fit in with these guidelines. Please do not bring clothes or kit in camouflage colours.
These are wild elephants and as such no interaction is allowed.
Over the course of 1 week, families should expect to spend around £25 per person to include snacks, drinks and any trips.
You should make sure to take all of the money that you need with you, as there are no ATMs near the project site. There are not many opportunities to do any shopping whilst on the project site, so you should make sure that you have all that you need with you.
You will need to apply for a visa prior to departure. This is an easy process online and we will advise you on how to do this. You will need to apply for your holiday visa as soon as you have confirmed your place on the project.
You need to make sure that your passport is valid for at least 6 months from when you arrive in Sri Lanka.
The project is located in an area considered to be a malarial risk zone. You should consult your doctor or travel nurse on advice on what precautions to take. Your routine vaccinations will need to be up to date, it is likely you will need Hepatitis A and Typhoid, and possibly Hepatitis B and rabies. Please follow your doctor's advice.
Check below for where the closest hospital to the project is – your doctor may ask to know this so that they can provide information on rabies.
For any more information, including entry requirements related to Covid-19, please see the Fit for Travel website or the UK government's travel advice page for Sri Lanka.
The closest medical facilities are 20 minutes drive from the project site. There is also a local doctor living in the neighbouring village who can offer initial medical support and treatment for minor illnesses and injuries.
The closest main hospital is 3 hours away.
Sri Lanka is a small island, roughly the same size as the Republic of Ireland. Its people are known for their friendliness and delight at having visitors to their country. Don't be surprised to receive lots of smiles and welcomes in the streets.
Colombo, the capital city of Sri Lanka, is a sprawling city that stretches along the coast. You will be based 2km from the coast in a small hotel with helpful and friendly staff. If your flight arrives early enough you might well have time to explore the city and if you do, you will be amazed by how friendly everyone is. Do watch out when you cross the road however, there seem to be cars coming from many angles!
The following day you will be collected from the hotel and taken to the train station. At the other end you will be taken by bus up to the project.
The project house is in a beautiful valley close to the local village. Volunteer coordinators live on site and also will always be out in the field with you. Bearing in mind that you will be working around elephants during the day time, it is important that you listen to briefings on health and safety and follow these to the letter.
There is access to wifi at a nominal fee at the project house, but it can be intermittent.
There is good phone reception.
Sri Lanka time is 5 and a half hours ahead of GMT (GMT +5:30)
In Sri Lanka, a mixture of British plugs and Sri Lankan plugs are used.
There are several day trips that you can do in the vicinity, but most people simply like to explore the beautiful area around and relax in the jungle.
You should expect to have one day off per week.
Supervision will be fairly intensive during the first few days, when you will receive a thorough induction and work-related training. Once you are comfortable with things, you might not always have a supervisor working alongside you, but there will always be staff and other volunteers around to help, and you will always be accompanied for any high risk activities.
Staff at Oyster's head office and in-country will be responsible for your safety and welfare while you are at the project. This will start from the moment you are picked up from the airport until the day that you leave the project at the end of your stay. Before and after these times, you will be outside Oyster's responsibility and should make sure that you act safely and avoid risk. This is also true if you choose to leave the project during your time off. We will give you plenty of guidance and advice about this.
Please note, in contrast to your time on the project, whilst you are in Colombo you will not be under direct supervision. We expect you to make sensible choices and follow our advice on staying safe.
Other adventures like this