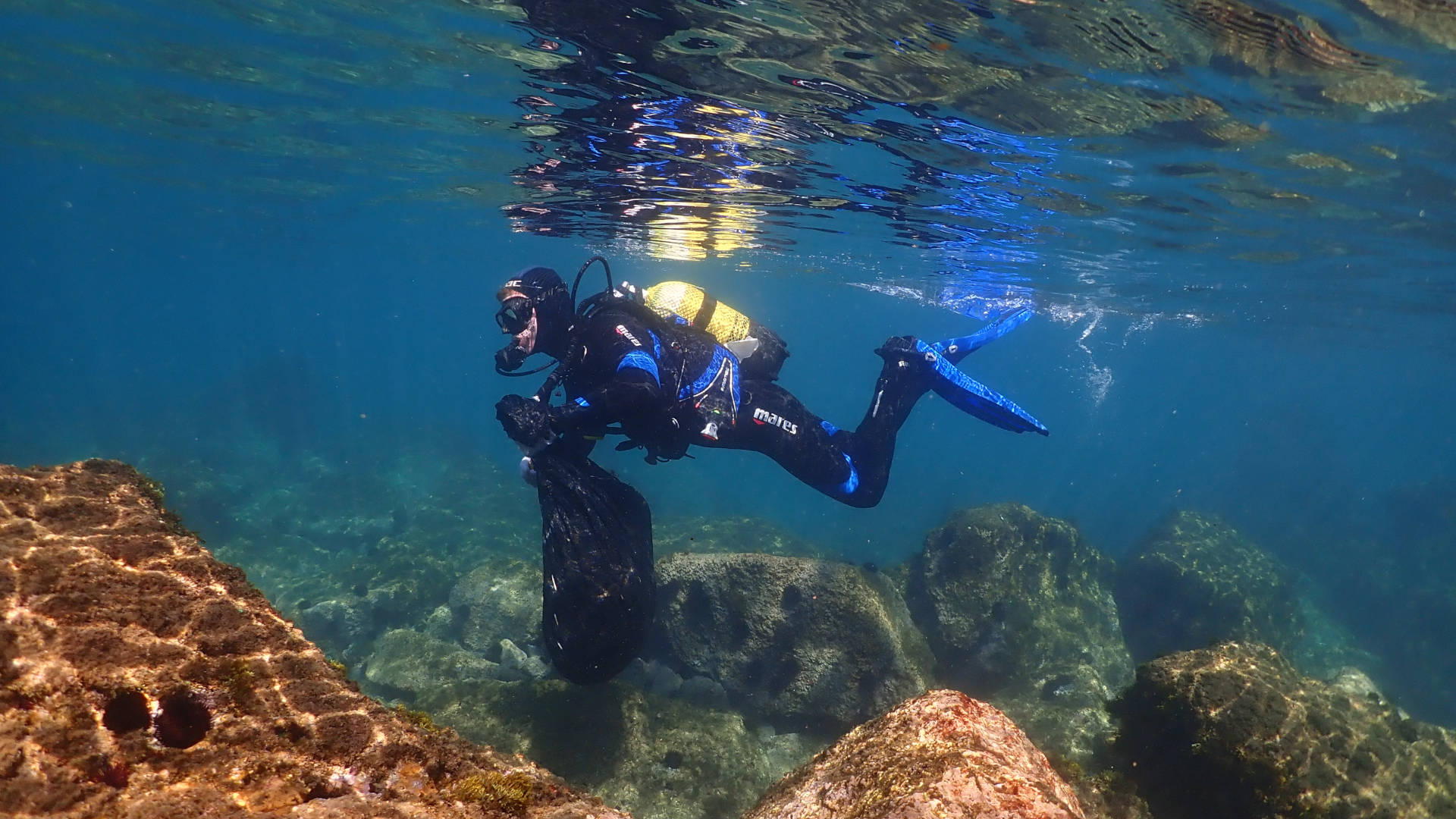 Enjoy one of the best beaches in Barcelona with the city centre just a stone's throw away. Beginners practice off the shoreline and qualify with an internationally recognised PADI certification. Experienced divers are welcome to head out on the boat for a deeper dive on more challenging missions. After you've contributed to the worldwide effort to remove plastic and fishing nets from our oceans, you'll be rewarded with the opportunity to enjoy all the sites and sounds of buzzing Barcelona.
Duration: 1 – 12 weeks
Dates: See dates and availability
Arrival day: Sunday
Return day: Saturday
Eligibility: No previous diving experience required, but applicants must be fit to dive.
Age: 18+
Contribute to the international ocean clean-up operation – essential to keep our marine world healthy
Learn to dive from scratch, or greatly improve your existing skills
Explore Barcelona with its famous landmarks, super food, buzzing nightlife and balmy temperatures
Stay in a brand new eco-conscious hostel
Embrace city life and enjoy one of the most iconic cities in Europe
The Mediterranean basin is more challenged by marine litter than other regions in Europe. Due to multiple factors such as a high coastal population density, tourism, and inadequate waste management, it produces some of the greatest amount of annual rubbish per capita. A large majority of plastic waste finds its way to the sea via drains, rivers, sewage and storm water outlets, as well as being blown by heavy winds and swept out with the tide. With the rise in global plastic production from 15 million tonnes in 1964 to 314 millions tonnes in recent years, the problem with single use plastic waste has become serious. Clean up operations like this one are very much a part of the solution, and are on the rise.
This project offers you the chance to make a difference by supporting the team on the ground who offer diving tuition, whilst simultaneously cleaning up their local part of the Mediterranean. Learn to dive, or utilise using your existing skills in these lovely tepid waters. Contribute to eradicating this plastic epidemic, improve your Spanish, make like-minded friends, and enjoy exploring one of the best cities in southern Europe.
Each morning you will make your way down to the marina to join the diving team. You'll be diving for the majority of the morning, and foraging for plastic waste as well as old fishing nets and any other rubbish to be found. In the last year, over 100kg of rubbish has been collected!
Activities on this marine conservation project may include, but are not limited to:
Beginner divers will be getting one-on-one instruction in the shallows as they complete their CMAS qualification
For more advanced divers or those who have got some hours under their belt, you will sail out on the boat into deeper and more challenging waters – around 25 metres.
Volunteers who are capable will be tasked with carrying the net bags to collect rubbish
Following the dive, you will come back to the diving station and analyse what you have found
The rubbish is weighed and documented and data recorded
All waste is then sent off for recycling
The rest of the day is free for you to laze on the beach or take advantage of all that Barcelona has to offer
Please note, the weather impacts this project quite considerably, so plans might change at the last minute. Sometimes dives will be performed in afternoon.
What diving experience do I need?
Divers of all abilities are welcome to join the programme – whether you need to learn to dive or whether you have done some diving before. Relevant tuition and guidance will be offered to all abilities and all diving equipment is provided for everyone.
Please note that to join for just a week, you will need to have a PADI qualification already. For trips of two weeks and up, you will not need a PADI qualification as this training will be included.
Depending on the amount of time that you spend on the project, you may be able to gain extra diving qualifications whilst participating in the project. Follow the link to find out more about the extra diving qualifications you could receive.
Any diving qualifications and training undertaken are included in the cost of the project.
Newly built, large eco hostel, 25 minutes on the metro from the city centre
Commons areas – dining room, living room, balconies, outside space
Ensuite bathrooms – rare in Barcelona!
Spacious, airy rooms with natural light
Breakfast included
WiFi available throughout the hostel
Close to the FC Barcelona Stadium
Next to 2 metro lines, 14 bus lines, a tram and 2 night buses
Extra nights:
Dormitory: £40 – full board
 Private room:
£45 – with breakfast
£55 – breakfast & lunch
£65 – full board
 Private Rooms:
01/01 until 22/06 and 01/09 until 31/12: £300 / week
22/06 to 31/08: £330 / week
Breakfast and lunch are provided in the eco-hostel canteen
Breakfast consists of fruit, breads and spreads, cereals, toast, tea and coffee
Lunch often includes meat, fish, pasta, rice, vegetables, salad, stir fry
A packed lunch is possible on request when volunteers are at project sites
Provision can be made for vegetarians, vegans, gluten-free diets and lactose-free diet
Airport: Barcelona (BCN)
Arrival day: Sunday. You will be met at the airport and transferred by metro to the accommodation
Departure day: Saturday
Access to your own personal 'My Oyster' account – our online portal where you can find out much more about the program and manage your booking
Dedicated contact time with an experienced destination manager to discuss the project, answer any of your questions and for us to find out more about you
Help and advice from our UK office before arrival and whilst you are away
In-country support
Pre-departure information covering medical, safety and project advice
Gold level, 24/7 Pharos crisis management and incident support cover
Financial protection: ATOL (if we book your flights); IPP (if we don't book your flights)
Thorough orientation on arrival
Accommodation (see the 'accommodation' section above for details)
Advice on visa requirements
Oyster plants a tree in Africa with TreeAid to help reduce the impact of global carbon emissions
Airport collection and transfer to your accommodation
Three meals per day (including packed lunch when required)
2 hour guided tour of Barcelona
Diving equipment, training/certification and instruction
Linen and towels
You will be helped to purchase a free sim card
On your return:
Welcome home pack
Certificate of Recognition (on request)
References (on request)
Flights – as an ATOL bonded company, Oyster can book flights for you
You need a valid passport that meets the requirements of the country you will be travelling to
Insurance (covering your time with Oyster and any planned independent travel)
Any costs associated with changing your return flight date if you need to
Independent travel costs
Home country travel costs
Spending money for additional trips, food and entertainment
Transport to your project site (10 trips on the metro costs approximately 10 euros)
Return metro ticket to the airport
Money for dinner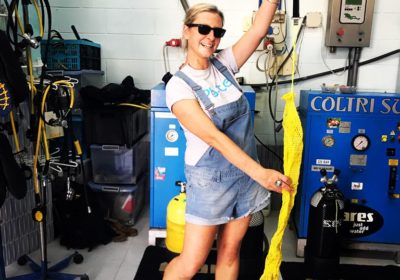 "I visited this project in the peak of summer, so there were lots of divers going out on the boats to enjoy the warm waters and collect the coastal rubbish. The instructors were very friendly and gave great tuition on diving and ocean safety. Barcelona is one of my favourite cities, you are never done with sightseeing and the food is AMAZING. Be prepared however for restaurants to open at 9pm… which is when the Spanish party really gets started!" – Georgie, Destination Manager
The project runs Monday – Friday. Your first day in Barcelona is spent as an induction, including a tour of central Barcelona. You will join the project on the Tuesday where you will meet the staff and receive your project orientation.
Days can vary depending on the weather, your diving ability and the demands of the project. An example itinerary is:
07:00: Breakfast
08.00- 09.30: Leave the volunteer house to travel to the project
09.30 – 13:30: Diving project / diving qualification depending on ability. Sort, weigh and analyse your collection
13:30: Packed lunch can be made for you to take from the hostel
13:30: Relaxing and travel time. Usually your afternoons will be free to relax, take some trips, do some exploring or take some Spanish lessons. There may also be the opportunity to dive during the afternoons, and if the schedule is changed
Enthusiasm about the marine world!
Willingness to work hard
A positive attitude
Fitness to dive. We recommend that every volunteer goes to a doctor to ask for medical clearance for diving prior to departure
Proactive, motivated and flexible people – tasks are not necessarily allocated to you, you have to ask and offer
For one-week trips, a PADI qualification is required
For two-week trips and upwards, no previous diving experience is required as you can be trained on-site
No previous marine conservation experience required
Ability to speak and understand English
The longer that you participate, the more of a contribution that you will make.
We would recommend staying for at least 2 weeks.
For novice divers, we would suggest staying for at least 2 weeks, and preferably 3 or 4.
The longer that you stay, the more experienced you will become with diving and the more qualified you will become – and the more time you will have enjoying Barcelona.
The dive school is keen for volunteers to finish this project with a passion for diving and a good level of marine conservation volunteering experience. For that reason, everyone will leave the project with further diving experience and a PADI qualification:
For beginners (no certification):
Week 1: Open Water Certification
Week 2: Marine Ecology Specialty Trash collection dives
Week 3: Advanced open water certification Nitrox specialty + Trash collection dives
Week 4: Fun dives for a cause Trash collection dives
Week 5: Trash collection dives
Week 6: Advanced Open Water certification
Week 7: Trash collection dives
Week 8: Rescue specialty or adapted diving + Trash collection dives
Week 9: Diving with people with disabilities
Week 10: Trash collection dives
Week 11: Oxygen specialty + Trash collection dives
Week 12: Rescue diver certification

It is recommended to stay at least 2 weeks to guarantee the Open Water certification as it depends on weather conditions and 1 week might not be enough.

If you are new to diving there will be a short online exam that will be sent prior to your arrival. Your first day at sea will be spent in 'confined waters' which will be about 3 metres deep. For the following 3 days you will complete more open water submersions.
Already Open Water certified:
Week 1: Advanced open water certification
Week 2: Marine Ecology Specialty
Week 3:  Fish Identification
Week 4: Fun dives for a cause
Already Advanced Open Water certified:
Week 1: Fish Identification
Week 2: Fun dives for a cause
Week 3: Fun dives for a cause
Week 4: Marine Ecology Specialty
If you are advanced in diving, you will take part in adventures such as sub-aquatic navigation, search and recovery and night immersion.
The Mediterranean basin is so populated with plastic waste, that by 2050, it is predicted that there will be more plastic in the ocean than marine life. Removing this plastic, combined with all of the fishing gear that gets tangled up and lost, means your contribution can make an enormous difference. This beautiful stretch of coastline and the marine species in the Mediterranean are being preserved because of volunteers like you.
This is also a fantastic opportunity to learn to dive in safe shallow waters with expert tuition. You'll gain a PADI diving qualification which is internationally recognised. If you want to gain marine conservation experience, whether it be on a gap year or as a holiday with a difference, this could be the aquatic adventure for you!
Barcelona marine conservation projects are so important and we need volunteers like you to keep them in operations.
Oyster assesses projects carefully to ensure that they offer high standards of animal welfare and environmental practice. We also check that volunteers understand key points of good practice before working with animals. To find out more, see our animal welfare policy.
Whilst late-availability is possible, we would advise booking as soon as you can to guarantee your ideal dates. Our projects are very popular and spaces can fill up several months in advance, especially for the months of June to September when this conservation volunteering program is very popular.
Barcelona experiences hot summers and mild winters
Winters in Barcelona are mild. December, January and February are the coldest months, with average temperatures around 12 °C (55 °F) during the day and 5°C (40 °F) at night
Generally the summer season lasts about six months, from May to October. July and August are the warmest months, with average temperatures around 28–29 °C (82–84 °F) during the day and 22–23 °C (72–73 °F) at night
Average annual temperature of the ocean is about 18 °C (64 °F).  In the warmest month – August, the average sea temperature is 25 °C (77 °F)
You know your spending habits best!  However we would recommend budgeting approximately £50 – £100 a week for free time activities and dinner
For anything a little more adventurous, or if you are planning to travel a little further, we suggest increasing your budget
Although all meals are included at the hostel,  there are many great restaurants that you will find hard to resist!
Volunteer programs in Spain are not expensive during the volunteers program, it is the city that can be however!
There are cash machines located all over Barcelona
You should take at least two cards with you, and let your bank know that you will be going away
We recommend a international fee free card such as Revolut or Monzo
Typically you won't need a visa for stays up to 3 months. You should make sure your passport is valid for the duration of your stay.
Most of our volunteers are independent travellers and you will become part of a group of people from around the world here. It is fine to travel with friends or as part of a small group too however- more the merrier!
The simple answer to this question is, yes absolutely! If you want to help the marine ecosystem by becoming part of the marine stewardship mission, this conservation program is perfect to combine with some site-seeing!
It is important to bear in mind however that this may not be like other holidays that you have taken. Remember that you are volunteering, and this means that you will be put to work! This sort of holiday is a world away from sun loungers and cocktails, with our volunteers often heading home tired but immensely satisfied. If you think that you will need a bit of relaxing time on your trip too, do make sure to factor this in when your time on the project is complete.
You should visit your doctor or travel nurse to find out what vaccinations you will need. Your routine vaccinations will need to be up to date. You should follow your doctor's advice.
For any information related to Covid-19, please see the Fit for Travel website or the UK government's travel advice page for Spain.
Doctors, pharmacies and hospitals are located within 30 minutes of the accommodation.
Spain is a developed, cosmopolitan country. There are similar crime levels in Barcelona to any city in the world, however Barcelona is known for it's elevated levels of pick pocketing in highly touristic areas. You should keep an eye on your belongings when you are out and about and always keep your valuables very close.
The hostel rooms have individual lockers on the dorm rooms where you can keep your valuables. There is also a safe at reception. At the dive centre there are also lockers for your valuables.
Volunteers travel in groups or with the volunteer co-ordinators on their first day. We encourage you to travel together on the metro, especially after dark.
There is free wifi provided throughout the hostel.
We would suggest that you download the App Whatsapp prior to arrival so that you can be added into the volunteer group once you are in Barcelona.
There is good phone reception in Barcelona.
You will need a European adaptor.
Generally, you will be free in the afternoons from 13:30 on wards. You will also have weekends free to do things around the volunteer opportunities.
Take a sightseeing bus of Barcelona visiting special landmarks such as the Sagrada Familia church, Gaudi's Park Guell or the Gothic cathedral
Experience the Mountjuic Cable car and the city from up high!
Enjoy great food, bars and night clubs
Go surfing, visit the aquarium or take a boat trip
Play volleyball or laze on the beach
Go diving
Learn Spanish
Take a day trip such as the Montserrat Monastery tour or visit the Camp Nou football stadium
Supervision will be fairly intensive during the first few days, when you will receive a thorough induction and work-related training. Once you are comfortable with things, you might not always have a supervisor working alongside you, but there will always be staff and other volunteers around to help, and you will always be accompanied for any high risk activities.
Staff at Oyster's head office and in-country will be responsible for your safety and welfare while you are at the project. This will start from the moment you are picked up from the airport until the end of your project. Before and after these times, you will be outside Oyster's responsibility and should make sure that you act safely and avoid risk. This is also true if you choose to leave the project during your time off. We will give you plenty of guidance and advice about this.
Other adventures like this