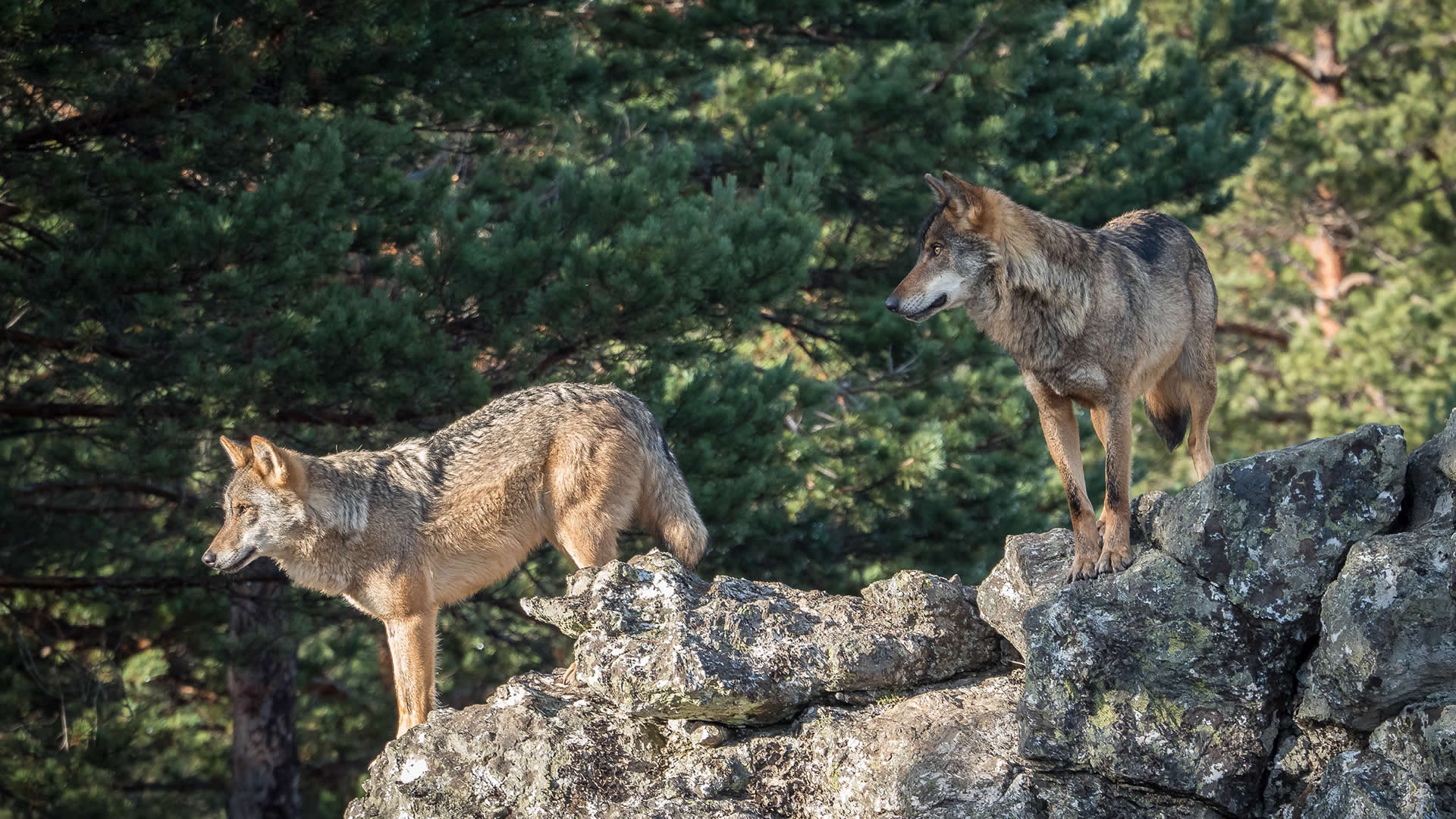 Help to care for rescued wolves in this wilderness sanctuary just 40 minutes from Lisbon. The wolves have been rescued from tiny cages in zoos and from hunters, and sadly will never return to their natural habitat. Help to care for these beautiful wolves and enable them to thrive in an environment as close to the wild as possible.
Duration: 2 or 4 weeks
Dates: See dates and availability
Eligibility: Good level of fitness required. There are some steep hills and uneven surfaces at the sanctuary. Volunteers must be able to carry weights of about 8kg up and down hills.
Age: 18+
Hearing the wolves howling as you fall asleep
Living in an area of Portugal that very few tourists reach, close to a stunning Nature Park
City life, beaches, old fortresses, surfing, vineyards – need we say more?
Getting unrivaled access to wolves, renowned for their shyness
The Iberian wolf is now considered to be in danger of extinction. Hunted by humans and kept in tiny cages in poorly-run zoos, their numbers are now dwindling. It is believed that there might be up to 300 Iberian wolves now living in the wild in Portugal, in a forever shrinking habitat.
This sanctuary was created in 1987 to care for wolves which have come into conflict with humans and can no longer live in their native habitat. In that time, many wolves have lived their out lives in safety and freedom, cared for by staff and volunteers alike.
The sanctuary is set over 17 hectares and is currently home to 13 wolves.
In an ideal world, these wolves wouldn't have to be in the sanctuary and they would still be living in the wild. Because of this, the sanctuary is trying to create an environment that is as close to the wild as possible – this involves erratic feeding times and providing the vegetation that suits wolves the best for shade, camouflage and comfort. Volunteers help with the tasks required to give these wolves the most natural life possible.
Typical tasks at the sanctuary can include, but are not limited to:
Unpackaging and sorting the food for the wolves
Feeding the wolves – a fantastic time to see these beautiful creatures up close
Ensuring that the wolves have enough water
Observing the wolves' behaviour
Clearing alien vegetation
Replanting native plants
General maintenance such as painting and building
Fire prevention (depending on the time of year)
The work can be physically demanding, particularly in the heat of the summer. Volunteers need to be fit enough to climb hills and work manually for several hours at a time. You will be required to carry objects up and down the hills (around 8kg) and the ground can be uneven and rocky. If there are any limitations to your general health that could interfere with your participation, please contact us to discuss how we can arrange a successful programme for you.
Two nights of full board accommodation in Lisbon before going to the sanctuary
Self catering accommodation located on-site at the volunteer wolf sanctuary
Shared log cabin with kitchen, bathroom, living room and two bedrooms
Equipped with a washing machine, fridge / freezer, oven, cooking utensils and cutlery
The house can hold 6 volunteers at one time in mixed rooms
Wifi can be accessed at the reception area at the sanctuary, but not at the volunteer accommodation
Weekly shopping trips to the local town so that you can buy your groceries
Access to your own personal 'My Oyster' account – our online portal where you can find out much more about the program and manage your booking
Dedicated contact time with an experienced destination manager to discuss the project, answer any of your questions and for us to find out more about you
Help and advice from our UK office before arrival and whilst you are away
In-country support
Pre-departure information covering medical, safety and project advice
Gold level, 24/7 Pharos crisis management and incident support cover
Financial protection: ATOL (if we book your flights); IPP (if we don't book your flights)
Thorough orientation on arrival
Accommodation (see the 'accommodation' section above for details)
Advice on visa requirements
Oyster plants a tree in Africa with TreeAid to help reduce the impact of global carbon emissions
Airport collection and transfer to your initial accommodation in Lisbon
Three meals per day whilst in Lisbon
Private transfer from Lisbon to the wolf sanctuary
Self catering accommodation at the wolf sanctuary
One trip per week into town to collect groceries
Linen and towels
Free SIM card
On your return:
Welcome home pack
Certificate of Recognition (on request)
References (on request)
Flights – as an ATOL bonded company, Oyster can book flights for you
You need a valid passport that meets the requirements of the country you will be travelling to
Insurance (covering your time with Oyster and any planned independent travel)
Any costs associated with changing your return flight date if you need to
Independent travel costs
Home country travel costs
Spending money for additional trips, food and entertainment
Food at the wolf sanctuary
Return from the wolf sanctuary to Lisbon / the airport
The project runs Monday – Friday. On your arrival day you will be welcomed to a shared volunteer house in Lisbon. The next day, you will get a thorough induction. The following day, you will be transferred up to the wolf sanctuary.
When you volunteer with wolves, days can vary depending on the weather, the demands of the project and the number of volunteers. An example itinerary is:
8:00: Breakfast
9:00 – 13:00: Volunteer work (please note, during the summer months volunteers usually start their day earlier than during the winter to avoid the heat)
13:00 – 14:30: Lunch break
14:30 – 17:00: Volunteer work (please note, during the summer months volunteers usually have a longer lunch break to avoid the heat)
17:00 onwards: Free time
Enthusiastic about animals and conservation
Willing to work hard
Positive attitude
Proactive, motivated and flexible – tasks are not necessarily allocated to you, you have to ask and offer
No previous experience is required, as you can be trained on-site
Able to speak and understand English
Able to walk up and down hills and complete a couple of hours of manual work
Whilst late-availability is possible, we would advise booking as soon as you can to guarantee your ideal dates. Our projects are very popular and spaces can fill up several months in advance, especially for the months of June to September.
Lisbon enjoys on average 300 days of sunshine per year
The wettest months are October – February
Temperatures from November – February are about 9 – 15 degrees celsius
Temperatures from March – October are about 15 – 30 degrees celsius
Enjoy the sights of Lisbon and other surrounding towns
Explore the amazing town and castle of Sintra
Go surfing
Go to the beach
Go diving
Relax at the sanctuary
Volunteers are not allowed to touch the wolves at the sanctuary. As these wolves are recovering from previous ordeals at the hands of humans, they need time to fully rehabilitate. Physical interaction with the wolves is counter-productive to the aims of the sanctuary.
Oyster assesses projects carefully to ensure that they offer high standards of animal welfare and environmental practice. We also check that volunteers understand key points of good practice before working with animals. To find out more, see our animal welfare policy.
We would recommend budgeting approximately £80 a week for free time activities and food.
There are cash machines located in the local town, and you will be driven into town weekly. You should take at least two cards with you, and let your bank know that you will be going away.
Wolves are a keystone species – without them, their ecosystem would be dramatically different or cease to exist altogether.
This is a fantastic experience to work closely with a shy creature. You will be actively contributing to the wolves' welfare, all whilst living in a beautiful and relatively untouched part of Portugal.
This project is ideal for people looking to get off the beaten track, whether that be on their gap year, holiday with a difference, career break or summer holidays.
Typically you won't need a visa for stays up to 3 months. You should make sure your passport is valid for the duration of your stay.
Most of our volunteers are independent travellers and you will become part of a group of people from around the world here. It is fine to travel with friends or as part of a small group too however- more the merrier!
The simple answer to this question is, yes absolutely!
It is important to bear in mind however that this may not be like other holidays that you have taken. Remember that you are volunteering, and this means that you will be put to work! This sort of holiday is a world away from sun loungers and cocktails, with our volunteers often heading home tired but immensely satisfied. If you think that you will need a bit of relaxing time on your trip too, do make sure to factor this in when your time on the project is complete.
You should visit your doctor or travel nurse to find out what vaccinations you will need. Your routine vaccinations will need to be up to date. You should follow your doctor's advice.
For any information related to Covid-19, please see the Fit for Travel website or the UK government's travel advice page for Portugal.
Doctors, pharmacies and hospitals are located within 15 – 45 minutes of the accommodation.
Portugal has been listed as the third safest country in the world. Your time in Portugal will start in the thriving city of Lisbon, in a leafy residential neighbourhood. There are similar crime levels in Lisbon to any city in the world, and you should keep an eye on your belongings when you are out and about.
The wolf sanctuary is located about 40 mintues from Lisbon, up in the Nature Park. It is very remote and you will be living on-site. Staff live off-site but very nearby.
There is free wifi provided at the volunteer house. You will receive a free local SIM card on arrival if you would like to use 3G. Make sure that your phone is unlocked before arrival so that you can use the local SIM card.
We would suggest that you download the App Whatsapp prior to arrival so that you can be added into the volunteer group once you are in Lisbon.
There is good phone reception at the sanctuary.
Portugal is on the same time zone as the UK and Ireland – GMT and BST.
You will need a European plug.
Supervision will be fairly intensive during the first few days, when you will receive a thorough induction and work-related training. Once you are comfortable with things, you might not always have a supervisor working alongside you, but there will always be staff and other volunteers around to help, and you will always be accompanied for any high risk activities.
Staff at Oyster's head office and in-country will be responsible for your safety and welfare while you are at the project. This will start from the moment you are picked up from the airport until the end of your project. Before and after these times, you will be outside Oyster's responsibility and should make sure that you act safely and avoid risk. This is also true if you choose to leave the project during your time off. We will give you plenty of guidance and advice about this.
Oyster has personally hand-picked some of the best volunteering projects out there. With so much amazing choice, it can be hard to make a decision. Our Animal Welfare Destination Manager, Anne, has written a guide to help you to choose the best animal volunteering project for you.
Other adventures like this