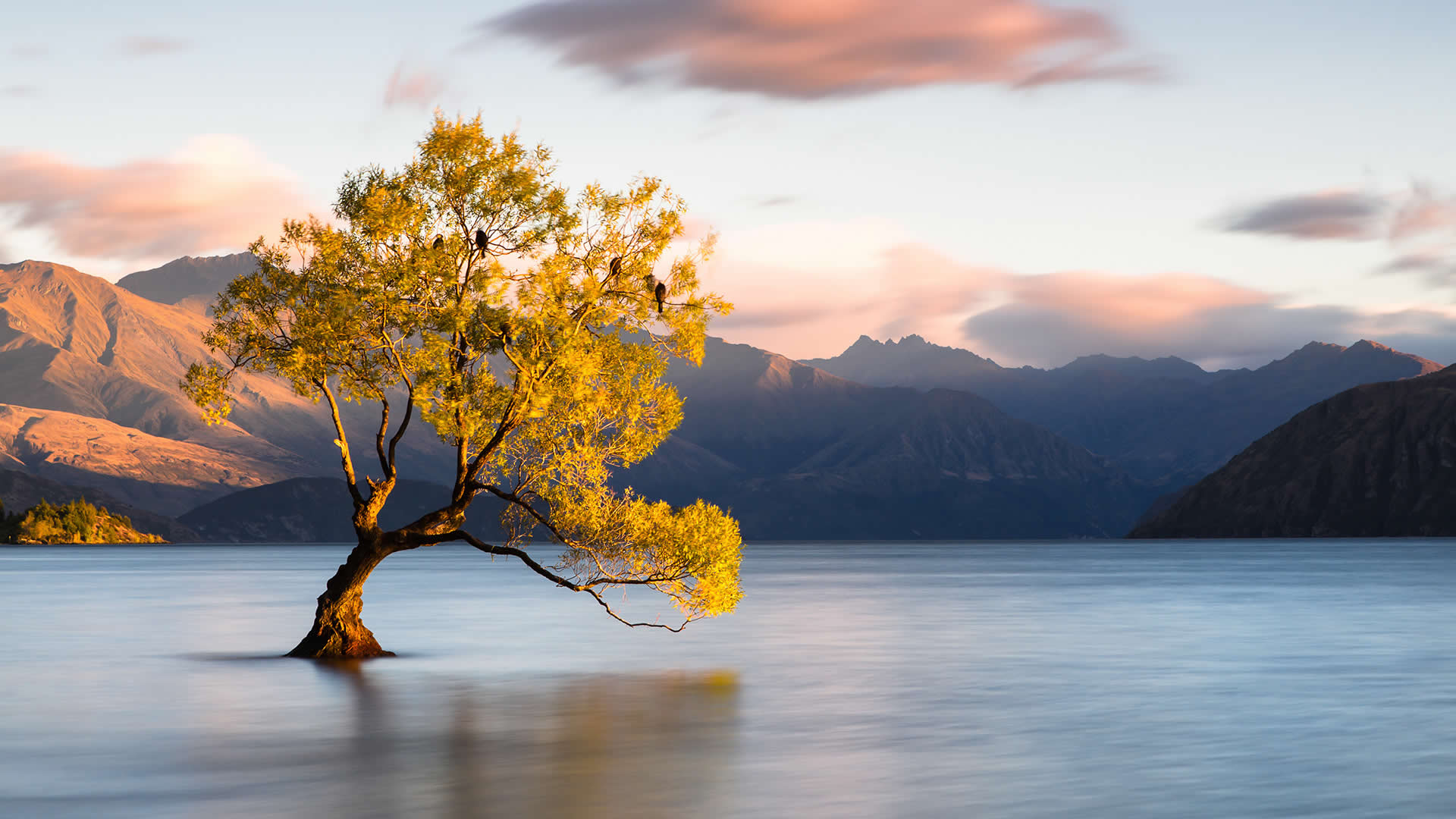 Whether you are a student, professional or a retiree, anyone is welcome to make a genuine difference and contribute to protecting some of the most beautiful and remote islands in the world. Choose a gateway city and travel out to your conservation site to work with passionate and inspiring local Kiwis!
Duration: 1 – 12 weeks
Dates: Throughout the year
Arrival day:  Friday
Return day: Friday
Eligibility: General level of fitness required
Age: 18+
Help to maintain National Parks, coasts and waterways, flora and fauna and cultural heritage sites
Enjoy volunteering in urban and rural locations enabling you to witness the diversity of New Zealand
Spend some time in your dynamic gateway city and enjoy local sightseeing
Meet like-minded volunteers on your project and enjoy weekends exploring local points of interest
Christchurch, New Zealand
New Zealand's legacy is 'heritage' and this makes up its national identity. By heritage we mean natural beauty, constructed buildings and cultural locations. Kiwi's are proud of their special environmental status and indigenous background which is why the people who inhabit the "land of the long white cloud" are very conscious of preserving the beauty and exclusivity that they have been gifted. This is why many of the projects you will be working on are driven by inspiring and compassionate local New Zealanders.
There are 13 protected areas in New Zealand that have been reserved as National Parks. They include some of New Zealand's most beautiful mountain and seascapes. Tongariro National Park for example is listed as one of the 27 World Heritage Sites.
New Zealanders have a special connection with their coastal regions and waterways. Unfortunately problems include coastal erosion, salinity and the effects of drought and pollution. There is loss of biodiversity, introduced foreign species, pests and problems with litter control. Volunteers help to maintain these precious areas so they can be enjoyed by people today and by future generations to come.
The environment can suffer greatly after such destruction such as fire, droughts, floods, storms and of course earthquakes. Often this is from man-made problems such as oil spills, or distressing situations such as whales beaching themselves. This is where volunteering work is paramount.
Sadly New Zealand has one of the highest rates of species loss in the world, and is home to many species currently threatened with extinction. In part this is due to the introduction of animals such as cats, deer, rats, possums and stoats. Luckily there are a growing number of sanctuaries that endeavour to conserve and protect New Zealand's unique biodiversity and stunning bird population. Our volunteers will be lucky enough to work in conjunction with them to help create a pest-free environment with re-introduced native species.
Volunteer in New Zealand and enjoy preserving urban, regional and remote locations through activities such as:
Tree planting
Walking trail construction
Protect native birds, lizards, insects, fish and penguins
Seed collection
Weed control
Conservation fencing
Heritage and habitat restoration
You, and a group of up to 10 volunteers, will work under the guidance of a conservation team leader. Your team leader will give you regular safety briefings, inform you of the project aims and assist you with working effectively.
There are four gateway cities to choose from in New Zealand:
Auckland (North Island)
These projects use Auckland as the launch pad for places such as the Whakanewha Regional Park and Te Matuku Peninsular, both situated on the fabulous island of Waiheke. There may also be opportunities to help in the Atiu Creek Regional Park, the Hunua Ranges, Omana Regional Park and areas around Hamilton.
These areas boast forests and wetlands and are home to some of New Zealand's rarest birds. One of the main environmental challenges is the growth of foreign plants such as the Japanese honeysuckle and the moth plant. Help eradicate foreign species, service baitlines, collect seeds, create walking tracks and get involved with mulching.
It truly is an amazing location for those interested in flora and fauna and preserving coasts, waterways and park lands.
Wellington (North Island)
Projects from Wellington include the Anamata Stream Restoration Project which encourages landowners in rural areas to take control of the section of stream that runs through their property.
The aim for volunteers is to reduce erosion and promote biodiversity and sustainability. A great project for those interested in parks and reserves, coasts and waterways, flora and fauna and land care.
Christchurch and Punakaiki (South Island)
There are some fabulous projects around Christchurch and for longer stays you will head over to the Punakaiki coast on the west side of the South Island. Ultimately, if you wish to just volunteer at Punakaiki this is also possible. Punakaiki is most famous for the Pancake Rocks which are a heavily eroded limestone area. The ocean waves burst through the vertical blowholes creating a spectacular show!
Projects in these areas focus on coastal restoration and aim to restore biodiversity, educate locals, strengthen community networks and ultimately provide 'new heritage' land for future generations to enjoy.
Volunteers will be tree planting, collecting seeds and eradicating foreign plant species. This is great for those interested in preserving parks, coasts and waterways.
Please note that it is only possible to choose a gateway city, not a project, as these are dependent on circumstances that can vary throughout the year.
No previous experience or qualifications are necessary to join the project. All you need is a passion for the environment, some enthusiasm and a fairly good level of fitness to help out!
Accommodation is provided during your volunteer time and this varies depending on your project
Often volunteers stay in guest houses or hostels, but you could be going a little more rustic – think caravans, shearers' quarters, bunkhouses or even camping (tents will be provided)
We recommend that you take a sleeping bag and sleeping mat, and be prepared to share a room!
A food budget is included. Prepare to get stuck in with the preparation of meals, cleaning dishes and any other household duties that need to be done. This is a fun way of getting involved and become part of the team
Airport: Auckland, Wellington or Christchurch
Arrival day: Friday. You will receive an orientation in your gateway office before being transported out to your project over the weekend to begin volunteering on Monday
Departure day: Friday at 4pm
Access to your own personal 'My Oyster' account – our online portal where you can find out much more about the program and manage your booking
Dedicated contact time with an experienced destination manager to discuss the project, answer any of your questions and for us to find out more about you
Help and advice from our UK office before arrival and whilst you are away
In-country support
Pre-departure information covering medical, safety and project advice
Gold level, 24/7 Pharos crisis management and incident support cover
Financial protection: ATOL (if we book your flights); IPP (if we don't book your flights)
Thorough orientation on arrival
Accommodation (see the 'accommodation' section above for details)
Advice on visa requirements
Oyster plants a tree in Africa with TreeAid to help reduce the impact of global carbon emissions
Project-related travel costs
Project training and safety training
Certificate of Appreciation at conclusion of programme
On your return:
Welcome home pack
Certificate of recognition (on request)
References (on request)
Flights – as an ATOL bonded company, Oyster can book flights for you
You need a valid passport that meets the requirements of the country you will be travelling to
Insurance (covering your time with Oyster and any planned independent travel)
Any costs associated with changing your return flight date if you need to
Independent travel costs
Home country travel costs
Spending money for additional trips, food and entertainment
Eligibility for a tourist visa
Travel costs to get to the gateway city meeting point
Breakfast : 08.00
Each day will vary. You will normally be spending one to two weeks in each location. You will be working with a team of up to 10 volunteers under the guidance of an experienced team project leader.
Jobs may include:
Tree planting
Constructing walkways
Seed collection
Wildlife surveys
Weed control and eradicating foreign species
Conservation fencing
Heritage restoration
Finish :16.00
At the beginning of each day your team leader will run through safety procedures and instruct you on how to perform the task in hand.
The evenings and weekends are for you to enjoy socialising or independent travelling and exploring. Make the most of the exciting location that you are in and fully immerse yourself into local Kiwi community life.
You can chose from two locations on the North Island and one on the South Island. Auckland and Wellington are your gateway cities to exciting projects. Christchurch projects and for longer stays,  the west coast of the South Island in Punakaiki. Please be aware that the type of project that you will be participating in cannot be determined before you arrive in New Zealand.
Whilst late-availability is possible, we would advise booking as soon as you can to guarantee your ideal dates. Our projects are very popular and spaces can fill up several months in advance, especially for the months of June to September.
Most of our volunteers are independent travellers, but you can also apply with a friend. You will join a group of between 6 and 10 people from all over the world who have the same keen interests as you. You make friends very quickly by getting involved cooking and completing domestic chores as a team. If you are applying with a friend then be sure to let us know by writing their name on your application form.
To be eligible you need to be over 18 and have a reasonable level of fitness.
The hours vary but typically between 8am until 4pm with lunch and morning and afternoon breaks. Usually you will be working 5 days a week with 2 days free for relaxing and sightseeing. If you finish a project early then you will move to a new project on a free day.
The projects take 1 or 2 weeks. You will be working for 5 days per week with 2 days free. These free days include travel time if you are moving from one project to another.
New Zealand is known as one of the world's most remote destinations and the last island in the world to become inhabited by humans. With one third of the islands made up of National Park, it is vital that this amazing biodiversity is protected for years to come.
Taking part in a conservation project genuinely aids towards restoring land to its former, purer state. You will be protecting endangered species, clearing up the environment and reintroducing native plants.
This project will give you great work experience and a greater understanding of a country and culture. Live and work with the locals in areas off the beaten tourist track. Make new friends, boost your CV and contribute to the planet's need for conservation.
On the whole, both the North and South Islands enjoy mainly moderate climates throughout the year. The far north has sub-tropical weather during summer months and the inland alpine areas of the South Island can be as cold as -10c in winter. Given that you are never that far from the coast, most of the country experiences mild temperatures, moderate rainfall and an abundance of sunshine. Summer is December to February and the coldest months are from June to August.
We would recommend budgeting up to £50 a week for activities during your time off, souvenirs or meals out.
You can apply for a visitor online at the New Zealand immigration website . There are some countries that do not have to apply for a visa before they come to New Zealand and can obtain a visa waiver
For further information and to ascertain your eligibility, please visit the website above.
Please visit your doctor or travel nurse to find out. It is unlikely that you will need anything in addition to your routine vaccinations, which should be up to date.
For any information related to Covid-19, please see the Fit for Travel website or the UK government's travel advice page for New Zealand.
New Zealand, alongside Denmark, is considered the least corrupt country in the world. It is an extremely safe place with low crime rates. As when travelling in any country, it pays to keep your wits about you. Be sure to make use of safes to lock away your valuables and keep an eye on your luggage and personal belongings at all times.
This really depends on your location, but you will never be too far from civilisation. At times you will be based in urban areas, at others you will be in very rural locations. You will always be with a group and catered for well, whether it be for food or drink or general necessities.
This will depend on your project and where you are staying; unless you are staying in a hostel you probably won't have internet access until your days off, and this would rely on you being close to a town.
In New Zealand the power sockets are of type I. The standard voltage is 230 V and the standard frequency is 50 Hz.
New Zealand is 12 hours ahead of  GMT (GMT/UTC + 12). Please note New Zealand practices daylight savings so it is +13 during some months of the year.
Auckland has so much to offer that it is impossible to list it all here.
Enjoy a coastal walk past the volcano cone of Mt Eden and One Tree hill. Visit the Auckland museum and Art Gallery, both of which are free to enter
A pub crawl is always a great way to meet new people and why not enjoy a free backpacker tour giving you advice on the top sites, eateries and parties in the local area
Watch a free movie in the park, walk to Silo park or take a ferry trip to visit the picturesque town of Devonport
Some of New Zealand's highlights as a whole include the glaciers and mountain walks of Milford Sound, Tongariro National Park, Bay of Islands, Lake Wanaka
The Hobbiton Movie set and Waiheke Island. You are never far from the coast so there is always the option of a fantastic beach somewhere on your travels
The simple answer to this question is, yes absolutely!
It is important to bear in mind however that this may not be like other holidays that you have taken. Remember that you are volunteering, and this means that you will be put to work! This sort of holiday is a world away from sun loungers and cocktails, with our volunteers often heading home tired but immensely satisfied. If you think that you will need a bit of relaxing time on your trip too, do make sure to factor this in when your time on the project is complete.
Supervision will be fairly intensive during the first few days, when you will receive a thorough induction and work-related training.  Once you are comfortable with things, you might not always have a supervisor working alongside you, but there will always be staff and other volunteers around to help, and you will always be accompanied for any high risk activities.
Staff at Oyster's head office and in-country will be responsible for your safety and welfare while you are at the project.  This will start from 11 am on the Friday morning of your induction. Before and after these times, you will be outside Oyster's responsibility and should make sure that you act safely and avoid risk.  This is also true if you choose to leave the project during your time off. We will give you plenty of guidance and advice about this. 
Other adventures like this