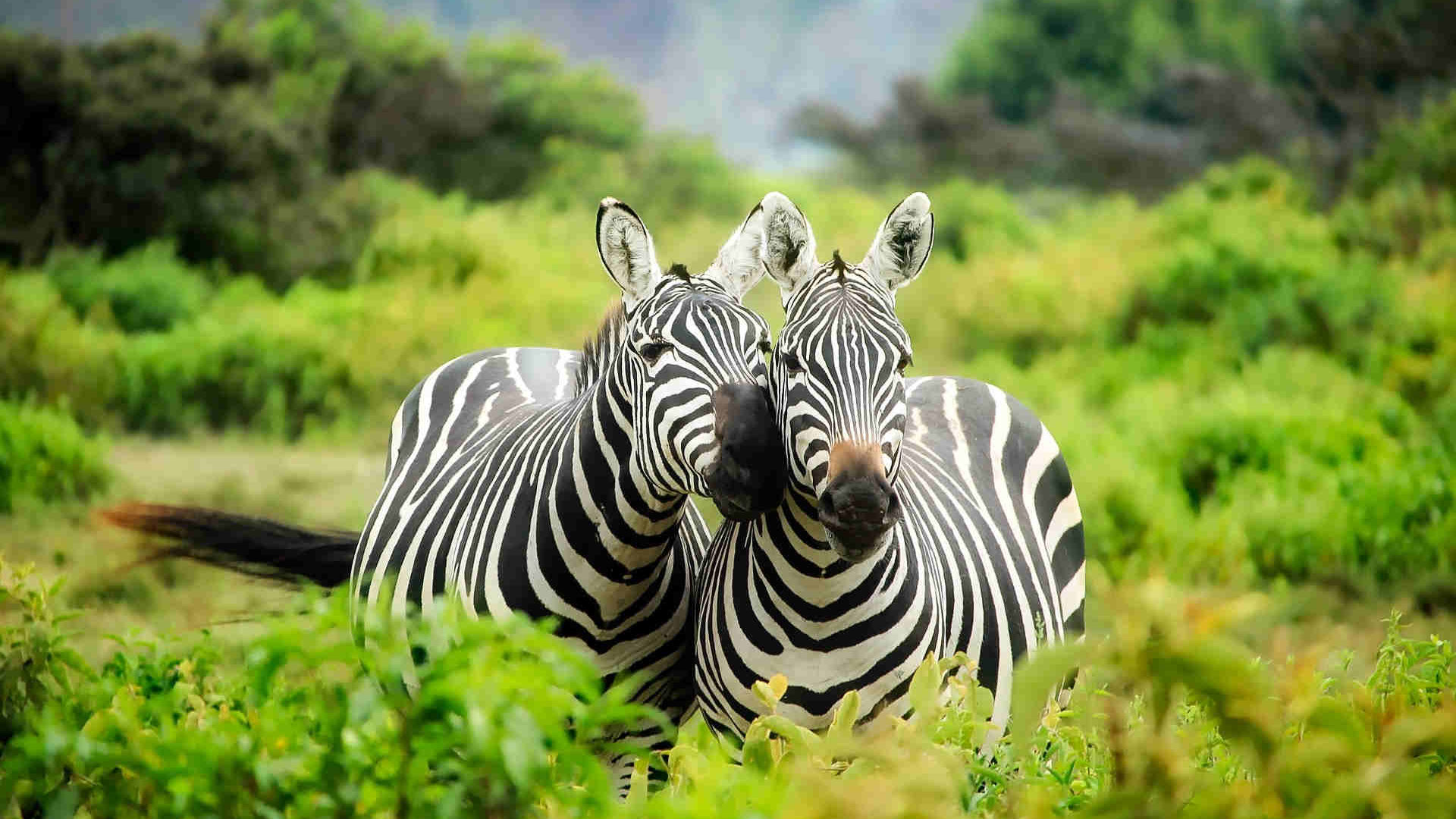 Take your family on a safari with a difference and become part of protecting and conserving the native flora and fauna. Based on a Big 5 game reserve, you and your family will be guided by a dedicated game ranger who will introduce you to bush life, wildlife spotting and conservation activities. Work alongside some of the South Africa's most exotic animals – think elephants, lions, giraffes, zebra, monkeys, buffalo, rhinos, cheetahs – and more!
Duration: 5 days
Dates: See here for dates and availability
Arrival day: Monday
Return day: Saturday
Eligibility: You need to be flexible, generally fit and happy to immerse yourselves in bush life
Age: Children must be 10+
Taking your first game drive and glimpsing your first animal – what will it be?
African sunsets – a wonderful end to a fun-filled day
Hiking in the bush with a game ranger to get fully off the beaten track
Seeing the positive impacts that you are making to wildlife conservation in South Africa
The on-site swimming pool is a lovely place to relax and unwind after a busy day
Spend your family holiday on a lush private game reserve which is home to Africa's renowned Big 5 –  lions, elephants, rhino, Cape buffalo and the elusive leopard – as well as hippos, monkeys, baboons, giraffes and zebra to name but a few. Conservation is a priority at the reserve, and each year they endeavour to plant over 20,000 trees to encourage biodiversity. On this memorable family volunteer project, you will not only make a genuine difference working as a team, but you will also make many happy memories – both of which should last a lifetime.
This family African wildlife experience takes you much deeper than just game drives – you can experience the thrill of seeing elephants grazing, lions dozing and hippos lounging in the mud as you head out to tackle the daily tasks.
The volunteer program is designed for families, and the volunteers role is suitable for children aged 10+. All of the conservation project tasks are demand-driven – they can involve, but are not limited to:
Monitoring wildlife, completing game counts and wildlife surveys
Sunrise and sunset game drives
Tree planting and vegetation clearing
Getting involved in the animal rehabilitation area
Fence patrols, repairs and maintenance
A wildlife hike
School community projects and feeding schemes (during the school year)
On-site en-suite family room or adjoining rooms, depending on the size of your family
Access to swimming pools, tennis courts and games room
Food is included throughout your stay at the reserve
Breakfasts include cereals, bread, jams, tea, coffee and sometimes cooked options
Lunches and dinners are buffet style and comprise of mainly western, African and Asian food
Most dietary requirements can be catered for
Airport: Port Elizabeth (PLZ)
Arrival day: Monday before 17:00. You will be collected from the airport and transferred to the reserve
Departure day: Saturday. You will leave the reserve at 11am and be dropped back in Port Elizabeth / Port Elizabeth airport at approx 12:30.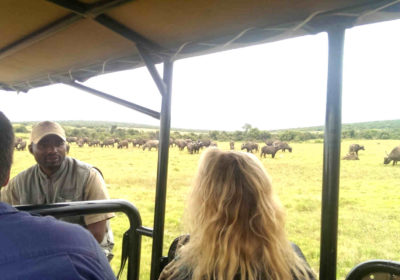 The team of coordinators on the reserve will be your support network whilst you are volunteering in South Africa. Get to know the game rangers as they teach you their craft and get you involved in assisting them on the project.
Access to your own personal 'My Oyster' account – our online portal where you can find out much more about the program and manage your booking
Dedicated contact time with an experienced destination manager to discuss the project, answer any of your questions and for us to find out more about you
Help and advice from our UK office before arrival and whilst you are away
In-country support
Pre-departure information covering medical, safety and project advice
Gold level, 24/7 Pharos crisis management and incident support cover
Financial protection: ATOL (if we book your flights); IPP (if we don't book your flights)
Thorough orientation on arrival
Accommodation (see the 'accommodation' section above for details)
Advice on visa requirements
Oyster plants a tree in Africa with TreeAid to help reduce the impact of global carbon emissions
Airport collection
WiFi
Food full board at the reserve
Bed Linen
Return transfer to Port Elizabeth at the end of your stay
On your return:
Welcome home pack
Certificate of Recognition (on request)
References (on request)
Flights – as an ATOL bonded company, Oyster can book flights for you
You need a valid passport that meets the requirements of the country you will be travelling to
Insurance (covering your time with Oyster and any planned independent travel)
Any costs associated with changing your return flight date if you need to
Independent travel costs
Home country travel costs
Spending money for additional trips, food and entertainment
This project is perfect for families wanting to experience the wonder of a safari, with the added benefit of getting deeper and more involved with environmental issues. It is a great opportunity to learn more about wildlife and the ecosystem, and ideal for those wanting to get involved with practical conservation tasks.
You are also welcome to take a look at our other family volunteering trips.
Monday: arrival to Port Elizabeth and transfer to the game reserve
Tuesday: orientation on the reserve including a tour of the facilities and a game drive
Wednesday – Friday: volunteering activities (usually 09:30 – 13:00 and 14:00 – 17:00)
Saturday: early morning game drive before an 11am departure from the reserve. Approximate time of arrival in Port Elizabeth is 12:30.
Whilst late-availability is possible, we would advise booking as soon as you can to guarantee your ideal dates. Our projects are very popular and spaces can fill up several months in advance, especially for the months of July to September.
At the reserve, you will meet people from all walks of life, and as such you should expect to be with a group of volunteers of all ages. There are specific dates each year for family volunteering holidays, however we cannot guarantee that there will be other families there at the same time as you. Your project work will be pitched towards the ages of you and your children.
There is no contact with animals living wild on the reserve. Participants will act under the careful guidance of the rangers when out in the reserve.
There may be some animals within the rehabilitation area that you can interact with, however you should go with the expectation that this is a hands-off project.
The reserve is situated an hour from Port Elizabeth and gets moderately hot summers, and mild winters. It is one of the richest rainfall areas in South Africa. Most of the rains occur in the winter months, brought on by the humid sea-winds from the Indian ocean. The area is perennially green, making it a beautiful region to visit.
Spring: late August to October.
Summer: November to March, with December to February seeing mid-summer daily temperatures of about 24-30ºC.**
Autumn: April and May, with average daytime temperatures in the low 20s.
Winter: June – August, where the days can still be warm (up to 20ºC), but expect chilly nights.
Oyster assesses projects carefully to ensure that they offer high standards of animal welfare and environmental practice. We also check that volunteers understand key points of good practice before working with animals. To find out more, see our animal welfare policy.
We would recommend budgeting up to £20 per person for the week to spend on snacks and souvenirs within the reserve.
You can pay for purchases at the reserve with cash or card.
No visa is necessary for under 90 days from UK and most western European countries. You will receive a tourist stamp upon arrival allowing you stay in the country for free for up to 90 days.
You need to make sure your passport is valid for a minimum of 30 days after you leave South Africa.
South African immigration requires that minors travelling with just one parent have an unabridged copy of their birth certificate with them, plus a parental consent letter from the absent parent. Where both parents are travelling, an unabridged copy of the minor's birth certificate is required. For more information, please refer to the South African High Commision.
You and your family should visit your doctor or travel nurse to find out what vaccinations you will need. Your routine vaccinations will need to be up to date; hepatitis A and Typhoid are likely. You should follow your doctor's advice.
Please check below for where the closest hospital to the project is- your doctor may ask to know this so that they can provide information on rabies.
For any more information, including entry requirements related to Covid-19, please see the Fit for Travel website or the UK government's travel advice page for South Africa.
There is good access to pharmacies, doctors surgeries, first aid clinics and hospitals in and around Port Elizabeth. The main hospital is a 60 minute drive away and there is 24/7 access to vehicles.
You will be based about one hour from Port Elizabeth within the beautiful reserve. Safety is the main priority here as you will be living in a reserve full of wildlife. The accommodation is in a large and fully enclosed area away from the main reserve. Staff live onsite and there is 24/7 access to help and assistance. When working out on the reserve you will always be accompanied by a member of staff, whether that be a game ranger or an other expert in the field. You will receive a health and safety briefing on each different activity that you undertake to ensure that you understand it fully.
Port Elizabeth is known as the "Friendly City" (but also the Windy City!). It is at the far end of the Garden Route linking it to Cape Town. This makes it very much on the tourist trails and you will not feel out of place here! The city is very modern with large shopping malls, a beautiful promenade and great free time activities.
Crime in South Africa is mainly concentrated in the larger townships of the country however you are advised not to walk alone at night time and to take a taxi back to the accommodation if you have been out and about at night time. The streets are less well lit in South Africa than you might be used to at home.
The reserve is about an hour from Port Elizabeth.
There is wifi access available but this can be intermittent. You will need to take a device to be able to connect to it.
Please bear in mind that you are in Africa, and signal and speed are unlikely to be as reliable as you might be used to back at home.
There is good phone reception here.
South Africa is 2 hours ahead of GMT (GMT +2)
A special South African three pin plug can be purchased at most airports and travel stores. European sockets are also prevalent.
Your project is Monday – Friday, with evenings free to enjoy the swimming pool, tennis courts, games room and social areas.
Supervision will be fairly intensive during the first few days, when you will receive a thorough induction and work-related training.  Once you are comfortable with things, you might not always have a supervisor working alongside you, but there will always be staff and other volunteers around to help, and you will always be accompanied for any high risk activities.
Staff at Oyster's head office and in-country will be responsible for your safety and welfare while you are at the project.  This will start from the moment you are picked up from the airport until the time you are dropped back to Port Elizabeth.  Before and after these times, you will be outside Oyster's responsibility and should make sure that you act safely and avoid risk.  This is also true if you choose to leave the project during your time off. We will give you plenty of guidance and advice about this.
Other adventures like this