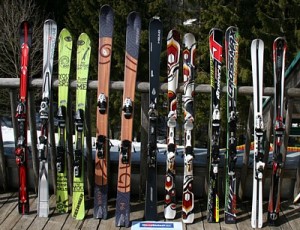 Buying Ski Gear
So what should you buy, where? Being a skiing town, Whistler obviously has many equipment stores which you can buy from and your staff pass will give you discounts on equipment in most stores.
Most people in my group just needed to buy skis, poles and boots when they arrived in Whistler. I already had my boots before I came out. The company that I bought them from spent a long time (about 2/3 hours!) with me making sure they were molded in the right places and they adjusted the plastic so that they were just right. This meant that they didn't hurt and my feet didn't have to get used to them while I was working. However a lot of people did buy boots out there and were able to go back to where they bought them and that shop would adjust them for free (not all shops do this). I would say that the boots are up to you where you would like to buy them but they are something that you should invest in as they are going to be on your feet for about 4 and 1/2 months in pretty much everyday!
With your skis there are a few different options: 1) You could bring across either some old or borrowed ones 2) You could buy some demo skis which have been used the previous season on a trial and should still be in pretty good condition, these are usually pretty popular as they are quite a bit cheaper but may not come in every size (a lot of people did this) 3) You could buy some brand new skis for the current season which will be more expensive but very on trend 4) Some people bought a good pair of skis which they used for their personal day-off skiing and bought a cheaper not so great pair of skis for teaching, as the children do often ski over your skis 5) You could either use your old/borrowed/new but cheap ones bought from a friend or classified ad etc and then buy yourself a semi decent pair in the Boxing Day sales which run until around New Year. This could give you some good savings and mean that you can get some good new season skis at a demo price! One thing I would say about buying skis though is don't feel rushed into buying skis straight away, you will be taken into a shop where you can buy equipment when you first arrive but this may not be the best place for you, do have a look around and think about what you will do before you get there. Again, the same with poles, they can vary in price a lot but you probably only need some of the cheapest ones, I never used mine when teaching as they would have got in the way.
Other equipment such as clothing, hats, goggles, gloves or snow boots/hiking boots (vital to have something to walk around in the snow that won't get wet and cold- please don't forget!). My advice would be either a) early Christmas presents b) take what you have or then if you want something better buy it when you have the discounts c) buy it at home because despite you having discounts it is still a mountain resort and so prices still won't be cheap.
Another hint: always split and separate your skis with a friend as new skis can get stolen especially around the gondola stations from the bottom and the busiest times of year i.e. Christmas and New Year. You don't want your brand new skis to be stolen!
LET THE 2010 SEASON BEGIN!
For more information, visit our becoming a ski instructor in Whistler webpage or email Jon.