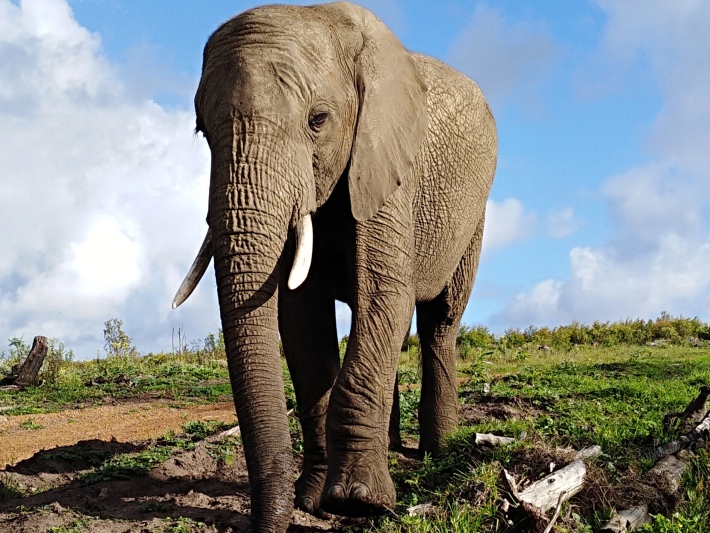 In March 2018, Ulrike Krausenbaum and her daughter Julie headed to South Africa to join our elephant care and research project. They have kindly given us a weekly account of what they were doing, and how they got on. To find out more about the elephant care and research project, visit our webpage for volunteering with elephants in South Africa.
Week 1 – learning about elephant care and research
Everything is just fantastic. We had a very warm welcome when we arrived at George airport. Kathy was there to take us from the airport to the park, with a 45 minutes stop at the supermarket to get some food for the first days. When we arrived at our final destination, Claire showed us around. The next day, we first had an induction tour and then let the elephants. Sooo wonderful. They are so gentle and cute and just amazing.
Wednesday was followed by some more training:
How to clean the Boma, the sleeping place for the elephants
some data training
enrichment intro, ie how to amuse the elephants with some goodies
creating gadgets for funding purposes
observation and research training
observing the elephants when they are in the Boma or just outside in the camp (their enclosure during the night)…
Thursday we could already really practice what we learned so far, ie recognising the elephants and recording what they are doing, for example feeding and grazing, or walking or standing. We were so happy to see Shungu and Madiwa sparring, just so wonderful moments to see these gentle giants walking, playing or just, what the do almost all the time, eating.
On Thursday, I did the Boma observation inside together with another more experienced volunteer, and Nina-Julie did it outside. It is so interesting to see how they act and we can learn a lot from them.
Our Saturday started at 5am since we also wanted to observe their behaviour, and especially Thandi's, during the night. Although Saturday was our day off, we decided to stay with the elephants to get to know them better. It is such a chance to have the possibility to go into the field also during the weekend, to have time to spend with them, and you can ask the guides who are very friendly everything about the elephants.
On Sunday, we went with some other volunteers to Monkeyland and Parc of Eden. Monkeyland was really great. I would recommend everybody to go there. It is not far away and so nice to walk through the trees and watching the monkeys hopping around. Then, in the afternoon, we headed back to our ellies.
Week 2 – getting stuck into elephant care and research
Almost one week has passed since my last email. Time passes by so quickly, too quickly.
Last Tuesday started for me at 5am with the Milky Way above me and the ELLIES in front of me. It was just awesome. Later in the morning, we went to visit a school in a nearby township where we spent some hours with 10 year old pupils reading little stories in English. They were so cute and eager to get to know us. At least 4 of them touched my hair, then thought about what is the colour for it in English, said that I had blond hair and asked me whether it was MY hair, and than one little boy said: No, it is not blond, it is golden. So adorable.
On Wednesday, we had lab introduction and Christina told us the story about a little elephant born at at the park, but who passed away at the age of 3 months. Such a sad story, but on the other hand it gave way to the creation of the lab since two wealthy guests had seen the baby elephant entering this world and wanted to support her, and when they got to know that she was no longer there still have their financial support.
Friday was the day for the release of 4 penguins in Plettenberg Bay. So cute to see them jump into the ocean. Nina-Julie and I followed them on Saturday. My first jump into the Indian ocean. Luckily, there were no sharks in sight.
For Sunday, the discovery of the Tsitsikamma National Park was on the plan. We started early in the morning with some other volunteers and had a wonderful hiking tour of around 20km with a breathtaking landscape. Then, in the evening, after a little stop at the Ice Palace in Plett, we finally made it back to our ellies❤️
Week 3 – having to say goodbye to the ellies