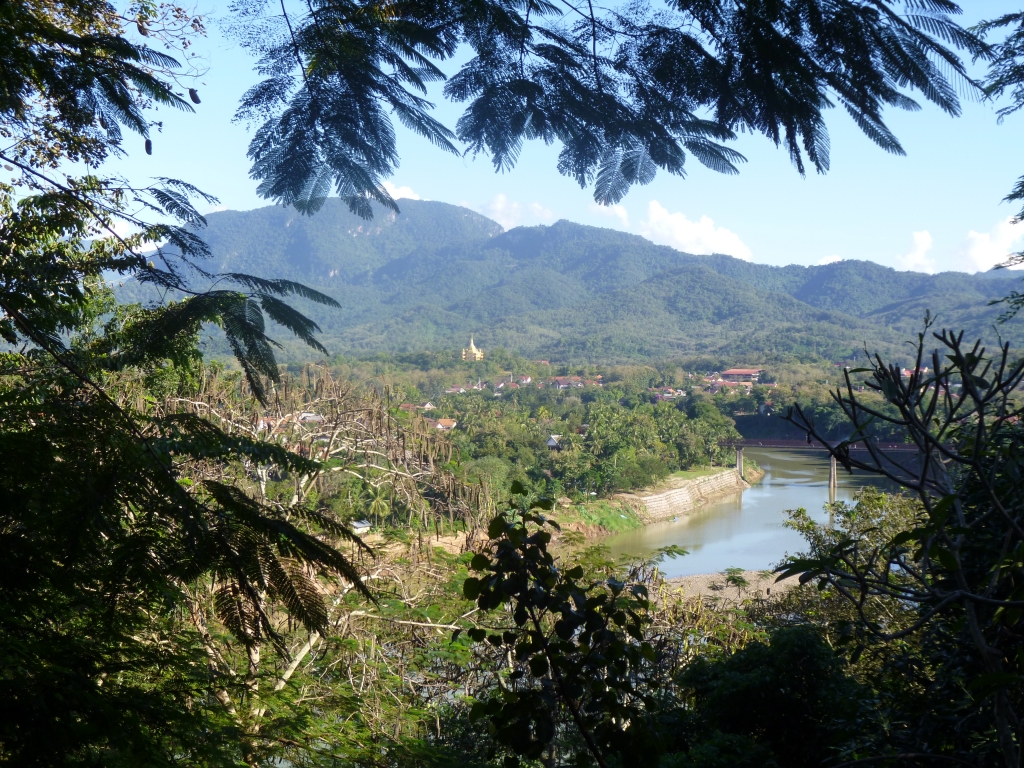 Arriving in Luang Prabang was like stepping into a fairy tale. Never before in Asia have I ever seen such a charming place, with tiny winding alleyways linking magical streets, a colourful jumble of buildings that looked like they were falling over each other and the majestic Mekong hemming the city in. Monks could be seen in the streets, walking along under their umbrellas to protect them from the sun, or cycling along the side of the road. Temples seemed to mark every street corner, and through the trees you would often be able to see a flash of gold, part of an intricate dragon or a towering pagoda. I was hooked.
The centrepiece to the town is a mountain rising up in the middle, with a monastery and many reposing Buddha statues located at the top. It is an inspiring place of worship, but also a fascinating place to visit for its cultural heritage and its stunning views over Luang Prabang and its surrounds. When I had staggered my way to the top, I was greeted by a smiling monk who was keen to practice his English. He invited me to sit with him and we talked about my travels, his life as a monk, life in Laos and life in the UK. It was just 15 minutes, but it was a fascinating insight into a life so different from my own. He told me that he had been a monk for 8 years, but would be leaving when he turned 18 to study at university. He wanted to study in Thailand and to ultimately work in tourism, hence his desire to improve his English.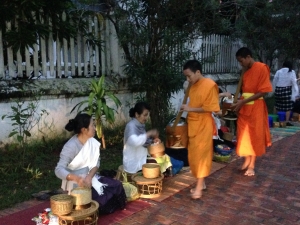 Luang Prabang has a plethora of beautiful Buddhist temples, which are certainly worth the visit. Not only will you see some incredibly intricate architecture, but you might also be lucky enough to hear the monks chanting. Another hit on the tourist trails is watching the monks take their alms at sunrise. Local people line the streets giving rice and food to the monks, who walk past them collecting the donations. It is an incredible sight to see so many orange-robed monks in the street at one time.
In addition to the amazing religious heritage here, there is a presence of the colonial era, with amazing French restaurants, cafes and bakeries all over the city. If you have been on the road for a while, there is nothing more pleasant than getting stuck into a good sandwich! There are also lots of tour operators and trips into the local surrounds, so that you can really immerse yourself in the Lao lifestyle and culture.
Luang Prabang is a fantastic base for starting our elephant conservation volunteer project, and becomes an amazing home to our teaching volunteers. Enjoy!