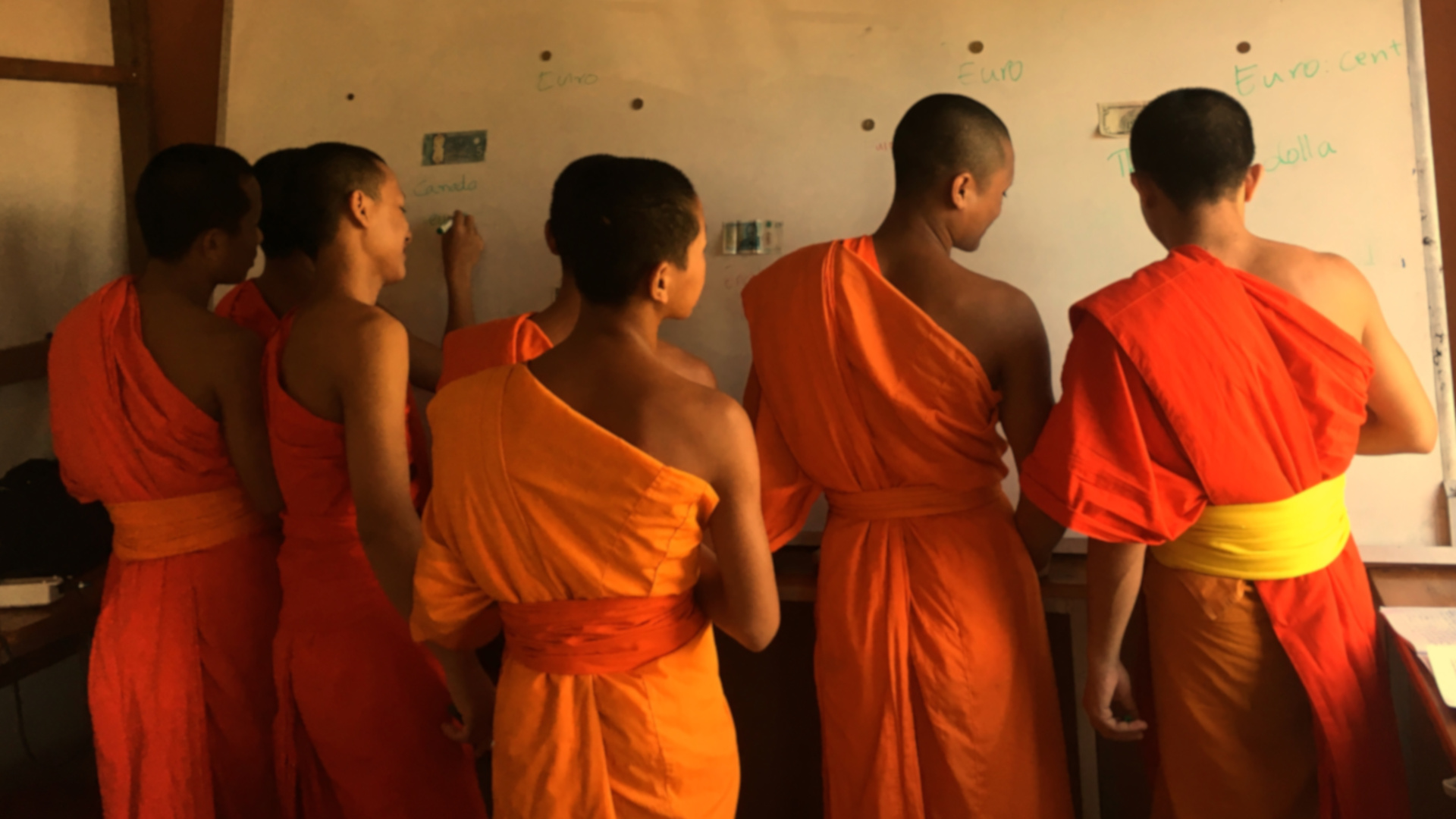 Volunteer teach in Laos, in beautiful Luang Prabang. This town is rich in culture, nestled in a spectacular setting between the Mekong River and mountains. Working with local students and novice monks, you will help to improve their English skills, increasing their employment potential. By giving back to the community, gain a first-hand insight into Laos culture and Buddhism as you work with the local people, exploring and learning in your free time.
Duration: 2 – 12 weeks
Dates: Contact Anne on [email protected]
Booking: Contact Anne on [email protected]
Arrival day: Friday
Return day: Saturday
Eligibility: Good English speakers
Age: 18+
Learning about Buddhism as you explore temples and learn from the local people
Helping the students to improve their English and make a real difference to their future prospects
Teaching and socialising with like-minded volunteers
Living by the beautiful Mekong River in a UNESCO Heritage town
Receive a minimum of 5 hours TEFL training during your stay to help develop your teaching skills
Luang Prabang, Luang Prabang Province, Laos
For those interested in teaching students aged 10+, this project offers a fantastic opportunity to gain valuable teaching skills and experience Laos. Teaching novice monks and other local students, you will help to boost the quality of education and accessibility to resources and knowledge for the students.
When you arrive in Luang Prabang, it will not take you long to see why the town is a protected UNESCO Heritage site. As the former royal capital city of Laos, the town blends French colonial architecture with many stunning Buddhist temples. Working alongside other passionate volunteer teachers in this unique setting, you will team teach English classes. Full support is provided throughout your time on the project, including lesson planning time, teacher training and a minimum of 5 hours of TEFL training. This does not result in the full qualification but will improve your skills whilst on this project and prepare you for any teaching you go on to do, at home or overseas.
The people of Laos are welcoming and friendly, keen to meet people and learn about different parts of the world. The monasteries look after many novice monks, providing accommodation, food and education. These young boys often come from rural communities which lack proper educational resources, so spending time at the monasteries offers them a chance to learn and gain skills for their future. Whether they remain at the monastery to become monks or leave to seek work, the education they receive allows them to make their own decision as to which path they follow. Novice monks are often enrolled in local schools and take spiritual classes within the temple. Classes at the local English centre will not only include novice monks, but also female students, lay males and children. Many of the young people in the community are keen to improve their English skills due to the growing demand for staff who speak English to work within the tourism industry.
Working with the other volunteers, you will teach classes in the local English centre, local schools and possibly the temple schools. You will help to support their education, team-teaching classes to work on conversational skills, grammar and writing.
You can expect to teach 2-3 hours a day, at least one class with the novice monks and 1-2 other classes with the local students. There may also be evening classes for volunteers to teach, depending on the requirements and requests of the students.
You will be living at a shared volunteer guesthouse where the staff are very welcoming.
There are shared rooms and bathrooms at the accommodation.
There are upgrade options if you would prefer to have your own room, subject to availability.
Rooms are cleaned weekly.
You can also get your laundry done for a fee.
The guesthouse has a curfew of 12 midnight, which is the same for everyone in Luang Prabang.
On the first Friday, prior to the Saturday arrival date, you will need to book your own accommodation. We can offer advice on this.
You will be provided with 3 meals a day in a nearby restaurant, while at the guesthouse.
Cooked by a local Lao cook on site, you will get to experience authentic, delicious, local food.
Dietary requirements can be catered for.
There are plenty of local and western restaurants that volunteers are also welcome to eat at, however these are at the volunteers' expense.
Fancy joining a tour after volunteering?
We are excited to offer our volunteers the opportunity to explore Thailand, Laos, Cambodia and Vietnam. Find out more about our South East Asia tour.
Airport: Luang Prabang International Airport (LPQ)
Arrival day: The project begins on Saturday at 09:00 – you will need to book pre-project accommodation for the Friday. We can advise on this.
Departure day: Saturday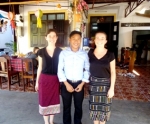 The project coordinators will be there to support you from the moment you arrive to the moment you are taken back to the airport. You will also be assigned a teaching mentor, who will be able to support you with lesson planning. The team have been working in Luang Prabang since 2009 and have a lot of experience working with volunteers, local schools and temples.
Access to your own personal 'My Oyster' account – our online portal where you can find out much more about the program and manage your booking
Dedicated contact time with an experienced destination manager to discuss the project, answer any of your questions and for us to find out more about you
Help and advice from our UK office before arrival and whilst you are away
In-country support
Pre-departure information covering medical, safety and project advice
Financial protection: ATOL (if we book your flights); IPP (if we don't book your flights)
Thorough orientation on arrival
Accommodation (see the 'accommodation' section above for details)
Advice on visa requirements
Oyster plants a tree in Africa with TreeAid to help reduce the impact of global carbon emissions
Airport transfers
Three meals a day, cooked at the guesthouse.
Over seven hours of teaching training, teaching resources and guidance.
Oyster Worldwide volunteer t-shirt
Oyster luggage tag
Welcome home pack
Certificate of Recognition (on request)
References (on request)
Flights – as an ATOL bonded company, Oyster can book flights for you
You need a valid passport that meets the requirements of the country you will be travelling to
Insurance (covering your time with Oyster and any planned independent travel)
Any costs associated with changing your return flight date if you need to
Independent travel costs
Home country travel costs
Spending money for additional trips, food and entertainment
Cost of accommodation for your first night (Friday) in Luang Prabang
Police check or DBS for UK participants – £10.40
For those who are interested in teaching, this project offers an exciting opportunity to work with the local community in a stunning setting. The project makes a genuine difference to local novice monks and other young people, helping them to practice their English. In Laos, tourism is a growing industry and English provides more employment options.
Teaching monks and lay students in Laos provides an amazing insight into local culture. Volunteers will work with like-minded teachers and will learn how to plan lessons and team teach – perfect for those interested in gaining valuable teaching experience.
This is a unique project that will enable you to become completely immersed in Lao culture. Whether you have previous experience teaching or not, you will gain country specific teacher training, enabling you to make a real difference in the classroom. The project leaders are supportive and promote collaboration and team work. With shared resources, team teaching and seamless transitions between volunteers, you will truly feel part of a worthwhile movement to improve English levels in the local community.
The day usually starts around 8am with the first class. 9-11am is then lesson planning, allowing time for volunteers to work together on creating lessons and teaching techniques.
Lunch is 12-12.30pm, at which point afternoon classes start. These sessions may be afternoon classes or lesson planning. This may be a good opportunity for volunteers to create resources for future classes. Routines will vary with volunteer numbers, students at each time and the number of classes that are required. Evening classes may run from 4.30-7.30pm.
Weekends are then free for volunteers to explore the area and learn about this amazing country.
You could work at two different temples, in addition to the English centre.
At the first temple, most of the students are Novice monks, but there are also lay males. The students are aged 10-16.
The second temple is 30 minutes outside Luang Prabang and has white boards and a greater supply of resources. Students here are 13-25 years old, and study around 14 subjects throughout the week. Volunteers assist here with grammar and pronunciation.
The English centre has a classroom that is kept for our volunteer classes for Novice monks, female students and lay students who wish to attend lessons. It is likely that volunteers will teach evening classes here.
Volunteers do not need previous teaching experience, but they will need to be hard-working, passionate and dedicated. A clean police record will be required. Volunteers need to be 18 or over.
Volunteers should aim to make a good impression in the local community. It is important that you dress conservatively and modestly, ensuring that you show respect for the local community. When teaching, shirts with collars must be worn by all volunteers and conservative clothes are required. Closes shoes are preferable to ensure respect is maintained and safety when walking to protect from bites and twisted ankles.
Girls should avoid strappy tops, crop tops and short-shorts. Women must wear the local Lao skirt (a sin) whilst teaching, which can easily be purchased in the town.
When visiting temples, museums, government offices and teaching, both men and women need to have covered shoulders and knees. If attending chanting at a local temple, everyone must bring a scarf to be placed over the left shoulder.
There are certain rules that will need to be followed when teaching monks. You will be provided with a full cultural briefing before you begin teaching.
We would suggest that you book as soon as you know that you are keen, as our places can fill up several months in advance throughout the year.
If you are keen to volunteer between June and September we would recommend that you book as early as possible, usually by February of the year that you wish to go at the latest.
We do however often have last minute availability, so you should always ask.
Something to bear in mind is that some festivals and holidays may affect the amount of teaching that is required. When there are class cancellations for longer than one day, alternative activities offered include culture talks, Lao lessons, temple hunts and the potential of cultural events.
Laos has a tropical climate, and as such, it can be hot and rainy throughout the year and it can change very quickly. Typically, the seasons can be divided into the following:
Hot season: March to mid-June (28 – 36 degrees celsius, 75 – 90% humidity)
Wet season: June – October (25 – 33 degrees celsius, brief but frequent heavy rain showers)
Cool season: November – February ( 18 – 30 degrees celsius, cooler – even cold – at night)
We would recommend taking approximately £30/$36 a week for weekend food and activities.
Laos kip and Thai baht are widely used and some places accept US dollar, but exchanges are available in the town. Participants on a budget typically spend USD $5-10 per day for meals, water, internet and transportation. You will need more for weekend trips or nice meals with drinks.
There are ATMs in Luang Prabang so you do not need to take all your cash with you. Make sure you take several cards with you in case one does not work in the ATM. We recommend that you travel with a combination of cash and ATM cards.
If you are going for over 4 weeks, you might like to consider getting a cash card. Cash cards are a safe and convenient way to take your money travelling with you – they act just like debit cards but do not have the same fees as you might have to pay on your bank cards from home. Check out our blog for details on how the card works here.
When you arrive in Laos, you will receive a visa stamp for approximately 40USD which allows you to stay for up to 30 days (cost varies with nationality). For this, you will need to take a passport photo with you.
It is easy to extend this visa in Luang Prabang (you will be told how) for 78USD per month's extension. You can only extend this twice however, to have a total of 90 days in the country.
If you wish to stay for longer, you will need to do a visa run – this usually involves getting the bus to Vientiane and going over the border there. It can be done in a day, but some people choose to fly to Chiang Mai or Bangkok to explore Thailand a bit. The same process as above would then apply when you receive a new tourist stamp. Doing the visa run should cost about 100 – 200USD. The easiest thing to do is stay for 3 months.
Most of our volunteers are independent travellers and you will become part of a group of people from around the world here. It is fine to travel with friends or as part of a small group too however- more the merrier!
You should visit your doctor or travel nurse to find out what vaccinations you will need.
It is strongly recommended that you are vaccinated against Hepatitis, rabies and tuberculosis. These are entirely optional (at your own risk) as these diseases do occur in Thailand but have not occurred at the centre. Please follow your doctor's advice.
You may be asked about malaria in the area – whilst this is low risk in Luang Prabang, the area where the project is located, it may be worth speaking to your travel nurse or GP for further advice.
There are emergency medical facilities located in Luang Prabang, not far from your project. All staff in Laos have basic first aid training.
All volunteers will receive an orientation and safety briefing at the start of their project. Laos is a relatively safe country, but common sense precautions will help to minimise risk. Always listen to the project coordinators and avoid going anywhere alone at night.
The accommodation is a short walk from the centre of Luang Prabang, where the temple is located. Travelling around the local area is easy.
You will be living in a shared guest house. Facilities may be more basic than you are used to. However, there are running hot and cold water showers, western style toilets and the guesthouse is clean and comfortable.
There are lots of local shops that will do your laundry for you for a reasonable price. They will charge per kilogram and are very quick to return your clothes.
Like the rest of Luang Prabang, there is a nationwide curfew so you will need to be back in the accommodation at 12 midnight.
Volunteers will receive 3 meals a day at the guesthouse. Breakfast may include toast, butter, jam, fruit salad, oats, milk, tea, coffee and croissants. Lunch and dinner will be a variety of local cuisine with vegetarian and meat options available. Typical meals will include curry, fried noodles, rice and soups. If you fancy a night out, there are plenty of restaurants and cafes in Luang Prabang, both local and western style food is available. Volunteers are welcome to eat out at their own expense.
Supervision will be fairly intensive during the first few days, when you will receive a thorough induction and work-related training. Once you are comfortable with things, you might not always have a supervisor working alongside you, but there will always be staff and other volunteers around to help, and you will always be accompanied for any high risk activities.
Staff at Oyster's head office and in-country will be responsible for your safety and welfare while you are at the project. This will start from the Saturday morning at the meet up point. Before and after these times, you will be outside Oyster's responsibility and should make sure that you act safely and avoid risk. This is also true if you choose to leave the project during your time off. We will give you plenty of guidance and advice about this.
There is slow WiFi available at the accommodation. However, if you are looking for faster WiFi, you can head to local cafes in Luang Prabang. Most volunteers choose to unlock their phones at home and buy a local SIM card to access data. This may be faster than the WiFi.
There is phone signal in Luang Prabang and you can buy a local SIM card in town. We suggest you take an unlocked phone with you that will accept a local SIM.
Laos is 7 hours ahead of GMT (GMT+7).
There is lots to do in Luang Prabang and the surrounding area. During your weekends, you could visit the nearby caves, handicraft villages, waterfalls and boat rides on the Mekong River. There are plenty of tour operators in the city. You can go further afield and visit Vientiane or go tubing and trekking in Vang Vieng.
Volunteers will get their weekends off. Volunteers may be expected to work a few evenings.
Other adventures like this