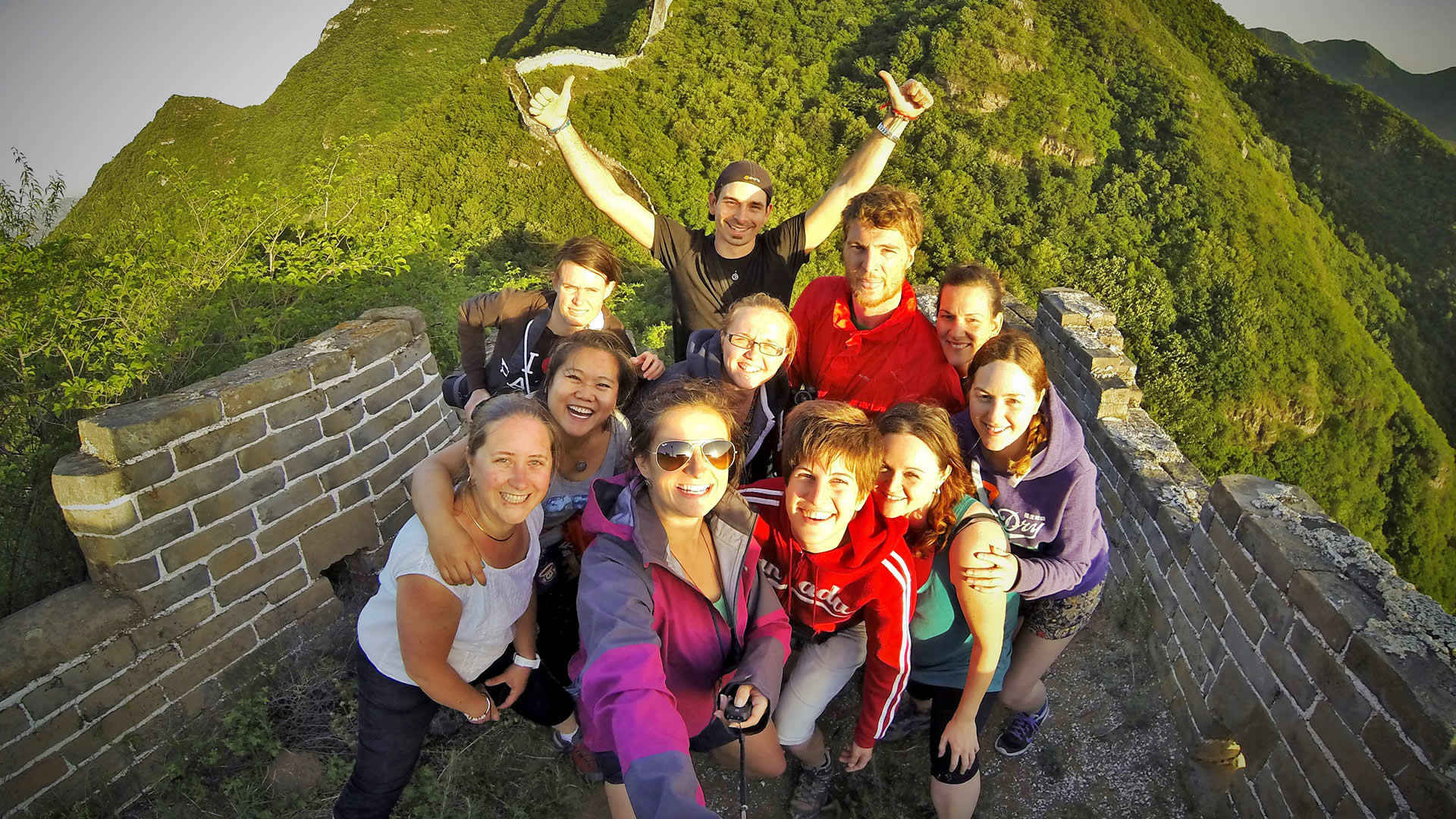 China is mind-blowing. The vast country is bursting with adventure, history, culture and beauty. Due to its incredible size and its varied inhabitants, China never fails to impress. Whether you are new to China or not, this backpackers tour is a great way to see the iconic sites of this exciting country.
We are aware of the current situation relating to the Coronavirus in China and are monitoring this closely. We are following FCO advice and not currently sending people to China until the advice is updated. Participants currently in China are a long way from Wuhan and not affected. Please contact us if you would like to discuss your plans for China. We hope to be sending people to China again as of the summer.
Duration: 16 or 25 days
Dates: Throughout the year
Tour start time: 07:00
Tour finish time: 16:00 (16 day) and 21:00 (25 day)
Eligibility: General level of fitness required
Age: 18+
Traveling with a fantastic group
Exploring the highlights of China and travel vast distances
Meeting the Giant Panda – China's national animal
Indulging in delicious Chinese cuisine
Visiting world famous sites, including the incredible Great Wall of China
Yesinn @YMT, Wing Sing Lane, Yau Ma Tei, Hong Kong
Are you looking for an oriental adventure? Join either our 16-day or longer 25-day tour and explore China – a country famous for its delicious cuisine, incredibly cute pandas and the longest wall in the world! Perfect for solo travelers and groups, our China backpacking tours combines history and culture, exciting activities and iconic sites.
Here is the itinerary in brief. You can also refer to our more detailed tour description at any time.
Start your adventure at the hostel
Head up Victoria Peak for panoramic views across Hong Kong
Receive a full briefing from the tour leader
Board a famous Chinese bullet train to cross the border into mainland China
Day two to five – Yangshuo
Marvel at the endless rice paddies and take part in bamboo rafting down Li River
Stay in Monkey Jane's Hostel – which has a rooftop bar!
On Day 5, travel on a bus and night train to Chengdu
Optional activities: Kayaking, deep water soloing, watch a Cormorant fishing demonstration, soak in mud baths located In underground caves, take part in a Chinese cookery class, try cupping (believed to improve circulation), dinner at the leader's home village
Day six to eight – Chengdu
Meet your new adventure leader (a Sichuanese local)
Spend the afternoon learning some helpful Mandarin phrases at a free lesson
On day 7, visit the lovable pandas at the Panda Breeding and Research Center as they eat their bamboo shoots for breakfast (included)
Board the night train to Xi'an
Optional activities: massage with a blind physical therapist, Sichuan opera performance, trip to Leshan to see the world's largest stone Buddha or walk through the Tibetan quarter, visit the Wenshu Monastery, the Sichuan Province Museum and a traditional Chinese tea-house
In the morning, behold the unmissable Terracotta Warriors (included)
Optional activities: Cycle around the ancient city's walls on an incredible bike tour, explore the Bell-Drum Towers and Muslim quarter, head to the Silk Road Market – perfect for shopping, volunteer at a charity program, experience a Chinese night out – karaoke is not compulsory but highly recommended!
Day eleven to twelve – Shaolin
Board a minivan to Deng-Feng
Learn more Mandarin in your second free class
Board a night train to Beijing
Optional activity: Watch a Kunggu Show performed by a local children's home, visit the Shaolin Temple and see live performances by Kung Fu masters, visit Longmen Grottoes, hike to Dharma Caves- a spiritual place, surrounded by outstanding views
Day thirteen to sixteen – Beijing
Relax in the hostel and take part in your third Mandarin lesson
Take to the streets to use your language skills in a Mandarin challenge
The afternoon is dedicated to exploring the Great Wall of China (included)
Between May and September, camp alongside the longest wall in the world and wake up to a sunrise to remember!
Optional activities: choose to visit The Olympic Bird's Nest Stadium or enjoy a Chinese Acrobat Show, try Peking Roast Duck – Beijing's signature dish, tour Tiananmen Square, the Forbidden City and the Temple of Heaven, taste some interesting local delicacies, if you're feeling brave, at a night market
For travellers on the 16-day tour, you will leave on the 15th day to travel back to Hong Kong on the train. You will arrive in Hong Kong at 16:30 on the 16th day. If you would prefer to stay in Beijing, please let us know.
For those continuing on the full 25-day tour, board the night train to Hangzhou
Day seventeen to eighteen – Hangzhou
After leaving Beijing, the tour will head the famous West Lake in Hangzou, A UNESCO Heritage site
Take a boat to one of the islands
Hike up to Jiuyao Mountain to see the stunning sunset
Walk to the 9 creeks that meander through the Misty Woods
On day 18, travel to Shanghai
Optional activities: Visit China's national tea museum or Hangzou Silk Museum

Day nineteen to twenty one – Shanghai
Day 19 is a free day and there is a lot to keep you occupied
On day 20, take part in your 4th free Mandarin lesson.
Explore the most populated city in the world – head to the Propaganda History Museum
Head to the futuristic part of the city along Nanjing Road and tour the Bund for spectacular views
Optional activities: Board a ferry to cross the Huangpu River, discover Tianzifang, Yu Gardens, Disneyland or Shanghai Museum, take part in the Drunken Dragon pub-crawl, head to a rooftop hot tub with incredible views, cruise Huangpu River or visit Jinmao Tower (one of the world's largest skyscrapers)
Day twenty two to twenty four – Fujian
Speed across the country on a bullet train to Nanjing
Spend the night in a Tulou (a traditional roundhouse) and learn about the Hakka minority people (included)
Take part in a walking tour around the UNESCO World Heritage Site
Sip oolong tea samples at a plantation
Take the night train to Guangzhou
Optional activities: cycle to rivers and mountains in a nearby village
Spend time at the Venetian Macao Resort Hotel – with canals and gondolas!
Travel on a high-speed ferry back to Hong Kong, arriving at 20:30
Time to say goodbye at the hostel that you started at – congratulations, you've completed a 3,392 mile circular tour of China!
Optional activities: visit the historic center and explore the ruins of St Paul's and the Old Fortress
All accommodation is included for the duration of the tour.
You will be staying in hostels, while on the tour, with the rest of your group.
If you would like to have your own room, you can pay a supplement for this.
You can book pre and post-tour accommodation.
There will be some overnight journeys on night trains.
On day thirteen, if you are traveling between May and September, you will be camping beside the Great Wall of China. For those traveling between October and April, you will stay at a guesthouse instead.
Food is not included in the price.
In the evening, your tour leader will lead a group meal and will take you to a good, hygienic, local restaurant. However, if you would prefer to go somewhere different, you can.
Leaders will suggest places for lunch and breakfast.
Fancy taking earning money and living in China?
What do I need to know regarding Covid-19?
We have been working closely with our partner organisations to ensure that you travel with the utmost confidence and peace of mind. Follow the links below to learn more about how to do this:
Airport: Hong Kong International Airport (HKG)
Arrival day: The tour begins at 07:00 so we advise you arrive in Hong Kong the day before
Departure day: You will arrive back in Hong Kong at 18:00 (16 day) or 21:00 (25 day) so you will need to arrange a late night flight or fly the next day
Access to your own personal 'My Oyster' account – our online portal where you can find out much more about the program and manage your booking
Dedicated contact time with an experienced destination manager to discuss the project, answer any of your questions and for us to find out more about you
Help and advice from our UK office before arrival and whilst you are away
In-country support
Pre-departure information covering medical, safety and project advice
Gold level, 24/7 Pharos crisis management and incident support cover
Financial protection: ATOL (if we book your flights); IPP (if we don't book your flights)
Thorough orientation on arrival
Accommodation (see the 'accommodation' section above for details)
Advice on visa requirements
Oyster plants a tree in Africa with TreeAid to help reduce the impact of global carbon emissions
Billingual speaking adventure leaders
Free Mandarin tuition suitable for complete beginners
All accommodation – hostels, guest houses and/or camping
Internal travel – train, boat and bus tickets
All taxes and charges
Flights – as an ATOL bonded company, Oyster can book flights for you
You need a valid passport that meets the requirements of the country you will be travelling to
Insurance (covering your time with Oyster and any planned independent travel)
Any costs associated with changing your return flight date if you need to
Independent travel costs
Home country travel costs
Spending money for additional trips, food and entertainment
Travel to the meeting point
All optional activities – highly recommended!
Food and drink
Visa
Oyster is working hard to reopen this project. This will involve some changes to the running of the project including:
Transfer amendments – to be confirmed
Accommodation amendments – to be confirmed
All volunteers must bring masks, gloves and hand sanitiser
All volunteers must be able to provide proof of a negative Covid-19 test (taken within 72 hours before departure)
Prepare for a thorough orientation on arrival regarding health and safety measures at your project and in your country destination
Social distancing of 1.5m must be observed during project work
Volunteers must wear masks during the airport transfers
There will be a daily check for temperature and symptoms
Protocol is, and will continue to be, followed with the aim to minimise risk to staff and volunteers
Strictest hygiene controls are in place for equipment and all public areas.
China is one of the largest countries in the world and it offers a huge variety of landscapes, culture and cuisine. You could return to China multiple times and unearth something new each visit.
You will travel this phenomenal country by public transport to experience 'real' China. Transport in China is fast, modern and efficient. The English-speaking trip leaders on the ground are incredibly knowledgeable and passionate about sharing their country with you.
This 25-day round trip tour covers a vast distance and includes incredible activities – combing the must-see sites with unique experiences. Short on time? No problem – simply leave the group on day 16 instead.
You must be at least 18 to take part in this programme. There are no upper age restrictions for this tour. All are welcome! You will need to be in generally good health.
All groups are unique. This is what makes it exciting. All types of traveller choose to join the tour. As long as you are open minded and passionate about exploring China, this tour is perfect for you.
Every tour is led by a local, English-speaking leader, who is fully trained. All leaders will have fully equipped first aid kits.
Typically, 20 people take part in each tour.
Due to China's incredible size, weather is different in each region.
Spring: 10-22°C
Summer: 22°C and above
Autumn: 10-22°C
Winter: 10°C or lower
You will need a visa to enter mainland China. We will offer you information about how to get this. You will need at least 6 months validity on your passport.
European, US, Canadian, New Zealand or Australian participants do not need to organise a visa for Hong Kong.
You should always visit your GP or local travel clinic to find the most up to date information about vaccinations.
You will have access to good hospitals and medical facilities throughout the tour.
Lots of people travel alone. You will meet plenty of people on arrival. You can join this tour as a solo traveller, as a couple, pair or group.
Throughout your tour, you will be able to communicate with your tour leader.
Staff at Oyster's head office and in-country will be responsible for your safety and welfare while you are on the tour. This will start from the moment you arrive at the meeting point. Before and after these times, you will be outside Oyster's responsibility and should make sure that you act safely and avoid risk. This is also true if you choose to leave the project during your time off. We will give you plenty of guidance and advice about this.
Throughout the tour you will be staying in hostels that are all safe, clean and comfortable. On some nights, you will be travelling on night trains. All accommodation has been checked thoroughly and has been carefully selected.
You will be staying in a tent on The Great Wall of China if you are arriving between the end of April and September.
Upgrades to a single or a double costs £630 for the 25-day tour and £280 for the 16-day tour.
Please note, upgrades are not possible on day 17.
Bed linen is provided. Towels are not supplied but can be rented from the hostel reception for a small fee.
Camping equipment and sleeping beds are provided if you are staying in tents by The Great Wall of China.
There are plenty of ATMs throughout China. We advise that you let you bank know in advance that you are travelling.
Every evening, your leader will offer to take the group to a good, hygienic restaurant. However, if you would prefer to go somewhere different, you can.
Leaders will suggest places for lunch and breakfast.
£9-£12/ $13-$18 per day would be sufficient – £10/$15 per day is what we recommend. If you want a western diet, you should budget more. This budget covers breakfast, lunch and dinner.
Yes, there are so many different options to choose from. The tour leader will be able to help direct you to suitable restaurants.
Local SIM cards can be purchased. Alternatively, you can use Wi-Fi.
Yes, all hostels have Wi-Fi.
Chinese electrical outlets use the same plug shape as the US and are 220 volts. You may need a convertor for your devices. Please check your specific device to be sure.
Other adventures like this