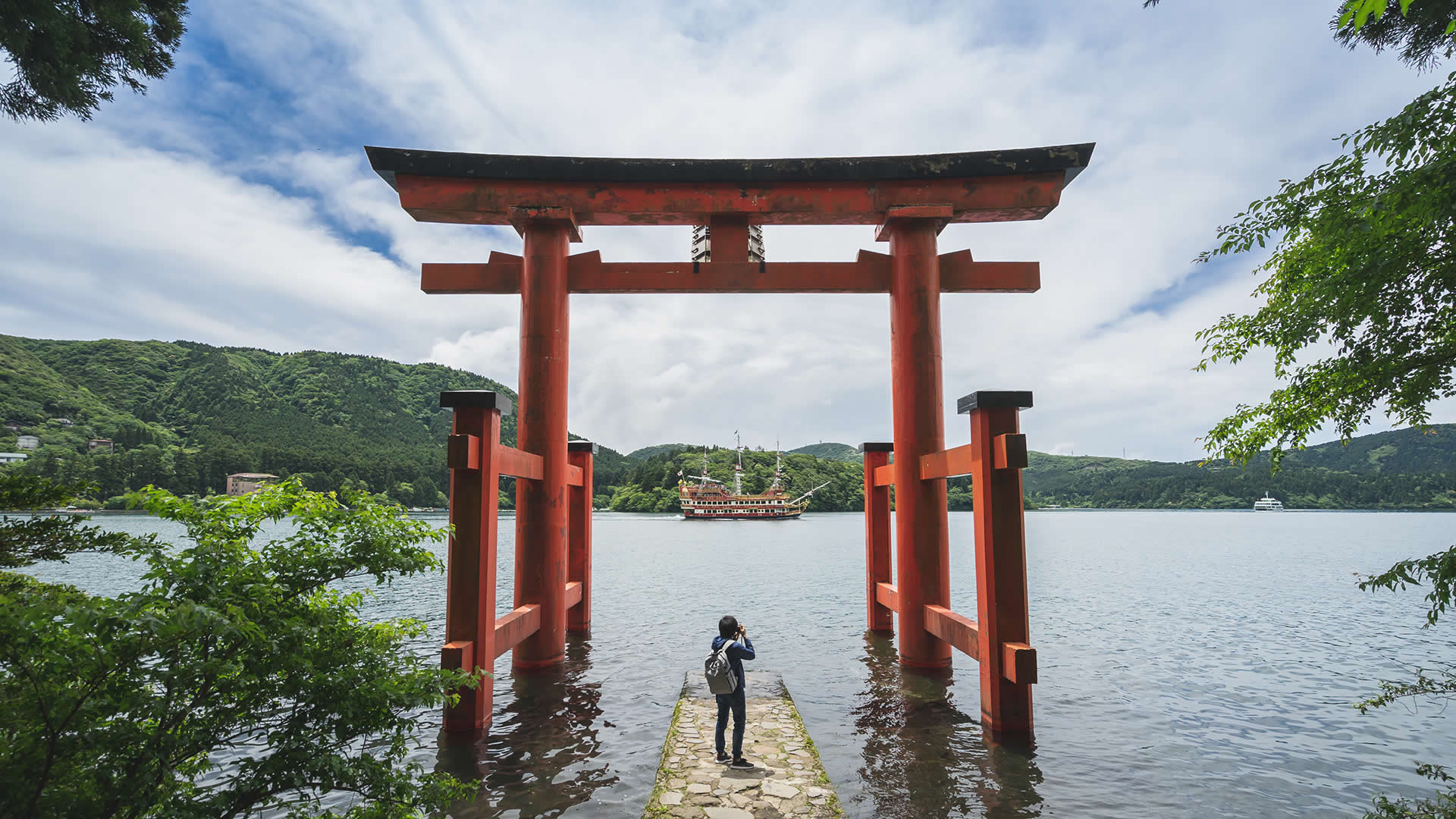 Japan is a must-see destination! Mixing modern cities, traditional cultures and stunning views, Japan is jam packed with things to see. Despite being known as an expensive destination, this 13 day adventure gives you the opportunity to see all of the iconic sites and experience life off the beaten track on this affordable tour of Japan!
Duration: 13 days
Dates: 2019/20 dates
Start time: 10:00
End time: After brunch on day 13. You would arrive in Tokyo at 16:30 if traveling back to the airport on the same day
Eligibility: General level of fitness required
Age: 18-50
Meeting an amazing group of like-minded travelers
Experiencing all that Japan has to offer without breaking the bank
Taking part in optional activities – such as MariCar – karting through the streets of Tokyo!
Eating your fill of sushi, yakitori and ramen
Exploring iconic sites – the Golden Pavilion
Are you looking to experience Japan with a friendly group and an enthusiastic, experienced tour leader? Not only is this backpacking tour in Japan extremely affordable, but it also offers you the opportunity to take part in some incredible experiences and activities. This tour will take you to the many famous destinations that this inspiring country has to offer, but it will also includes hidden gems, found by the team on the ground. The expertise of the team in Japan is what makes this backpacking tour truly unique.
Read our more detailed tour description.
Start the adventure with panoramic views of Tokyo from the Tokyo Metropolitan Government Office
Experience the famous Tsukiji outer fish market
Head to Shinjuku – famous for the giant Godzilla that looms over the neon lights and many shoppers
Visit the Sensou-ji temple in Asakusa
Optional activities: relax at a Japanese-style bath house or enjoy a drink in Hoppy Street
Take part in a sushi making master class
Visit Akihabara – home of Japanese Anime and Manga
Optional activities: eat at one of Akihabara's quirky maid cafes or drive around Tokyo with MariCar – go-karting in fancy dress!
Walk around the grounds surrounding the Imperial Palace
Wander through acres of forest to the shrine of Emperor Meiji
Soak up the crazy clothing and vibrant colors in the Harajuku Fashion District
Optional activities: have a cup of tea at Cat Cafe – Mocha
Explore the fascinating Edo-Tokyo Museum and watch a samurai sword demonstration – even take part if you feel brave!
Optional activity: Watch live sumo wrestlers train and, if available, opt to eat their traditional lunch, watch a weird and wonderful Tokyo robot show
Take a train to Kamakura – home of the first Japanese shoguns
Witness the 45ft bronze Great Buddha Statue in Kotoku-in Temple
Watch the sunset on the beach
Optional activity: surf the waves on at the beach
Sample black eggs, cooked in sulphuric water
Climb on-board a pirate ships and glide across tranquil Lake Ashi
Travel on the Hakone Ropeway and view Mount Fuji from Oowakundi
Relax in the forest and experience an Onsen – a Japanese hot spring
Stay overnight in a Ryokan
Sample the local sake
Travel on the efficient bullet trains to Kyoto
Meander through the city and explore Kiyomizu Temple
Optional activities: spend the evening at Pontocho Alley and eat at a traditional, wooden-paneled restaurant – near the Geisha district or head to the buzzing student area.
Raft down the Hozugawa River, guided by a driver
Hike through a bamboo forest on the way to Arashiyama Monkey Park with panoramic views of Kyoto
Spend time in the stunning gardens of the Tenryu-ji Temple
Take part in a calligraphy class with a master
Optional activities: Sing at one of Japan's famous karaoke bars.
This day is unguided to give you a chance to do some exploring. Your leader will provide you with suggestions
Optional activities: Choose to spend your morning exploring the many temples along the Philosopher's Path or at the International Manga Museum, travel to Fushini Inari Taisha to trek the paths behind the well-known Shinto shrine complex
Day ten – Kyoto/Hiroshima
Rise early to see the iconic Golden Pavilion
Learn the art of meditation with a Buddhist monk
Hop on a bike and tour Kyoto – last stop is the Imperial Palace
Say goodbye to Kyoto and jump back on the bullet train to Hiroshima
Visit the Hiroshima Peace Memorial which documents the stories of the World War 2 atomic bomb
Take a ferry to visit the Itsukushina shrine – temples on stilts – on Miyajima Island
Ascend the rope-way to see panoramic views of the forest, island and ocean
Board the final bullet train and head to Osaka
Explore Osaka Castle and descend into the donjon that spans across nine floors
Sleep in a capsule hotel – a snug experience
Optional activities: Enjoy a drink at the infamous Kamikazi Bar or enjoy the many shops, arcades, bars and clubs on your final night!
Meet the group for brunch before saying your goodbyes.
Your Japan Rail Pass expires at the end of today. You can use this to get the bullet train back to Tokyo, the airport, or anywhere else in Japan!
All accommodation is included for the duration of the tour.
You will be staying in hostels along the tour route with the rest of your group.
Expect to share a room with 4-8 people, depending on where you are staying.
If you would like to have your own room, you can pay a supplement for this.
You will need to budget money for food.
Your tour leader will take you to good local restaurants each day where you will be able to eat cheaply.
You are also welcome to choose your own restaurants.
Airport: Haneda Airport (HND)/ Narita International Airport (NRT)
Arrival day: Day 1 at 10:00. Pre-tour accommodation is available (£40)
Departure day: Day 13. Tour finishes after brunch. You can either travel back to Tokyo or fly out of Osaka. Train arrives at 16:30 in Tokyo. Post-tour accommodation is available (£40)
Access to your own personal 'My Oyster' account – our online portal where you can find out much more about the program and manage your booking
Dedicated contact time with an experienced destination manager to discuss the project, answer any of your questions and for us to find out more about you
Help and advice from our UK office before arrival and whilst you are away
In-country support
Pre-departure information covering medical, safety and project advice
Financial protection: ATOL (if we book your flights); IPP (if we don't book your flights)
Thorough orientation on arrival
Accommodation (see the 'accommodation' section above for details)
Advice on visa requirements
Oyster plants a tree in Africa with TreeAid to help offset your carbon emissions
English speaking tour leaders
Free Japanese tuition suitable for complete beginners
Internal travel – train, boat and bus tickets
All included activities
All taxes and charges
Flights – as an ATOL bonded company, Oyster can book flights for you
You need a valid passport that meets the requirements of the country you will be travelling to
Insurance (covering your time with Oyster and any planned independent travel)
Any costs associated with changing your return flight date if you need to
Independent travel costs
Home country travel costs
Spending money for additional trips, food and entertainment
All optional activities – highly recommended!
Cost of food and drink
Backpacking trips to Japan are very popular. Mixing ancient temples with modern technology, traditional cuisines with vibrant shopping malls, Japan has so much to offer all types of traveler.
What makes this backpacking Japan tour stand out is the price! The team on the ground are country experts and have created this budget tour to make Japan accessible to all. You will use Japan's efficient and modern public transport throughout the trip – which not only keeps the costs down, but will also give you a more authentic traveling experience. Budget travel in Japan is the way forward.
This group backpacking tour ensures you will not only visit the 'unmissable' tourist sites, but you will also head off the beaten track to see and experience the lesser known parts of Japan. This short trip to Japan provides a great stop off point if your plan is to travel the world on your gap year of career break.
Book your trip with Oyster today and start looking forward to your travel to Japan!
If you are healthy and looking for an adventure this tour is the perfect choice for you. You can join this tour if you are 18 years or older.
Many different types of traveller join this tour. What everyone has in common is their excitement for learning more about and travelling in Japan.
Yes, you will receive a 7 day Japan Rail Pass. This expires at the end of your final day on the tour, meaning that after brunch you can get the train back to Tokyo (3 hours) for your return flight home.
If you want to extend your travels for an extra 7 days, you can purchase an extra 7 day Japan Rail Pass through Oyster for an additional £125.
Each tour has an enthusiastic and knowledgeable leader, who is fully trained and English speaking. All leaders will have fully equipped first aid kits.
On the tour there are some optional activities that are mentioned in the itinerary.
Tokyo
Japanese Curry Lunch – JPY 1,000 (approx.)
Bathhouse (entry+towels) – JPY 460
Akihabara maid's cafe – JPY 1,500 – 2,500
MoCHA Cat Cafe – JPY 200 / 10 mins
Golden Gai – JPY 1,000 (approx.)
Night out in Roppongi – JPY 1,000 – 3,000
MariCar – £75
Sumo Experience/ Sumo Experience + Lunch – £85
Robot Show – £60
Kamakura
Surfboard – JPY 3,000 – 10,000
Hakone
Outdoor Onsen Reservation – JPY 500
Kyoto
Karaoke – JPY 2,100 / 90 mins
Manga Museum Entry – JPY 800
Night out near Kawaramachi – JPY 1,000 – 3,000
Hiroshima
Okonomiyaki Dinner – JPY 1,500 (approx.)
Osaka
Night out in Namba/Dontonbori – JPY 3,000 – 4,000
Typically, 20 people take part in each tour.
Yes! There are laundry facilities at the accommodation along the route. Your tour leader will tell you when it is best to do laundry, based on when there is enough time in one place for laundry to dry.
You'll be able to store your luggage in your room. There are safes in the room and a safe for valuables at reception.
Japan is a fantastic country to travel to year round. August is the hottest month (approx 26 degrees Celsius) and January is the coldest (5 degrees Celsius). Cherry blossom season begins in April.
On arrival in Japan, you will receive a tourist visa so no need to organise anything in advance. Visas are available to 60 countries.
You should always visit your GP or local travel clinic to find the most up to date information about vaccinations. There are no vaccinations required for entry into Japan.
Japan has many modern medical facilities and hospitals and you will always have access to medical help while you are on the tour.
You can join this tour as a solo traveller, as a couple, pair or group.
Throughout your tour, you will be able to communicate with your tour leader.
Staff at Oyster's head office and in-country will be responsible for your safety and welfare while you are on the tour. This will start from the moment you arrive at the meeting point. Before and after these times, you will be outside Oyster's responsibility and should make sure that you act safely and avoid risk. This is also true if you choose to leave the project during your time off. We will give you plenty of guidance and advice about this.
Upgrades to a single (£690) or double room (£245 per person) can be requested.
On the final night in Osaka, everyone stays in individual capsules on single sex floors.
All bedding is provided at the hostel. Towels are not supplied but can be rented from the hostel reception for a small fee.
There are plenty of ATMs so accessing money in Japan is straightforward. We advise that you let you bank know in advance that you are travelling.
This is completely dependent on your own budget and spending habits, however your money in Japan should go further than it does at home. However, a simple dish will cost £2 ($3). A recommended budget would be £15-20 ($20/25) a day for food and drink.
Each evening, the leader will offer to lead a group meal and will take you to a good, hygienic restaurant. However, if you would prefer to go somewhere different, you can.
Leaders will suggest places for lunch and breakfast.
Yes, there are so many different options to choose from. The tour leader will be able to help direct you to suitable restaurants.
Non-Japanese phones may not work, but local SIM cards can be purchased. Alternatively, you can use Wi-Fi.
In Japan, the plug outlets are the same as they are in Northern America (2-pin). However, the voltage is 100 Volts, which is different from Europe (230V) and Northern America (120V).
Other adventures like this