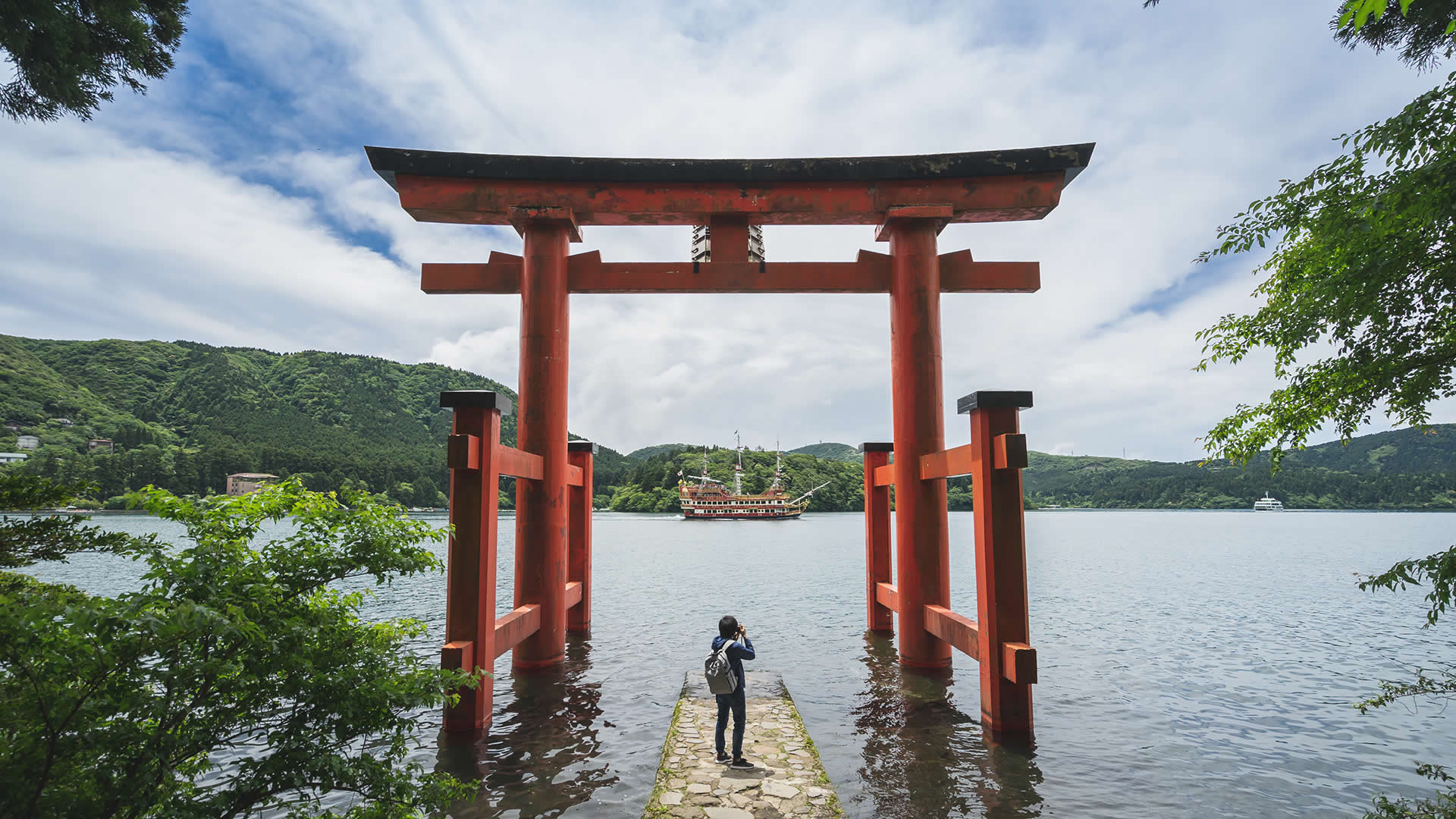 Japan is a must-see destination! Fast-paced modern cities, traditional culture and breath-taking views, this island is jam packed with things to do and see. Despite being known as an expensive destination, this 13 day adventure gives you the opportunity to see all of the iconic sites and experience life off the beaten track on this affordable tour of Japan!
Duration: 13 days
Dates: Click on BOOK NOW to see availability
Eligibility: General level of fitness required
Age: 18-50
Interested in touring other locations? We also have tours available in South Korea, India and South East Asia! 
March Promotion  : 10% off departure dates for 15th May, 29th May and 5th June when booked between 8th and 21st March!
Meeting an amazing group of intrepid travellers
Experiencing all of Japan but with a budget in mind
Taking part in optional activities – such as MariCar, sake tasting and robot shows!
Eating your fill of sushi, yakitori and ramen
Exploring iconic sites – the Golden Pavilion
Are you looking to experience Japan with a friendly group and expert tour leader? This backpacking tour in Japan is extremely affordable, but at the same time includes some incredible experiences and activities. You'll be taken on a whistle stop journey with the reassurance that you'll be hitting all of the highlights that this buzzing destination has to offer. At the same time, the expertise of the team in Japan is what makes this backpacking tour truly unique.
Your Itinerary (PLEASE NOTE ITINERARY MAY HAVE SLIGHT CHANGES)
1 – Tokyo
Your tour begins at 10am! Join the group for an orientation followed by a visit to the Senso-Ji temple in the Asakusa district.  Enjoy a sashimi lunch in Tokyo's famous Tsukiji Outer Market and then take in city views from the top of the Metropolitan Government building. There is the option to try your hand at baseball, visit a Japanese bathhouse, or shop around Asakusa later on that day.
2 – Tokyo
Receive a culinary lesson from a skilled sushi chef before visiting the 'electric town' of Akihabara. Enjoy some free time in the town and maybe visit one of the gimmicky maid cafés. If you'd like to bring an old-time favourite video game to life, you can choose to take part in a MariCar! experience. Hit the night life at the Golden Gai club post-drive!
3 – Tokyo
In the morning you'll visit the impressive Tokyo Imperial Palace and it's stunning gardens. Spend some time in the wacky fashion district of Harajuku and in the afternoon head to Shibuya to visit the Meiji Shrine. You'll also get to walk Shibuya's busiest pedestrian crossing to visit the iconic Hachiko statue. Recharge with a coffee break at a cat café before getting ready for Roppongi's nightlife!
4 – Tokyo
Today's a culture experience with a scheduled visit to Tokyo's fascinating Edo-Tokyo history museum in Ryogoku. You'll have the option to experience 'a day in the life' of a sumo wrestler followed by a visit to the Sumo Museum to find out about the traditional Japanese sport. The afternoon offers a chance to learn the ancient art of samurai with a live sword demonstration, and you'll even try on a samurai outfit and have a go yourself! A Robot Show experience is on offer for some evening entertainment.
5 – Kamakura
After brunch you'll jump on a train to the historical town Kamakura. The hostel you'll be staying at is a stone throw from the beach where you can relax or if feeling adventurous, try your hand at surfing! Witness all historical aspects of this town including ancient shrines and the Kotoku-in temple hike where you'll get to stand in awe of the Great Buddha statue. For a real treat you'll hop over to the small offshore island of Enoshima to visit little temples and enjoy the sunset from a selection of beachside bars.
6 -Hakone
You'll travel further down the coast via buses and trains to the beautiful town of Hakone. Hike along the Old Takaido path and then enjoy a lovely lunch near the Moto-Hakone cedar trees.  The next activity is site-seeing cruise with a little bit of a twist – climb aboard a PIRATE SHIP to cross the Lake Ashi's crystal waters, and on clear days, view the iconic Mount Fuji!  Catch a cable car to Owakundani, which is an active volcanic zone, famous for its black eggs which have been boiled in sulphuric water – a real delicacy! Enjoy these sulphuric waters another way with a dip in the outdoor baths.  Indulge in a sake tasting session in your post-bath kimono, and listen to an introduction about how this rice wine is produced.
7 – Kyoto, Arashiyama
Next, you're off to Kyoto via bullet train. You'll zoom across the country, covering around 273 miles in two hours, leaving plenty of time to experience Kyoto later in the day and evening. Later, you'll head across to the Arashiyama Monkey Park. It's a tough climb up, but at the top, you can feed monkeys or simply enjoy the panorama of Kyoto below.
After, you'll visit the Tenryu-Ji Temple, one of the most important Zen temples. With this, you'll walk around the temple's gardens, that were designed in the 14th century and are a real show-stopper.
Finally, you'll hike through Arashiyama's famous Bamboo Forest. In the evening you will have the option to attend a live geisha performance, which also features a tea ceremony, puppet show, traditional music and more. For something quintessentially Kyoto, you can also wander through Pontocho alley, full of lanterns and intimate wood-panelled restaurants – quietly sip on sake and look out for geishas wandering past!
8: Nara, Kyoto:
Start the day by wandering the hillside streets to the Fushimi Inari Shrine, famous for its thousands of vermilion torii gates, which leads into the wooded forest of the sacred Mount Inari.
Head to Nara- this treasure trove of cultural delights has a feast of highlights to gorge upon. We'll wander through Nara Park, the grounds of the Kofuku Temple, Himuro Shrine, Todai Ji.
That evening, it's time for ramen and Purikura. This is a classic Japanese experience – a photo booth with a whole array of gizmos. Then let your hair down and enjoy some Japanese karaoke with the rest of your group!
9 – Kyoto:
Take a breather and relax your vocal cords after the previous night's exertions – you have a free day to enjoy!
If you feel you have the energy, we would suggest taking a look at the majestic temples that adorn the Philosopher's path.
Alternatively, you could check out the International Manga Museum. Fancy ending the day with some art? Pick up Japanese calligraphy skills with a lesson from a master
10 – Kyoto and Hiroshima
Cycle to a Zen temple to take part in a spiritual mediation session led by a Buddhist monk. You'll go to the iconic Golden Pavilion at Kinkaku-Ji and circle the mirror pond to be mesmerised by its golden reflection. In the afternoon, you can cycle around the Imperial palace, before jumping on another bullet train bound for Hiroshima!
11 – Hiroshima
This modern city on Japan's Honshu Island was largely destroyed by the famous atomic bomb during World War II. The Peace Memorial Park commemorates the event that occurred in 1945 and explains how Hiroshima is now a world leader in striving for a peaceful and nuclear-free world. Take a train and short ferry trip to the Itsukushima shrine on Miyajima Island. Temple buildings were built on stilts to avoid upsetting the gods, and there is an enormous torii gate just offshore which can be reached at low tide. Enjoy a relaxing evening digesting what you've learned today.
12 – Osaka
You'll head off on another bullet train to Osaka, just in time for a traditional Japanese lunch of Ramen, sushi or yakitori in the foody district of Shinsaibashi. The famous Osaka castle is an iconic landmarks that played a major part in Japan's reunification during the 16th century. Stroll around the moat and don't get lost exploring the 9-level dungeon! During your free afternoon, explore Shinsaibashi before your final night out on the town. Tonight you'll sleep in a unique 'capsule hotel' which is an experience in itself!
13 – Osaka back to Tokyo
Enjoy a final brunch before catching your bullet train back to Tokyo for a 4.30pm arrival. Happy travelling if you're continuing to explore Japan and beyond!
Optional/suggested activities
• Japanese Bathhouse – approx ¥5oo per person (Tokyo), Shopping, have snacks on Hoppy Street or go for Happy Hour Beers (Tokyo)
• Night out in Roppongi – approx ¥1000 if you go to a club with an all you can drink fixed fee from 7-11pm (Tokyo)
• Chanko-Nabe lunch – approx ¥1500-¥2000 per person (Tokyo)
• Cat Cafe MoCHA – Basic: ¥200/1o min + plus tax, Unlimited drinks: ¥350 + tax, Cat treats: ¥500 + plus tax (Tokyo)
• Maid Cafe – Entry fee: ¥500/60min excluding tax, food and drink aprox. ¥1500-¥2500 per person (Tokyo)
• Street Kart – $99 and must be booked before trip (Tokyo)
• Night out in Golden Gai (Tokyo)
• Tokyo Sumo District experience $80 (Tokyo)
• Robot Show – must be booked before trip (Tokyo)
• Japanese Onsen & have dinner nearby (Hakone)
• Amazake – approx. ¥500 per person (Hakone)
• Walk along Pontocho Alley – all restaurants here are very expensive and need to be booked ahead, so we suggest having dinner nearby (Kyoto)
• Calligraphy lesson $30 (Kyoto)
• Ramen dinner at Kairikiya – approx. ¥1000-¥1500 per person (Kyoto)• Karaoke – approx. ¥1000-¥1500 per person (Kyoto)
• O Okonomiyaki at Okonomiyaki village – approx ¥1500-¥2000 per person (Hiroshima)
• Ekiben – lunch (Osaka)
• Shopping in Shinsaibashi and Namba areas near Capsule Hotel (Osaka)
• Visit Tsutenkaku, an iconic tower famous for its neon lights (Osaka)
• Night out in Osaka (Osaka)
• Takoyaki Dinner (Osaka)
• Arcade challenge (Osaka)
• Karaoke bar (Osaka)
• Nightclub (Osaka)
All accommodation is included for the duration of the tour.
Hostels, guesthouses and one night in a traditional Ryokan.
Expect to share a room with 4-8 people, depending on where you are staying. We cannot guarantee same- sex dorm rooms in high season but will try our best to accommodate any requests.
If you would like to have your own room, you can pay a supplement for this.
You will need to budget money for food.
Your tour leader will take you to good local restaurants each day where you will be able to eat cheaply.
You are also welcome to choose your own restaurants.
Airport: Haneda Airport (HND)/ Narita International Airport (NRT)
Arrival day: Day 1 at 10:00.
Departure day: Day 13. Tour finishes after brunch. You can either travel back to Tokyo or fly out of Osaka. Train arrives at 16:30 in Tokyo.
Pre-tour and post-tour accommodation is available (from £45)
Access to your own personal 'My Oyster' account – our online portal where you can find out much more about the program and manage your booking
Dedicated contact time with an experienced destination manager to discuss the project, answer any of your questions and for us to find out more about you
Help and advice from our UK office before arrival and whilst you are away
In-country support
Pre-departure information covering medical, safety and project advice
Gold level, 24/7 Pharos crisis management and incident support cover
Financial protection: ATOL (if we book your flights); IPP (if we don't book your flights)
Thorough orientation on arrival
Accommodation (see the 'accommodation' section above for details)
Advice on visa requirements
Oyster plants a tree in Africa with TreeAid to help reduce the impact of global carbon emissions
English speaking tour leaders
Domestic travel expenses
All included activities
All taxes and charges
Flights – as an ATOL bonded company, Oyster can book flights for you
You need a valid passport that meets the requirements of the country you will be travelling to
Insurance (covering your time with Oyster and any planned independent travel)
Any costs associated with changing your return flight date if you need to
Independent travel costs
Home country travel costs
Spending money for additional trips, food and entertainment
All optional activities – highly recommended!
Cost of food and drink
You will be given a more detailed Itinerary closer to your departure.
If you are healthy and looking for an adventure this tour is the perfect choice for you. You can join this tour if you are 18 years or older.
Many different types of traveller join this tour. What everyone has in common is their excitement for learning more about and travelling in Japan.
Each tour has an enthusiastic and knowledgeable leader, who is fully trained and English speaking. All leaders will have fully equipped first aid kits.
Backpacking trips to Japan are very popular. Mixing ancient temples with modern technology, traditional cuisines with vibrant shopping malls, Japan has so much to offer all types of traveler.
What makes this backpacking Japan tour stand out is the price! The team on the ground are country experts and have created this budget tour to make Japan accessible to all. You will use Japan's efficient and modern public transport throughout the trip – which not only keeps the costs down, but will also give you a more authentic traveling experience. Budget travel in Japan is the way forward.
This group backpacking tour ensures you will not only visit the 'unmissable' tourist sites, but you will also head off the beaten track to see and experience the lesser known parts of Japan. This short trip to Japan provides a great stop off point if your plan is to travel the world on your gap year of career break.
Book your trip with Oyster today and start looking forward to your travel to Japan!
Typically, 20 people take part in each tour.
Yes! There are laundry facilities at the accommodation along the route. Your tour leader will tell you when it is best to do laundry, based on when there is enough time in one place for laundry to dry.
You'll be able to store your luggage in your room. There are safes in the room and a safe for valuables at reception.
Japan is a fantastic country to travel to year round. August is the hottest month (approx 26 degrees Celsius) and January is the coldest (5 degrees Celsius). Cherry blossom season begins in April.
On arrival in Japan, you will receive a tourist visa so no need to organise anything in advance. Visas are available to 60 countries.
At the time of writing, there are no vaccinations required for entry into Japan. However, you should always visit your GP or local travel clinic to find the most up to date information about vaccinations.
For any information related to Covid-19, please see the Fit for Travel website or the UK government's travel advice page for Japan.
Japan has many modern medical facilities and hospitals and you will always have access to medical help while you are on the tour.
You can join this tour as a solo traveller, as a couple, pair or group.
Throughout your tour, you will be able to communicate with your tour leader.
Staff at Oyster's head office and in-country will be responsible for your safety and welfare while you are on the tour. This will start from the moment you arrive at the meeting point. Before and after these times, you will be outside Oyster's responsibility and should make sure that you act safely and avoid risk. This is also true if you choose to leave the project during your time off. We will give you plenty of guidance and advice about this.
All bedding is provided at the hostel. Towels are not supplied but can be rented from the hostel reception for a small fee.
There are plenty of ATMs so accessing money in Japan is straightforward. We advise that you let you bank know in advance that you are travelling.
This is completely dependent on your own budget and spending habits, however your money in Japan should go further than it does at home. However, a simple dish will cost £2 ($3). A recommended budget would be £15-20 ($20/25) a day for food and drink.
Each evening, the leader will offer to lead a group meal and will take you to a good, hygienic restaurant. However, if you would prefer to go somewhere different, you can. Leaders will suggest places for lunch and breakfast.
Yes, there are so many different options to choose from. The tour leader will be able to help direct you to suitable restaurants. Vegetarians can also be catered for.
Non-Japanese SIM cards may not work, but local SIM cards can be purchased. Alternatively, you can use Wi-Fi.
In Japan, the plug outlets are the same as they are in Northern America (2-pin). However, the voltage is 100 Volts, which is different from Europe (230V) and Northern America (120V).
Other adventures like this