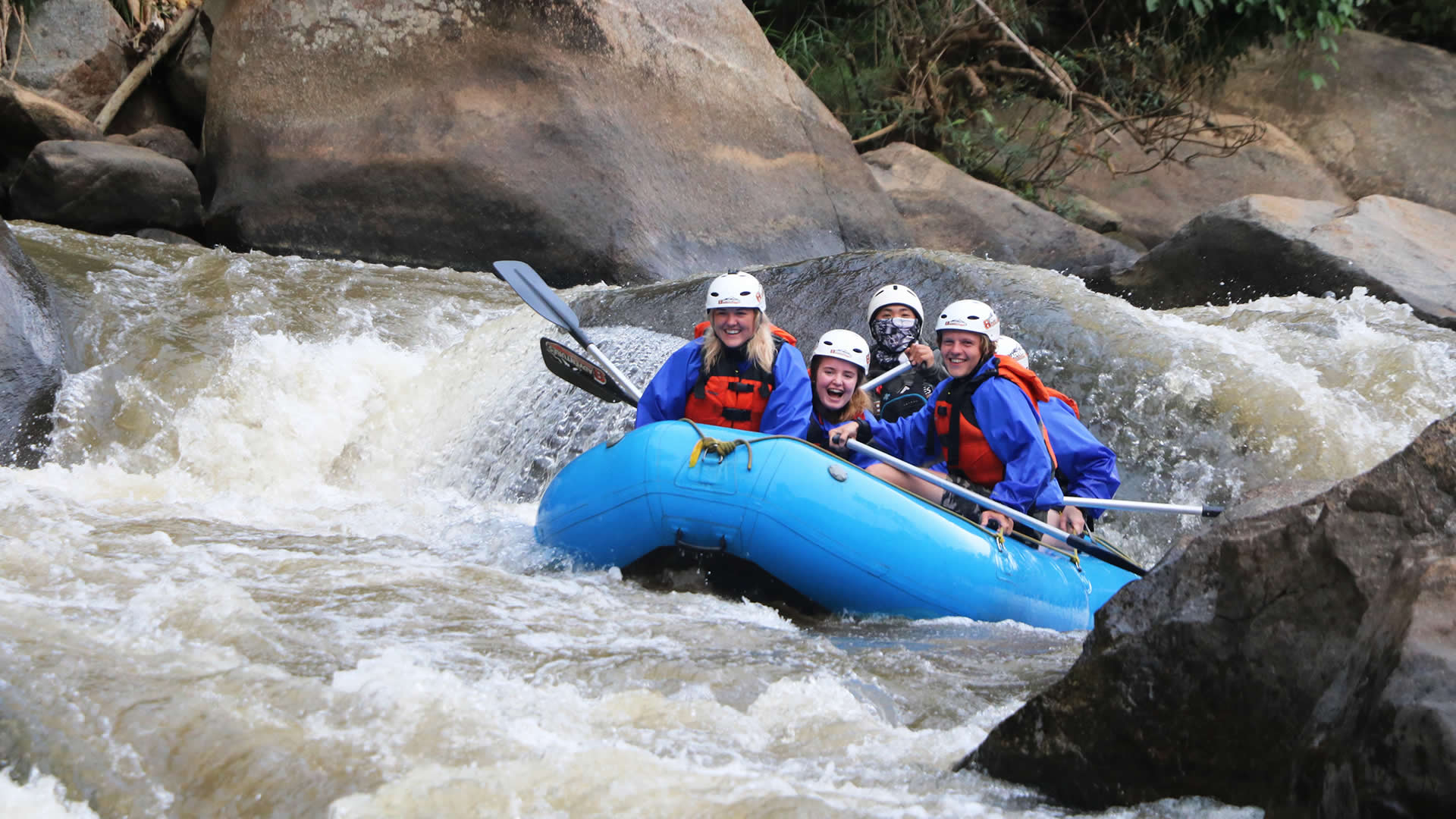 See the very best of South East Asia on this affordable backpacking tour. As well as the must-see highlights, spend time exploring the less-known parts of these amazing countries. Jam-packed with activities, there is something for every type of traveler.
Duration: 13, 20 or 31 days
Dates: Available tour dates
Start time: Dependent on duration. Meet up 17:00 on day 1 or 21:30 on day 12
End time: Day 12 at 12:00 or day 31 at 16:00
Eligibility: General level of fitness required
Age: 18-35
Meeting other travelers, looking to explore South East Asia
Backpacking Thailand, Laos, Cambodia and Vietnam without breaking the bank
Taking part in activities – such as zip lining and quad biking!
Eating your fill of delicious South East Asian cuisine
Exploring the major sites and cities of this region
We offer three tour options of South East Asia, dependent on the time you have available. Choose from:
The full tour – 31-days from Thailand to Thailand
The first half of the tour – 13-days from Thailand to Vietnam
The second half of the tour – 20-days from Vietnam to Thailand
Want to travel to South East Asia and see the best these amazing countries have to offer? Look no further. This backpacking tour is affordable, exciting and it is the perfect way to spend two-weeks, or more, of your holiday. Led by experienced tour leaders, with local knowledge, this tour is full of sites, experiences and activities. The on-the-ground team have used their local knowledge to create this exciting adventure. To make your experience even more personal, check out the optional activities that you can add to your itinerary to make it truly memorable.
On arriving in Thailand, you will begin your tour in Bangkok.
Day one – Bangkok, Thailand
Begin your trip in lively Bangkok and meet your group and leader at 5pm
Soak up the views on a rooftop bar
Board the sleeper train to Chiang Mai
Optional activities: choose to arrive two days earlier and take the riverboat cruise, visit the magnificent Grand Palace and Wat Phra Kaew – home to the emerald Buddha –  or experience the legendary nightlife
Day two – Chiang Mai, Thailand
Wake up to rural views in Chiang Mai, the 700-year-old cultural capital of Thailand
Visit the local elephant jungle sanctuary (entry included)
Relax by the hostel pool before taking in the bustling night markets and listening to live music
Optional activities: join a cooking class to learn how to make delicious Thai food, Muay Thai Show
Day three – Chiang Mai, Thailand
The perfect day for those who love adventure – there are plenty of adventure options to choose from.
Spend the evening exploring the night markets
Optional activities: for adrenaline junkies – try the zip line, drive a quad bike or white water raft down the Mae Taeng River
Day four – Chiang Mai, Thailand
Cycle through peaceful countryside in the northern Thai villages
Visit Wat Doi Suthep Temple
Relax or explore on your free afternoon
Head to 'Zoe in Yellow' – an infamous Chiang Mai bar
Optional activities: Wat Doi Suthep Temple visit, night out
Day five – Chiang Dao, Thailand
Gaze at the spectacular views over the countryside
Arrive at the Tree House, where you will be eating dinner and sleeping
Trek to stunning Waterfalls near the Lahu Village
Day six – Chiang Kong, Thailand
Cycle through stunning countryside before lunch
Head back to Chiang Mai to head to Chiang Kong where you will stay over night
Day seven – Pak Beng, Laos
Jump back on board the slow boat to beautiful Pak Beng where you can try 'buffalo curry' – a delicious local curry
Day eight – Luang Prabang, Laos
Board the slow boat again and head towards Luang Prabang – an iconic UNESCO Heritage city
Spend the evening wandering around Hmong Night Market
Day nine – Luang Prabang, Laos
Volunteer at Big Brother Mouse Centre by helping young people to improve their conversational English skills
Spend the afternoon at one of the biggest waterfalls in the area – Kuang Si Waterfalls to hike and swim
Optional activities: volunteering, learning about rice farming at the Living Rice Farm
Day ten – Vang Vieng, Laos
Swim in the amazing Blue Lagoon 2
Day eleven – Vang Vieng, Vietnam
Bike to Pha Ngern view point to soak up your surroundings
Swim in the amazing Blue Lagoon, go tubing – a highlight for many backpackers – or have a go at rock-climbing
Optional activities: Rock Climbing, tubing or cycling trip
Day twelve – Hanoi, Vietnam
Fly into Hanoi and take the bus from the airport to the accommodation
Optional activities: Ho Chi Minh Mausoleum and learn about Vietnam's political history, visit Thang Long, built in the 11th Century and explore the Temple of Literature
For those starting the 20-day Vietnam and Cambodia leg of this tour, you will meet the rest of the group (those on the full 31-day tour) at the accommodation at 18:30
Optional activities: Head out for an epic bar crawl through the city's Old Quarter, Ho Chi Minh
Day thirteen – Hanoi, Vietnam
Visit the Hoa Lo Prison and learn about the history of the city (entry included)
Eat Vietnamese culinary delights on a street food tour at the Old Quarter
In the afternoon, spend time at Hoan Kiem Lake
You could also spend your evening at the Hanoi Opera House or watching a Water Puppet Show
Optional activities: Street food tour, Hoan Kiem Lake, Opera and Water Puppet Show
If you are booked onto the 13-day tour – your journey ends here. As there is so much to see in Hanoi, we recommend organizing your return journey or onward travel for the evening.
Day fourteen - Hanoi, Vietnam
Visit the Ho Chi Minh Mausoleum and the Imperial Citadel for a culture-packed morning (entry included)
Enjoy an optional group lunch before a free afternoon to explore or relax
Day fifteen - Halong Bay, Vietnam
Head to paradise – Halong Hideaway tour (tour costs included)
Eat lunch on the boat before jumping into the sea
Stay on a private backpacking island and eat a BBQ dinner with sea views
Day sixteen - Halong Bay, Vietnam
Kayak in the morning before lunch (included)
In the afternoon, head back to Hanoi to freshen up before hopping on a bus to Phong Nha
Day seventeen - Phong Nha, Vietnam
Arrive early in the morning
Bike to Bong Lai Village, there will be a chance to play volleyball
For the afternoon, relax by the pool before a night of karaoke (included) – this is dependent on trippers preferences
Optional activities: bike tour, relax by pool
Day eighteen - Phong Nha, Vietnam
Opt to have a free day or head to the National Cave Park – Paradise Cave and Dark Cave
Optional activities: National Cave Park Tour
Day nineteen - Hoi An, Vietnam
Jump on an early bus to Hoi An arriving at lunch
Tour the Old Town – including the Japanese Bridge
Optional activities: Tour of Old Town, Experience a night out in Hoi An
Day twenty - Hoi An, Vietnam
In the morning you could go hop on board a coconut basket boat and head into the farmlands for a tour
Alternatively, you could do a 1-day tour of Ba Na Hills (Vietnamese Disneyland) home of the world's longest cable car and the Golden Bridge, held up by two giant stone hands!
The third option, is to spend the morning on the beach.
Optional activities: coconut basket boat tour, Ba Na Hills tour, beach visit
Day twenty one - Saigon, Vietnam
Arrive in Ho Chi Minh City (often referred to as Saigon) mid morning
Take part in a walking tour of Saigon
Head to the incredible food market at Ben Thanh before heading to a rooftop bar to start a bar crawl
Optional activities: walking tour, food market, bar crawl
Day twenty two - Saigon, Vietnam
Explore the Cu Chi Tunnels and explore Vietnam's political history
Head to the War Remnants Museum
Optional activities: Cu Chi Tunnels and War Remnants Museum
Day twenty three - Ha Trien, Vietnam
Prepare for an early rise to head to the Mekong Delta
In the morning, you will arrive at Can Tho to see the floating markets before stopping for lunch
Explore the Tra Su Forest, accessed by motorboat, before heading back to the accommodation for dinner (all food and tour costs included)
Day twenty four - Koh Rong, Cambodia
Depart Vietnam to cross the Cambodia Ha Tien Border
Drive to Sihanoukville for lunch before boarding a boat to Koh Rong
You will have a free evening to relax in one of the many beach bars or explore
Day twenty five - Koh Rong, Cambodia
Spend the morning scuba diving – you can opt for a beginners course or a fun dive (for those who are PADI qualified)
The rest of the day is free to relax and sunbathe
Optional activities: Scuba diving
Day twenty six - Koh Rong, Cambodia
Board a boat that will take you on an island hopping adventure (tour and food included)
The tour will stop at different spots, allowing you to fish, swim and camp (if the weather permits)
Camping will involve everyone getting stuck in – helping to cook, collect fire wood and set up hammocks
Day twenty seven - Phnom Penh, Cambodia
After a night camping, head back to the port and take a boat to Sihanoukville
Board a bus to Phnom Penh, Cambodia's exciting capital city
Day twenty eight - Phnom Penh, Cambodia
Tour the S21 Prison to learn about Cambodia's harrowing past (tour included) followed by an optional visit to the Killing Fields where an audio guide is available
Visit the Grand Palace in the afternoon
Optional activities: Killing Fields and Grand Palace
Day twenty nine - Siem Reap, Cambodia
Arrive by bus and visit local villages around Siem Reap – feeling brave? Take part in the Fear Factor Challenge and try some foods that were prominent during the Khmer Rouge
You will then have the a free evening
Day thirty - Siem Reap, Cambodia
Wake up early to head to Angkor Wat for an incredible sunrise view (included)
Head to Pub Street – the legendary backpacking hub for the evening
Optional activities: Pub Street
Day thrity one - Bangkok, Thailand
For your final leg, travel by bus to Bangkok, arriving at 16:00 at Kho San Road.
This is the end of the tour so say goodbye to your fellow travelers and either return home or continue with your own independent travel.
All hostel accommodation is included for the duration of the tour.
You will be staying in thoroughly checked hostels, that are clean and comfortable, throughout the tour.
All accommodation has been selected for its character. The entire group will be staying in the same accommodation and you can expect to share a room with 4-8 people, depending on where you are staying.
If you would like to have your own room, you can pay a supplement for this.
A full list of accommodation will be provided prior to departure.
Pre and post- tour accommodation is available – £12/night for dorm room and £36 per night for a twin or double (£18 per person)
Food is not included in the price. Each evening, your tour leader will lead a group meal and will take you to a good, hygienic, local restaurant. However, if you would prefer to go somewhere different, you can.
Leaders will suggest places for lunch and breakfast.
Fancy volunteering at an elephant and wildlife sanctuary before?
Airport: Suvarnabhumi Airport (BKK) or Hanoi Airport (HAN)
Arrival day:
For those starting in Bangkok, you will meet the group on day 1 at 17:00
For those starting in Hanoi, you will meet the group on day 12 at 21:30
Departure day:
For those departing in Hanoi, you will finish on day 13. Check out is 12:00. There are optional activities in the morning and a group lunch.
For those on the 20 or 31-day tour, you will finish at 16:00 at Kho San Road
Pre and Post-tour accommodation is available (£20 per night)
Access to your own personal 'My Oyster' account – our online portal where you can find out much more about the program and manage your booking
Dedicated contact time with an experienced destination manager to discuss the project, answer any of your questions and for us to find out more about you
Help and advice from our UK office before arrival and whilst you are away
In-country support
Pre-departure information covering medical, safety and project advice
Financial protection: ATOL (if we book your flights); IPP (if we don't book your flights)
Thorough orientation on arrival
Accommodation (see the 'accommodation' section above for details)
Advice on visa requirements
Oyster plants a tree in Africa with TreeAid to help offset your carbon emissions
A combination of Western and local tour leaders (all English speaking)
Internal travel – train, boat and internal flight
All included activities
All taxes and charges
Flights – as an ATOL bonded company, Oyster can book flights for you
You need a valid passport that meets the requirements of the country you will be travelling to
Insurance (covering your time with Oyster and any planned independent travel)
Any costs associated with changing your return flight date if you need to
Independent travel costs
Home country travel costs
Spending money for additional trips, food and entertainment
All optional activities – highly recommended!
Cost of food and drinks
A more detailed day-day itinerary will be supplied on booking. The exact itinerary is subject to slight changes and variations depending on the weather and exactly what is going on at the time in these countries.
You need to be over 18 to do this tour. The upper age limit is 35. If you are healthy and ready for adventure, this tour is perfect for you.
This tour attracts many different types of traveler. What everyone has in common is their desire to learn more about South East Asia.
Each tour has an enthusiastic and knowledgeable tour leader. You will have a combination of Western and local leaders. All leaders will have fully equipped first aid kits and are English speakers.
On the tour, there are some optional activities that are mentioned in the itinerary. These prices are approximate:
Thai cooking class – £20/$27
Muay Thai kickboxing match – £15/£18
Zip lining, drive a quad bike, or go rafting down the Mae Taeng River – £25/£34 each
Wat Rong Hun entry – £1/$1.50
Rice Experience farm – £26/$32
Tubing -£8/$10
Rock climbing – £1/$2
Hao Lo Prison – £3/$3.50
Ho Chi Minh Mausoleum and Museum – £1.50/$2
Ancient Hanoi Citadel, used by Imperial emperors – £1.50/$2
Bike to Bong Lai Village – £4/$5
Relaxing by the pool in Phong Nha – £2/$2.50
National Park Tour, Phong Nha – £36/$47
1-day Ba Na Hills Tour – £50/$63
Cu Chi Tunnels – £9/$10.50
War Remnants Museum – £1.50/$2
Scuba Diving – £64/$80
Killing Fields – £2.50/$3 (audio guide £4/$5)
Grand Palace – £8/£10
Typically, 20 people take part in each tour.
Yes! There are laundry facilities at the accommodation along the route. Your tour leader will tell you when it is best to do laundry, based on when there is enough time in one place for laundry to dry.
You'll be able to store your luggage in your room. There are safes in the room and a safe for valuables at reception. There will be occasions when your luggage will be kept in storage facilities at railway stations.
The climate is warm all year round in South East Asia. The cold season is from December-February with temperatures ranging from 15-30C. March-June is the hottest time of the year with temperatures between 30-45C, and the rainy season is between July-November when it will be around 25-35C.
You can organize your visa on arrival in Thailand, Laos, Vietnam and Cambodia so no need to get them in advance. This is the case for most countries, but do check your country's status before departure.
To get a visa in Laos, you will need passport photo and $35 ($36 for some weekends and holidays). For a visa into Cambodia, you will need to bring a passport photo and $36. The costs may vary depending on your nationality.
For the majority of nationalities, you can get a free tourist visa on arrival in Thailand and Vietnam.
You should always visit your GP or local travel clinic to find the most up to date information about vaccinations.
There are many modern medical facilities and hospitals and you will always have access to medical help while you are on the tour.
Whether you are a solo traveler or traveling as a couple, pair or group, you can join the tour.
Throughout your tour, you will be able to communicate with your tour leader. Your tour leader will not accompany you for all activities, but is contactable at all times. For each leg, you will have a different English-speaking tour leader, who is an expert in that area.
Staff at Oyster's head office and in-country will be responsible for your safety and welfare while you are on the  tour. This will start from the moment you arrive at the meeting point. Before and after these times, you will be outside Oyster's responsibility and should make sure that you act safely and avoid risk. This is also true if you choose to leave the project during your time off. We will give you plenty of guidance and advice about this.
Upgrades to a single or double room can be requested.
31 days: Double room is £229 ($279) per person and £399 ($519) for a single room upgrade.
20 days: Double room is £145 ($179) per person and £299 ($379) for a single room upgrade.
13 days: Double room is £159 ($199) per person and £179 ($219) for a single room upgrade.
All bedding is provided. Towels are not supplied but can be rented from the hostel reception for a small fee.
There are plenty of ATMs so accessing money in Thailand, Laos, Vietnam and Cambodia is straightforward. We advise that you let you bank know in advance that you are traveling.
We recommend a budget of £5-10/ $7-15 for food and drink each day .
Yes, there are so many different options to choose from. The tour leader will be able to help direct you to suitable restaurants.
You will be heading to some remote areas where, depending on your network, your phone may not work, but you can get a local SIM or use WiFi for internet.
GMT +7 in Thailand, Laos, Vietnam and Cambodia.
Most Asian electrical outlets are 220V. They typically use the US standard plug shape.
13-day Bangkok to Hanoi tour – you will start on day 1 and end on day 13
20-day Hanoi to Bangkok tour – you will start on day 12 and end on day 31
31-day Bangkok to Bangkok tour – see available dates below:
| | |
| --- | --- |
| START DATE | END DATE |
| 6th January, 2020 | 5th February, 2020 |
| 13th January, 2020 | 12th February, 2020 |
| 20th January, 2020 | 19th February, 2020 |
| 3rd February, 2020 | 4th March, 2020 |
| 10th February, 2020 | 11th March, 2020 |
| 17th February, 2020 | 18th March, 2020 |
| 24th February, 2020 | 25th March, 2020 |
| 9th March, 2020 | 8th April, 2020 |
| 16th March, 2020 | 15th April, 2020 |
| 23rd March, 2020 | 22nd April, 2020 |
| 30th March, 2020 | 29th April, 2020 |
| 6th April, 2020 | 6th May, 2020 |
| 13th April, 2020 | 13th May, 2020 |
| 20th April, 2020 | 20th May, 2020 |
| 4th May, 2020 | 3rd June, 2020 |
| 11th May, 2020 | 10th June, 2020 |
| 18th May, 2020 | 17th June, 2020 |
| 25th May, 2020 | 24th June, 2020 |
| 1st June, 2020 | 1st July, 2020 |
| 8th June, 2020 | 8th July, 2020 |
| 15th June, 2020 | 15th July, 2020 |
| 22nd June, 2020 | 22nd July, 2020 |
| 29th June, 2020 | 29th July, 2020 |
| 6th July, 2020 | 5th August, 2020 |
| 13th July, 2020 | 12th August, 2020 |
| 20th July, 2020 | 19th August, 2020 |
| 27th July, 2020 | 26th August, 2020 |
| 3rd August, 2020 | 2nd September, 2020 |
| 10th August, 2020 | 9th September, 2020 |
| 17th August, 2020 | 16th September, 2020 |
| 3rd September, 2020 | 3rd October, 2020 |
| 17th September, 2020 | 17th October, 2020 |
| 5th October, 2020 | 4th November, 2020 |
| 12th October, 2020 | 11th November, 2020 |
| 19th October, 2020 | 18th November, 2020 |
| 26th October, 2020 | 25th November, 2020 |
| 2nd November, 2020 | 2nd December, 2020 |
| 9th November, 2020 | 9th December, 2020 |
| 16th November, 2020 | 16th December, 2020 |
Other adventures like this