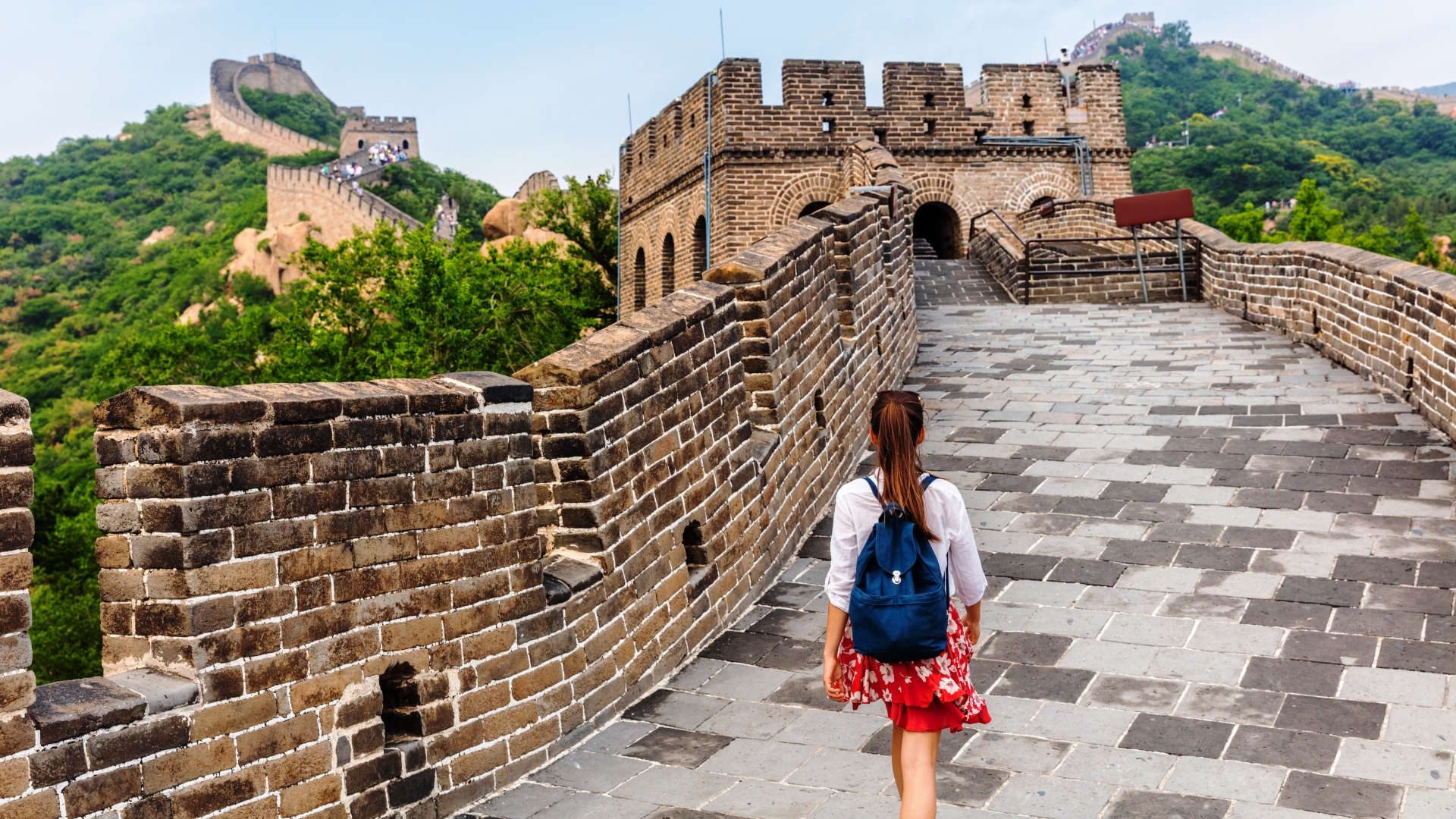 A 6 month China experience for pre and post university students that combines a TEFL course, teaching English in China with exciting possibilities of learning Mandarin, Tai Chi and calligraphy – the best way to truly understand China and be much more than a tourist.
We are aware of the current situation relating to the Coronavirus in China and are monitoring this closely. We are following FCO advice and not currently sending people to China until the advice is updated. Participants currently in China are a long way from Wuhan and not affected. Please contact us if you would like to discuss your plans for China. We hope to be sending people to China again as of the summer.
Duration: 6 months
Dates: 23rd August 2020 – 15th January 2021. Start dates available every February and August. Book at least 3 months in advance
Eligibility: Native English speakers
Age: 18-35
Obtaining valuable teaching experience required to complete your internationally recognised TEFL
Challenging yourself with Mandarin lessons, and trying your hand at Tai Chi and calligraphy
Feeling highly valued by hard-working Chinese students, and becoming part of a welcoming school community
Receiving excellent training and feeling fully-supported before departure and during your time away
Enjoying a tour of Beijing's sites – including the Great Wall of China
Engaging with young people from a completely different culture and make new friends along the way
This is a fantastic experience for dynamic and ambitious young people, to enhance their knowledge, teach young people English and gain a true understanding of the culture of this vast and rapidly developing country. When you arrive in China, you will join your group in Beijing for 5 nights. During this time, you will get to see the iconic sites of the city, including a visit to the Great Wall of China and take part in 20 hours' English language teaching methodology for tailored for teaching in China.
You'll also take part in supervised practice teaching in a real school with real students, learn about teaching in China, try Tai Chi and learn some Mandarin and calligraphy. After your completion of the practical TEFL course in China, you will be transferred to your placement school where you will live and teach English for 4.5 months, being paid as an intern teacher.
Increased tourism and a developing relationship with the west have given rise to a huge demand in China to speak English, the principal international language. Native speaking English teachers are valued highly by young Chinese students, who have a strong desire to learn.
Excellent training and support is provided. No prior experience of teaching is necessary, but applicants will need to complete a 120 hour online TEFL course at home before arriving. The price of the program includes the online TEFL component. If you already have one, let us know at the time of application. The practical component is completed in country.
The induction is carefully planned to prepare you to get involved in school life, relate to local people, feel part of the community and learn Mandarin. Exciting group trips and activities are very much part of the project.
Before you travel, you will be provided with a full briefing by Oyster. At Beijing airport, you will be met and given a 5 night orientation and induction, which will ensure you're prepared for living and working in China. Among other things, this will include a 1 day tour of Beijing – including a trip to the Great Wall of China.
Positions exist in kindergarten/ pre-school, primary and secondary schools and we do our best to place you where you want and always with at least one other teacher. At the same time, you will be supported by local staff and Oyster throughout your stay.
Oyster's aim is to help make your transfer to a completely different culture as seamless as possible.
On arrival, you will share a room in university accommodation during the 5 night orientation.
When you are working at the school, you will receive accommodation, Mandarin classes and a monthly allowance.
Shared accommodation at your school is in an apartment with fellow participants.
You will have your own room. A TV, kitchen and bathroom are included.
All accommodation has to reach a standard laid down by our partners in Beijing.
Food is included throughout the 26 weeks.
You'll receive breakfast, lunch and dinner each day during the 5 day orientation.
3 meals a day are provided on campus while you are teaching.
Want to tour China before or after your internship?
We are excited to offer 16 or 25 day tours of China that can be easily added to the start or end of your trip. For more information, click here.
What do I need to know regarding Covid-19?
We have been working closely with our partners in China and keeping an eye on the current travel restrictions to ensure we have the most up to date information and give you peace of mind. Please see the links below for more information.
Program updates:
We expect there to be small changes to the program in order to accommodate restrictions in place at the time of travel. These may include:
social distancing
accommodation amendments
private transfers instead of groups
proof of a negative Covid-19 test upon arrival (taken within 72 hours before travel)
wearing masks and other protective clothing
extra health and safety measures
Depending on when you are due to travel, some of these may become obsolete. We advise to be prepared for a quick turnaround of travel arrangements and having back up options should changes need to be made.
Airport: Beijing International Airport (PEK)
Arrival day: August 15th 2019 (departures available every February and July)
Departure day: January 15th 2020

You will get to know our partners in Beijing very well on the 5 night orientation and induction that that they run for you in Beijing.  They offer 24/7 help.  Additionally, there will be a local representative close to your school to be a support to you as well as a named, English speaking, contact point on the school staff.
Access to your own personal 'My Oyster' account – our online portal where you can find out much more about the program and manage your booking
Dedicated contact time with an experienced destination manager to discuss the project, answer any of your questions and for us to find out more about you
Help and advice from our UK office before arrival and whilst you are away
In-country support
Pre-departure information covering medical, safety and project advice
Gold level, 24/7 Pharos crisis management and incident support cover
Financial protection: ATOL (if we book your flights); IPP (if we don't book your flights)
Thorough orientation on arrival
Accommodation (see the 'accommodation' section above for details)
Advice on visa requirements
Oyster plants a tree in Africa with TreeAid to help reduce the impact of global carbon emissions
Met personally at Beijing airport and transfer to the induction in Beijing
4.5 months teaching internship
Access to online 120 hour TEFL qualification
Transport to school
5 night orientation and induction including welcome metal, Chinese lessons and cultural activities
Teaching practice and lecture on teaching in China
1 day tour of Beijing's top attractions
Mandarin lessons (2 hours a week while at your school)
All food at school provided free of charge
A monthly allowance 2000RMB (approx £250) and a completion bonus between 2500 – 4500RMB (approx £300-£500)
Medical check paid for by the school
Welcome home pack
Certificate of Recognition (on request)
References (on request)
Flights – as an ATOL bonded company, Oyster can book flights for you
You need a valid passport that meets the requirements of the country you will be travelling to
Insurance (covering your time with Oyster and any planned independent travel)
Any costs associated with changing your return flight date if you need to
Independent travel costs
Home country travel costs
Spending money for additional trips, food and entertainment
A police check or DBS
Visa cost – £370
China has to be seen to be believed. It's an incredibly dynamic country with an ancient history that only opened its borders to visitors relatively recently. Right now is a very exciting to time to live for 5-6 months in one of the world's fastest growing nations. We defy anyone to visit and not be bowled over by it. In China, foreigners are warmly welcomed, particularly if they can help teach English to the 350 million Chinese English students.
Knowledge of China and Mandarin gives a real international flavor to any Resume or CV and will leave you with a desire to learn more. This project will challenge you, but the good support and training in place will enable you to give your best as an English teacher. At the end, you will have a TEFL qualification that you could use to travel and work in other South East Asia countries. Alternatively, you could continue to explore the many other parts of this extensive and diverse region.
Departures are the between the end of July and the beginning of August and between January and February
China is such a vast country spanning thousands of miles that the climate varies radically. China has a variety of temperature and rainfall zones, including continental monsoon areas. In winter most areas become cold and dry, in summer hot and rainy.  It is always best to check the weather before you go, when you know exactly where you will be based.
During the first month, you will need some money to pay for drinks, souvenirs and any extras (food is included). Once you are working in a school, you will get paid some money on top of your food provisions which will cover any extra payments.
ATM's are widely available in the city and visa cards are widely accepted so you will not need to take a huge amount of cash with you.
You will need a Police Check for immigration purposes. You will receive a special invitation letter from your employer (costs £370) which you can then use to apply for a visa (costs £80) from your local Chinese embassy before you go. We will offer advice throughout the process.
Most of our volunteers are independent travelers and you will become part of a group of people from around the world here. It is fine to travel with friends or as part of a small group too however- more the merrier!
You should visit your doctor or travel nurse to find out what vaccinations you will need. Your routine vaccinations will need to be up to date, it is likely that you will need Hepatitis A and Typhoid, and possibly Hepatitis B, Yellow Fever, Malaria and Rabies. You should follow your doctor's advice.
There is a hospital in the town where you will be staying.
China is a safe country, just be sure to follow advice given by Oyster and the local representatives and use your common sense.
You will live in a town so will be close to all amenities. The public transport is great in China, with even small cities having undergrounds. Many of the smaller cities in China still have over 10 million inhabitants. This means that you will often have a 2 hour commute to the city center. However, outside the center, there is still a lot gong on!
Accommodation at your school is in an apartment with fellow participants. A TV, kitchen and bathroom are included. All accommodation has to reach a standard laid down by our partners in Beijing.
Dining in China is a big affair and eateries come in every shape, size and type. Meals generally involve a selection of dishes for everyone to share involving meat, vegetables, rice and plenty of tasty choices.
You will be provided with a full orientation on arrival. Throughout the orientation course, you will be supervised by the in-country staff. When working, you will have a member of staff at the school that you can discuss issues with, Day to day, you will work independently in the school.
Staff at Oyster's head office and in-country will be responsible for your safety and welfare while you are at the project. This will start from the moment you are picked up from the airport until the time you leave your school. Before and after these times, you will be outside Oyster's responsibility and should make sure that you act safely and avoid risk. This is also true if you choose to leave the project during your time off. We will give you plenty of guidance and advice about this.
WiFi is available throughout the project..
There is good service in China but phoning/texting from international phones can cost a lot of money. A good option is buying a local phone if you will be there for a longer period of time.
China is 8 hours ahead of GMT (GMT +8).
A 3-pin Chinese plug adapter.
China is a huge country with a fantastic range of activities to try and places to explore. It is particularly fun to eat out in a range of places and its always good to practise your Mandarin a bit!
You will have, on average, 35 contact hours a week. You will be teaching for 10-15 hours a week. You will get plenty of time to plan your lessons.
Other adventures like this