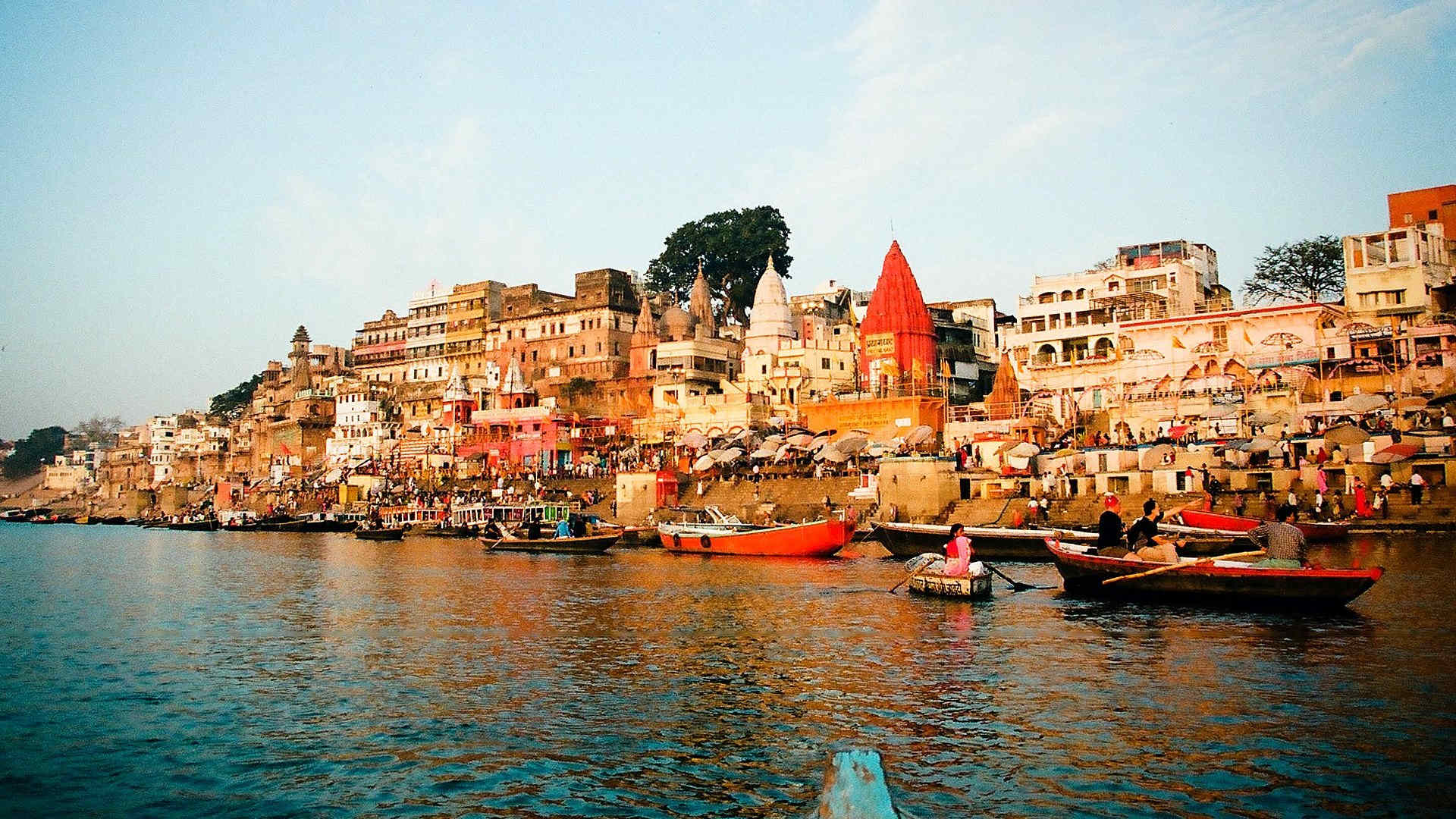 India – a country that epitomizes excitement and adventure! Travelers flock to India every year and now it's your opportunity to see what all the fuss is about. Take part in our affordable backpacking tour of India and experience for yourself the wonders of this extraordinary country.
Duration: 13 or 18 days
Dates: Available tour dates
Start time: Meet up 19:00 on day 1
End time: Day 13 or day 18 (depending on length of trip) – late flight recommended
Eligibility: General level of fitness required
Age: 18-39
Interested in touring other locations? We also have tours available in Japan and South East Asia! 
Taking part in fun, unique activities
Traveling with a group of travelers – perfect for solo travelers
Awakening your senses and indulging in authentic Indian food
Seeing iconic sites, like the Taj Mahal
Having an amazing time in India, without the stresses and costs of independent travel.
New Delhi Railway Station, Bhavbhuti Marg, Kamla Market, Ajmeri Gate, New Delhi, Delhi, India
'Apologies for the late reply as the tour is non-stop at the minute… it's been a fab tour so far and it's really introduced me to the sights, sounds and tastes of the real India. Just arrived in Mumbai this morning before we head to Goa at the weekend. I've been really impressed with the tour – the leader Deepak is great and goes above and beyond, the group are a good mix of people and the activities have been superb. Really grateful for you helping set this tour up for me ! '
David November 2022
India is a country that travelers can easily become addicted to. It is a destination that everyone should visit at least once. We offer two tour options for India.
Choose from:
The 18-day ultimate India tour
The 13-day North India tour
These affordable, backpacking group tours will take you to incredible sites across India. This is a fantastic way to travel – you will meet new people, experience activities that are not available to regular travelers and be guided by an experienced guide with extensive local knowledge.
The adventure starts in Delhi.
The tour begins at 19:00 at the meet up hostel in central Delhi in a rooftop restaurant
Visit a Sikh temple after the briefing
Spend the night at the hostel – Himalayan Hostel
Fly to Varanasi, meet your new Adventure Leader and make your way to the hostel
Optional activity: Take a walk around the city's old town and pay a visit to the Blue Lassi store
Optional activity: Enjoy a relaxing boat ride down the River Ganges as you tour Varanasi's ancient Ghats. Finish the tour watching the Ganga Aarti ceremony.
Get to know your fellow travellers over your first group dinner
Watch the sunrise during an early morning Ghat boat tour (100-200 INR dependent on numbers)
Optional activity: walk at the breakfast street
Optional activity: Explore the excavated ruins and deer park at the Sarnath Buddhist and Hindu archaeological site (200 INR)
Catch an overnight train to Agra – sleep on the overnight train
Early arrival in Agra
Optional activity: Visit Agra Fort (1050 INR)
Optional activity: Relax on a roof top pool (300)
Experience a spectacular sunrise over the Taj Mahal
Return to the hostel ready for a private transfer to Jaipur
Arrive and check-in to your accommodation
Optional activity: Visit Nahargarh Fort for panoramic views of the city (200 INR)
Visit the nearby Monkey Temple (50 INR)
Optional activity: Explore Amber Fort (1550 INR)
Optional activity: Treat your taste buds to a food tour of the city (200 INR)
Night out in Jaipur
Optional activity: Balloon safari (190-280 USD)
Free time to explore further
Enjoy a private guided tour of the Pink City, including the City Palace and its grounds
Optional activity: Art class (1000 INR)
Board the 23:45 overnight train to Jaisalmer
Arrive in Jaisalmer and transfer to the Adventure Safari company house
Shower, rest and eat lunch nearby (at own expense)
At 15:30, drive by jeep an hour into the desert
Begin your Camel Safari with a short ride to the campsite and enjoy a cooked vegetarian dinner around the campfire
Wake up for sunrise over the sand dunes
Embark on a longer camel trek to a desert village for a tour
Head back into the city to freshen up at the company house
Optional activity: Pay a visit to Jaisalmer Fort (600 INR)
Optional activity: Visit Gadsisar Sagar Lake and the nearby viewpoint (100 INR for viewpoint)
Get picked up from the hostel at 16:00 and take a private transfer to Jodhpur
Arrive at your new accommodation at approx. 22:00
Meet in the hostel at 09:00 for a guided walking tour of the Blue City. Finish the tour at Toorji Step Well where you can have a drink at the cafe
Optional activity: Test your nerves on a flying fox zip wire over Mehrangarh Fort (1999 INR)
Optional activity: Join a Krishna cooking workshop and learn to cook ten traditional dishes (1500 INR)
Catch an 8am bus to Udaipur, arriving at the hostel in the early afternoon
Walk through the old city and meet your guide at 17:00 to catch the sunset as you take a boat cruise on Lake Pichola, where you can get the best views of the palace and old town
Optional activity: Dharohar Folk Dance Show (150 INR)
Optional activity: Enjoy a group dinner at the lakeshore restaurant (300-500 INR)
Optional activity: Volunteer for a few hours at a local animal rescue, Animal Aid (600 INR for a rickshaw group of 3)
Optional activity: Prajapati Musical Instrument Class (900 INR)
Optional activity: Miniature Painting Art Class (250 INR)
Optional activity: Henna tattoos (300 INR)
Optional activity: Yoga class (pay as you see fit, 500 INR is suggested)
Hop on the 21:35 overnight train to Mumbai
Arrive in Mumbai in the afternoon and head straight to the hostel
You will have the evening free to relax or explore the city
This is the where the tour ends so travelers say their goodbyes and either fly home or continue their journey!
What is the 18 day Ultimate India Tour?
On set dates in the year, you can take part in a tour that leaves Mumbai on day 15 to continue to Goa.
Day 14 – Mumbai
Optional activity: Shatter your expectations with a tour of the Dharavi slum (500 INR)
Free afternoon
Optional activity: Experience the bustling city at night with a pub crawl (600 INR)
Day 15 – Goa
Transfer to the airport and catch a flight to Goa
Land in Goa and transfer to your accommodation, where you will arrive at approx. 18:00
Day 16 – Goa
Suggested: Free day at beach or old town sightseeing
Optional activity: Experience a night out in India's famous party state (at your own expense)
Day 17 – Goa
Make the most of another free day rejuvenating or exploring
Optional activity: Kayak through Goa's rivers and backwaters (2833 INR)
Day 18 – Goa
Say goodbye to your guide and fellow travellers and finish up your Dragon Trip tour. We wish you safe travels!
All hostel accommodation is included for the duration of the tour.
All hostels are clean, air-conditioned (or have fans), safe and have western showers, WiFi and washing machines.
All accommodation has been selected for its character.
The entire group will be staying in the same accommodation and you can expect to share a room with 4-8 people, depending on where you are staying.
There are a few nights when you will be staying on overnight trains.
If you would like to have your own room, you can pay a supplement for this.
A full list of accommodation will be provided prior to departure.
Pre and post-tour accommodation can be booked for you for £15 per person per night (or £40 for a private room).
Food is not included in the tour (unless specified)
Adventure leaders will recommend local, affordable and tasty restaurants for group meals. However, you can choose to head to a different restaurant.
Standard meals can cost as little as (£1/£1.50).
India is a great destination for vegetarians. If you have dietary requirements, you will be able to find a restaurant that suits. The leader can help you with recommendations.
Airport: Indira Gandhi International Airport (DEL)
Arrival day: The tour starts at 19:00 so you can arrive the day before or in the morning
Departure day:
For those departing in Mumbai, you will finish on day 13. There are optional activities so we recommend a late flight from Chhatrapati Shivaji Maharaj International Airport (BOM)
For those on the 18-day Ultimate India Tour, you will finish on day 18 in Goa. To maximize your time in Goa, we recommend a late flight from Dabolim/ Goa Airport (GOI)
Pre and post-tour accommodation is available
Access to your own personal 'My Oyster' account – our online portal where you can find out much more about the program and manage your booking
Dedicated contact time with an experienced destination manager to discuss the project, answer any of your questions and for us to find out more about you
Help and advice from our UK office before arrival and whilst you are away
In-country support
Pre-departure information covering medical, safety and project advice
Gold level, 24/7 Pharos crisis management and incident support cover
Financial protection: ATOL (if we book your flights); IPP (if we don't book your flights)
Thorough orientation on arrival
Accommodation (see the 'accommodation' section above for details)
Advice on visa requirements
Oyster plants a tree in Africa with TreeAid to help reduce the impact of global carbon emissions
A combination of Western and local tour leaders (all English speaking)
Internal travel – train, boat and internal flights
All included activities
All taxes and charges
Flights – as an ATOL bonded company, Oyster can book flights for you
You need a valid passport that meets the requirements of the country you will be travelling to
Insurance (covering your time with Oyster and any planned independent travel)
Any costs associated with changing your return flight date if you need to
Independent travel costs
Home country travel costs
Spending money for additional trips, food and entertainment
All optional activities – highly recommended!
Cost of food and drinks
Before you depart, a more detailed day-by-day itinerary will be supplied. The exact itinerary is subject to slight changes and variations depending on the weather and exactly what is going on at the time in India.
You need to be over 18 to do this tour. The upper age limit is 35. If you are healthy and ready for adventure, this tour is perfect for you.
This tour attracts many different types of traveler. What everyone has in common is their desire to learn more about India.
Each tour has enthusiastic and knowledgeable tour leaders. You will have a combination of Western and local leaders. Each leader will have good local knowledge. All Adventure Leaders will have fully equipped first aid kits and are English speakers.
On the tour, there are some optional activities that are mentioned in the itinerary. These prices are approximate:
Varanasi:
Sarnath Buddhist and Hindu Archeological Site (200 INR / £2.2 / $3.3)
Sunrise Boat Tour (1000 INR / £11 / $16.50)
Agra:
Mohabbat The Taj Show – closed in May and June (1500 INR / £16.5 / $24.75)
Agra Fort and Black Taj (920 INR / £10 / $15)
Local Village Walk (1500 INR / £16.5 / $24.75)
Jaipur:
Nahagarth Port (200 INR / £2.2 / $3.3)
Art Class (1000 INR / £11 / $16.5)
Amber Fort and Monkey Temple (200 INR -only for fort / £2.2 / $3.3)
Food Tour (200 INR / £2.2 / $3.3)
Jaisalmer:
Jaisalmer Fort (600 INR / £6.6 / $10)
Gadsisar Lake and Sunset Viewpoint (Lake is free, viewpoint 100 INR / £1.1 / $1.65)
Jodhpur:
Flying Fox (1999 INR / £22 / $33)
Cooking Class (1500 INR / £16.6 / $25)
Udaipur:
Old City and City Palace Visit (30 INR / £0.3 / $0.45)
Prajapati Musical Instrument Class (900 INR -only for fort / £10 / $15)
Miniature Painting Art Class (250 INR / £2.7 / $4)
Henna Tattoo Class (300 INR / £3.3 / $5) Yoga Class (500 INR / £5.5 / $8.25)
Mumbai:
Dharavi Slum Tour (500 INR / £5.5 / $8.25)
Goa:
Kayaking (2833 INR / £31.5 / $47.25)
Kochi:
Kathakali Show (350 INR / £3.9 / $5.85)
Kalaripaytuu Show (350 INR / £3.9 / $5.85)
Up to 20 people can take part in each tour.
There are washing machines in each hostel for you to do your laundry.
At the hostels, you can store your bags. They will be tagged and recorded. This is a very safe system.
Across India, there are 3 key seasons:
The hot season – March to June
Temperatures in Delhi and surrounding areas range between 23-36 degrees Celsius at this time of year. Southern India at this time is incredibly humid.
The monsoon season – July to September:
July and August is monsoon season. This doesn't mean that it is raining all day everyday but there is usually a heavy downpour or two each day and then the sky clears – very refreshing!
The cool season – October to April
The weather in the south of the country has less variation and remains hot and humid year round. The best time to travel to this region is between November and February. Temperatures can range between 11-26 degrees Celsius in areas near Delhi. It is worth taking layers for the evenings.
You will need a e-visa for India. This can be done online. We will provide detailed instructions on how to apply.
Your passport needs at least six months validity from the date of arrival in India and at least two blank pages for stamping in your passport to get your visa.
You will also need proof of a return or onward journey ticket to be eligible for the e-visa.
You should visit your doctor or travel nurse to find out what vaccinations you will need. Your routine vaccinations will need to be up to date, it is likely you will need Hepatitis A and Typhoid, and possibly Hepatitis B, Malaria and Rabies. Please follow your doctor's advice.
For any more information, including entry requirements related to Covid-19, please see the Fit for Travel website or the UK government's travel advice page for India.
There are many modern medical facilities and hospitals and you will always have access to medical help while you are on the tour.
Whether you are a solo traveler or traveling as a couple, pair or group, you can join the tour.
Throughout your tour, you will be able to communicate with your tour leader. Your tour leader will not accompany you for all activities, but is contactable at all times. For each leg, you will have a different English-speaking tour leader, who is an expert in that area.
Staff at Oyster's head office and in-country will be responsible for your safety and welfare while you are on the  tour. This will start from the moment you arrive at the meeting point. Before and after these times, you will be outside Oyster's responsibility and should make sure that you act safely and avoid risk. This is also true if you choose to leave the project during your time off. We will give you plenty of guidance and advice about this.
You can to upgrade to a private room. The upgrade fee is for the room, not per person
Room upgrades include single, double and twin rooms:
Delhi-Mumbai 15 days = £250
Delhi-Goa 18 days = £450
All bedding is included. When you camp on the camel safari – camping and sleeping equipment is provided.
There are plenty of ATMs so accessing money in India is straightforward. We advise that you let you bank know in advance that you are traveling.
You cannot pre-order Indian Rupee (INR) – we recommend you take cash to change at the bureau de change at the airport. The country predominantly uses cash, so it is recommended you carry enough for a few days.
The cost of living is relatively cheap in India. Delicious meals can be bought for as little as 100 INR. We recommend you take between 500-1000 (£5.50-£11 / $7-$14.40) for food per day.
Here are some approximate prices:
Tea – 5-10 INR (£0.05 / $0.07)
Thali – 80 – 100 INR (£0.87 – £1.10 / $1.15 – $1.40)
Short taxi ride – 45-75 INR (£0.50 – £0.80 / $0.65 – $1)
Yes, there are so many different options to choose from. The Adventure Leader will be able to help direct you to suitable restaurants.
You will be heading to some remote areas where, depending on your network, your phone may not work, but you can get a local SIM or use WiFi for internet. Please note that the cost of making calls varies depending on what state you are in.
If you want to get a local sim, you will need to do this at the airport and you will need your passport, 2 color passport photos, a copy of your visa and proof of address.
Alternatively, you can us a new system introduce by the government called Trabug. This will provide you with a rented phone.
India 3 pin plug (type D) or 2 pin plug (type C)
Other adventures like this