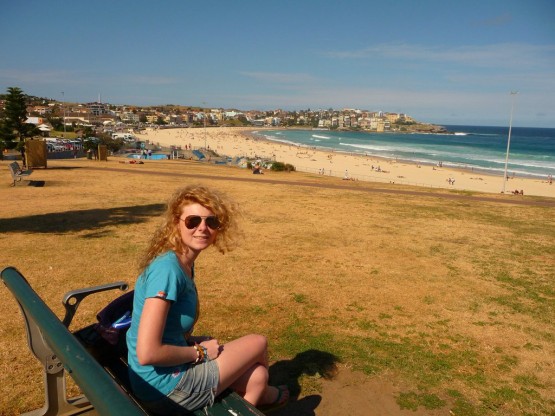 I arrived in Sydney jet-lagged, in need of a good shower but totally ready to hit it. After that welcomed shower at a friend's pad I headed straight into the city centre or the CBD as they call it here. I wandered the main streets, grabbed a smoothie and took in the atmosphere. There were street entertainers just feet away from each other, and so much to look at I knew I was going to be in for a good few months here.
Sydney is a truly breath-taking city, a wide mixture of landscapes; beautiful sunny skies and so much going on you don't know where to look! The thing that struck me about the city is that one minute you will be walking amongst skyscrapers and then will hit the harbour with the skyscrapers behind you and the Botanical Gardens to the side of you. The overpowering scene of the Harbour Bridge and the Opera House is something you will never forget after seeing it for the first time. We see this scene in books or on the television and it looks spectacular, and I have to say, in real life, it is even better.
Just from wandering around I can see that you can never be bored in this city, an array of bars, coffee shops, museums and all the shopping you can do awaits you. Or if you are more of the outdoors type, just taking a stroll through Centennial Park, Hyde Park or the Botanical Gardens will keep you busy for many hours!
Away from the city I am staying in hostell in Bondi while on my 2 week Sydney experience with Oyster. I also have a flat with some friends in Bondi that we sorted out before we arrived that I will be staying in for at least 3 months while I work.
Bondi: the famous Beach that everyone who visits Sydney has to experience. Surfers walk barefoot down the street with nothing but their boardies on and their surfboard under their arm, bronzed guys and gals enjoy the beach and the surrounding bars, restaurants, coffee shops, smoothie bars around them. Although rather touristy and commercial Bondi is something special, the area has a certain atmosphere about it that you can't but help fall in love with.
So far I have had an orientation around the city, sorted out all the admin that we need to have, had a surf lesson on Bondi, an attempted BBQ (there happened to be gale force winds on Bondi that day so wasn't overly successful!), completed my Responsible Service of Alcohol Course, had some crazy nights in some of the local bars, some very good dinners, started looking for jobs both in Bondi and the central city area. ..and I am only a week in! We have also enjoyed a lot of free time to go on job hunts and to just chill out and take in all Bondi has to offer. There is a lot more on the agenda for the coming week. I am looking forward to canoeing to Shark Island with awesome views of the harbour, a trip to the Blue Mountains and a possible trip to the Zoo.
All in all, a week or so into my stay, living the Sydney lifestyle has been made so easy and enjoyable with the help from the course… and who can complain in this mega chilled and sunny part of the world? No one. Let the Job hunt continue so that the lifestyle can! Jennyxx