Here at Oyster we love to hear how you are all getting on whilst overseas, and this lovely email from Brazil childcare volunteer is no exception. Thanks to Tessa for such a great insight into her life on her gap year in Brazil!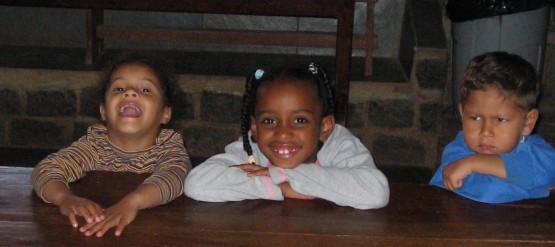 Roger!
I have been meaning to email you!
Brazil is fantastic, everyone here is a lot of fun to live with and work with!
I hit the ground running the day I arrived. All at the centre, including the children, are patient with my steadily improving portuguese and great to chat with. My portuguese has really improved, especially in the last 2 weeks, its suddenly beginning to click.
The Hannay household is never empty, so there is always someone to play football with or just talk to. Gustavo is a bundle of energy, as I am sure you already know, I have learnt quite a few football skills from him, Ubirani and Deivid.
I have been attending girls football twice a week. In fact, we were meant to have a session today, however the rain has halted things. The girls are incredible players, I am merely a beginner, however they seem to be happy with just having more girls to learn. Playing with almost -professionals has made me learn quickly.
I began teaching english this week, however as it has only just begun only one of my pupils appeared. Nevertheless I thoroughly enjoyed teaching and preparing for the next lesson.
The kids who come to the centre are a lot of fun to play with and talk to. I put a lot of my improvement in portuguese down to them as they are great at explaining things IN portuguese. The best way to learn. I have also learnt a bit of slang which has its pros and cons.
There is always something to do on the weekend. Emma and I go to capoera for 3 hours on Saturdays. The agile 5-11 year olds put us to shame. Its even worse when we have an audience of educators! It usually ends in fits of laughter, strained muscles and stiff legs. Like a pair of old women we are!
Last weekend we took Gustavo, Mauro, Anna, Thamyres, Laura and Deivid and Thalia to Guarjuna beach. It was a lovely day and the kids really enjoyed splashing in the sea. This coming weekend we are heading of to Central Sao Paulo with Lazaro (photographer and course organiser) to stock up on chocolate, post cards, a few bits and bobs and sample the shockingly expensive starbucks coffee. Then on sunday all of the volunteers have been invited to go trekking in the mountains with the educators. So a lot goes on out of work as well!
The other volunteers (Emma and Alasdair) are great to live with. We have recently acquired a Danish couple who are here for 4 weeks (Reva and Sarah). They have really slotted in well, our evenings end in fits of laughter around the table.
Jonathan is also a great person to consult about any queries and is full of knowledge. I have learnt a lot from him, from how to cook beans to looking at situations with a different perspective. In the last 5 weeks I have learnt a huge amount and my view of the world has begun to expand and change already.
I can honestly say that this is one of the best experiences I have had. I am trying to make the most of every day and record it in my diary!
Best wishes,
Tessa
For more information check out our Gap year in Brazil web page or contact Roger on [email protected]