Find out what Oyster volunteers have said in these reviews of our childcare volunteering project in Brazil: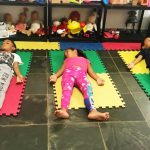 "I am doing well. Everyone is very welcoming, which has been great to help settle in. Trying to learn more and more Portuguese. With the children I use a lot of movement but my Portuguese is pretty good with them. The other coordinators help me as much as they can!
I stayed in Brazil a bit longer to explore and get to know the people more. I had such an amazing experience. I wish I could have stayed longer. It was definitely one of the best decisions I have ever made! "
Larissa, March 2019
---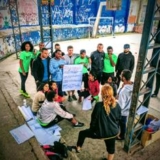 "Can't believe it's been a week already the time has flown by! I'm loving it out here thank you. The whole team is making me feel very settled"
"I'm missing Brazil like crazy and cant believe how quickly my time passed. I enjoyed every minute and am glad to have made the most of it. I have had a really positive experience. Thanks so much for helping me make a long held dream trip become a reality!!"
George, May 2018
---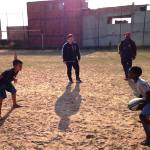 "I'm having a wonderful experience and the staff and kids are fantastic!! There are other volunteers that have made me feel more than welcome. All the local staff are so friendly and cool and the sports team are great. I am glad that I got the Portuguese lessons as you need to speak it here for sure. But I'm getting lots of help and practicing every day.
The Gaelic football is going down a treat and they are really keen to try it. The younger ones love it!! I tried it with the teens too and all good, I play with them so we have great fun together. They really are such sweet kids. It amazing how effective this experience is and I'm only starting my second week."
Amy, July 2017
---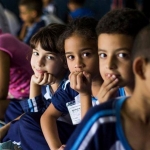 "Everything's great here. Everyone's been really welcoming and there's a lot to get involved in. It's not hard to see how important it is to the community. I can't believe it's already been a week since I got here. Brazil has a really fascinating culture and it's really good to be able to travel into the centre of São Paulo on public transport. I'm looking forward to the next couple of weeks here and to hopefully improving my Portuguese too."
"I found the volunteering to be a great way to step outside of my comfort zone and challenge myself. Living in the youth centre allowed me to be immersed in the Brazilian culture and gave me a valuable insight into the life of inner city Brazilians. Interacting daily with the children who attend the centre was both challenging and rewarding, in addition to being an excellent way to improve my Portuguese skills."
James, April 2017
---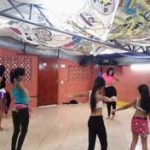 "Thank you so much for making my amazing experience happen. My time overseas was incredible. Everyday, I would learn something new and it was so different. Many people would ask me are you missing home yet? And my answer would always be no because I was making every minute count and making the most of it. Everyone at the centre was so nice and welcoming that I felt like I was at home. I really liked how I had the chance to construct my volunteer experience and had the possibility to do so much. It was the first time that the centre had belly dance  classes so all my students were so happy and thankful to have the chance to do something different. I learned so much with this experience that I'm thinking of studying education and social justice. I want to keep on studying Portuguese because I think it's a beautiful language and hopefully one day I can go back to Brazil. Another highlight would be that I able to have this experience with other volunteers. The house where I was living truly felt like a community.
I think one moment that will be unforgettable was when I said goodbye to all my belly dance students and they so thankful. They told me I helped them in so many levels and where going to try to continue belly dance. That moment just made my whole trip because that's what I wanted from the beginning be able to make an impact. Oyster and the centre truly made this possible.
I miss Brazil everyday. Its culture, its people and its beautiful surroundings. In August, I start college but if I have a chance in the summers to go back, maybe for a month or two, I will. This experience made me learn new things constantly. I believe all the process that was made before arriving was beyond excellent. The interview was made to be prepared for all the challenges and things i was going to be exposed during my time away. The staff of Oyster was also very good at answering any questions i had before and during my experience. It did take me a few weeks to settle in and get the hang of things but everyone at the centre helped me in any possible way they could. My whole experience was excellent. Thank you so much for everything."
Ashley, February 2017
---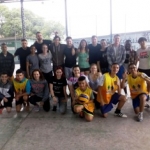 "It's been amazing! The centre has been the best part of our trip without a doubt! Thank you so much for helping us sort something out!!
The whole trip was amazing fun! For such a large group, we were all looked after and accommodated extremely well. The centre in Brazil was fantastic at getting us and all the kids involved with each activity, making the whole trip very enjoyable and something that will stick with us all forever. Both the organisers, before and after we arrived, were very friendly and approachable, keeping us excited for the whole trip."
Jack and his volleyball team, April 2017
---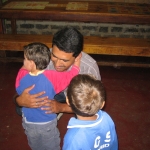 "I loved working with the children. Running my own class, seeing the children get involved and enjoying themselves was so rewarding. It's an amazing experience!! The people you work with are so friendly and welcoming; you get a chance to see Brazil and its culture, and you get to make a difference in the community of Eldorado and be a part of something really important."
Abigail, August 2015
---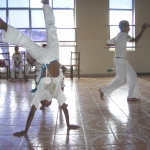 "It is really eye opening to see how the majority of Brazilians live. You can learn a lot from the people you will meet. The centre itself is a really brilliant part of the community and the activities they put on are brilliant. Not only can you help out in the classes but you can also do classes for your own enjoyment which is great."
Kitty, March 2014
---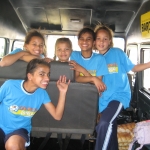 "We as volunteers were frequently invited to visit their families or to parties. In my second weekend in Brazil some friends took another volunteer and I to a beautiful beach. We have remained good friends since. The best part of the placement was being able to speak freely in Portuguese with the children. It was also great to see the improvements some of the children were making by the month."
Tessa, July 2012
---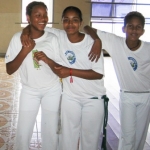 "Thank you for your support throughout my time in Brazil. I've made friends to last a life time and have memories which will inspire me to act when I see those in trouble and pain for as long as I live. Brazil was the best experience of my life, and not a day goes by when I don't think about and miss the children. To be honest, I often wish I was old enough to adopt a couple of them!"
Emily, September 2008
---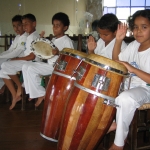 "The placement was beyond my expectations. Amazing to form such a close bond with the children. I gained as much, if not more, from the children, as I hope they gained from me. It was just incredible. Words can not explain what an experience it was"
Charlotte, March 2008
---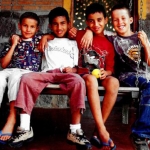 "Go with an open mind and heart, be prepared to work hard but the results far outweigh the challenges. Give all the children a chance and you will be most surprised who you are closest to when you leave. The Portuguese lessons were invaluable, made the first few weeks at the orphanage that bit easier"
Jenny, March 2008
---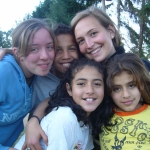 "(The placement) far surpassed my expectation – far more beautiful than I'd imagined, the children are so affectionate and a volunteer group that averaged 5 or 6 meant there was always support and encouragement. I can't imagine a better way to spend my gap year – it surpassed all my expectations – thanks for everything!"
Helena, January 2007
---
For more information visit our Brazil page or contact Sarah the destination manager directly on directly on +44 (0) 1892 771973 or by email [email protected]