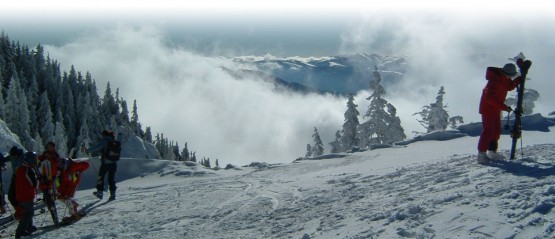 Oyster are delighted to have teamed up with a ski school in the Romanian ski resort of Poiana Brasov to offer ski season jobs.
Founded by an Olympic skier and international World Cup ski coach, the school is looking for skiers and snowboarders to join their successful and growing team.
Poiana Brasov is Romania's leading ski resort and as such, the number of people coming to ski here is on the rise, many from all over Europe as well as Romania. Your English skills are a bonus here, as often the main language for communication between instructor and pupils is English- any other language skills that you might have will be well received.
The ski season in Romania opens mid December. You will head out to Romania on November 28th 2014 for your ability assessment and training. After up to 2 weeks of training, you will be given a full time job at the ski school up until the end of the season on March 15th 2014.
 How does it work?
All participants need to have at least 2 weeks of skiing or snowboarding experience before being accepted onto this programme. It is important to know that you enjoy being out on the snow each day and that you have at least the basics to be able to teach others. It is important that you are honest about your ability at interview so that the ski school is well informed of your level before arrival.
On arrival in resort you will be taken up the slopes by the head of the ski school for an initial assessment of your ability. From this assessment your training programme will be designed. Training is separate for skiers and boarders, as well as for those with different abilities.
Training takes up to 2 weeks, depending on your ability on arrival. The training encompasses both theory and practical to ensure that you will become a competent instructor. Usually you will expect to receive 3 hours of training in the morning and 2 -3 hours of training in the afternoon, covering both theory and practical, so do expect to be tired!
On completion of the training you will be offered a full time job at the ski school. You will be working full time approximately 5 days per week, however in the busy season you should expect to be working at least 8 days in a row. Hours are from 8am – 5pm. The busy season is from mid-December to the end of January, however your full time contract will continue to the end of the season in mid March. You will be paid a living wage of 800 lei per month. This is the minimum wage in Romania which is able to support families- your money can go a lot further here.
Whilst you will be working as an instructor, there will be many other facets to your role. Your day could start with shovelling snow from the forecourt of the school, putting up signs, dealing with customers, fitting skis and boots, repairing boards and taking customers out for their lessons. You will usually be instructing for 2 – 3 hours in the morning, and the same again in the afternoon.
Initially you will begin coaching novice skiers and children in order to gain more confidence in your role. As you develop as an instructor you may have the opportunity to teach all abilities and ages, and even do some ski guiding.
What experience do I need?
Childcare: It is important that you have good experience of working with people, especially children. This is an extremely responsible job to be charged with someone else's children on a mountain, so it is essential to be able to build a good rapport with kids and make them laugh. If you do not already have childcare experience, we would recommend joining the childcare programme in Romania (LINK THROUGH TO CHILDCARE PAGE) prior to the season for 4 weeks to build up your confidence. Alternative examples include:
Volunteering at your local Beavers or Brownies group
Coaching sport to younger years at school
Volunteering in a nursery or primary school as part of work experience
Ski experience: In addition to having good childcare experience, you also need to be a confident intermediate skier or snowboarder with at least 2 weeks experience.
Health and safety: All participants must have completed a First Aid course prior to arrival in Romania. Participants must be CRB checked (or equivalent) and must be non-smokers. As a lot of time is spent up close to customers, it is ski school policy that instructors must be genuine non smokers
Once you've completed your training you will be employed to work as a ski/snowboard instructor by the ski school. The busiest period is from Christmas Eve until the end of January, so prepare to be working hard for the first 6 weeks in Romania. The second half of the season is yours to enjoy skiing in your own time, working at the ski school and exploring the amazing area of Transylvania.
You will be living in comfortable accommodation in the centre of Brasov, a 20 minute bus journey from Poiana Brasov. The city is vibrant and buzzing with a great range of bars, restaurants and cafes to enjoy a few beers after a day out on the slopes. On your days off you can relax in Brasov, head to the slopes to do more skiing, or explore the local area. Oyster can arrange a wide variety of activities for you to make the most of life in Romania: skiing in other resorts around Transylvania, visiting Dracula's Castle, spending a day volunteering in a bear sanctuary or dog shelter, working with children in family homes or taking a trip to the local cities of Sighisoara and Sibiu- or even further afield Bucharest and Budapest. Brasov is an ideal base for getting plenty of skiing in over the winter as well as making the most of being in an exciting area of Eastern Europe.
Participants arrive to Bucharest on Friday 28th November. The winter season lasts until March 15th 2015.
Prices £3495 for skiers/boarders with a minimum of 2 weeks experience. This includes:
Participants arrive to Bucharest on Friday 28th November. The winter season lasts until March 15th. This costs £3495 per person to include:
Full briefing, interview and guaranteed full time job before departure
Welcome at the airport and transport up to Brasov
Return transfer to Bucharest airport at the end of the season
Fully equipped accommodation in a central flat in Brasov, 20 minutes from Poiana Brasov
Wifi at the apartment and all utilities
Season bus pass from Brasov to Poiana Brasov
Season ski pass from December 1 – March 15 for training and work purposes
Full ski or snowboard instructor training in English of up to 2 weeks designed to your ability and discipline
Fixed living wage of 800lei per month.
A jacket and hat for instructing purposes
Help with setting up a bank account
Additional trips can be arranged by our rep, Razvan, in Brasov
Full help and support both before departure and whilst in Romania from Anne in the UK (who spent 3 months in Romania) and Razvan, our experienced representative since 2003.
Basic Romanian language guide
What do I need?
A passport valid for 6 months after your planned return
Insurance (we can recommend a specific policy)
First aid qualification
At least 2 weeks of skiing experience
Childcare experience
CRB check or equivalent police check
Flights to Bucharest. We can help you organise these.
Black ski or board trousers, helmet and ski equipment
Skis, boards and boots can be purchased on arrival in resort at cost price. This can be sold again at the end of the season if desired.
Cost of changing your return flight date if you need to
All home country travel costs
Independent travel costs whilst in Romania
Cost of food and going out (£25-£50 per week dependent on lifestyle)
To apply for this great opportunity send your CV and covering letter to Anne at [email protected]