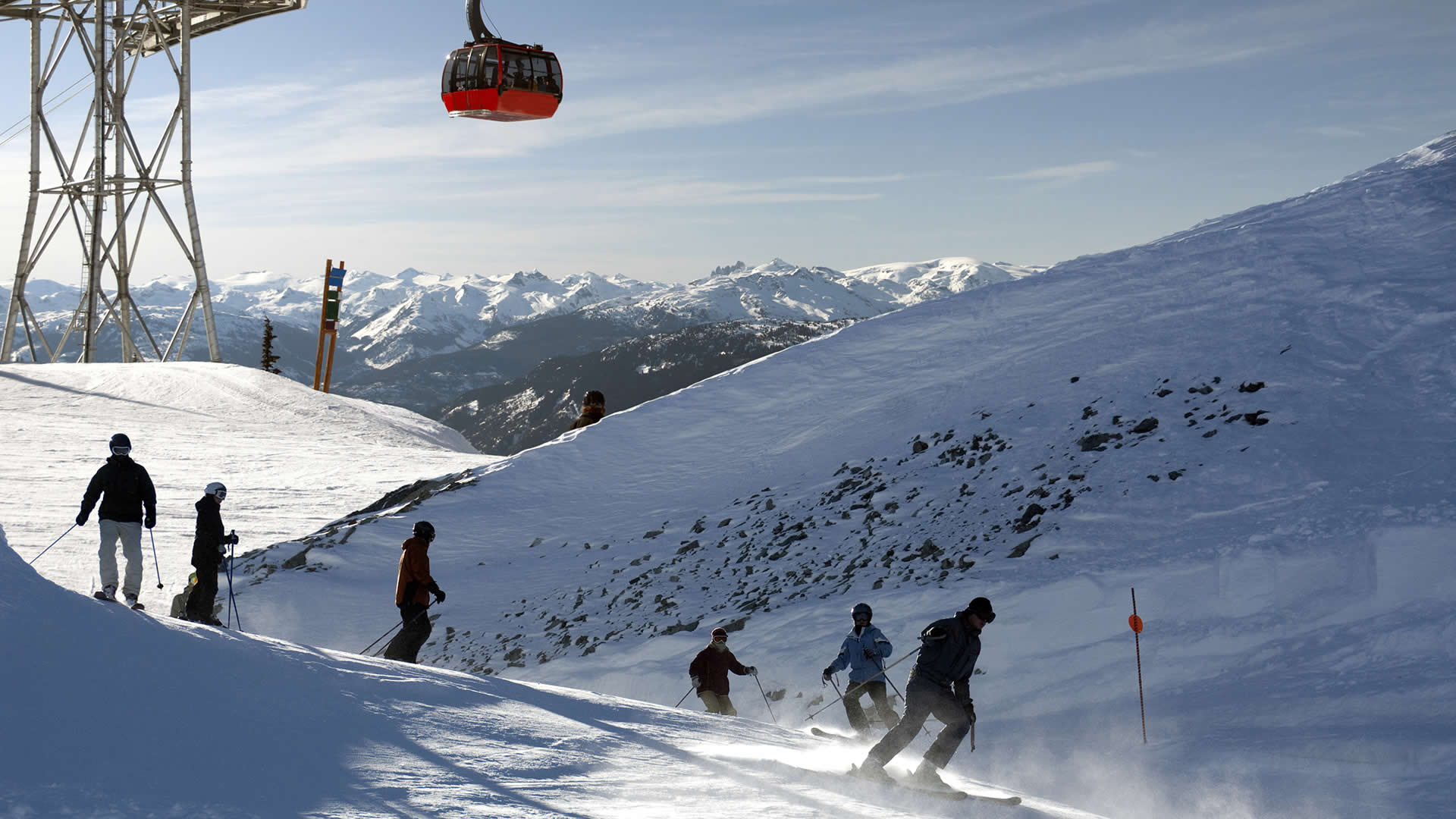 Enjoy a holiday in Whistler with a purpose, and gain your Level 1 ski or snowboard instructor qualification.
Get a taste for life as a snow sports instructor on our 4 week instructor training course in North America's number 1 resort – Whistler Blackcomb. Improve your skills whilst learning from fully qualified Level 4 instructors. Boost your experience even further by taking the included AST (Avalanche Skills Training) Level 1 – providing you with knowledge of skiing and snowboarding safely in the backcountry.
Duration: 4 weeks (November course is just 3 weeks for reduced fee)
Dates :November 25 2023, January 13 2024, February 10 2024, and March 09 2024
Arrival day: Saturday
Return day: Saturday
Eligibility: Good level of fitness and confidence skiing/boarding is required
Age: 17+
Being part of an all-inclusive course with no hidden fees or exam costs when you get to Whistler
Receiving the best instructor training in a world-class resort
Gaining a fantastic qualification to improve employability
Enjoying a great social life with others who share your enthusiasm for snow sports
Not needing to apply for the Canadian Working Holiday permit!
Bag yourself a qualification as a ski or snowboard instructor whilst on holiday in Whistler Blackcomb. Our 4 week course is designed to give you all the training you need to pass the CSIA or CASI Level 1 instructor exam. AST (Avalanche Skills Training) Level 1 is also included.
Spend 4 weeks surrounded by glistening, powdery snow and a stunning mountainous backdrop as you earn your CSIA or CASI Level 1 in Whistler Blackcomb.
For 4 weeks, you will be training with fully qualified instructors, who will provide detailed teaching and allow you to shadow and learn from them each day. Every day, you will cover a various aspect of skiing; from bumps and slalom to off-piste and steeps.
Additional aspects on the course which are covered to gain full instructor knowledge include:
CSIA Teaching Children Module (skiers only)
Recreational Avalanche course – AST 1
Customer Service
Communications
Injury prevention
Equipment Tuning
Boot fitting
For more information on the qualifications, read our more information page.
This in-depth training and fully committed team will lead you on your way to becoming a great snowsports instructor. You'll meet like-minded friends, enjoy a great social life and live in one of the most beautiful places in the world – life doesn't get much better!
What experience do I need?
Ideally, you must be confident going down the equivalent of red runs in Europe or blue runs in North America, skiing or snowboarding. During the programme your ability and skill will drastically progress and improve.
This course has been amazing and I am so happy to have done it. I have met friends that will last me a lifetime from all over the world. The people doing the course really made it, but the instructors also created an amazing atmosphere and helped me improve 100%. They are such great teachers and so friendly which helped. Savannah, February course
Stay in a centrally located chalet with other participants on your course
Accommodation is located in either Whistler Village, Alpine or Creekside, all locations are within a short walk or bus ride of the lifts
Rooms vary from single to quad share and prices vary. Premium, standard and self-catered accommodation available to suit your budget. Contact us to discuss your requirements
Accommodation has a living area, dining area, storage rooms and a sun deck. If you are in self-catered accommodation, you will have access to a fully equipped kitchen
WiFi is included
Choose from catered or self-catered accommodation
If you opt for the catered option (located in the Village or Alpine), the chalet host will lay out the provided continental breakfast daily and hot dinners 6 days a week (everyone caters for themselves on Sundays). This is beneficial after a long day skiing on the slopes and means you get a guaranteed hot meal
If you opt for self-catered (located in Creekside), the kitchen is fully equipped so you can cook and prepare your own meals. There is also a supermarket close by where you can buy food
Airport: Vancouver (YVR)
Arrival day: Saturday in Whistler. It is advisable to arrive in Canada on the Friday before the course begins on the Saturday, to get over jet-lag, buy any needed equipment and pick up your ski pass.
Departure day: Saturday
Access to your own personal 'My Oyster' account – our online portal where you can find out much more about the program and manage your booking
Dedicated contact time with an experienced destination manager to discuss the project, answer any of your questions and for us to find out more about you
Help and advice from our UK office before arrival and whilst you are away
In-country support
Pre-departure information covering medical, safety and project advice
Gold level, 24/7 Pharos crisis management and incident support cover
Financial protection: ATOL (if we book your flights); IPP (if we don't book your flights)
Thorough orientation on arrival
Accommodation (see the 'accommodation' section above for details)
Advice on visa requirements
Oyster plants a tree in Africa with TreeAid to help reduce the impact of global carbon emissions
Over 20 hours of professional training per week
CSIA/CASI Level 1
CSIA Teaching Children Module (skiers only)
Recreational Avalanche Course AST1
Whistler Blackcomb Season Ski Pass
Training given by CSIA/CASI Level 4 instructors
Small groups to maximise your training
Weekly feedback from your pro
Lift line priority
Video analysis
Extra training (customer service, communications, injury prevention, boot fitting and equipment tuning)
6 dinners and breakfasts per week (if in catered accommodation)
Resort rep available 24/7
Evening activities
Optional off-snow activities each week
Equipment and store discounts
Job finding assistance
Hoodie
On your return:
Welcome home pack
Certificate of Recognition (on request)
References (on request)
Flights – as an ATOL bonded company, Oyster can book flights for you
You need a valid passport that meets the requirements of the country you will be travelling to
Insurance (covering your time with Oyster and any planned independent travel)
Any costs associated with changing your return flight date if you need to
Independent travel costs
Home country travel costs
Spending money for additional trips, food and entertainment
If work or studies prevent you from committing to a full Level 1 and 2 course, but you still want a taster of life as an instructor, then this 4 week course is ideal. At the end of the course, you will have made new friends, long-lasting memories and a progressive qualification for the future.
Whistler is known for its amazing quality and quantity of snow, world-class instructors and great facilities. It is a paradise for snow sports lovers and it provides a perfect opportunity to meet like-minded and similarly passionate skiers and snowboarders.
The CSIA/CASI Level 4 instructors are experienced and have over 20 years of teaching experience. They will aid you in achieving your Level 1, develop good communication skills, widen your technical knowledge and overall help improve your skiing or snowboard ability.
The Whistler instructors are confident that by the time you take your Level 1 exam, you will be a confident parallel skier/snowboarder. You will experience skiing or snowboarding on all terrains and in all snowing conditions. On completion, you will be qualified to teach children aged 12 and under and beginners how to ski/snowboard. The course combines teaching methodology with technical skills. I will also give you the customer service skills needed to be successful in the snow sports industry.
Included on the Level 1 certification course:
An introduction to CSIA skiing/ CASI snowboarding and teaching methodology
Strategies to develop skiers/ snowboarders from entry level to intermediate using the skill development method
Techniques and strategies for effective assessment and development
Personal feedback on ski/ snowboard performance
Interactive preparatory online module
All of our instructors are CASI/CSIA Level 4 instructors and we are confident of their ability to help you to improve. They will only put you forward for an assessment if they think you are ready.
Oyster Worldwide is regulated by the Financial Conduct Authority (FCA) as an Introducer Appointed Representative of Global Travel Insurance. Our status means that we cannot advise you on insurance. This needs to be your decision.
For many years we have acted as an 'introducer' to the policy that has been tailored to meet the needs of Oyster Worldwide participants. The summary sheet for this policy is at the end of this document.
The policy that we have with Global Travel Insurance can cover people on our ski and snowboard instructor programmes.
We are fully insured through ATOL and International Passenger Protection so your money is safe.
You should ensure that your insurance policy covers you for the back country as well.
There is a reason why Whistler is so popular. The winter in Whistler is perfect for a ski season. Temperatures remain below 0 for the majority of the season, resulting in amazing snow. Even when the village warms up, the temperature on the mountain can still be as low as minus 20 degrees.
If you book the catered chalet option, you will receive 6 dinners and 6 continental breakfasts each week. These meals are worth over $400.00 for your 4 week stay so it is great value. If you are catering for yourself, you will need to bring money to cover food.
For expenditure that does not include food (or ski/board equipment), we would recommend taking a minimum of £70-£100 a week to get involved with trips and nights out.
Credit cards are advised for emergencies, as well as enough cash to see you through the first few days, there are ATMs in the village.
Before heading to Canada, you will need to get an Electronic Travel Authorisation (eTA). There is a simple online form and the cost is $7. It lasts for up to 5 years on the same passport.
When entering Canada, you will get a tourist visa.
Check out our blog to find out more about the Canada eTA.
Most people book with Oyster as individuals and meet the rest of the group on arrival in Whistler.
We will certainly try to arrange for you to live with a friend if you want to travel together. Just give us as much notice as possible.
Please visit your doctor or travel nurse to find out. It is unlikely that you will need anything in addition to your routine vaccinations, which should be up to date.
For any information related to Covid-19, please see the Fit for Travel website or the UK government's travel advice page for Canada.
Winter sports, such as skiing and snowboarding, take place outdoors and on the mountain. With adventure sports, there is an inherent risk to you. You can minimise this risk by following the mountain rules and taking adequate precautions. You should always follow safety advice from instructors and we recommend always wearing a helmet. Whistler is a very safe village, but we advise that you keep valuables secure. When you are out, travel in groups and let others know where you are going.
You will be staying in enjoyable and cosy chalets sharing with other participants, either in single, twin, triple or quad rooms. A usual charming chalet will include shared rooms of high quality, fantastic living areas with comfy sofas and T.V – there is even a separate dining area, storage area and a sun deck. If you strike it lucky, you may even get a room with a balcony.
There will be a garage where you can store your skiing gear. There will be a chalet host to help answer any questions you might have. Food will be served at your chalet, for those taking the meal option. A deposit of $300 will be taken at the start of your stay and returned if the property has not been damaged and has been maintained.
The accommodation is located in either:
Peak Chalet – this is our newly renovated chalet with large bedrooms. All rooms are catered. It is within walking distance of the village. This chalet offers quad, triple, twin and single rooms.
Alpine Chalet – this is our standard catered chalet offering quad and triple rooms. It is located in the Alpine area, a 10 minute bus ride from Whistler. It is very close to the Whistler Rec Center where there is a gym, swimming pool and fitness studios. There is also a grocery store very close by.
Creekside chalet – this is our more budget self-catered option. This offers quad and triple rooms, in more of a university dorm-style. The great thing about this chalet is its proximity to the Creekside Gondola, just a short walk from your front door!
We have three accommodation options in the Whistler area, all are close to the town and lifts (either a short walk or bus ride away). We have accommodation in Creekside, Alpine and the Village.
If you opt for the catered option, you will have a cook provide continental breakfast and hot dinner 6 times a week. Breakfast is served from 7:30 to 8:30 am. There will also be kitchen facilities so you can cook and prepare your own food. There are supermarkets where you can buy food.
Breakfast will include cereal, toast, fruit and tea/coffee.
Dinner will be a hearty meal, usually around a theme. There'll be pasta nights, Mexican nights, burger nights, pizza nights and roast dinner nights, for example.
You will get free WiFi provided in your chalet so you can take a laptop/mobile/tablet with you. Internet cafes in town cost approx. C$2 for 30 minutes.
Our representative, Tory lives and works in Whistler. Tory has worked for Oyster since 2006 and is involved in dealing with our partners to ensure that you get the best possible experience. Throughout your stay, your main point of contact will be the staff and instructors, but rest assured that you will have continued 24 hour support from the Oyster team in the UK, as well as Tory in Whistler.
You should take an 'unlocked' mobile phone with you to Canada (or you can buy a cheap Canadian one) and purchase a local 'pay as you go' SIM card. This is useful for contacting the representative and the rest of the group as local calls are very cheap. You can buy international phone cards to call the UK for $10+tax from any supermarket/phone shop this will give you hundreds of minutes to use any way you like, including calling home.
Whistler is in the West of Canada, on Pacific Standard Time and is 8 hours behind GMT (GMT -8).
Canada, like the US, operates on 110V, 60 cycle electric power. You should bring an adapter with you that has a two pronged (flat) plug.
Ski and snowboard! Your ski pass is valid 7 days a week so you can spend every day on the slope if you want. We would definitely recommend taking some rest days and exploring the other fun activities available in Whistler.
Evenings are free and 2 days a week will be rest days. During the rest days, it is expected that the chalet is cleaned. There'll be a rota of jobs to complete.
You should be mature and understand that you will need to take responsibility for yourself – don't worry, our selection process will ensure that you are suitable!
You will get to know the team in Whistler really well during the first few days, when you will receive a thorough induction and course-related training. Day to day you will be under the supervision of your instructor whilst on the lessons.
Staff at Oyster's head office and in-country will be responsible for your safety and welfare while you are on the course. This will start from the moment you check in to your course accommodation in Whistler to the end of the course when you leave. Before and after these times, you will be outside Oyster's responsibility and should make sure that you act safely and avoid risk. This is also true if you choose to leave the project, ski or snowboard during your time off. We will give you plenty of guidance and advice about this.
Many participants arrive a day earlier in Whistler and stay in a hotel or hostel for the first night. Please note that you are responsible for your airport transfer and accommodation during this time.
Other adventures like this