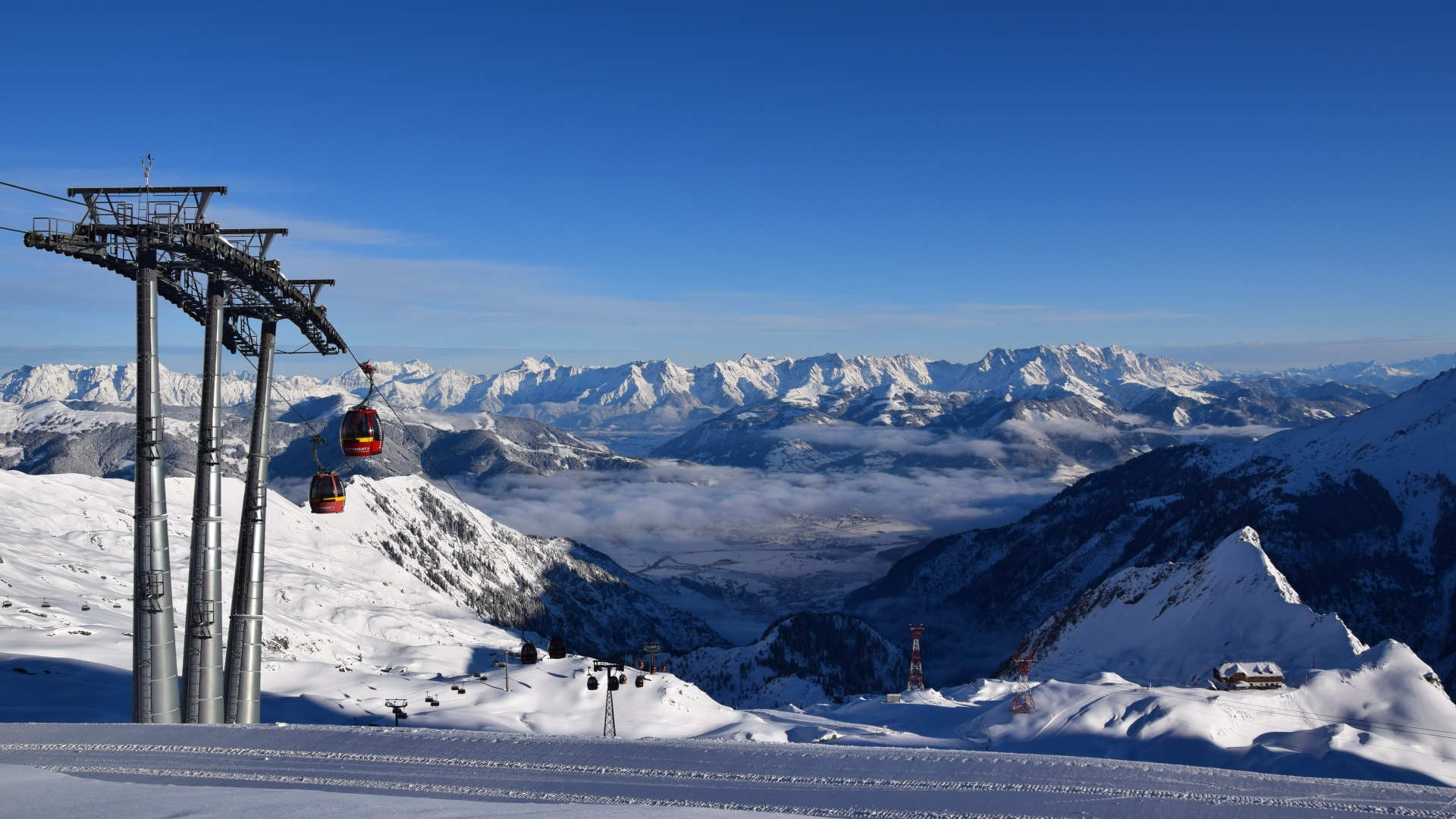 Qualify as a ski instructor in Austria and have a guaranteed job for the rest of the season.
Choose from a 4 or 6 week course in one of Europe's top ski areas, the resort of Kaprun in Zell am See, home to the Kitzsteinhorn Glacier!
Duration: 4 or 6 weeks
Dates: See BOOK NOW calendar
Arrival day: Course start date (generally a Saturday)
Return day: Move onto your job on the course end date
Eligibility: Minimum of 4 weeks ski experience for 6 week course, and 20+ weeks for the 4 week course. Need to be eligible to work in the EU. Good level of fitness required
Age: 18+
Becoming a qualified Anwarter Level 2 ski instructor
Stepping out on day one of your new job as a ski instructor
Learning a new language
Skiing everyday in some of the best snow conditions Europe has to offer
Being trained by top instructors – all are experts in ski instructor training and highly experienced coaches
Information for British passport holders please see here.* 
On this course, you will take the Anwarter Level 1 and 2 courses at the start of the winter season. The Level 2 is one of the most recognised ski qualifications in the world. This course is designed to improve your confidence, experience and practical skills needed to be a successful ski instructor.
This professional ski instructor course is intense and hard work, but at the same time, a lot of fun! You'll be training with your instructors on the mountain 5 days a week (6 days a week on the 4 week course). To give you as much exposure as possible to different skiing skills and teaching styles, you will work with a different trainer each week. During the course, the excellent training team will boost your technical knowledge and train you to become an effective instructor.
When you are not skiing, the social life is excellent – there is so much to do! You can get involved in tobogganing, ice driving experiences, snow mobiling or zip lining – to name just a few. The nightlife is also first class with several themed social nights included in the course itinerary.
Where is the course based?
During your 4 or 6 weeks of ski instructor training, you will be living in the picturesque resort of Kaprun Zell am See. Featuring 3 mountains and 3 snow parks – there is plenty of skiing opportunities. Having access to three mountains means you'll always be able to ski in the best conditions. You ski pass covers all three mountains and there is a free bus shuttle between Kaprun and Zell am See.
Our November course starts on the Kitzsteinhorn Glacier until the snow level reaches further down the valley. By the end of this course, or if you are on the January or March course, expect to be skiing in all three areas – Kitzsteinhorn, Maiskogel and Schmittenhohe.
Working as a ski instructor after the course
The Anwarter Level 1 and 2 course qualifies you to teach a wide variety of lessons from beginner to intermediate skiers of all ages.
Included with this instructor training course is a paid job guarantee at a resort in Austria. The job will be organised either before you arrive in Austria or during the first three weeks of the course.
There is a lot of competition when it comes to ski instructor jobs in Austria. On this course though, our team have unique relationships with the ski schools which means our candidates are always top of the pile when it comes to securing work. As long as you pass the course and can legally work in Austria, you are good to go!
At the end of your course with us, you will head to your new ski resort, move into staff housing and begin your job teaching skiing for the rest of the season. Depending on the end date of your course will dictate how much time you will have left to work that season. You can opt to use your job guarantee for the following season if time is tight.
Read more about working after the course and our job guarantee.
Do I need to speak German?
No, at least, not yet!
German is the official language in Austria and your Anwarter ski exams are conducted in German.
You don't need to be able to speak German to book onto this course though (phew!) although you will need to commit to learning some before the course starts. Don't worry though, we will provide you with the basics of the language during the ski training and give you access to fun online lessons pre-departure to get you through the exams.
Last season, 100% passed the language theory and over 75% of participants had never spoken German before!
Shared comfortable accommodation in Kaprun – we know the importance of a comfortable place to stay after a hard day on the slopes!
Accommodation is made up of chalets or hotels
Expect to share with up to three other people in the same room. Let us know if you have a preference and we will try to accommodate
Shared rooms tend to be made up of Austrian twin beds or bunk beds. Each apartment has a bathroom
The accommodation caters for individuals, groups and couples. Contact us to discuss your requirements
When you start your job, expect self-catered shared staff housing for the rest of the season
Self-catered option is available for most courses and kitchen facilities are provided in that accommodation
Kaprun has plenty of variety when it comes to finding somewhere to eat
Airport: Salzburg (SZG)
Arrival day: Saturday. You will be met at the airport and transferred to Kaprun (a 90 minute drive)
Departure day: The course finishes on a Saturday and you will need to make your own way to your new ski school. You'll be given advice on how to organise this. It is best to delay organising your return flight until you know when your work contract ends.
Kaprun is also accessible from Innsbruck and Munich airports however you would need to organise your own transfers to the village.
If you are travelling by train, we can arrange a transfer from Zell am See train station for you.
Access to your own personal 'My Oyster' account – our online portal where you can find out much more about the program and manage your booking
Dedicated contact time with an experienced destination manager to discuss the project, answer any of your questions and for us to find out more about you
Help and advice from our UK office before arrival and whilst you are away
In-country support
Pre-departure information covering medical, safety and project advice
Gold level, 24/7 Pharos crisis management and incident support cover
Financial protection: ATOL (if we book your flights); IPP (if we don't book your flights)
Thorough orientation on arrival
Accommodation (see the 'accommodation' section above for details)
Advice on visa requirements
Oyster plants a tree in Africa with TreeAid to help reduce the impact of global carbon emissions
100% guaranteed job in a ski school
Practical instructor training from our top coaches
Ski lift pass for the area
Airport transfer (from Salzburg airport)
Video analysis
Theory lessons
Anwarter ski instructor association exam entry
Sports science gym lessons
Avalanche awareness lecture
In-resort discounts
Mid layer jacket and buff
On your return:
Welcome home pack
Certificate of Recognition (on request)
References (on request)
Flights – as an ATOL bonded company, Oyster can book flights for you
You need a valid passport that meets the requirements of the country you will be travelling to
Insurance (covering your time with Oyster and any planned independent travel)
Any costs associated with changing your return flight date if you need to
Independent travel costs
Home country travel costs
Spending money for additional trips, food and entertainment
This area makes up part of the Europa Sport Region, which provides over 138km of piste! It is also home to the Kitzsteinhorn Glacier sitting at 3000m. Not only does this provide us with awesome conditions for the duration of our course, the glacier is open to skiers for 10 months of the year!
The three mountains that make up this ski area cater for all levels of skier and provide 3400 acres of skiable terrain. The Maiskogel is perfect for beginners and intermediate skiers and is a firm favourite with families.
At 2000m, the Schmittenhohe is Zell am See's local mountain and is regarded as the mountain with the most beautiful views in Austria, particularly of the stunning Lake Zell. This mountain will soon become your favourite place to ski and its tree-lined pistes are perfect for intermediate and advanced skiers.
Before you join this ski instructor course, you need to have a minimum of 4 weeks ski experience under your belt. You should be comfortable skiing red runs and skiing parallel at a reasonable speed. By the end of the season, you'll be able to call yourself an experienced instructor!
If you are looking to book onto the 4 week March course, you need a minimum of 20 weeks ski experience as this course moves at a faster pace to get you to the required level for the Anwarter examination.
We have a limited number of places available for people looking to take part in a snowboard course in Austria. Please contact us to discuss this.
You will be living in the Alpine region of Western Austria, which features longer, colder winters with more snow. Temperatures vary greatly at altitude so it's always best to pack several clothing layers.
The winter temperature averages 3oC in the village during the winter.
These courses have a pass rate of over 96%. If you are turning up on time, dedicated to the course each day, not hungover and looking to improve, you should have no issues with passing the exam.
If you are not feeling ready for an examination, try it anyway and see it as a learning experience, you've already paid for it!
Retakes can be arranged if you fail an assessment. Retakes can usually be arranged with just a few days' notice.
Should you need to stay a few extra days on the course to retake, you will need to pay for extra accommodation, exam and potentially training. This wouldn't be too expensive, possibly a couple of hundred dollars.
We offer 4, 5 or 6 week ski instructor courses in Kaprun. All options will provide the training and exams to get you through the Anwarter Level 1 and 2. On the January and March courses you will be trained 6 days a week on the mountain. With the 6 week course, the training takes place 5 days per week, giving a little more time for rest and recuperation.
The 6 week course takes place in November each year, and the 4 week course starts in March.
By joining the November course, you will be able to transfer to your employer, and start working, earlier in the season.
A job offer is guaranteed to people who pass the course and can legally work in Austria. Expect to work the whole season (if you do our November course) or peak season (on our January course). The job offer can also be deferred a season if you want.
Austria has a huge number of top ski resorts, so you can be sure you are going to be working for a great Austrian ski school once you finish your course.
All the employers and ski schools we work with have been checked out and have worked with course participants in recent years. A lot of our instructors that teach on our courses also work for these ski schools around the country.
Your job will be arranged either before you head to Austria or during the first three weeks of the course. We take care to make sure you will be employed in a place where you will fit in.
Expect to go through the ski schools' own recruitment process. This can vary depending on the employer, but you should expect to provide a CV, complete some paperwork and possibly have a Skype interview.
Bear in mind that work is not guaranteed for the whole season. There will be peaks and troughs to working in any ski school. This is largely dependent on guest numbers and snow conditions. You can expect to work during the peak times of Christmas, New Year, Feb half term and Easter holidays.
We can't answer this question with any certainty as each employer is different and it will depend hugely on how busy the resort is and when the season will be ending.
The exact wage is determined by your ski school however all resorts respect a Uniform Collective Contract which secures the rights of ski instructors around minimum wage, holidays and working hours.
You can expect to earn an average of 1000 euro per month. Out of this, you may have a deduction for accommodation of roughly 200 euro.
Most ski schools will provide staff with a free ski pass and uniform, others may ask you to pay a small fraction towards the cost of the pass or pay a refundable deposit for your uniform.
Your pay and precise terms and conditions will be confirmed with your job contract, which you can expect by around week three of the instructor course.
The UK left the EU on the 31st January 2020. We have now entered a transition period which means that all rights of EU citizens remain until the end of 2020.
As with the rest of the seasonal work industry (and the country generally) nobody really knows what the position will be at the end of 2020.
The suspicion is that things will have to remain the same for this season, come what may, because these resorts rely on staff coming over from the UK to fill roles over the winter. Even with a 'no deal' outcome, there may still be areas where the UK and EU can agree for short-term consistency.
The job guarantee is open to anyone who can legally work in Austria. We don't know how the legal status will change at the end of the transition period. If a future relationship with the EU can be agreed, seasonal work may be something that can continue without change in 2021 and beyond. We just don't know.
If there was no deal agreed by the end of the transition period, and there was an immediate hard line response meaning that no new people could work in Europe, it may be that Brits have to apply for a work visa. In this case, our 2020/21 participants would have a short amount of time to get a visa whilst on the course before they are ready to work. Our partners in Austria have been informed by the Austrian government that emergency visas are ready to go so a fast track system should also be in place.
As we won't know exactly when your job will finish before you arrive, we suggest that you just book your outbound flight to Salzburg and book your return when you know the season is coming to an end. Some resorts can stay open well into the summer months, whereas other will close during the spring.
You will have access to a deal in Kaprun that means, for 780 euros, you can buy a package that includes premium quality skis, bindings, boots, poles and helmet.
Should you wish to drive to Kaprun for the course, there is plenty of parking available at the resort. Please note that you should make sure your car meets the winter driving requirements in Austria – winter tyres are mandatory!
We can't guarantee that there will be parking available where you work though.
If you are in the self-catered accommodation, you should budget for around 30-40 euro per day for food. Your social life and buying equipment would be in addition to this.
On the self-catered programme, you will have access to a fully equipped kitchen meaning you can cook for yourself at home. Alternatively, there are loads of restaurants to choose from catering to a range of tastes.
On the half-board option, you will receive breakfast and dinner cooked in your apartment. Expect a continental style breakfast and hearty western meals for dinner. We can cater for dietary requirements.
There is free WiFi in your accommodation. WiFi is also available throughout the village.
Mobile reception is good throughout the resort. If you are coming from another EU Member State, you'll be able to use your SIM card and the same allowances you would use at home.
Expect to pay around 4-5 euro for a beer in the village.
There is lots of choice when it comes to eating out in Kaprun and Zell am See and they claim to have over 100 restaurants to choose from.
A pizza and a beer costs around 10 euro and a decent burger and beer nearer 15 euro.
Austria is 1 hour ahead of GMT (GMT +1)
You will need a European adapter.
During the course you will get most weekends to yourself. There's lots to do when you are not in training. You are free to ski on your days off or get involved in some of the many activities that are available in the resort.
Supervision will be fairly intensive during the 5 or 6 week course. During each training session you will be coached by an experienced instructor.
Staff at Oyster's head office and in-country will be responsible for your safety and welfare while you are on the course. This will start from the moment you are picked up from the airport until the time you finish the course. Before and after these times, you will be outside Oyster's responsibility and should make sure that you act safely and avoid risk. This is also true when you start your guaranteed job in Austria when you will be formally outside of Oyster's care. If you need any assistance we, and our partners, will try to assist as much as possible. However, your main point of contact would be with your employers at your ski school.
Unfortunately at this stage, and due to Brexit regulations, UK citizens are unable to obtain work permits for Austria and other EU countries. As a result,  we will not be able to offer our paid work and ski course option to British passport holders. Although we are hopeful that the situation will change soon, for now we are excited to announce the development of a unique 11-week instructor programme. This is designed specifically for British passport holders and will offer the same experience level and qualifications as participants are authorised to stay in Austria for up to 90 consecutive days. Please note that if you carry another EU passport, and to all those who from participating countries, paid work remains 100% available!
THE DETAILS:
Programme: 11 week ski instructors course
Date: 30th Oct 2021 or 15th Jan 2022
Price: £7375
Location: Kaprun – Zell Am See, Austria
Qualifications Obtained: Equivalent of British Lv1, Lv2 and part of Lv 3.
 What's included:
Return airport transfers (Salzburg)
Full accommodation for 11 weeks
Free daily breakfast
Free evening meals 5 days a week
Super Salzburg ski pass ( including 400+km of slope)
Practical training from highly qualified instructors
HD video movement analysis
Avalanche safety module
Introduction to ski touring module
Sports science/biomechanics module
Please email [email protected] if you have any further questions, or head to our BOOK NOW page to start the application process.
Other adventures like this