Whether on a gap year or career break, living and working in Whistler, Canada is a unique experience and great way to spend a winter. As Oyster's resident Destination Manager for Canada and Whistler expert, I've shared my insight and knowledge to come up with our ultimate guide to living and working in Whistler.
Hopefully this guide will answer some of those important questions that go through your head when you are considering spending a season overseas in Canada.
What's Whistler like in the winter?
Whistler is regularly voted as North America's number 1 ski resort and it is easy to see why. You've got a fantastic mix of awesome snow, varied terrain and a friendly local community to start with.
Whistler hosted the 2010 Winter Olympic Games along with Vancouver. It's got the highest vertical drop in North America, over 8000 ski-able acres of terrain, and enjoys more than 11 meters of snow fall each season. The resort offers over 200 runs accessed by 37 lifts.
Where do I start?
Whilst it is possible to rock up in Whistler as a newbie and sort yourself out with a job and somewhere to live, it's a risky strategy. The job fairs take place in October in Whistler and, with a bit of work experience under your belt, you may be lucky enough to secure a job.
The difficulty comes in securing accommodation in Whistler for the season. This is at a real premium and can be quite expensive for what you get. If going this route, it is likely that you would need to head to Whistler in late September, secure yourself a job and start paying your rent. Bear in mind that your job will most likely not start until late November when the tourists start to arrive, so you will have to fund the first couple of months for yourself.
Companies like Oyster can take a lot of the stress out of the situation by helping to make sure that you have a job and accommodation organised before you arrive in Canada. The other benefit of going with Oyster is that you will head to Whistler with a ready-made group of friends, who will all be living with you in staff housing. This is a far more social way of starting your new life in Canada and you will also have the support of Tory, our representative who lives and works in Whistler – someone you can turn to if you have any issues.
Work permits for Canada
Unless you are lucky enough to hold a Canadian passport (or be eligible to apply for one), you will require a work permit to allow you to spend a season living and working in Canada.
Most employers in Whistler will require to arrive with the 'open' Working Holiday Program permit. With this permit you don't need to have a job offer to apply for it. Offering 'sponsored' permits with a job offer letter is a timely and costly exercise for employers. Basically, they must prove that the job they want you to do cannot be done by a Canadian.
With the Working Holiday Program, anyone who is eligible can come to Canada and work in any job for up to two years. From the employer's point of view, this is a great system!
Canadian Immigration offer the Working Holiday Program to citizens of approximately 30 countries. If your country is not listed, then I'm sorry to say that you would not be eligible. Each country then has a quota allocated each year (the UK, for example, is usually given a quota of around 5000). The quotas tend to open towards the end of each year and applicants can express their interest by entering the 'pool of candidates'. Once in the pool, you will need to be patient and wait to be selected and invited to apply for the work permit itself.
The key thing with all of this is that applying for the work permit takes time, so you really need to be thinking ahead when it comes to moving to Canada, ideally start organising everything a year before you want to go!
We've produced a guide on how to apply for the Working Holiday Program. Sign up to receive your free work permit guide today.
Where should I live in Whistler?
Whistler is not a huge place and finding accommodation at the right price can be hard. The resort is broken down into three key areas – Whistler, Blackcomb and Creekside.
If you book onto our programmes working for the Mountain or in a hotel, we ensure that accommodation within staff housing is organised for you before you arrive. Staff housing is always heavily subsidised by your employer, so you can be sure of living in a great location and that it is excellent value for money. Generally, accommodation costs the equivalent of an hours' pay per night.
Even if you apply directly to an employer with staff housing available, there are not many beds so, again, you need to be organised and act fast.
The largest employer in Whistler is Whistler Blackcomb itself (known as 'The Mountain'). They house the most staff in Whistler in 'HOUSE'. There are several locations throughout the resort but the most popular is Glacier Park, located on the side on Blackcomb Mountain. There are 7 buildings that house 1000 people and it reminds me a lot of University accommodation from the outside. Each building is made up of a number of units. Most of these are shared between four people. Each unit has two bedrooms with a bunk bed, a lounge, bathroom and kitchen. The cost of the accommodation is taken directly from your pay cheque and works out to be roughly the equivalent of an hours' pay per night.
If you don't have the option of getting a place in staff housing, you may still be able to find a house share available in a private rental. Given that there is not a great deal of choice, and high demand, expect to be dealing with landlords that could be charging you quite a lot of money for a bed! You should also expect to arrive in Whistler in the autumn to secure your accommodation in late September/early October.
Whistler has several neighbourhoods that surround the immediate 'village'. It is in these neighbourhoods, such as Brio in Whistler Centre, where the private rental accommodation is located.
If you choose to go down this independent route, remember that your seasonal job may not start until late November, so you will be paying out for your accommodation for a couple of months before you start to earn money.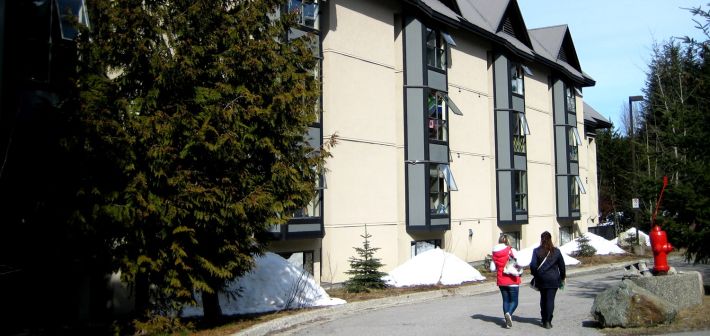 Work hard and play hard
We've all heard this phrase growing up. No truer have I seen it than in Whistler Blackcomb though. To work in Whistler, and be successful, you really need to arrive with this 'can do' attitude. It's an attitude that means you'll go above and beyond for your customers, always with a smile on your face. The days are long and can be tough, particularly if you are working on the mountain and outside all day in the winter weather.
If you can work hard and impress your bosses, they are going to want you to make the most of your season in Whistler. This means taking advantage of the awesome ski and ride opportunities and having an awesome social life on your days off.
Whistler is an excellent party town with a great vibe for seasonal workers. Everyone is super-friendly and there are loads of places to go to on a night out.
What's the food like?
Whistler is a foodie's paradise. You can find pretty much every type of cuisine in the village as it has to cater to the tastes of the international tourists arriving from all around the world.
Seafood in Whistler is excellent, due to the close proximity to the ocean and sushi is always a popular choice among the locals.
Being in North America, portions sizes are generally large – just what you need after a day on the mountain!
As a worker in Whistler, eating out every day would become very expensive very quickly. Whistler has three supermarkets where you can buy all the essentials and then cook in the comfort of your own home.
That said, there are cheaper places for staff to go to eat out. Whistler has all of the main chain eateries such as McDonalds, Subway, Dominos and Tim Hortons (a personal favourite and Canadian staple!).
Employees of Whistler Blackcomb can also get access to a staff meals program at Base II (located close to staff housing on Blackcomb Mountain). For around $7 staff can get a 3 course meal each day – this is almost cheaper than cooking at home for yourself, and far easier!
How much money should I bring?
Whistler is a popular tourist resort and as such can be an expensive place to live if you are not careful. Don't worry, it doesn't take long to work out where the best hangouts are for staff who are on a tighter budget than the holiday-makers!
With any job in Whistler (even if you arrive with one pre-arranged), remember that it a month of working before your first pay cheque arrives, so you need to be able to support yourself during this time (accommodation and food costs for example). Most employers run pay roll every two weeks and if you start week midway through the payment cycle, you will have to wait until the next one. Your first pay cheques may be a little smaller than most as these might have had uniform or accommodation deposits taken for example.
What's the weather like in Whistler?
Whistler is ideal as both a summer and winter destination. The summers are warm enough to swim in mountain lakes and moderate winter temperatures make for awesome powder days. Whistler is close to the Pacific Ocean so doesn't tend to get as cold as other parts of Canada, such as The Rockies, during the winter. Expect temperatures around the 5 -10oC below zero mark for much of the winter, although when you add in the wind chill factor, it can feel much colder!
Whistler Blackcomb enjoys a long winter season. The slopes open towards the end of November and close at the end of April. Much of Blackcomb is on a glacier so offers spring and summer skiing right through to July.
What's the terrain like at Whistler Blackcomb?
One word to sum it up? Awesome! Whistler Blackcomb comprises the biggest area for skiing and riding in North America. Lake Louise is the second largest area, but this is still half the size of Whistler Blackcomb in terms of skiing terrain.
Whistler and Blackcomb are two separate mountains, joined together in 2008 by the 'Peak to Peak' gondola (a system that still holds a host of world records).
Each mountain has its own challenges, and both are awesome. Having so much terrain available means you can always be skiing in the best conditions that the resort has to offer (maybe starting out on sunny Whistler in the morning before heading over to Blackcomb after lunch – always a popular choice!).
Both mountains have terrain suitable for beginners right up to experts alike. Whistler Mountain tends to have a little more variety for the beginners. Both have plenty of bowls, glades, steeps and chutes to keep you coming back wanting more.
Ski pass options
If you manage to secure a full-time job with 'the mountain' (i.e. Whistler Blackcomb) you will receive a season long ski pass as part of your job. This is a real bonus and will save you around $1700 over the course of the season.
A lot of the other big employers in Whistler (thinking hotels) tend to offer a discounted ski pass to staff with the cost being paid via payroll deductions off each pay cheque. This is a really good idea as it means that you get the full season pass on day one of employment but can pay it off over the course of the season. The one downside with this is that the money that ends up in your bank account from your pay cheque is going to be less after this deduction.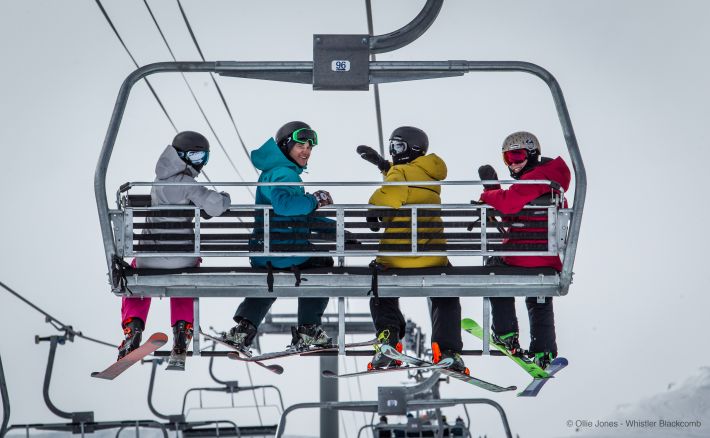 How do I get to Whistler?
Whistler is easy to get to from Vancouver International Airport (airport code YVR). Vancouver airport is about two hours from Whistler and journey goes along the iconic Highway 99 – the Sea to Sky Highway. There several transfer options that offer a direct shuttle service, including Pacific Coaches and Ridebooker, and most allow 3 hours for the transfer. Transfers cost around $60 each way.
If you are already in Vancouver city, more options are available to you. Greyhound, for example have routes picking up in Vancouver on the way to Whistler.
When you arrive in the village, most buses will use the 'village loop' as their main drop off point. If you already have accommodation booked, you can request to be dropped off there although this request is normally made when you are booking the seat.
If you are feeling flash, there are several taxi and limo companies available to hire at the airport.
Personally, I wouldn't suggest renting a car unless you absolutely must. The road up to Whistler can be quote treacherous during the winter and often hire cars are not equipped with winter tyres and snow chains. Save the hassle and let someone else do the driving!
If you are on an Oyster paid work programme in Whistler, we will organise the transfer from the airport for you and your group. This is included in the programme price, so long as you arrive at the same time as everyone else.
Conclusion
I hope that you have found this guide to living and working in Whistler useful. We have been arranging paid work for people in Whistler since 2000 and have a wealth of experience that we share with our participants. If you have any other questions, please do comment them below and we will answer them.
Alternatively, if you are keen to organise paid work in Canada, contact me directly on +44 (0) 1892 771972 or email [email protected].