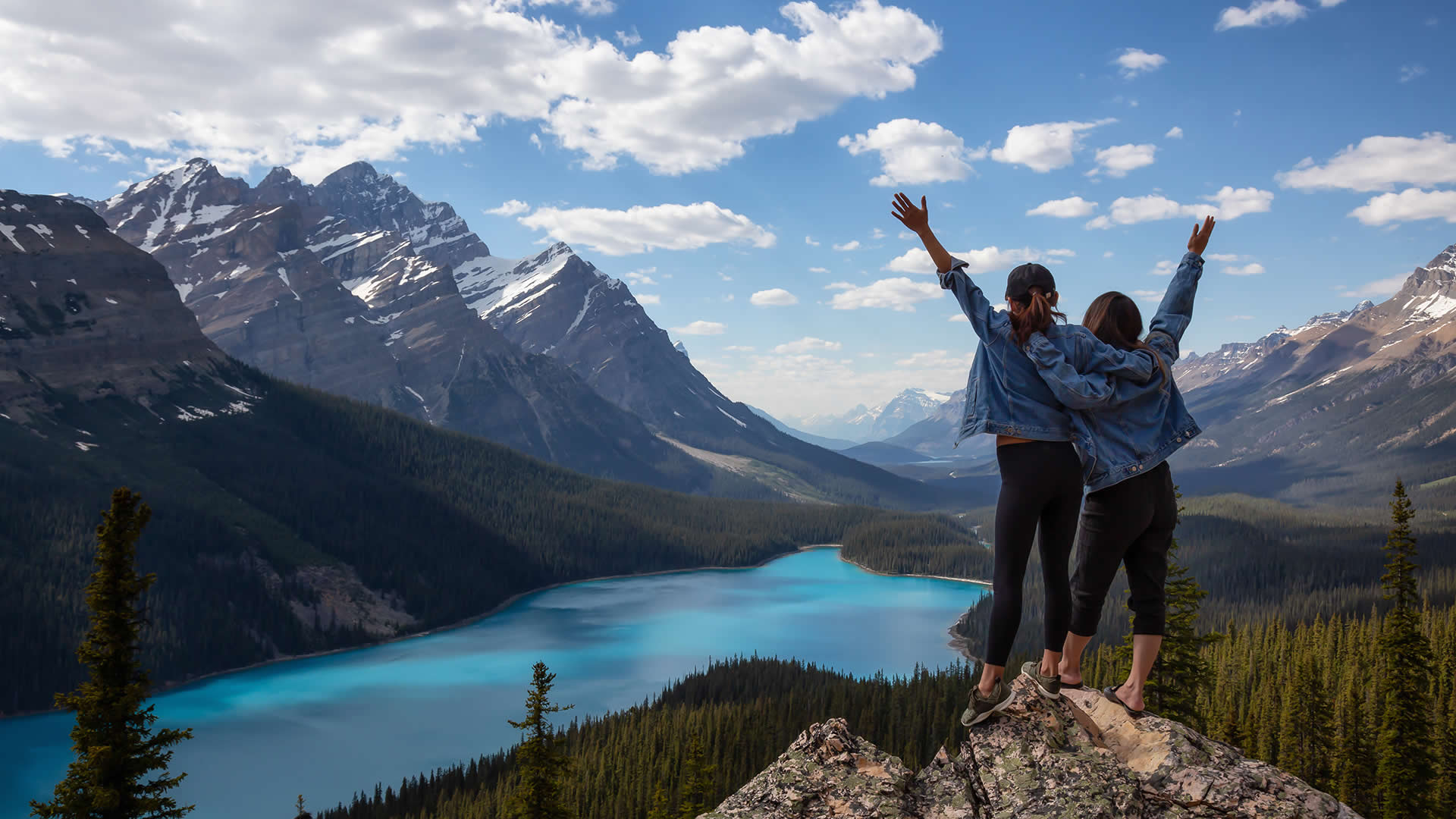 Enjoy the great Canadian outdoors on your days off as you spend the summer working in the town of Banff, in the heart of The Rockies. Work in either the housekeeping or food and beverage department in one of the town's leading hotels.
Duration: 14 weeks (the whole summer season)
Dates: Late May to early September each year. 2021 applications closed, taking for 2022. Later arrivals may be possible.
Arrival day: Wednesday
Return day: Wednesday
Eligibility: Good level of fitness and relevant work experience required
Age: 18+
Gaining impressive paid work abroad that will look great on your CV
Earning money and enjoying an awesome social life as you 'work hard, play hard' in Canada
Checking out the Calgary Stampede, the annual rodeo, exhibition and festival, that takes place every July
Exploring the spectacular Rocky Mountains on your days off
Feeling like you've been fully supported throughout your time with Oyster
401 Banff Ave, Banff, AB T1L, Canada
Oyster has been recruiting hardworking individuals to work in a variety of roles in hotels in the Banff area of The Rockies since 2006.
With these jobs, you can expect to earn around C$15 per hour (approx £8.50 per hour) and be paid fortnightly. Over the course of the summer, you could earn in the region of C$5500.
Relax in the knowledge that you will have a guaranteed job lined up once you've been accepted onto this programme.
Whilst the exact role cannot be confirmed until a couple of months before arrival, you should expect an entry level role in the hotel industry, typically:
Housekeeping: cleaning the guests' bedrooms and bathrooms or the public areas in the hotel
Kitchen and restaurant: working as a dishwasher behind the scenes or as a busser in the restaurant, clearing tables and re-stocking cutlery
Wherever you work, standards and expectations are going to be high. To excel, you will need to be punctual, stick to a dress code and be genuinely friendly and courteous to guests.
These are all jobs that require a positive attitude and a commitment to hard work, however you'll still have a great time.
If you can prove yourself adept and willing, other opportunities may arise in front of house roles such as bar-tending or on reception.
If you have worked in hospitality before then do tell us on application as this may help us find you a job in other hotel departments, although this cannot be guaranteed
The Rockies in the summer is a spectacular part of the world to spend time in. You'll be lucky to spend a whole season where most visitors just spend a week or two of their holiday.
During the summer months, the resort is a walkers' and bikers' paradise with plenty of trails to experience – watch out for the bears! Climbing, rafting and gold are also popular activities. There's plenty to keep you occupied on your two days off work each week!
Accommodation is arranged before you arrive in Canada
Expect to share a room with at least other person in a house with others working for the same employer
It's basic but perfectly adequate for what you need
The accommodation is run, and subsidised, by your employer
You'll be living within a short walking distance of where you work
The cost of the accommodation equates to approximately an hours' pay per night and is taken directly from your pay cheque
Your accommodation is self-catered and you'll have access to a shared kitchen
Some employers provide a hot meal whilst you are working, however you should ensure you can cook a few easy dishes before you arrive in Canada
You'll be spoilt for choice when it comes to eating out in Banff!
Airport: Calgary (YYC)
Arrival day: Usually a Wednesday – this will be confirmed before you book your flights.
Transfer details: Assuming you arrive with the rest of the group, we will pick you up at the airport and transfer you to Banff.
Departure day: Usually a Wednesday. You will need to organise your own transport back to the airport.
As an ATOL bonded company we can book flights for you from the UK or elsewhere. If you are flying with the group from London, we will see you off at Heathrow on departure day.  On arrival, our rep Arjun will pick you up at the airport.
If you are travelling from outside the UK we will arrange for you to meet up with your group on arrival in Canada.

Arjun grew up in London and went to university in the UK. As a graduate he decided the time was right to take a gap year and signed up to our Rockies programme what he thought would just be a 6 month stay in Canada. Arjun fell in love with the Rocky Mountains and decided to stay for another year, and then another… Fast forward to today and Arjun is now a Canadian Citizen, married and has brought up his family in Banff.
Arjun started life in Banff as a housekeeper and has worked his way up to become the General Manager of a hotel in downtown Banff.
In his spare time, he enjoys all that mountain life has to offer from white water rafting and hiking in the summer to snowmobiling and skiing in the winter. You'll get to know Arjun well during your time in Canada. He is an active member of the community and looks forward to passing on his knowledge and supporting you.
On arrival, Arjun will arrange a short orientation course and be in close contact with you over the first couple of days. As time goes on, Arjun will take more of a back seat and be there as a helpful friend should you need any help or advice. Once a month Arjun hosts a meet up with the Oyster group where we provide a few drinks and snacks and the chance for you to talk through any issues you might have. Arjun is a local expert on where to go and what to see in The Rockies!
Our representatives are there to be a helpful friend to you and steer you through difficulties of any kind. Arjun will keep us updated on your health and welfare throughout.
Read more about Arjun in our 'meet the reps' interview.
Access to your own personal 'My Oyster' account – our online portal where you can find out much more about the program and manage your booking
Dedicated contact time with an experienced destination manager to discuss the project, answer any of your questions and for us to find out more about you
Help and advice from our UK office before arrival and whilst you are away
In-country support
Pre-departure information covering medical, safety and project advice
Gold level, 24/7 Pharos crisis management and incident support cover
Financial protection: ATOL (if we book your flights); IPP (if we don't book your flights)
Thorough orientation on arrival
Accommodation (see the 'accommodation' section above for details)
Advice on visa requirements
Oyster plants a tree in Africa with TreeAid to help reduce the impact of global carbon emissions
UK pre-departure briefing meeting covering hotel issues and work advice
Visa and accomodation advice assistance.
A suitable job, liaising with hotels and obtaining job offer letters etc. Please be aware some hotels like to conduct their own interview on the phone
Optional flight with fixed return date.
Arrangement of transportation to Banff from the airport
Assistance and support from our representative throughout the programme, including regular social 'meet ups
On your return:
Welcome home pack
Certificate of Recognition (on request)
References (on request)
Flights – as an ATOL bonded company, Oyster can book flights for you
You need a valid passport that meets the requirements of the country you will be travelling to
Insurance (covering your time with Oyster and any planned independent travel)
Any costs associated with changing your return flight date if you need to
Independent travel costs
Home country travel costs
Spending money for additional trips, food and entertainment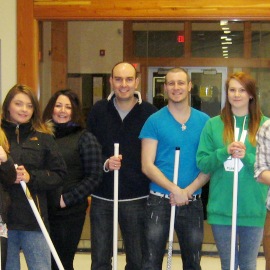 "Whenever I visit Banff I'm pleased to receive positive feedback from the employers we work with. We're proud of the fact that hotels choose to work with us we'll continue sending carefully selected and well prepared participants every year."  Says Jon.
You should expect to work 5 days per week (30 hours) on average across the whole season. At times during the summer this average can be higher – think of the money!
Kate, an ex Oyster participant in The Rockies, has this to say about her typical day as a housekeeper:
"I am generally up at 8am, get ready for work and then head out on the 10 minute walk to work, ready to start at 9am. My supervisor gives me a list of rooms to clean (on average 9 per day) and I get my housekeeping cart ready for the day. I am lucky, my employer allow me to listen to music whilst working (not all do).
I clean rooms until midday when I have lunch and discuss recent events with the other staff at the hotel. After lunch it is back to work. Depending on how busy the hotel is, I can finish at any time in the afternoon.

After work I head home, maybe do some shopping for dinner, and take a power nap! Most nights Sophie (fellow Oyster participant) and I have dinner together in front of the TV before deciding on the evening activities which could be going out to a bar or a club, relaxing with a film at home with friends or even occasionally testing out the night skiing"
The employers all differ slightly in the number of hours, and shift patterns, that they require you to work. To give you a rough idea for a housekeeper, you would start work by 9am and, during peak season, work until 5pm cleaning up to 15 rooms. During quieter times, you may only need to clean 6 rooms and be finished by mid afternoon.
The season runs from mid/late May through to mid September and we ask that people stay until after the first full weekend in September. This is a Canadian holiday weekend marking the end of summer and the hotels are always very busy at this time.
If you are looking to be away and working abroad for a year or more, this could be the paid work abroad program that you are looking for. With the Canada work permit, you can stay in Canada for between 12-24 months (depending on your nationality). The employers we work with in Canada are always pleased if participants want to continue working for the winter season, after the summer.
You will work full time, an average of 5 days per week. Working in a tourist resort does mean that hours vary with the season and guest numbers. When you first arrive in May, summer will be starting in Canada. The hotels won't be operating at full capacity so your hours may not be at the full time level to begin with. Once you get into mid June though, the summer season really gets going and most hotels are at full capacity until early September. During the busy summer period you would be working 5 days a week, possibly more! Don't worry though, there will still be plenty of time for you to get out and explore Banff and the surrounding area.
Whilst these roles may not sound like the most glamorous jobs in the world, you have to remember where you are. You will be working hard but then having the most amazing days off! This part of Canada is famous for mountain climbing, long walks, canoeing, rafting and mountain biking so your days are sure to be fun, finished off with a BBQ!
Working in Canada for a season is a great use of your gap year. Not only will it enhance your CV – Canada is recognised as being a country with extremely high levels of customer service – but it will also enhance your independence and confidence. You will be living and working in another country for 3-4 months and developing your skills.
The timing of these summer programmes work well with the European academic summer holidays. If you are at university, you can head to Canada after your exams in May/June and then work through to mid September before being back home for the start of the academic year.
The summer weather in The Rockies is glorious. At the start of the summer there is the spring skiing to enjoy. By mid June, summer is in full swing! The resorts are very popular in the summer and most hotels are operating at full capacity.
It can take up to 6 weeks before your first pay cheque arrives so you will need to arrive in Canada with enough money to feed and entertain yourself. We would suggest having a minimum of £1000 available. Once you start earning money, you should be able to live on the money you earn day to day. You might want savings in place to cover any extra trips or outings that you want to do.
You will be able to set up a Canadian bank account with the help of our local representative, which you will be able to get a card for. Credit cards are advised for emergencies, as well as enough cash to see you through the first few days, there are ATM's in the town.
You will need to apply for a Canadian IEC Working Holiday permit before you go. To be able to qualify for the working holiday visa, you must be between the ages of 18 and 30, and hold a passport from one of the eligible countries stated by the Canadian Embassy: Australia, Belgium, Chile, Costa Rica, Croatia, Czech Republic, Denmark, Estonia, France, Germany, Greece, Hong Kong, Ireland, Italy, Japan, Korea Rep, Latvia, Lithuania, Mexico, Netherlands, New Zealand, Norway, Poland, Slovakia, Slovenia, Spain, Sweden, Taiwan, Ukraine, United Kingdom. This costs C$250 approximately (£125).
You will also need a Police Check for immigration purposes and this costs approximately £45.
We will help with this once you have booked a place on the programme.
You need to make sure your passport is valid for a minimum of 6 months after you return (any less can be possible but is likely to cause problems at immigration).
Most people book with Oyster on their own and travel with the rest of the group. The group meets at a UK briefing course before you go to Canada. You will be able to travel with a friend if you wish, pleae state this on your application form.
Please visit your doctor or travel nurse to find out. It is unlikely that you will need anything in addition to your routine vaccinations, which should be up to date.
For any information related to Covid-19, please see the Fit for Travel website or the UK government's travel advice page for Canada.
There is a hospital located in Banff.
Your safety is incredibly important to us and you will be trained so that you can do your job safely. You should always follow advice given to you by your employers.
Banff is a safe town but it is always advised to keep valuables secure and stick together when you first arrive.
You will be living in staff accommodation so wherever you are working/living, you will be in the heart of the tourist area and within easy reach of the main areas in town, either a short walk or bus ride away. A bus to Calgary costs approximately C$50.
Staff accommodation is comfortable and within easy reach of your place of work – usually no more than a 10 minute walk. You should expect to share a room with another member of staff. This way of living makes it really easy for participants to get to know some of the other staff really well – probably before you actually start work! All of the staff accommodation is self catering so being able to cook is a great help! Some employers will provide you with a meal whilst you are working but that would be it. The cost of the accommodation comes directly off of your pay cheque and usually equates to approximately an hours pay per day.
Your staff accommodation is self catered. You may well get a meal on your shift at work. Food in The Rockies generally comes in big portions designed to fill you up after a day in the mountains. There a plenty of restaurants, to suit all budgets, offering cuisine from around the world in the main towns. Steaks are a real favourite! If you want to eat out, and are sensible about it, you should be able to pick up a decent meal for C$15. There is a highly recommended Steak Night in Banff where you can get a steak, chips, onion rings, bread and salad for C$10.
WiFi is provided in your accommodation. All of the bars, restaurant and cafes provide WiFi access.
You should take an 'unlocked' mobile phone with you to Canada (or you can buy a cheap Canadian one) and purchase a local 'pay as you go' SIM card. This is useful for contacting the representative and the rest of the group as local calls are very cheap. You can buy international phone cards to call the UK for $10+tax from any supermarket/phone shop this will give you hundreds of minutes to use any way you like, including calling the UK.
Banff is in Canadian Mountain time zone which is 7 hours behind GMT (GMT -7)
Canada, like the US, operates on 110V, 60 cycle electric power. You should bring an adapter with you that has a two pronged (flat) plug.
You should have, on average, 2 days off a week. The exact days will vary depending on your specific job i.e. they may not be weekends as this will be the peak time of the week.
You will get to know our representative well in the first few days as they help you settle into life in Canada. You will go through an induction that involves a tour of the resort, assistance with setting up Social Insurance Numbers, bank accounts and mobile phones. You will also be introduced to your employer.
Once you start work, the representative takes more of a back seat role but is there as a helpful friend should you need assistance. Once a month, they will run a meet up with you and the rest of the group. Day to day, you will be under the supervision of your manager and supervisor at work.
Staff at Oyster's head office and in-country will be responsible for your safety and welfare while you are on our programme. This will start from the moment you are picked up from the airport until the end date of the programme, when you will make your own way back to the airport. If you are arranging your own flights and arriving earlier or later than the rest of the group, you will be responsible for yourself until meeting up with the rest of the group. Before and after the Oyster programme, you will be outside Oyster's responsibility and should make sure that you act safely and avoid risk. This is also true if you choose to get involved in activities during your time off. We will give you plenty of guidance and advice about this.
Other adventures like this