Conservation volunteering on the Galapagos Islands
Help to promote conservation and biodiversity in the Galapagos, the jewel in the crown of the stunning equatorial country of Ecuador. Get back to nature volunteering to improve the habitats for native creatures, from incredible bird life to giant tortoises. If that isn't enough of a draw, enjoy your free time swimming in the crystal clear waters, diving with amazing marine life and spending a day at the beach with a crowd of sea lions.
Live in paradise and help to preserve it
The Galapagos is known as one of the most enchantingly beautiful places on this planet. With its incredible biodiversity, its craggy beauty and its protected landscapes, it has gone down in legend as the world's premier wildlife destination. The animals that call this place home have become renowned for their fearlessness, leading to encounters that cannot be experienced anywhere else in the world.
Despite this incredible biodiversity, the wildlife population has been in danger since the arrival of humans in the 1500s. The presence of people has meant that the seas have been severely over-fished, the land has been over-farmed, and animals and plants from the mainland have completely taken over many native species. Because of this, almost 60% of native vegetation is considered to be under threat.
You can join an important conservation project based on one of the islands of this incredible archipelago. The conservation project was established in 2010 by a local family, who have lived and farmed on the Galapagos for generations. They have teamed up with the National Park to offer their support in conserving and protecting the landscape on the lush island of San Cristobal. Their lands border much of the national park, and their commitment is to eradicate as much alien vegetation as possible, and to reintroduce native plants to the area. These efforts have resulted in an increase in biodiversity, as more native creatures are able to feed, sleep and reproduce in these lands. Perhaps most excitingly, these efforts have seen the return of the giant tortoise to this area.
What will I be doing?
You will be rising early each day to cheat the heat and really get into the islanders' way of life. Your project will usually last from 7.00 – 13.00 each day, however this can change depending on the tasks at hand. You will be helping with a variety of conservation initiatives in and around the 50 hectares of land where this project is focused. Sometimes you will be asked to trek, ride or jump in the car to reach the areas that you will be working in.
Tasks are varied and depend on the need, however some examples of things that you might be doing include:
chopping down invasive vegetation such as blackberry and guava with a machete – hot work!
digging holes for planting seedlings
planting and watering seedlings
clearing areas of weeds so that the seedlings do not become suffocated by other plants
helping to clear vegetation in turtle protection areas – just check out the size of the giant tortoises!
collecting saplings from the National Park nursery
working in the local community to improve public spaces such as parks, schools etc
removing litter from natural areas
painting and maintenance work in and around the community
community engagement work such as teaching English
helping local farmers to cultivate native species
This project is varied and engaging, and is perfect for those who want to help make a genuine contribution to conserving this beautiful area. Wherever you work, you will look up and your breath will be taken away by the beauty of what you see, from the glittering sea to the lush greenery. This is a unique opportunity for those on a holiday with a difference or taking a gap year, ready to get off the beaten track and immerse themselves in the Galapagos way of life. You will certainly find that some knowledge of Spanish is a bonus here so that you can become as engaged as possible in the project and your surroundings.
Accommodation and food
Talk about a room with a view! The volunteer accommodation is built on a hillside with sweeping views over the sea and onto Kicker Rock, one of the most famous dive sites in the Galapagos. You will be sharing dorm accommodation with a small group of volunteers. There is a fully-equipped kitchen and dining room for you to prepare your meals, and most participants tend to cook as a group. The terrace – complete with a hammock – overlooks the sea and the small garden of your accommodation. There is a shower and a toilet neighbouring the volunteer house.
When should I book?
Whilst late-availability is possible, we would advise booking as soon as you can to guarantee your ideal dates. Our projects are very popular and spaces can fill up several months in advance, especially for the months of June to September.
Highlights
Become part of an important conservation project dedicated to protecting the incredible wildlife of these beautiful islands.
Carry out varied and engaging tasks as you make a genuine contribution to locally directed conservation initiatives.
Enjoy working surrounded by stunning scenery and unique wildlife species.
See the giant tortoise – one of the most ancient creatures in the world.
Live in one of the most spectacular and unusual locations that you will ever experience.
Try snorkelling in the crystal clear waters, and join the sea lions on the beach to catch some sun in your free time.
Why
should I do this?
This project is the perfect Galapagos immersion. Not only will you make a contribution to protecting its biodiversity, but you will also really live like a local. The pace of life here is laid back and very different to city-living, and you will become an extended member of the local community. You will be immersed into the Spanish language and meet people from around the world. In your free time you will have the opportunity to learn to dive, to go on trips, to head to the beach or to explore other islands.
The Galapagos is one of our most important and impressive environments on the planet, and as such requires as much protection as possible. You can make a great contribution here, as every weed that you clear or every tree that you plant opens up the possibility for native vegetation to flourish, and with that for the island's biodiversity to improve dramatically.
This is a once in a lifetime opportunity and a great way to leave a positive mark on this glorious archipelago.
Getting there
Fly to the Galapagos to San Cristobal (SCY) to arrive on a Sunday. You will be collected from the airport and taken up to your accommodation.
Our representative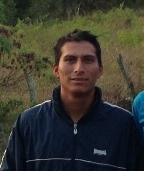 You will be working closely with the family who run this project, however you will mostly find yourself working with Carlos. Carlos is one of the sons and works both on the farm and on the project as a volunteer coordinator. He is very knowledgeable about the area and is very passionate about getting people involved.
What is provided
Phone or face-to-face planning and briefing
Access to your personal 'My Oyster' account – our online portal where you can find out much more about the programme and manage your booking.
Pre-departure advice covering medical, safety and project advice
Help and advice from our UK office 24/7 whilst in Ecuador
Advice on obtaining a visa
Full orientation and induction to project before you begin
Airport collection on the Galapagos and transfer to the project
Shared accommodation at the conservation project
Donation to the project
Oyster Worldwide volunteer t-shirt
Oyster luggage tag
On your return:
Welcome home pack
Certificate of Recognition (on request)
References (on request)
What do I need
A full passport valid for 6 months from the date of entry into Ecuador
If you will be flying through the USA you need to comply with US regulations- make sure you have an ESTA (Electronic System for Travel Authorization) at least 72 hours before you leave
Insurance covering your project time and any planned independent travel – we can introduce you to a policy
Return flights to San Cristobal (SCY)
Cost of changing your return flight date if you need to
Independent travel costs
Return transport to the airport / port for onward travel (approx 10USD)
Food (allow about £30 per week)
Any additional costs such as trips, snacks, entertainment (allow maybe £30 per week depending on lifestyle)
No visa is necessary for under 90 days from UK and most western European countries
Entry fee to the Galapagos Islands (100USD)
Migration Control Card for the Galapagos Islands (20USD)
No compulsory inoculations are necessary although do check with your doctor to make sure polio, typhoid and Hep A&B jabs are up to date