Gain a TEFL and teach English in Thailand
Gain a TEFL and teach English in Thailand. Earn a qualification on the tropical island of Phuket that prepares you for a well paid teaching job for 4-6 months.
The Basics:
£845 for a top quality 4 week residential TEFL qualification on the island of Phuket.
Departures:
TEFL courses start on the first Monday every month, excluding April, October and December. We advise that you arrive by Saturday latest. Accommodation is available from Saturday and is available for 4 days after the course.
When planning when to go, please be aware that Thai school are usually on holiday for October and late in March and this can mean waiting until schools are back to start your job if you take the September or the March course.
Highlights
Obtain an international TEFL qualification from an experienced TEFL teacher.
Gain hands-on teaching experience which will improve your practice and increase your chances of future employment.
Get a fascinating insight into Thai customs and culture, and taste the delicious fresh food.
Receive advice on how to make your CV/Resume appeal to local schools.
Enjoy relaxing on one of Thailand's most beautiful coastlines, or exploring its cultural sites in your free time.
Have the chance to obtain a paid job teaching in Thailand (or elsewhere) on completion of the TEFL qualification – great for your CV/Resume!
If you want to spend time in the 'Land of Smiles', surrounded by beautiful beaches, why not earn a TEFL and teach English in Thailand?  This 4 week TEFL course is designed to enable you to find a well paid teaching job. The course is delivered by an experienced TEFL teacher (and a native English speaker). With his extensive knowledge and enthusiasm, it is hard not to feel passionate about the teaching profession.
There are many TEFL courses and it is tempting to simply "get the TEFL out of the way" with an inexpensive online course. However, with this TEFL course, you will receive a personalised education, typically you will be with 2-8 fellow students, and most importantly, you will gain hands on experience teaching in local Phuket schools during the course. This programme is endorsed by the Thai Ministry of Education. It is worth noting that there is no standardised global organisation that can accredit TEFL courses abroad. However, this qualification exceeds international standards. The course follows a developed curriculum and gives participants the opportunity to teach a range of ages (6 to 16 year old students). To be a good teacher, you need to spend quality time in the classroom. There is so much about teaching that cannot be learnt in a book or online. Although there is strong demand for English teachers in Thailand, many schools will only accept teachers with real teaching experience. This experience you will gain on the TEFL course.
You will work for 8 hours a day during weekdays. On occassion, you will be given some evening and weekend assignments too. Your qualification will show that you have exceeded the international expectation, that you will have received at least 120 hours of training and over 20 hours of teaching practice. You will learn how to manage a classroom, plan a lesson, understand the needs of children and of course there will be plenty of time to refresh your own English grammar! The course will feel relaxed and informal and you will have useful discussions on Thai customs and culture as well how to enhance your CV to appeal to schools. What really stands out about this course is the stunning location. Situated in Phuket, the centre is in a great location – close to the sea and to the local schools where you will do your teaching practice.
Oyster offer this course because we want to offer a high quality TEFL course that provided the best possible job prospects.  We are aware that there is a huge choice of TEFL courses online and that the quality of courses varies.  We gained first hand knowledge of our provider so that we could reassure and inform potential applicants that the course would be right for them.  After careful research and a visit to the course in Thailand, we believe that this provider is great value for the money and the best by a long way.
The four week course is enjoyable, sociable and exciting. You will get some time to unwind on one of Thailand's most beautiful coasts including the famous James Bond beach – the nearest beach is 100m from the training centre. There are lively towns and a huge choice of delicious fresh food at a fraction of what it would cost in Europe or America.
On successful completion of the course, you could either continue your travels, apply for an English teaching job anywhere in the world, or you could pursue a teaching job in Thailand.  The job prospects for graduates are excellent. Most who have sought work has found it, however it may not be possible to find a job in a particular location so a bit of flexibility is needed.
The current monthly rate of pay is approximately £650 or US$1000 (or more) out of which you should budget up to £60 or US$100 for your monthly rent.
Contracts are for 4-5 months and can be renewed. Work permits are organised and funded on your behalf by your employers. Your hosts in Phuket are happy to give any advice you need while you are teaching.  You will also have access to English speaking Thai consultants offering 24/7 assistance and curriculum assistance if you find work though one of the Thai agencies.
The TEFL course is open to all, but to be confident of getting a job afterwards, you will need to be a native English speaker, a university graduate and have successfully completed the TEFL. You will also need a police check.  If you don't have a degree, you still stand a good chance of getting a good job, however we cannot absolutely promise this. Ideally, you will also have some prior experience of teaching, training or coaching too. If you have no relevant experience, the teaching practice while doing the TEFL will give you some tools and confidence to teach.
The course runs every month of the year staring on the first Monday of every month, except for October, December and April.  Please note that Thai schools are on holiday for 7 weeks across April and May. In Thailand the school year starts at the end of May and there are two semesters. The second holiday is in October.  This means that if you book a September or a February course you might have to wait until the holidays are over before starting your job.  This could be a good opportunity to explore Thailand before you start.
Accommodation and Food
Comfortable air conditioned apartment accommodation is next to the centre and is close to inexpensive local shops and restaurants. If you don't want to eat out there are good kitchen facilities in the apartments. Accommodation for the 4 week course is booked for you, but you will need to pay the local landlord directly on arrival, approximately £170 for a shared room or £300 for a single room.
The  rooms  are  available  two  days  before  the  course  begins  and  for  four  days  after  the  course  ends.
Getting there
You can fly direct to Bangkok from most cities around the world and transfer on to short connecting flight to Phuket. A number of international airlines fly directly into Phuket. Flight costs are from £40 each way between Bangkok and Phuket. Transfer time to the centre, by airport taxi, is about 30 minutes, depending on traffic and costs approx £20.
What is provided
Informal interview and briefing from Oyster staff with first hand project knowledge.
Access to your personal 'My Oyster' account – our online portal where you can find out much more about the programme and manage your booking.
Arranging comfortable accommodation with AC, paid for locally. This is available two days before the course and 4 days afterwards.
A 4 week certificated TEFL training course run by a well regarded teaching professional with a proven track record in education.
Full briefing on what to expect from Thailand and the school programme before departure.
CV/Resume advice, encouragement and information about seeking a paid teaching post.
Pre-departure advice covering medical and safety features.
Visa advice.
Help and advice 24/7 from our UK based office.
Free access to InterHealth's Travel Health Advice Service.
The use of two course textbooks available when you arrive: Penny Ur's A Course in English Language Teaching, the other is a grammar book by Keith Folse entitled Keys to Teaching Grammar to English Language learners.  
On your return:
Welcome home pack (on request)
References (on request)
What do I need
A hard copy of a police check or CRB check before departure.
A passport valid for a minimum of 6 months after your return date with at least two clear pages.
A good school education, preferably with a degree, although this is not necessary to undertake the TEFL.
A laptop rather than a tablet – easier to print from when on the cours
A budget of £5 or US$8 a day for food on the course.
Flights to Bangkok and Phuket (Oyster can help you to organise these).
Travel Insurance (Oyster can introduce you to a policy).
Cost of changing your return flight date if you want to.
£20 for the taxi to and from Phuket airport.
Any additional money for trips, snacks, entertainment (allow maybe £25 per week depending on lifestyle).
Make sure all inoculations are up to date. Consult your GP.
Tourist 60 day Visa £25 for postal applications (£10 more for same day applications in the UK)
Availability for this project
The availability calendar below is a guide only. We do advise early booking to guarantee your preferred dates.
Available
Limited availability
Very limited availability
Unavailable
Why
should I do this?
You will not only gain a first class TEFL in one of Thailand's most beautiful islands, you will also have the chance to work as a well paid teacher in Thailand. As well as enjoying living and working in Thailand, you will also give your CV/Resume a boost and, we hope, offset the costs of the TEFL and your flight.
Our representative
Oyster's representative is Thomas who will be running many of the sessions.  He has lived overseas and has a good knowledge of Asia as well as the world of TEFL.  He is enthusiatic about Thailand and making sure your time on the course is successful.  He is a native English speaker and comes originally from the USA.
Project Story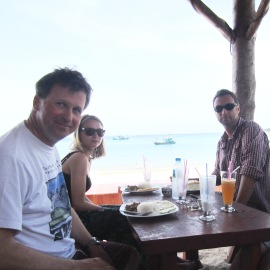 "I visited Thailand in November 2013 to learn more about the TEFL and the school used for teaching practice. I was struck by the thoroughness of the course and the extensive experience of the course leader. Although the course covers a lot, the style is light and friendly with some healthy pressure" Says Roger, Destination Manager
Find out more
We always enjoy talking about our projects and have first hand experience of them all. We'd love to answer your questions so feel free to contact us.
For animal welfare projects call Anne on +44 (0) 1892 771975 for a chat. Alternatively email anne@oysterworldwide.com
For TEFL teaching English call Sarah on +44 (0) 1892 771973 for a chat. Alternatively email sarah@oysterworlwide.com