Volunteer with monkeys and baboons in South Africa
Become a surrogate parent to orphaned and mistreated monkeys and baboons in the world's largest primate rehabilitation centre, helping them on a journey back to life in the wild.
The Basics:
2 weeks costs £847 (1059 USD); each additional week costs £200 (250 USD) per week excluding flights.
You can volunteer here throughout the year for 2 – 12 weeks. Shorter durations are available- please ask for more information. Whilst late-availability is possible, we would advise booking as soon as possible to guarantee your ideal dates.
Departures:
All year round from 2 weeks to 12 weeks. Shorter durations are possible for those on a tight timetable- please ask for more information. Arrival day is usually a Monday, however this can be flexible.
Highlights
Make a genuine difference in helping to return mistreated monkeys and baboons back to the wild – without the work of volunteers, the rehabilitation time is much greater and fewer monkeys can be cared for.
Be warmly welcomed into the centre, and become an important part of a friendly community of monkeys, baboons and volunteers.
Get hands-on with the monkeys as you help with feeding, bathing, playing and cleaning – lots of monkey hugs!
Live in a beautiful region of northern South Africa, and make the most of exploring the surrounding area – be sure to visit Kruger National Park (home to the Big 5).
Give monkeys the chance of a new family and life in the wild
Find out where the saying "cheeky monkey" originates from, whilst receiving countless monkey hugs in this life-changing rehabilitation centre in the African bush. Become an instant member of this close community, run by an energetic couple who are eager to welcome you into their family of volunteers, monkeys and baboons – there are even a few dogs and a tortoise to count as part of your wider group!
The location in the lush African bush couldn't feel further from city life. Your days are spent preparing food for your new friends, cleaning out their enclosures and working hard to prepare them for their future releases – not to mention feeding, interacting and playing with these cheeky creatures.  Watch them leap from tree to volunteer to dog's back, and experience the privilege of contributing to their release back into the wild.
The centre is very well regarded in the conservation community and has received special accreditation from the government. It is known for the exceptional standard of care given to the monkeys (as well as to the volunteers!) and for having undertaken many successful releases into the wild.
Volunteers are expected to work hard and you need to enter fully into the spirit of the centre to get the most out of your time there. Expect to get very mucky and finish each day exhausted, happy in the knowledge that you have really helped to make a difference – and will have had lots of monkey hugs to thank you for it!
What will I be doing each day?
No day is ever really the same, as these are wild animals that can be utterly unpredictable.  All tasks undertaken here are demand-driven, and these can vary throughout the year and depending on whether a release is imminent. One day you may be helping out in a routine operation, the next you may be transporting seven or eight monkeys and baboons around the centre on your head, in your arms or clutching your feet. Actual tasks that you can expect to help in, though, are as follows:
Feeding baby monkeys and baboons
Cleaning out the enclosures
Preparing food for the adult monkeys and baboons
Taking the young monkeys and baboons down to the swimming pool to bathe
Helping to prepare for current and future releases
Planting and picking fruit and vegetables for the monkeys from the centre's own garden
Chopping down grasses for the monkeys – prepare yourself for hard work here!
Helping with the food collection forays at local farms- a fantastic way to see the surrounding area
Caring for the various quarantined adult monkeys
Helping with various veterinary procedures when necessary
Monitoring the progress of the 400 monkeys and baboons as they gain strength, adapt to family life and get released into the wild in their new family
This work is crucial, as it allows for the smooth running of the centre and means that more monkeys in distress can be cared for. Whilst this project involves a lot of interaction with the primates, it is important to remember that you will not always be with the monkeys. The centre is run by the volunteers and there are lots of tasks which are not monkey-orientated, such as harvesting food, sorting food and helping to maintain the centre.
Accommodation and Food
Accommodation is set a few hundred metres from the monkeys and has outdoor space and a fire to sit around with a cool beer or glass of South African wine. Volunteers love the centre's comfortable cabin-style accommodation, complete with pool table and swimming pool – beware, this is often shared with your new primate friends! The outdoor showers offer a view of the Milky Way through the trees and are a refreshing way to cool down at the end of a busy day. You will be welcomed with a friendly smile and a chocolate on your pillow!
Breakfast and dinner are tasty and plentiful home-cooked affairs, enjoyed together as a group. Lunch is a little more fluid with bread and spreads offered for a quick lunch, although most volunteers choose to supplement this with extra grub. There is a pleasant veranda to sit on after dinner where volunteers play games and feed the babies.
The surrounding area boasts numerous attractions and natural wonders, including Kruger National park where you can see the Big 5 in their natural environment.
When should I book?
Whilst late-availability is possible, we would advise booking as soon as you can to guarantee your ideal dates. Our projects are very popular and spaces can fill up several months in advance, especially for the months of June to September.
Getting there
There are three main options for getting to the project:
– Easiest: fly to Johannesburg (JNB) and get a connecting flight to Phalaborwa (PHW). You will be collected from the airport and taken to the project site.
– Fly to Johannesburg (JNB) and take a private transfer shuttle directly to the centre (approx 5 hours)
– Least convenient: fly to Johannesburg (JNB) and then take the bus to Tzaneen (approx 7 hours). You will be collected from the bus stop and taken to the centre. Please note that the bus leaves too early in the morning to be taken on the same day as your flight arrives so you would need to overnight in Johannesburg.
Arrival day is a Monday, however this can be flexible if necessary.
What is provided
Before booking: Dedicated period of time on the phone or in person to discuss the project, answer any questions that you might have and find out more about you
Access to your personal 'My Oyster' account – our online portal where you can find out much more about the programme and manage your booking.
Pre-departure information covering medical, safety and project advice
Advice on visa requirements
Help and advice from our UK office before departure and whilst away
Pre-arranged voluntary work at the rehabilitation centre with accommodation
Met and greeted warmly at Phalaborwa airport or bus station and transfer to accommodation
Accommodation with bathing facilities, lounge, BBQ and internet access
Excellent food full board
Linen
Oyster will prepare you thoroughly before you leave and support you while you are out there.
ATOL financial protection (if Oyster books your flight)
Transport to town on a weekly basis
Free access to InterHealth's Travel Health Advice Service
Oyster Worldwide volunteer t-shirt
Oyster luggage tag
On your return:
Welcome home pack
Certificate of Recognition (on request)
References (on request)
What do I need
Flights to Phalaborwa (PHW) – these go via Johannesburg.
A passport valid for a minimum of 30 days after your return date
Insurance (covering your project time and any planned independent travel)
Cost of changing your return flight date if you need to
Independent travel costs and money for return transport to Phalaborwa airport (provided by the centre at a cost of approx £25)
Any additional costs such as trips, snacks, entertainment (allow £20 per week depending on lifestyle)
All home country travel costs
No visa is necessary for under 90 days from UK and most western European countries
The rehabilitation centre is not directly in a malaria area but precautions are suggested. Please consult a doctor in good time about this and other inoculations needed
Why
should I do this?
Volunteering with vulnerable vervet monkeys and baboons is not only a pleasure, but an important contribution to wildlife in South Africa. Each year many baby primates are orphaned and brought to the centre where they benefit from the love and care provided by the volunteers. This nurture helps them through to the point where they can eventually join a troupe of other primates and be released back to the wild.
Our representative

Paul and Lynnette have been involved in primate rehabilitation since 1994 and set up the centre to help get monkeys back to the wild. They treat you as part of the family. They have welcomed over 1000 volunteers over the years, and many keep coming back for more!
Project Story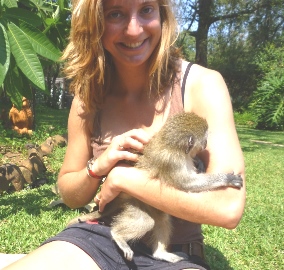 "I visited the monkey and baboon rehabilitation centre in 2012. Having these little creatures scampering all over the place was a real joy to behold. Seeing how the hard work of the volunteers pays off is something really quite special"  says Anne, Destination Manager
Find out more
We always enjoy talking about our projects and have first hand experience of them all. We'd love to answer your questions so feel free to call Anne on +44 (0) 1892 771975 for a chat. Alternatively email anne@oysterworldwide.com