Wildlife sanctuary volunteering in Thailand
Help, preserve and protect over 400 neglected animals at this wildlife haven. Become part of an important mission to rescue wild animals from neglect and abuse, giving them a home in this amazing sanctuary, or even back in the wild. From bears to birds, from monkeys to gibbons, you will make a valuable contribution to this moving venture.
Also on site at the sanctuary is an elephant refuge with limited space for volunteers. As part of your project we shall endeavour to arrange at least one week for you to help with these mistreated gentle giants.
The Basics:
2 weeks costs £889; each additional week costs £150 per week, excluding flights.
You can volunteer here throughout the year for 2 – 12 weeks. Whilst late-availability is possible, we would advise booking as soon as possible to guarantee your ideal dates.
Departures:
You can take part in this project all year round. Arrival and departure day is preferably a Sunday. We ask that you are ready for collection in Bangkok by 2pm.
Please contact Anne on +44 (0) 1892 771975 or anne@oysterworldwide.com if you have any questions about availability.
Highlights
Make a valuable contribution to nursing rescued animals back to health.
Interact with a range of exotic animals, and learn how to help different species adapt to their new environment.
Work alongside experienced local people, and learn about the complexities of wildlife conservation in a developing country.
Live off the beaten tourist track in Thailand's beautiful forests.
Enjoy your time off exploring the local area, from the small villages to the beautiful beaches.
Perfect for animal lovers who want to help a variety of their favourite creatures.
Give sanctuary to mistreated members of the animal kingdom
Nestled deep in the heart of the Thai jungle, over 400 animals rescued from neglect, abuse and the cruel tourist trade are cared for at this inspiring sanctuary. Here you are really opened up to the animal kingdom as you work with other volunteers to provide a home to bears, birds, monkeys, gibbons and macaques, to name but a few. You can become part of this extensive and important programme including feeding, observation, education, rescues and release. There is also the opportunity to help out at the on-site elephant refuge too – a real highlight!
Thailand is a stunning and culturally rich country, which tourists have flocked to in growing numbers over the years. Sadly, as the number of tourists has increased, so has animal abuse through the tourist trade, along with the loss of vital natural habitats. Each year, many animals are rescued from such fates and brought to the sanctuary, located in dense forestland close to Thailand's largest national park.
Receiving the love, care and attention that they need, these animals are either rehabilitated to the wild, or live out their days in an environment as close to the wild as possible. Volunteers play an intrinsic role in the continuation of the sanctuary, working closely alongside local workers and never far from the rescued animals. As you carry out your tasks, you will hear the sounds of the monkeys chattering, the bears growling and the birds calling – and to see the animals enjoying their new lives here is a real privilege.
What will I be doing?
Your main role at the wildlife sanctuary involves work with bears, gibbons, monkeys, birds and much more. On-site there is also an elephant refuge, where a limited number of volunteers can help out. We shall endeavour to arrange at least one week of volunteering with the elephants and, if you book early, we can arrange for half of your time to be working with the elephants.  Working in both parts of the sanctuary will give you insights into the very diverse conservation and welfare needs all of these animals.
With so many animals, food preparation and feeding are a key part to the day, and provide a great deal of interaction and time with the animals. Other key tasks include monitoring behaviour, helping to develop enrichment programmes and even assisting in the extensive rehabilitation process for the monkeys and gibbons. It will not unusual to find yourself walking with the ellies, helping out in veterinary procedures and gazing into the eyes of an intelligent monkey all in one day. No day will be the same, but you can expect to be getting involved in a variety of the following activities:
Food preparation for the primates, bears and nocturnal creatures
Cleaning enclosures, eating stations and pools
Routine enrichments for the primates and other animals
Observation of the animals
Educational promotion of the centre and animal welfare issues to visitors and local school groups
Rehabilitation and release
Building and maintenance of enclosures
The 'water run' – making sure that the animals are well watered
Conservation projects around the sanctuary
Accommodation and Food
The accommodation is at the heart of the sanctuary, where you will fall asleep to the calls of the birds, the trumpeting of the elephants and the chattering of the monkeys.  Here you will share rooms with other volunteers in comfortable and basic accommodation.
There are plenty of areas for you to relax with fellow volunteers in a sheltered and comfortable environment, never far from the animals. Your meals are provided on site with a delicious hot buffet for your lunch and dinner, and a large continental breakfast selection.
When should I book?
Whilst late-availability is possible, we would advise booking as soon as you can to guarantee your ideal dates. Our projects are very popular and spaces can fill up several months in advance, especially for the months of June to September.
Getting there
You will fly in to Bangkok (BKK) where you will be collected and taken to the sanctuary. Please make sure that your flight arrives before 2pm on a Sunday for your airport pick up. The drive can take up to three hours travelling south of Bangkok onto the Malay Peninsula. Particularly the last section of the drive is beautiful, through small communities and green fields and forests.
What is provided
Before booking: Dedicated period of time on the phone or in person to discuss the project, answer any questions that you might have and find out more about you
Access to your personal 'My Oyster' account – our online portal where you can find out much more about the programme and manage your booking.
Pre-departure briefing covering medical and safety features
Help and advice 24/7 from our UK office
Visa advice (which will vary depending on length of stay)
Met personally at Bangkok airport and taken to the project
Full induction on arrival
Clean, convenient accommodation on site
Three meals a day, which includes home-cooked hot Thai food twice a day
A practical and theoretical education on the challenges facing animal conservation
Free access to InterHealth's Travel Health Advice Service
Oyster Worldwide volunteer t-shirt
Oyster luggage tag
On your return:
Welcome home pack
Certificate of Recognition (on request)
References (on request)
What do I need
A full passport valid for a minimum of 6 months after your return date
Flights to Bangkok (Oyster can help you to organise these)
Insurance covering your project time and any planned independent travel, we can introduce you to a policy
Cost of changing your return flight date if you need to
Cost of a hotel in Bangkok if arriving too late for the transfer (before 2pm)
Independent travel costs and return to the airport
Any additional costs such as trips, snacks, entertainment (allow maybe £25 per week depending on lifestyle)
No visa is necessary for under 30 days from UK and most western European countries. Advice given on longer stays.
You must have your diphtheria, tetanus, polio and Hep A and Hep B up to date – without these you will not be allowed to work on the project
Availability for this project
The availability calendar below is a guide only. We do advise early booking to guarantee your preferred dates.
Available
Limited availability
Very limited availability
Unavailable
Why
should I do this?
This work is crucial, as it allows for the smooth running of the sanctuary and means that more mistreated animals in distress can be cared for. Without the help of the volunteers to ensure the day to day running of the sanctuary, the full time workers would not be able to build more enclosures, or rescue more animals in need of help. If you love animals, you can learn a great deal about some amazing species and work closely with them to assist their rehabilitation.
Our representative

Edwin was born in the Netherlands, and spent the earlier part of his life in the army. Following his army career he worked in Thailand and became increasingly involved in animal welfare. Concerned by some of the practices he saw, he founded the centre to provide a home for displaced and abused animals. Edwin has lived in Thailand for 24 years, speaks fluent Thai (amongst other languages) and is fully embedded into the Thai culture.
Project Story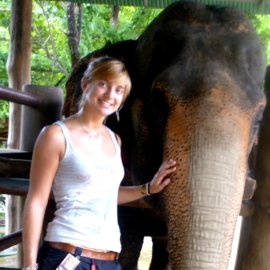 "I visited the project in 2013 and was amazed by the size of the sanctuary and the amount of animals that are constantly being rescued. Highlights for me included working with the bears and also seeing animals that I had never even heard of before."  Says Anne, Destination Manager
Find out more
We always enjoy talking about our projects and have first hand experience of them all. We'd love to answer your questions so feel free to contact us.
For animal welfare projects call Anne on +44 (0) 1892 771975 for a chat. Alternatively email anne@oysterworldwide.com
For TEFL teaching English call Sarah on +44 (0) 1892 771973 for a chat. Alternatively email sarah@oysterworlwide.com