Elephant conservation volunteering in Namibia
Become part of an important mission to unite people and elephants living in southern Africa's vast and beautiful desert, the Namib. Help to track, monitor and protect wild elephants, all whilst working alongside local people to protect their water supplies from these gentle giants.
Get to the heart of elephant conservation in the depths of the desert
Deep in the wilderness, elephants roam the Namibian desert in search of food and water. Life is tough for these displaced elephants who have had to adapt to survive in these unusually arid conditions. This is one of only two places in the world where elephants can be found living in the desert – and you could be part of helping their survival.
Elephants all but disappeared in this area for over thirty years, but in the early 1990s they returned to live alongside the farming communities. Sadly, during the years that the elephants were absent, humans forgot how to live alongside these gentle giants, and now both live in conflict with each other. This project aims to re-establish the delicate balance that has historically always existed between people and elephants.
What will I be doing?
Working with a local NGO, volunteers spend time building walls to protect farmers' watering holes and pumps from the thirsty elephants – don't worry, elephant drinking areas are built too! You may even find that you are visited by the elephant herd as you build.
The second component of this volunteer project is to track and monitor elephants in the wild, enabling the authorities to better understand and protect these gentle giants. Seeing elephants living in the wild is certainly an incredible privilege and one of the many great highlights of this project.
Building
Your time spent on the project will be two-fold. The first part of the programme will be spent at local farmsteads, building walls to protect the farmers' water sources from elephants. This work can be tough, especially in the hot weather, but it is extremely satisfying to see your progress over the course of the project – and celebrate that with a nice cold beer at the end of the day!
A wall around a pump takes about one week to build, and the build projects will take place every 2 weeks. Whilst on the building project you will be camping in the desert on the farm, sleeping under the stars and enjoying a life which is a far cry from modern society. Follow the link to find out more about the building volunteering.
Elephant Tracking
On every other week, alternating with the building projects, volunteers will be going on patrol to track, monitor and protect the elephants. This is an extremely exciting part of the project, as you will be seeing elephants living in the wild. You will learn how to pick up tracks, identify where the elephants might have gone and how recently they have passed through the area. You will see the elephants on most of the tracking days, however this is not to be expected – this uncertainty just adds to the excitement as the ellies could always be "just around the corner".
Once you find the elephants, important observations are made such as which elephants have been sighted, where they are, where they are going, how their health is and whether they are displaying any unusual behaviour. This data is all recorded and used for protection campaigns and initiatives – as well as to understand which farms might be at risk, and which will necessitate walls around their pumps. Find out more about elephant tracking.
Accommodation and food
One of the most exciting parts of this project is to really experience desert life, unchanged for many hundreds of years. During the building project and the elephant tracking you will be camping in the desert with your group, cooking around camp fires and going to sleep under a thick blanket of starts. This lifestyle is really rather rustic, which is all part of its charm.
You will sleep under canvas – or out in the open if you fancy! – with the rest of your group in the centre of the camp. Life revolves around the large fire where you will cook and make tea and coffee – a staple in the desert! Each day two volunteers will be in charge of food preparation, and as such you can learn all about bush craft and cooking on fires. The food is delicious and not once in a 2 week duration will you have the same dish twice. You will have a small kitchen to prepare food and keep food fresh and cold.
During your building week you will have an outdoor western style composting toilet, whilst during the tracking week you will be armed with a spade and a lighter to burn the toilet paper! Shower facilities are only available at weekends, when you will return to Base Camp with hot running water, electricity and other home comforts.
When should I book?
Whilst late-availability is possible, we would advise booking as soon as you can to guarantee your ideal dates. Our projects are very popular and spaces can fill up several months in advance, especially for the months of June to September.
Highlights
Take part in a real grassroots conservation initiative which aims to protect a severely endangered group of desert elephants.
Witness elephants living wild in the desert as you take part in important tracking and monitoring programmes.
Make a valuable contribution to local building projects that will help elephants and farming communities to live happily side-by-side.
Experience desert life as you camp amongst the dunes and sleep under a glittering blanket of stars.
Explore areas where you will see little evidence of human existence – this is really off the beaten track!
Why
should I do this?
One of the most appealing parts of this project is the opportunity to really live life in the bush. You will learn about cooking over fires, how to build fires, how to build a wall, how to track animals… and so much more. In addition to this, the work that you will be doing in Namibia is essential. Farmers with little to no resources need the help of the volunteers to protect their water sources (and hence their livelihoods!), and the research work completed on the elephants is essential to promote their survival in this area. The project also runs local education programmes to teach farmers and communities how to live alongside elephants- something that generations of their predecessors have done, but due to hunting and wars, this generation have never had to know.
Getting there
Volunteers can fly into Walvis Bay (WVB) or Windhoek (WDH). Walvis Bay is the closer airport to the project (20 minutes from the start location) whereas Windhoek is further away (4 hours from the start location). We can arrange transfers from both locations which cost approximately £15 from Walvis Bay and £35 from Windhoek.
Arrivals are every two weeks on a Sunday- see here for start dates. You will be collected from the airport with a pre-arranged transfer and taken to a guest house close to the centre of Swakopmund. Here you will meet the rest of your group and receive an informal briefing. Volunteers often choose to go out for dinner together and then get an early night after a tiring flight.
Our representative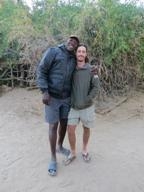 You will be in the capable hands of Chris and Mattias whilst you are volunteering in Namibia. Mattias has been working tracking wildlife across Namibia all of his life, from rhinos to elephants and much in between! He is as strong as an ox and will lead many volunteers to building glory on the building week, as well as get you extremely excited about how to find the elephants. Chris is from Mauritius and works closely with Mattias to track the elephants and to train you up for desert life. His knowledge of wildlife, astrology, tracking and bushcraft are second to none. Chris, Mattias and the team look forward to welcoming you to Namibia and to getting you stuck into these projects which are so close to their hearts.
What is provided
Before booking: Dedicated period of time on the phone or in person to discuss the project, answer any questions that you might have and find out more about you
Access to your personal 'My Oyster' account – our online portal where you can find out much more about the programme and manage your booking.
Pre-departure information covering medical, safety and programme advice
Advice on visa requirements
Help and advice from our UK office before departure and whilst away
Pre-arranged airport collection and transfer from Walvis Bay (WVB) or Windhoek (WDH) to Swakopmund. (Cost approx £20 from Walvis Bay and £35 from Windhoek)
Pre-arranged dormitory accommodation in a peaceful and comfortable guest house close to the centre of Swakopmund (Cost approx £15 including breakfast)
A warm meet and greet at the guest house by our volunteer coordinator and the team
Initial briefing and orientation to welcome you to the project
Project training
All transport related to the project- from Swakopmund up to the Base Camp (4 hours drive), from Base Camp to the build site and back, weekend transport between the build week and tracking week to a local town for internet and shopping trip, transport whilst tracking, and back to Swakopmund at the end of the 2 weeks.
Weekly shopping trips to top up on supplies
All camp provisions including a roll mat, canvas, toilet, cutlery, camp fire, chairs etc
Three delicious meals per day prepared by the volunteers, a mid-morning snack, tea, coffee and drinking water
Training in making camp fires and cooking over fire
Training on how to build a wall
Training in elephant tracking and monitoring
Oyster will prepare you thoroughly before you leave and support you while you are out there
ATOL financial protection (if Oyster books your flight)
Transport to town on a weekly basis to buy food (approx £30 per week)
Oyster Worldwide volunteer t-shirt
Oyster luggage tag
On your return:
Welcome home pack
Certificate of Recognition (on request)
References (on request)
What do I need
A passport valid for a minimum of 6 months after you arrive in Namibia
Insurance – we can introduce you to a policy
Flights to Walvis Bay (WVB) or Windhoek (WDH). We can help organise these for you
Money for your airport transfers (Approx £20 in each direction for Walvis Bay, £35 in each direction for Windhoek)
Money for accommodation in Swakopmund on your first night (approx £15 including breakfast)
Money for dinner in Swakopmund on your first night (approx £6 – £8)
Money for accommodation in Swakopmund on your last night (approx £15 including breakfast)
Money for dinner in Swakopmund on your last night (approx £6 – £10)
If you are staying for longer than 2 weeks (highly recommended!) you might like to return back to Swakopmund on your second weekend at the project. If this is the case you would need to budget for 3 nights accommodation and food until you return to the project on the Monday morning.
Pocket money for trips, souvenirs, drinks etc- approx £100 for 4 weeks
A sleeping bag, sleeping bag liner and mosquito net
A sun hat and water bottle
Warm outdoor clothing for the evenings
A passion for elephants and the outdoors!
2
travellers rated this project
5
5