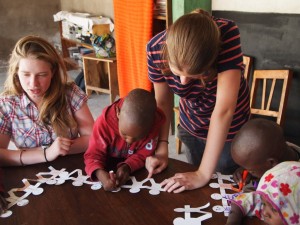 Out of the 15 people who are out here with Oyster Worldwide, 12 of them were in Zanzibar when I arrived so I had a fairly chilled out first couple of days settling into the house where I'm staying, seeing the local sights and working out where all the local conveniences are.
I'm staying in a really beautiful area which is near Arusha, the largest nearby city, in a house with about 4 others. The Oyster volunteers are posted in different houses and although our house is the furthest away from town we are lucky as we are the house that has a lovely garden, complete with cows, chickens, chicks and even a newborn calf wandering around outside!
To get anywhere we have to take a dallah-dallah up and down the hill and the journeys in these can be pretty hair – raising at times as people are packed in like sardines into tiny little vehicles, but it's only a short journey so it's not too bad!
This last week has been pretty packed full of different activities as some of the volunteers who are leaving in 2 weeks are trying to make sure they fit in all the things they haven't yet done before they leave.
For instance we took a really long bus ride to 'Hot Springs' which is a truly beautiful place miles out of town but which is an oasis of tranquility. We were fortunate enough to be the only people there so we had the whole place to ourselves, and had a very leisurely day of relaxing in this pool of warm water.
It certainly made a pleasant change from the cold showers which I'm becoming accustomed to at Arusha!
Easter was pretty exciting and different out here to what I'm used to. It's a very big deal with the locals, with long services being held everyday from Maundy Thursday right up till Easter Monday. Some of the other volunteers and myself went with our Landlord, who we call Baba, and his wife, Mama to their local church service to experience it. The singing was incredible, the locals erupted into 4 parts from out of nowhere and their enthusiasm and energetic spirit, from the small children right up to the elderly ladies dancing was just incredible.
We didn't manage to find any Easter eggs unsurprisingly, but one of the volunteer's parents had left her with some mini eggs so we enjoyed those in true Easter spirit!
I spent the day at a local orphanage recently which was an amazing experience, and I met some of the most gorgeous children!!
Teaching hasn't started for me yet as the children are on Easter holidays, so I have been able to spend my time getting to know Tanzania a bit better which has been a really nice way to ease into the new culture.
I'm off on Safari in about 4 days which should be great, can't wait!!
Thank you for your article Jen, have a great time!
For more information on Tanzania, check out our Tanzania webpage or email Roger at [email protected]