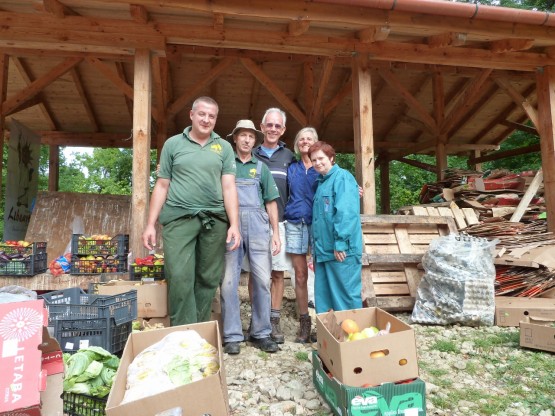 2013 has been a busy year at the bear sanctuary in Romania. Volunteers from all over the world came together to work with bears between March and December 2013.
The bears started waking from their hibernation in February, as the snows were starting to recede. At this time I visited the bear sanctuary for the first time since 2009 when I myself was a volunteer here. It was a huge emotional journey for me, as in 2009 I dedicated three months of my life to work with bears.  It was amazing to come back and see how much the sanctuary had changed in those years since.
Even in 2013 change has been abound. The end of 2012 saw the opening of the second large enclosure at the bear sanctuary. This enabled more bears to be rescued to the sanctuary, which promptly started at the beginning of this year. This meant lots of work for our volunteers!
In total in 2013 seven bears have been rescued to the bear sanctuary. All of these came from zoos that were either heavily overcrowded or closing down. This means that there are now 77 bears living a free life in the sanctuary.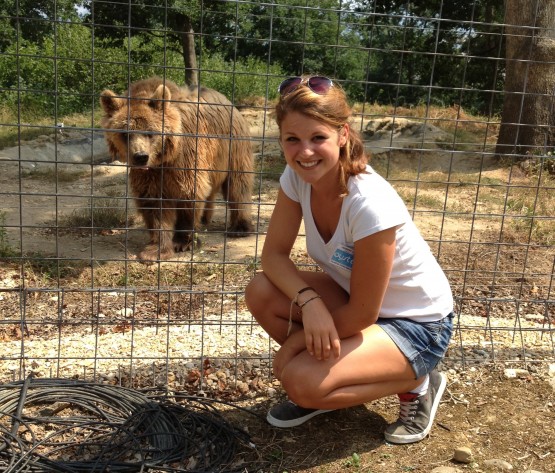 In August the bear sanctuary opened up to groups of visitors for the first time. This has meant that the volunteers' work with bears took on an additional role, helping to lead groups around the sanctuary. These tours are vital to educate visitors about animal welfare and the sad stories of many of the bears at the sanctuary. The aim is to make sure that such neglect and abuse cannot happen again in future. This has been a tremendous success.
There are at least  8 more bears that are known about that need to be rescued in 2014. The process of rescuing the bears is very long, as often their owners will do everything they can to keep them. The hard work of the volunteers has meant that the full time members of staff at the sanctuary have had more time to work with bears that need rescuing, and to improve the lives of those already at the sanctuary. For this, we wholeheartedly thank our volunteers.
We received a kind message from the bear sanctuary team to thank Oyster volunteers for their work with bears:
Oyster volunteers helped us in our daily jobs at the sanctuary and dog shelter, therefore they are part of our family. They worked with us side by side in our daily jobs, like preparing the food for the bears. This food comes from supermarkets and is food which is out of date. Our volunteers are helping us in sorting all this food, as we receive fruits, vegetables, bread,meat….etc. In the spring, after the snow melts and also during the fall, all the ditches have to be cleaned up by the falling-dry leaves. Volunteers are helping us do that. They also give us a hand in painting the wood fences every year. Just to mention, all Oyster volunteers were great, helpful and we all hope to see them back again next year :)"
A big thank you for all those who gave up their time in 2013 to work with bears in Romania.  We hope to have many more contributing to this important work in 2014. As ever, a huge thanks goes to our rep Razvan who works tirelessly to support our volunteers.
For more information about volunteering with bears in Romania, have a look at our bear volunteering website. You can also contact me on [email protected]