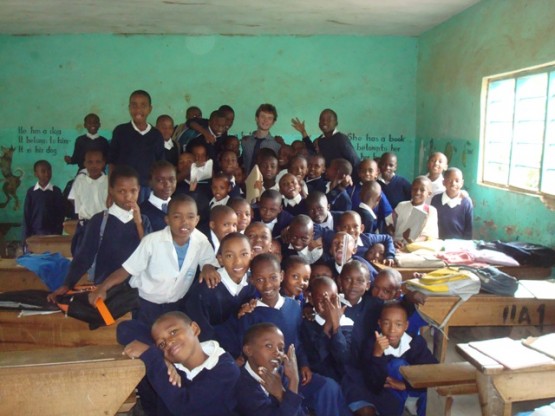 In January 2010 Dan Browne headed out to Tanzania on his long-awaited gap year with the rest of the Oyster group. As with many of our ex volunteers, Dan was struck by the difference in culture and kindness of the people, something that has left a lasting impression on him. So much so that Dan, along with friends Steph Gadd and Sophie Epstein, will be running the Cardiff Half Marathon this weekend to raise funds for the school where Dan worked as a volunteer teacher in Tanzania. He would love your support!
Dan spent 3 months living in a small village just outside Arusha. His main role as a volunteer was to teach English at the local primary school. Whilst not always an easy job, Dan found that the children very enthusiastic to learn and would always put in lots of effort!
One thing that we, here at Oyster, always tell future volunteer teachers is that it is not just about the teaching. Almost equally important is the extra curricular activities that volunteers can run. Dan spent lots of time running a football club, music club (he took his guitar with him!) and a reading club. Without volunteers these clubs just wouldn't exist as the local teachers do not have time in their day, or get paid enough, to organise things themselves.
When Dan's friends, Steph and Sophie suggested that they all run the Cardiff Half Marathon on the 16th October, Dan could not think of a suitable charity to run for and then he remembered his time as a volunteer teacher in Tanzania and decided that the school would be the perfect beneficiary! The idea of helping improve the school in some capacity was really appealing as he enjoyed his time there so much. So, with a cause he felt personally connected to, he decide to run the half marathon.
The next job for Dan was to decide how he would spend the money at the school. Dan remembered that the government school was not in a great condition; the classrooms were dirty, the children had to clean the rooms at the start and end of each day. Most of the children at the school did not have the correct text book for their level of English or even have a pen.
Dan has decided that any money that he raises by running the half marathon will be spent on buying text and writing books for the school so that those children who cannot afford their own books will be able to use one from the school.
Unfortunately, Dan is not in a position to head back to Tanzania to see that the money is spent as he wants as he is in his second year at University. Therefore, we at Oyster will be sending the money on Dan's behalf to the school via Tracey (the Oyster representative) who will make sure the school is spending the money as Dan wants.
Now for the part where you can help… Dan would be delighted if anyone felt able to sponsor him to run the half marathon this weekend. Any amount would be greatly appreciated, as they say, every little helps! If you would like to help, please email Dan directly – [email protected] for details of how to donate. You can also find out more on his Facebook event page.
If you have been inspired by reading Dan's story and you would like to become a volunteer teacher in Tanzania, do check out our volunteering in Tanzania webpage, call Jon on +44 1892 770771 or email [email protected]