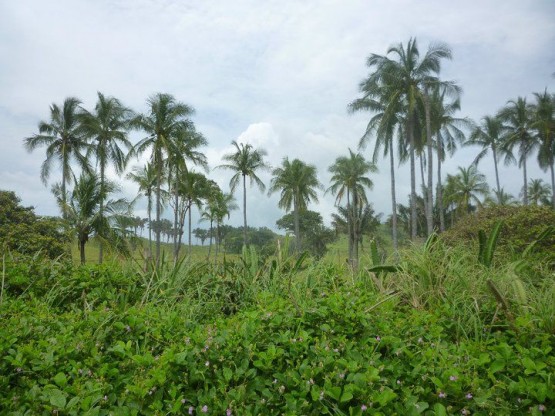 The rustic beach is just so wild- driftwood littered at the top, the crashing sea changing the shape of the sands with each tide, and acres of protected wetlands shadowing the edge of the beach. You see no civilisation in either direction. This project is absolutely perfect for someone who just wants to get away from it all- you are really deprived of all your creature comforts, and it makes you realise the beauty of a hot bath, or of a washing machine. It is good to be reminded of these things that you take for granted so often.
Days can be spent in a surprising amount of ways here. Hours drift by whilst fishing or going foraying for fruit. Walking the beach is a great way to spend the day, every day even, as the sea changes it so much. One day you may wake up and there is pure white empty sands as far as the eye can see, other mornings you wake up with a whole host of beautiful shells and rocks on the doorstep. It is an amazing way to admire the force of nature. I have spent a good few hours sat a few kilometres away from the camp on a large tree trunk which is shaped like a giant chair; it is the perfect place to sit in the quiet to read or write, watch birds, or just have some alone time. One morning I spent swimming in rock pools created by the sea seemingly overnight, for I had not seen them before, as the currents and the rocks hidden in the sea make it too dangerous for swimming. Whilst sitting looking out to sea in this lovely warm pool, surrounded by little yellow and black fish nibbling at my feet, I got the shock of my life- suddenly on the horizon I saw a spurt of water reaching into the sky, followed by a large shape leaping from the sea. I had just seen a migrating hump back whale. It was so beautiful, and something that will never be erased from my memory.
At the northern end of the beach there is a large rocky outcrop, which you can climb up for great views back over the beach, but also over the headland onto the next beach over. It is a stunning beach, with a bar and restaurant, which can be reached within an hour of walking. That is a fantastic way to spend the day, walking over the headland to go for lunch or a beer. The walk over is through mango trees, and the views are stunning. I sat on the headland overlooking the two beaches for what seemed an eternity, watching waves throwing themselves onto the rocks below. This is in activity that I could do for hours, as waves are so magnificent. I had to tear myself away from the views however, as I realised that the tide was approaching much quicker than I had previously thought. A little paddle was in order to get home due to this poor time keeping.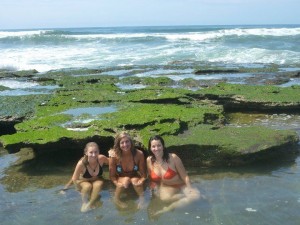 This evening is my turn to be doing hatchery watch. I went to bed straight after dinner and got up at midnight. So far I have read most of my book, drank three cups of excellent coffee, eaten two bowls of cornflakes and two mini packets of biscuits. This is not because I am greedy- I just need something to do to keep me awake at this time of night! I have to go and check the hatchery every 30 minutes, but so far there is no activity whatsoever. It seems really quiet here in the dark, with everyone else fast asleep, but I quite like it. It is a time that I have not experienced in Costa Rica yet, and I am overwhelmed by how loud it is at night time. I think I can hear howler monkeys and racoons, and bird noises that I could not possibly put a name to. There is a frog jumping around my feet, and an obscene number of moths fluttering around the light. This is pleasing though, as they will be gobbling the horrendous number of mosquitoes that are also chilling out there.
There is a great electrical storm going on at the moment. I am looking out of the front of the camp, over the sea, and all I can see is the night sky suddenly lighting up entirely. At times there is also fork lightning shooting an arm down from the skies, in such a dramatic fashion. Peculiarly, the thunder has only started happening now, about one hour into the storm. It is like something out of this world, like the core of the earth is splitting in half.
Fingers crossed that it isn't.