Ellen Fitton's final installment to her incredible time in Tanzania.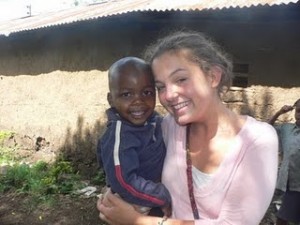 Hi Everyone,
I have now finished my 3 months in Tanzania and I am writing this from the computer in the kitchen at home!
The last month in Tanzania was amazing and it was great to spend some quality time with the group. Our trip to Zanzibar was very successful and as you can see from the photos it is a beautiful island. We spent most of the time swimming, sunbathing and mucking around on the beach. On the first day we all got very burnt although I put suncream on 3 times that day so we spent a lot of time in the shade after that. We did a few day trips – we spent one day in Stonetown, which is the main town in Zanzibar, and we went on a snorkelling boat trip one day. Stonetown is a beautiful town and it reminds me of a small Italian town. We went to the local Spice Farm where we shown all the different spice plants and then we got to try lots of different spices and exotic fruits. Next we looked around the spice market, had lunch, ate ice-cream and then wandered around the town. In the evening we went to the food market which was amazing as there was so much fresh fish and bread.
On the way back a view of us spent another day in Stonetown and then we took the night ferry to Dar es Salaam where we stayed for a night. There is not that much to do in Dar but we had a nice meal and just wandered around looking at a different city.
We came home for a few days (which gave us a enough time to do some washing and visit the Plaster House) and then we headed off on Safari.
Safari was absolutely amazing …. we saw loads of animals- we saw elephants, gazelles, hippos, giraffes, rhinos, monkeys, baboons, a leopard, cheetahs, lions, ostriches, zebras, dig digs, flamingos, buffaloes, wilder beast, warthogs and many more! Thanks to our group leader Mads, we got to stay in some amazing lodges. Our first lodge was absolutely incredible and we were all very excited to finally have hot showers, proper pillows and duvets and an amazing buffet. We all made up for the lack of meat we have had over the past few months and ate every type of meat available. After seeing some amazing animals and eating lots of food we returned back to our house 4 days later.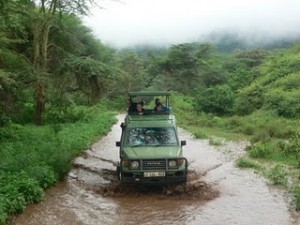 We had a few days before we left so we packed, sorted out our flight, went out one evening with the other volunteers and visited the Plaster House. Our last trip to the Plaster House was very emotional but we gave each of the children a gift and I gave Peter a photo of me and him which he was very proud of. There were lots of tears as we left and the Mamas and children were very sad to see us go but they were so grateful for all our help and our leaving gifts.
On our last night we had Chipsi Mayai which is a chip omlette and is a local dish and then we stayed up talking about our trip. We had to leave the house at 2am the next morning but as always things didn't go smoothly. Firstly our taxi driver didn't turn up til 2:30 and then when he finally did the car wouldn't start. He then managed to get the car working until we were driving down our hill and we noticed the engine wasn't on so we were just rolling (we had run out of petrol). The car then got stuck on a bump and all four of us had to get out and push the car whilst he steered it to the local petrol station. As if that wasn't bad enough the petrol station wasn't open so he left us in the car (yes four white girls in the middle of the petrol station in the middle of the night with the door open in Africa – it was very scary) whilst he went and got petrol. When he finally returned he attempted to make a funnel out of paper which again failed so we spent ages trying to get the petrol actually into the tank. We finally set off and picked up our friends and then headed to the airport although there were a few time when I thought the car was going to stop. We made our flight and arrived in England on Sunday evening!
My 3 months in Tanzania were absolutely incredible and I enjoyed every moment of my trip. I particularly enjoyed teaching the children and visiting the Plaster House. I definitely want to go back there in the future and I am very jealous of the other volunteers who are still out there. It feels very strange to be home and I haven't quite got back into the swing of things yet but I start travelling again soon so it won't be long until I am back on the road again! I definitely miss all the other volunteers especially my housemates and I am organising a reunion in the summer!
Lots of love,
Ellen xxxxxxxxxxxxxx