Barbara Boylan has just spent a week travelling the Galapagos after completing her conservation volunteering project. Find out more about what it is like to be travelling the Galapagos below: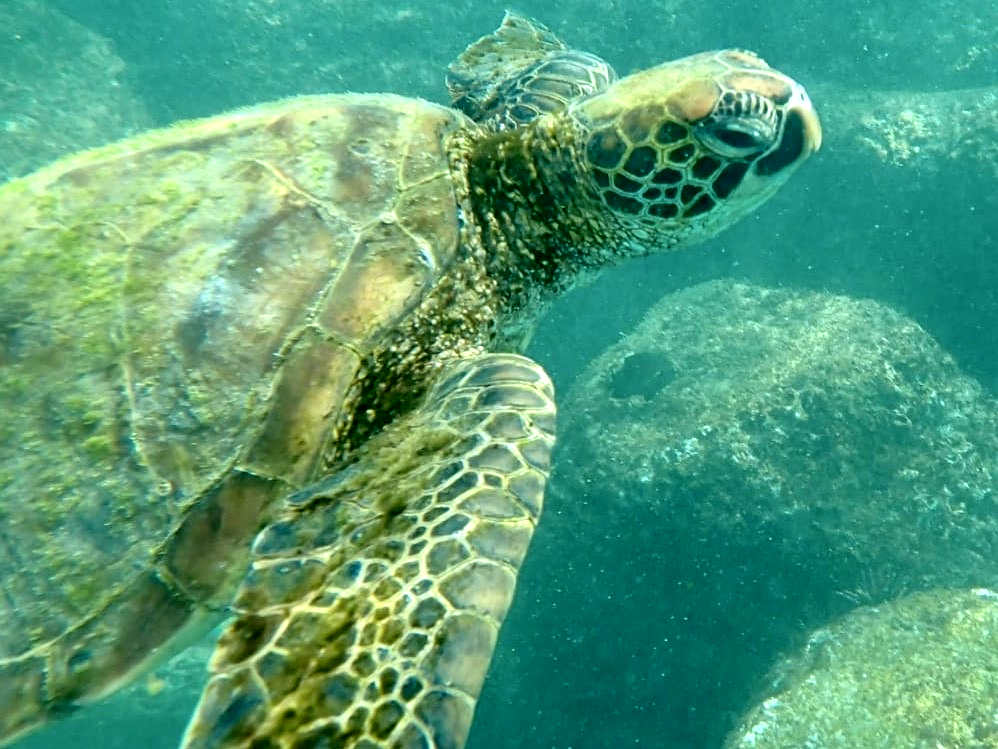 A week later and what a week!
Firstly, a glorious goodbye 'do' which saw 'us girls' take to the pool table and slaughter all opposition!! This is perhaps overstating our victories which were more a 'they lost by potting the black' rather than us clearing the table though we did do this a couple of times! We ended up taking on the locals, one of whom professed to be a snooker coach ( he wore a special glove!) and beat them! Oh yes! Haven't played snooker in years but obvs it's like riding a bike!
Then on Sunday, I met up with my husband to take to the seas on board a 14 berth boat for a mini cruise between three of the Galápagos Islands – SanCristobal, Santiago and Santa Cruz.  It was A – MAZE -ING!! Blue footed boobies doing their mating dance, a fluffy baby booby, red footed boobies, Galápagos hawk drying its wings on the beach, giant tortoises – a pair mating, very slowly and with balancing issues, sea lions by the score, marine iguanas, land iguanas and zillions of Sally Lightfoot crabs all skipping about on the rocks! You're supposed to stay 2 metres away but what can you do if they insist on coming at you, smiling? AND, dear reader, I mastered the snorkelling and loved it! Sharks, shoals of fish and TURTLES literally within touching distance.  So many special sights and memories. And all against the beautiful backdrop of turquoise seas, white sands ( except on Santiago as it's volcanic black sand) eroded  cliffs and crashing waves. I took at least a million photos whilst travelling the Galapagos! The highlights were the comical booby mating dance and whistle show and of course, swimming next to a sea turtle.

But all good things come to an end only to be overtaken by more new sights and experiences! We returned to Quito and visited all three centres of the Earth! No 1 was built in 1979 by a French man, No 2 is the more recently discovered GPS centre and No 3 is the pre Mayan site which lines up three ancient monuments at the top of a big hill accessible along a steeply climbing and bendy road, covered in loose gravel and with sheer drops down on the passenger side! Worth it? Oh yes!
We also visited Otovalo Market, the largest indigenous market in South America noted for its textiles. Boy was it colourful! Bright coral jewellery, scarves in every jewel like colour under the sun, blankets woven in intricate patterns, old ladies in traditional costume – an absolute visual masterpiece.
And now , after a day's  travelling, I've arrived at the wildlife sanctuary for my second lot of volunteering. More to follow!
Moving on to the wildlife sanctuary
After travelling the Galapagos, I wasn't sure how this trip could get any better – but today was so memorable and unique.
Yesterday saw me travelling from Quito to the animal sanctuary for the second lot of volunteering I'm doing here in Ecuador with Oyster.  The journey was long and tedious enlivened only when I thought I was being kidnapped because three hours in, we were ordered in to a new car with a new driver without explanation or expectation!  He turned out to be delightful, stopping to let me take photos of the stupendous Rio Blanco Gorge near Baños and delivering me – eventually! Nearly 6 hours door to door! – to the sanctuary! I thought I'd landed in paradise!
Stunningly beautiful, laid out in the forest with lakes and streams and exotic planting interspersed with macaws, parrots, spider monkeys, ocelots, snakes and wolves!! All have been brought to the centre as rescues – either from illegal animal trading or handed in or abandoned by pet owners.  Yesterday, a small baby squirrel monkey was brought in by his owners who'd been keeping him as a pet.  They had been feeding him banana and apple but he was too small and should have been on squirrel monkey milk or at a push, formula.   Sadly, the owners didn't know this and despite the best efforts of the vet here, he died.

The centre currently has 20 volunteers, again mainly from Europe but interspersed with Americans.  It's a full on program of cleaning cages, preparing food – all have different requirements and diets- and then feeding.
But today was different to say the least! A sloth had been brought in yesterday, wet and shivering after being found by the side of a busy road.  After volunteers washed and blow dried him, he was assessed by the vet as being fit to be released in to the wild. A charabanc was found and most of the volunteers, the co- ordinator and helpers and the vet plus a rather nervous sloth in a large cat carrier, piled on board to make the journey to a National Park.
After driving for 40 minutes accompanied by loud salsa music which did nothing to calm the sloth nor relieve the shaking of the bus over tarmacked roads, we arrived at the start of the 'walk' to the reserve.  The 'walk' turned out to be up and down, up and down and up some more along a narrow path surfaced with rounded logs interspersed with thick mud.  Pretty slippery and hard going especially in sticky heat but what awaited us was more than worth the effort! The location is breath taking! It's a series of lodges with a vista over mountains covered by the Amazon rainforest and wisps of clouds drifting across the mountain tops obscuring them from view.  Smoky blue and intense green stretch for miles in one of the most beautiful places I've ever been.
After lunch and a contemplative sit, we went hunting through the rain forest for a suitable tree on to which the sloth could be released. More log paths, more up and down plus now a stream or two to wade through- and the sloth being carried in his pet carrier still wondering what the heck was happening!
Anyway, we found a suitable tree – one with the right leaves for this particular type of sloth and he was placed on it and up he went! Near the top, he turned and looked directly at us and I swear, smiled a slothy smile. Magic.