Medical Internship in Palampur
Travel to the beautiful, lush green landscape of Palampur, a market town in the north of India and live the life of a local doctor or nurse. Shadow fully qualified medical professionals and intern in a variety of different departments to get a real insight into how the healthcare system works in India.
If you want to add some sightseeing to your trip, add our highly-recommended, week-long cultural and language orientation in Delhi and visit Agra, home of the Taj Mahal.
Work in Palampur, surrounded by rice fields and tea plantations, and learn what the medical system is like in a more rural part of India. When you arrive in Palampur, it almost feels like you are in a different country, compared to the hustle and bustle of Delhi. As an intern, you will learn how to carry out different procedures and you will get a first-hand understanding of what it is like to be a doctor or nurse.
We work with a number of health institutions in Palampur, including hospitals, dental clinics, nursing homes, physio centres and centres that provide alternative and traditional forms of medicine.
Whether you are enrolling on to a medical, nursing or physiotherapy course at university, or a current student, this programme is the perfect way to gain work experience before you go. Your CV will stand out and you will create memories that you will remember for a lifetime.
On this medical internship you will shadow medical professionals, all of whom are keen to work with you and share their experience. You can expect to work alongside staff from various departments each day, meaning you will get to see variety of medical procedures. Interns can work in numerous departments, including:
In-patients wards
Pharmacy
Radiology/Imaging
Occupational therapy
General wards
Nursing
Obstetrics and Gynecology
Physiotherapy
Internal medicine
General surgery
If you have a particular field of interest, let us know.
The perfect intern will be flexible, enthusiastic and will need a good work ethic. In return, you will gain a valuable experience that will help in your future medical career.
Expect to work 5 days a week, between 9.30am and 2pm. At 2pm, interns head back to the accommodation for lunch and then relax for the rest of the afternoon and evening. There are also yoga classes and a number of tours you can enjoy in your free time.
The contrast here is huge compared to home, but in a good way! My first medical session today went well – the doctor in the clinic was very nice. – Ed Wiltshire, 2017
What experience do I need?
This programme is perfect for interns, who have studied or are looking to study medicine, nursing or physiotherapy. Evidence of enrolment onto a medical, nursing or physiotherapy course will be required.
Accommodation and Food
In Palampur, we have a purpose built volunteer house on the outskirts of the town. The house has space for up to 20 volunteers at a time and you should expect to share a room with three other people. Each room is en-suite with a western style toilet, hot water and a shower.
There is WiFi access at the house but it is not very reliable at present. A real bonus is the yoga class held on the roof of the accommodation, giving you a chance to unwind relax while gazing at the stunning views of the Himalayas. There is also a badminton court in front of the accommodation, and lots of games to enjoy with your fellow volunteers.
You will be cooked 3 delicious meals a day, seven days a week, allowing you to experience real Indian cuisine.
The house is a 15 minute walk from the main road (where you can catch the bus).
Language and Cultural week
An optional, and highly recommended, language and cultural week can be provided in Delhi before you begin your volunteering. This gives you language training (useful for your project), cultural awareness training, cooking lessons and the opportunity to visit the tourist hot-spots in Delhi. Also included is a visit to Agra to see the Taj Mahal!
Highlights
Gain a detailed understanding of the Indian healthcare system as you learn first-hand from fully qualified professionals.
Enhance your CV with fascinating international work experience.
Enjoy life in India outside the bustle of the big cities – think Himalayan views and lush tea plantations on your doorstep!
Relax with rooftop yoga classes and taste delicious authentic Indian cuisine.
Live with like-minded interns who share your enthusiasm for medicine.
Choose to visit the iconic Taj Mahal, explore Delhi's heritage sites, and learn basic Hindi on our highly recommended Language and Cultural week.
Why
should I do this?
Arguably, working in medicine is one of the toughest careers out there, but it is certainly one of the most valuable. For those who are passionate about the world of medicine, this programme certainly offers a real experience of life as a medical professional in India.
This is the perfect opportunity for individuals who are diligent and committed. It is hard work, but the benefits are worth it. You will get to live with other like-minded interns and you will feel truly immersed in Indian life, particularly the cuisine! It is the perfect opportunity to share your medical expertise or to start you career in medicine.
Gaining medical work experience for your CV is vital if you want to stand out from the crowd when it comes to starting your career. Showing experience from your time in India will demonstrate that you are committed, outgoing and have an in-depth understanding of a different type of medical system.
Getting there
For those taking part in the cultural week in Delhi: when you arrive at Indira Gandhi International Airport (DEL) Terminal 3, you will be met by one of our coordinators, who will take you back to the accommodation. You can then get plenty of rest for the orientation the next day.
For those starting in Palampur (or finishing the cultural week): interns fly to Gaggal Airport in Dharamshala (DHM) where you will be picked up by our driver and driven to the accommodation (40 minutes away). Interns can also take a bus (10 hours) from Delhi. This can be booked on arrival and is operated by the Himachal Road Transport Corporation. Interns will be picked up from the bus station and taken to the accommodation.
Our representative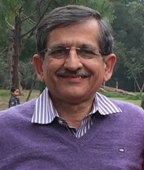 Rajiv and his team of coordinators in India will be looking after you throughout your stay on the programme. The coordinators will have daily contact with you, often at the house at the end of each day to discuss how your programme has gone. You will be given a half day orientation in Palampur so that you feel familiar with public transport and the local area. You will also be taken out for a meal to welcome you to the area.
What is provided
Informal interview and briefing
Access to your personal 'My Oyster' account – our online portal where you can find out much more about the programme and manage your booking.
Help and advice from our UK office before departure
Financial protection through IPP (or ATOL, if we book your flights)
24 hour support from our representatives in India.
Airport pick up and drop off at Dharamshala Airport
Return to the airport at the end of the project
Orientation
Welcome meal
3 meals a day
Optional language and cultural week that can be added – highly recommended
Accommodation
Oyster Worldwide volunteer t-shirt 
Oyster luggage tag
On your return:
Welcome home pack
Certificate of Recognition (on request)
References (on request)
What do I need
International flights to/from Dharamshala (we can book for you if you wish)
Domestic flights to/from Dharamshala from Delhi, if you take part in the language and cultural week
Valid Passport
India e-visa (approx £45)
Travel insurance
Independent travel costs
Spending money for drinks/snacks and cost of travel between projects (£60 per week should be more than sufficient)
Vaccinations
2
travellers rated this project
5
4