Learning to surf is a great way of keeping fit, making new friends, and seeing new places. It's a physically demanding sport that provides a full-body workout. And when you're travelling the world or taking on challenging volunteering projects abroad, having an outlet like surfing can be fantastic for personal fitness as well as the soul.
Being able to finally master a wave and keep your balance is what makes learning to surf so rewarding, and you'll be sure to meet many surf buddies along the way. It doesn't matter where you are – there are top surf spots in every continent. Here are 17 of the best places where you can learn to surf.
Wollongong, Australia
Learn to surf at Thirroul Beach in Wollongong, just an hour away from Sydney Airport. As well as having a number of beginner's camps and reputable surf schools, there's also a vibrant surf community here, where everyone is friendly and welcoming no matter your experience with catching waves.
Join our surfing programme at our excellent surf college, and learn through water-based sessions, classroom theory lessons and on-land fitness sessions. The programme is suitable for both beginners and more advanced surfers. As long as you're a strong swimmer, our Australia Surf Camp and Development Course could be for you. The duration is 2 to 12 weeks, and all accommodation and transfers are included.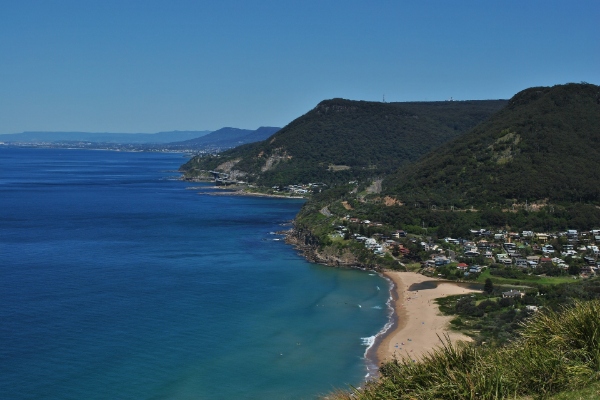 Tofino, Canada
Tofino is Canada's surf capital, best known for having one of the best beginner breaks in North America. This is where you'll see most beginner surf lessons take place, and there are excellent waves to catch all year round. With its surf competitions and SUP community (stand up paddle boarding), this is the place to come if you're looking for adventure.
Many parts of Canada are also fantastic for skiing, making it one of the best destinations for extreme and challenging sports.
Jeffrey's Bay, South Africa
In the country's south-east, you'll find Jeffery's Bay, a popular spot with local surfers. It's great for new surfers as there are so many surf shops where you can get fully equipped. Dolphin Beach is the place to go if you're catching waves for the first time. It's easy to pick up the basics here, and the locals are all very friendly. This place is also home to the Billabong Pro World Championships, so you can bank on there being an awesome surf community.
We have several volunteering programmes happening in South Africa, including ones in Port Elizabeth, just 50 minutes away from Jeffery's Bay.
Lagos, Portugal
The Algarve coastline is best known for its stunning beaches and golf resorts, whitewashed fishing villages and quaint little towns. Foodies come here, as do sun worshippers. But it rarely makes it onto a surfer's bucket list. The Algarve town of Lagos however, is a base for many of the region's surf schools, and there are a great variety of waves all within a 30-minute drive along this stretch of the shore. After 10 pm, bars and nightclubs come alive too, so you'll have plenty of opportunities to mingle and make friends as you travel. Find out more about travelling to Portugal and the volunteering projects available.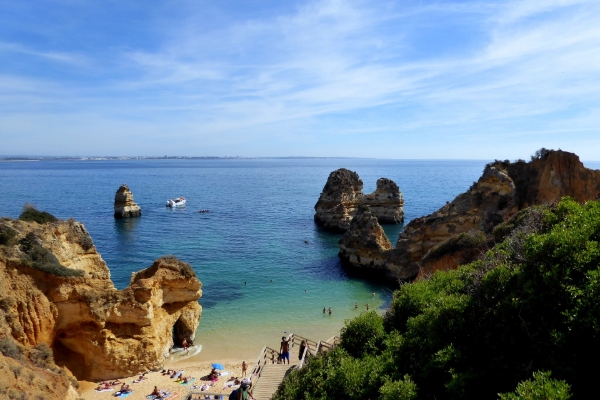 Siargio, Philippines
The island of Siargio offers a pick 'n' mix of surfing spots, and with a total of over 7,000 islands in the Philippines, you can easily island-hop to your next surf destination if one doesn't take your fancy. Filipino waves are reserved for adventurers, often unpredictable, but that doesn't mean beginners can't learn here. The beaches of Siargio are best suited to newbies, mainly because of the easy-going atmosphere. Not only are the views spectacular and the waters warm and inviting, but the tropical backdrop will make you feel totally relaxed even when you're not in the mood for a surf.
Bali, Indonesia
The ultimate summer surf spot for the Aussie crowd, Bali is a backpacker's favourite. The tourist town of Kuta is perhaps the most popular, especially if you're looking for laid back beach vibes, bargain hostels and a pumping club scene. There are many surf schools ideal for beginners and once you build up your confidence you can work your way up to Dreamland Beach. It's an area known for its powerful waves, strong enough to give a pro a run for their money.
Nosara, Costa Rica
If you're looking for a tropical paradise with a cool surf scene, head to Nosara in Costa Rica. Some of the country's famous breaks are getting crowded so surfers are looking for alternative beaches to get their fix. Make sure this area is on your list. The beaches around Nosara are ideal for learners too, particularly Playa Nosara which boasts an excellent beach and reef break.
But it doesn't have to be all about surf here. From scuba diving and snorkelling adventures to volunteering with sea turtles on the beach, the vast and diverse Costa Rican coastline has so much to offer its tourists.
San Sebastian, Spain
The vibrant city of San Sebastian combines good food with good fun, promising surf fans some serious atmosphere. While surfing is great for keeping fit, it should also go hand in hand with letting your hair down and having a bit of indulgence from time to time. Enjoy the most amazing food and drink in this mountainous Basque Country, and the week-long surf camps are ideal places to meet other like-minded surfers.
We organise a number of volunteering holidays in Spain, including animal volunteering and ocean conservation.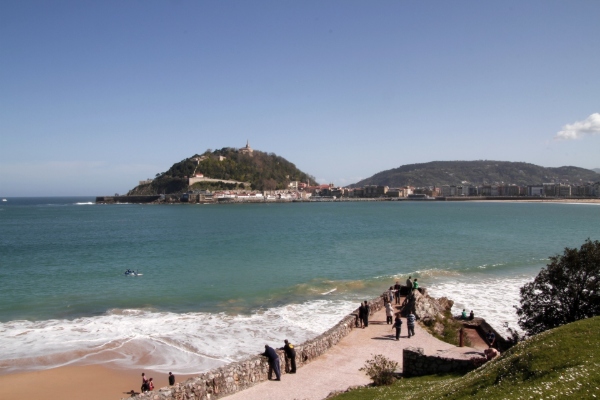 Byron Bay, Australia
This bustling coastal town is a popular destination for tourists. With its glorious beaches, amazing surf and scuba, and vibrant nightlife, young backpackers flock here every year. The vibe is laid back, and you'll see plenty of cool campervans parked up along the coast. Byron Bay is also considered to be a rite of passage for any new surfer, with great coffee shops and restaurants to refuel in afterwards.
Located less than two hours from Brisbane, it's the perfect beach trip to combine with our Farm Work in Australia programme.
Matara, Sri Lanka
The sandy village of Weligama in Matara is a haven for surfers. With its sheltered bay, beginners will find it easy to get to grips with the waves here. Surf schools and board rental shops line the shore, so you'll find plenty to places to get equipped. What's great about the surf community here is that it's made up of learners and new surf enthusiasts, so you won't feel out of place here. With so much support from your fellow rookies, you won't have to lower your head in embarrassment after a few wipe-outs from the waves.
A surfing trip can be combined with one of our animal conservation holidays in Sri Lanka.
Montanita, Ecuador
Montanita in Santa Elena is Ecuador's most popular surfing destination, so you'll have no problem finding hotels, surf schools and most importantly, a great surf community. This is a place where you'll meet like-minded surfers, beginners and pros alike. Just as you would expect from any well-known surf town, there's a chilled out vibe here. The crowd is totally bohemian, there are quite a few camps geared towards new surfers. Team that with the affordable lessons, fun yoga classes and tasty food, you'll not want to come home.
Not just interested in surfing? Find out more about what Ecuador has to offer.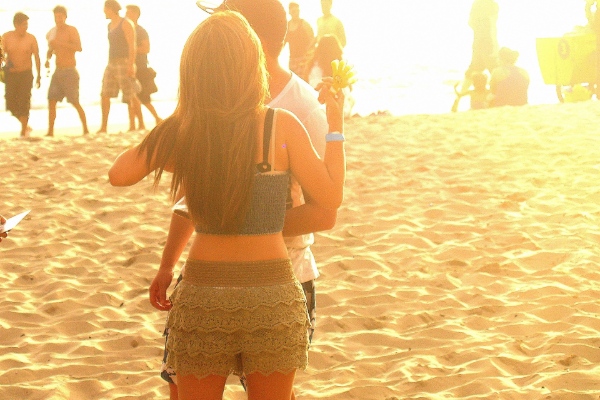 Santa Catarina, Brazil
From the amazing food and wine, and the exciting Carnaval, to the most amazing beaches, there are so many reasons to visit Brazil. It's fast becoming a hot surf spot too, with surfers of all levels and abilities flocking here for its waves. Florianópolis in Santa Catarina is the place to go if you're a novice. Known as "Floripa" to the locals, this place has over 42 beaches to choose from, providing waves for all types of riders. The beach at Barra Da Lagoa is excellent if you're looking for surf lessons.
Of course, the nightlife is second to none. From samba to electro, there's music of every genre to excite you. There's definitely no shortage of beach bars, and you'll find fantastic restaurants and cafes in everyone's price range.
Alentejo, Portugal
From marine conservation and volunteering with animals to helping out in construction, we offer so many interesting volunteering programmes for travellers looking to experience Portugal in an immersive way. From its spectacular food and wine to its charming cities and unique culture, Portugal is a sophisticated travel destination that doesn't have to cost you an arm and a leg.
The glorious beaches are another one of its major draws, and some parts of the coastline are excellent for surfing. Alentejo remains largely underdeveloped, which means that you will find beautiful uncrowded beaches. These beaches are ideal for learning to surf and you won't have to fight for space in the water. You'll have peace and quiet to work up your courage, and you can train at your own pace.
Thurso, Scotland
Known for its dramatic landscapes and rugged coastline, Scotland is one the UK's top surfing destinations. Head to the far north of the Highlands and make your way to a small town called Thurso. It's home to some of Britain's best waves and is ideal for learners who are looking to test the waters in a safe and friendly environment. Watch out for the winds though as they can be quite strong and will make mastering the waves extra challenging. It's also a good idea to check the weather forecast as Scotland doesn't boast all-year round sun – so wetsuits at the ready!
Puntarenas, Costa Rica
Another amazing area of Costa Rica is Mal Pais in Puntarenas. You'll be spoilt for choice with different places to hit the waves in Costa Rica, but Mal Pais is particularly good for the rookie crowd as it offers some peace and quiet for your training. Unlike some of the overcrowded surf spots where beginners may feel intimidated by the pros or find it hard to get some space in the water, Mal Pais has no distractions. Just a pristine beach and plenty of room to learn some tricks.
With crystal clear waters, a lovely year-round climate and stunning natural landscapes along the coast, there are fewer locations more wonderful for wading out on your board.
Phuket, Thailand
Almost unheard of as a surf destination before the 90s, Thailand is fast becoming a favourite amongst travellers for surf, sea and Full Moon parties. Not only is the Thai coastline perfect for beach lovers, but it's got a great backpacker atmosphere.
As a surf spot, the country has access to two bodies of water, the Andaman Sea and the Gulf of Thailand. If you're looking for powerful waves, the Andaman coast is where you want to be. Head to Phuket and spend time at the beginner-friendly beaches of Patong and Kata Noi. Here you'll find all the best surfing schools and once you're feeling confident there are plenty of other locations to try. Kamala, Surin, Kata, Nai Harn and Bang Tao all have long enough stretches to provide a good surf session for people at every level.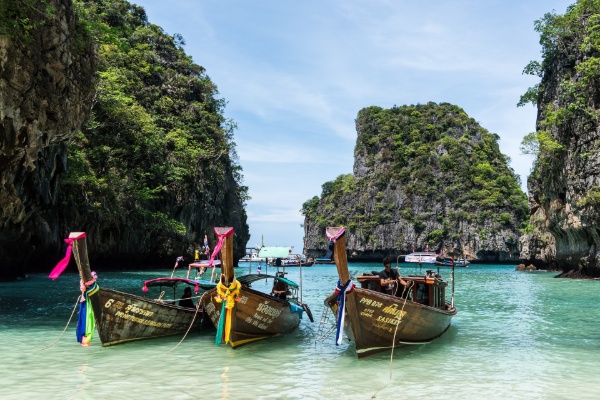 Raglan, New Zealand
One of our favourite travel destinations is New Zealand, known for its breath-taking mountains, incredible glaciers, fantastic coastline, and its wild volcanoes and geysers. This is an outdoor lover's paradise. For surfers, there's so much choice in both North Island and South Island.
You may have heard of the epic point breaks at Manu Bay, Whale Bay and Indicators. But for beginners, Ngarunui Beach is the best. If you're just playing in the whitewash and getting on your feet, this is an ideal beach to learn to surf. In the early stages before going out to the green water, Ngarunui provides a fun playground where you can go at your own pace.
Find out more about our adventure travel holidays and programmes, and experience something new.